2009 Las Vegas Main Event Girls Scratch Singles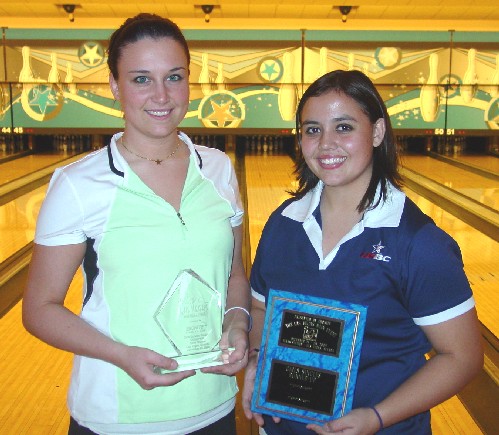 champ Maggie Zakrzewski and runner-up Amanda Fry
Maggie Zakrzewski may have an intimidating last name to pronounce, so if you have trouble, just say: Maggie Z, Main Event Champ, as she rolled to victory in the Girls Scratch Singles division of the 2009 Las Vegas Main Event, presented by Ebonite International and the Junior Bowlers Tour, and hosted at Texas Star Lanes.
Zakrzewski, Palatine IL, led the 8-game qualifier on a grueling condition, with Caycee Landers the only other girls able to average over 200. A six-game matchplay semifinal cut the field down to 8 for a bracket-style stepladder finals. In round one, #7 Kelsey Muther edged #5 Deanna Carrillo 179-172, while #8 Allie Ijams was all over #6 Christine Gill 203-136. In the second round, Ijams rolled on with a 209-161 win over #3 Landers, and Muther also pulled another upset, defeating #4 and former Main Event champ Samantha Hesley 188-154. In the semifinal rounds the top seeds defended their seeds, with Zakrzewski defeating Muther 166-154, and #2 Amanda Fry eliminating Ijams 237-207, setting up a 1 vs. 2 title match.
Both bowlers struggled in the title match, but in the end Maggie had enough left for a 188-171 victory, the championship, and the $1,500 top scholarship prize. Fry pocketed a cool $1,000 for the runner-up spot.
In total, over $52,000 was awarded to bowlers from all over North America. Thanks again to Jerry Francomano and the fantastic crew at Texas Station for an unparalleled job hosting this prestigious event. Complete results and so much more are all at www.bowljbt.com , check it out today, and make plans for the 2010 Main Event, at Texas Station December 24-28, 2010.
Finalists:
| | | | | | |
| --- | --- | --- | --- | --- | --- |
| Rank | Last | First | City | State | prize |
| 1 | Zakrzewski | Maggie | Palatine | IL | $1,500 |
| 2 | Fry | Amanda | Antelope | CA | $1,000 |
| 3 | Muther | Kelsey | Topeka | KS | $750 |
| 4 | Ijams | Allie | Flagstaff | AZ | $600 |
| 5 | Landers | Caycee | Mission Hills | CA | $500 |
| 6 | Hesley | Samantha | Wellington | FL | $400 |
| 7 | Carrillo | Deanna | Montebello | CA | $300 |
| 8 | Gill | Christine | Lakewood | CO | $200 |
Semifinalists:
| | | | | |
| --- | --- | --- | --- | --- |
| 9 | Shepard | Nicole | Brea | CA |
| 10 | Mayall | Kaitlin | Chula Vista | CA |
| 11 | Rubin | Ashley | Brandon | SD |
| 12 | Rawsthorne | Catherine | Federal Way | WA |
| 13 | Page | Brittany | Los Angeles | CA |
| 14 | Ferry | Jaime | Garden Grove | CA |
| 15 | Riggin | Valerie | Vista | CA |
| 16 | Waldron | Christina | Albuqerque | NM |
| 17 | Drew-Kaohu | Winter | Honolulu | HI |
| 18 | Reguero | Rebeca | Glendale | AZ |
| 19 | Eaves | Jennifer | Pleasanton | CA |
| 20 | Pena | Melissa | West Covina | CA |
| 21 | Ajimine | Dara | Harbor City | CA |
| 22 | Boe | Sarah | Shoreline | WA |
| 23 | Renslow | Robin | Brentwood | CA |
| 24 | Nakano | Krystyn | Ewa Beach | HI |
| 25 | Katz | Alex | Henderson | NV |
| 26 | Lycan | Lana | Santee | CA |
| 27 | Cabezas | Martika | Cathedral City | CA |
| 28 | Jimenez | Natalie | Rowland Heights | CA |
| 29 | Signaigo | Suzana | Kapolei | HI |
| 30 | Schultz | Courtney | Hacienda Heights | CA |
Qualifying:
| | | | | |
| --- | --- | --- | --- | --- |
| 31 | Friedman | Chelsea | Santa Barbara | CA |
| 32 | Matsuo | Chayna | Honolulu | HI |
| 33 | Bell | Joi | Pflugerville | TX |
| 34 | Rubin | Haley | Brandon | SD |
| 35 | Dutton | Courtney | Chandler | AZ |
| 36 | Anadilla | Abi | Bakersfield | CA |
| 37 | Katsura | Lesliann | Norwalk | CA |
| 38 | Kawamoto | Brandi | Honolulu | HI |
| 39 | Jenner | Kirstin | Layton | UT |
| 40 | Miyake | Chelsey | Honolulu | HI |
| 41 | Goad | Kayla | Phoenix | AZ |
| 42 | Miyaji | Sharyn | Honolulu | HI |
| 43 | Terry | Danyn | Oakhurst | CA |
| 44 | Takara | Kayla | Honolulu | HI |