2009 Las Vegas Main Event Handicap Singles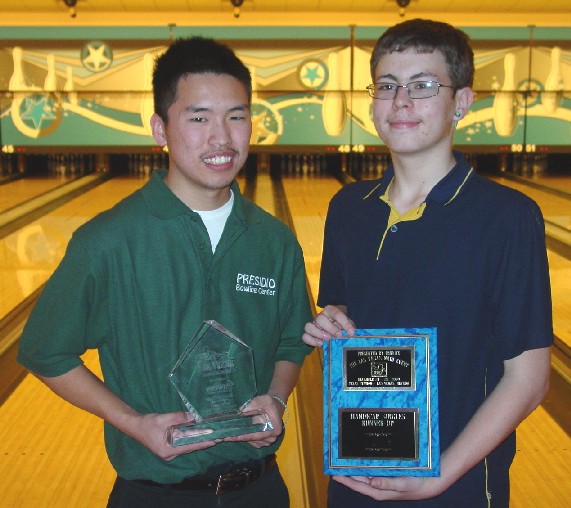 champ Adam Yoshii and runner-up Coltin Dotson
In a 1 vs. 2 matchup, Adam Yoshii of San Francisco, CA edged Coltin Dotson, Farmington NM, to capture the Handicap Singles title of the 2009 Las Vegas Main Event, presented by Ebonite International and the Junior Bowlers Tour, and hosted at Texas Star Lanes.
After 8 qualifying games, which Yoshii led with Dotson right behind, the field was cut to the top 60 for a six-game matchplay semifinal round. Adam and Coltin held the 1 and 2 spots after that round as well, so it was up to the rest of the 16 finalists who moved on to climb the bracket-style stepladder finals to attempt to knock them off.
In round one of the finals, two four-way matches were played. In one match, #12 Luke Jordan's 240 eliminated #10 Tony Rose (209), #14 Brian Lim (214), and #16 Tanner Long (208). In the other match, #11 DJ Jarosz' 229 emerged victorious, beating #9 Eric Torrence (219), #13 Robert Lim (219), and #15 Oscar Chan (165).
In round two, Jordan rolled on with a 241, ousting #5 Alex Tam (213) and #7 Jerome Jordan Jr (221). In the other bracket, Jarosz' 238 won again, this time eliminating #8 Kyle Andrews (184), and just edging #6 Brian Grupe (236). Down to head-to-head matches in round three, Jordan exploded for a 257-204 win over #4 Jeremy Throne, while Jarosz rolled on as well, this time with a 214-199 win over Anthony Cando. DJ and Luke then advanced against Yoshii and Dotson, and Adam and Coltin showed again why they were 1-2 all day, as Yoshii defeated Jordan 257-245, and Dotson edged Jarosz 228-217, setting up the championship match.
In a well-bowled title game, Yoshii came up with the 235-223 win, good for the title and the $2,000 top scholarship prize. Dotson raked in $1,500 for second, Jarosz cashed $1,000 for third, while Jordan picked up a healthy $900 for fourth.
In total, over $52,000 was awarded to bowlers from all over North America. Thanks again to Jerry Francomano and the fantastic crew at Texas Station for an unparalleled job hosting this prestigious event. Complete results and so much more are all at www.bowljbt.com , check it out today, and make plans for the 2010 Main Event, at Texas Station December 24-28, 2010.
Finalists:
| | | | | | |
| --- | --- | --- | --- | --- | --- |
| Rank | Last | First | City | State | prize |
| 1 | Yoshii | Adam | San Francisco | CA | $2,000 |
| 2 | Dotson | Colton | Farmington | NM | $1,500 |
| 3 | Jarosz | DJ | Reedley | CA | $1,000 |
| 4 | Jordan | Luke | Bellingham | WA | $900 |
| 5 | Cando | Anthony | San Diego | CA | $800 |
| 6 | Throne | Jeremy | Farmington | NM | $700 |
| 7 | Tam | Alex | San Francisco | CA | $600 |
| 8 | Grupe | Brian | Las Vegas | NV | $500 |
| 9 | Jordan | Jerome | Carson | CA | $400 |
| 10 | Andrews | Kyle | Carlsbad | CA | $300 |
| 11 | Torrence | Eric | Los Angeles | CA | $200 |
| 12 | Rose | Tony | Las Vegas | NV | $180 |
| 13 | Lim | Robert | Bellflower | CA | $170 |
| 14 | Lim | Brian | San Francisco | CA | $160 |
| 15 | Chan | Oscar | Diamond Bar | CA | $150 |
| 16 | Long | Tanner | Murietta | CA | $140 |
Semifinalists:
| | | | | |
| --- | --- | --- | --- | --- |
| 17 | Francisco | Jake | San Diego | CA |
| 18 | Watkins | Aaron | Las Vegas | NV |
| 19 | Hollis | Trevor | Layton | UT |
| 20 | Duffy | Brandon | N. Las Vegas | NV |
| 21 | Teragawa | Blake | San Francisco | CA |
| 22 | Bristow | Aaron | Farmington | NM |
| 23 | Camacho | Jacob | Murietta | CA |
| 24 | Lim | Mike | San Francisco | CA |
| 25 | Dang | Hong | San Francisco | CA |
| 26 | Vinyard | Nick | Oceanside | CA |
| 27 | Gee | Edgar | San Francisco | CA |
| 28 | Meyers | Samantha | Mission Hills | CA |
| 29 | Koff | Donovan | Las Vegas | NV |
| 30 | Florendo | Bryan | San Diego | CA |
| 31 | Nagamine | Casey | Kaneohe | HI |
| 32 | Pekins | Brandon | Gardena | CA |
| 33 | Chan | Bonnie | Diamond Bar | CA |
| 34 | Ottenschot | Tyler | Las Vegas | NV |
| 35 | Turner | Brandon | San Diego | CA |
| 36 | Fukumoto | Gabriel | Waipahu | HI |
| 37 | Smith | Dalton | Farmington | NM |
| 38 | Yamasaki | Kaycie | Kaneohe | HI |
| 39 | Low | Wesley | Palmdale | CA |
| 40 | Gutierrez | Jon | Bullhead City | AZ |
| 41 | Lusterio | Kristian | San Diego | CA |
| 42 | Boe | Tyler | Redmond | WA |
| 43 | Burns | Kellsie | Santa Paula | CA |
| 44 | Phandanouvong | Jenny | San Diego | CA |
| 45 | Stearns | Isaac | San Diego | CA |
| 46 | Morales | Juriene | San Francisco | CA |
| 47 | Koyanagi | Cory | Torrance | CA |
| 48 | Sweigart | Harley | San Diego | CA |
| 49 | Nolan | Vincent | Whittier | CA |
| 50 | Baker | Bethany | Tempe | AZ |
| 51 | Acuff | Derek | Phoenix | AZ |
| 52 | Hinz | Austin | Logan | UT |
| 53 | Takahata | Janelle | Honolulu | HI |
| 54 | Carr | Savannah | Buckeye | AZ |
| 55 | Gervacio | Abel | Whittier | CA |
| 56 | Ray | Taylor | N. Las Vegas | NV |
| 57 | Cotten | Daniel | Glendale | AZ |
| 58 | Cruz | Jeremiah | Bloomfield | NM |
| 59 | Holley | Luke | Ventura | CA |
| 60 | Hayashi | Evan | Waipahu | HI |
Qualifying:
| | | | | |
| --- | --- | --- | --- | --- |
| 60 | Willis | Nick | Las Vegas | NV |
| 61 | Hayashi | Evan | Waipahu | HI |
| 62 | Lou | Brenden | San Diego | CA |
| 63 | Gauvreau | Tianna | Surrey | BC |
| 64 | Nakagawa | Keenan | Honolulu | HI |
| 65 | Wade | Nicholas | Mesa | AZ |
| 66 | Dacanay | Billy-Ray | Spring Valley | CA |
| 67 | Acuff | Steven | Phoenix | AZ |
| 68 | Kurzeka | Susan | Albuquerque | NM |
| 69 | Kampley | Leann | San Diego | CA |
| 70 | Lucas | Dylan | Las Vegas | NV |
| 71 | Acma | Kyle | San Ramon | CA |
| 72 | Schenck | Cortez | Phoenix | AZ |
| 73 | Speiler | Randi | Bodfish | CA |
| 74 | Jarosz | Danielle | Reedley | CA |
| 75 | Sweet | JD | Chandler | AZ |
| 76 | Lim | Gordon | San Francisco | CA |
| 77 | Echane | Arjay | Daly City | CA |
| 78 | Cervinski | Justin | Layton | UT |
| 79 | Fritz | David | San Diego | CA |
| 80 | Andrews | Kennison | Carlsbad | CA |
| 81 | Kolantzny | Brittany | San Diego | CA |
| 82 | Roberts | Trevor | Phoenix | AZ |
| 83 | Boniecki | Courtney | Laporte | TX |
| 84 | Wu | Jessicca | Sacramento | CA |
| 85 | Baron | Kathryn | Antioch | CA |
| 86 | Lacona | Rane | Phoenix | AZ |
| 87 | Palomares | Kaylene | Clovis | CA |
| 88 | Iozzio | Derek | Chandler | AZ |
| 89 | Morales | Maricris | San Francisco | CA |
| 90 | Shepard | Toby | Woodinville | WA |
| 91 | Nilla | Andrew | Phoenix | AZ |
| 92 | Chang | Brittany | Mililani | HI |
| 93 | Nguyen | Richard | San Francisco | CA |
| 94 | Loop | Karlie | Menifee | CA |
| 95 | Johnson | Travis | Phoenix | AZ |
| 96 | Cleveland | Isaiah | San Diego | CA |
| 97 | Schumacher | Daniel | Kensington | CA |
| 98 | Dubia | Adam | Whittier | CA |
| 99 | Danel | Ashley | Atwater | |
| 100 | Kellogg | Andrew | Las Vegas | NV |
| 101 | Schultz | Shauna | Hacienda | CA |
| 102 | Carroll | Shawn | Alameda | CA |
| 103 | Kamdley | Steven | San Diego | CA |
| 104 | Stern | Drew | Northridge | CA |
| 105 | Trudel | Mark | Bakersfield | CA |
| 106 | Florendo | Francis | San Diego | CA |
| 107 | Chui | Kirk | San Diego | CA |
| 108 | Truman | Sandy | Phoenix | AZ |
| 109 | Markowitz | Gary | Simi Valley | CA |
| 110 | Atkin | Alexis | Glendale | AZ |
| 111 | Marticio | Vanessa | San Francisco | CA |
| 112 | Potts | Jacob | Bodfish | CA |
| 113 | Moody | Casie | Yankton | CA |
| 114 | King | Taylor | Glendale | AZ |
| 115 | Rollins | Kenny | Madera | CA |
| 116 | Seawright | Jonah | Albuquerque | NM |
| 117 | Mason | Amanda | Las Vegas | NV |
| 118 | Houston | Chelsea | Oxnard | CA |
| 119 | Lopez | Nicholas | Rancho Cuchamanga | CA |
| 120 | Lebbs | Jacob | Oro Valley | AZ |
| 121 | Dukes | Kimberly | San Diego | CA |
| 122 | Shoup | Josh | Vacaville | CA |
| 123 | Abanes | Helen-Mae | San Diego | CA |
| 124 | Lebbs | Adam | Oro Valley | AZ |
| 125 | Goad | Jeff | Phoenix | AZ |
| 126 | Kalaf | Blake | Chandler | AZ |
| 127 | Kraye | Jordan | Brea | CA |
| 128 | Moody | Devin | Yankton | SD |
| 129 | Burke | James | Green Valley | AZ |
| 130 | Clark-Jones | Kassie | Tollhouse | CA |
| 131 | Negoro | Kiana | Fresno | CA |
| 132 | Ma | Michael | Camarillo | CA |
| 133 | Abanes | Jamie | San Diego | CA |
| 134 | Punzo | Kyle | Chandler | AZ |
| 135 | Lazear | Jacob | Englewood | CO |
| 136 | Trudel | Brandon | Bakersfield | CA |
| 137 | Gabour | James | Las Vegas | NV |
| 138 | Brown | Ryan | Fountain Valley | CA |
| 139 | Gould | Brooks | Gilbert | AZ |
| 140 | Ailport | Lindsey | Phoenix | CA |
| 141 | Skaggs | Randy | Hesperia | CA |
| 142 | Tsuchida | Eric | West Valley City | UT |
| 143 | Moody | Malan | Yankton | SD |
| 144 | Byers | Kenny | Ventura | CA |
| 145 | Rollins | Kellie | Madera | CA |
| 146 | Fazziola | Daniel | San Diego | CA |
| 147 | Zweig | Matthew | Newbury | CA |
| 148 | Rodriguez | Anthony | Santa Barbara | CA |
| 149 | Abanes | Helen-Gail | San Diego | CA |