Feel free to send this article to your local news media... if you do, we'd love for you to send us a copy! Please have them contact us for any questions.
For Immediate Release
BOWERS, ZAKRZEWSKI, YOSHII WIN 2009 JBT MAIN EVENT;
$52,000 IN SCHOLARSHIPS AWARDED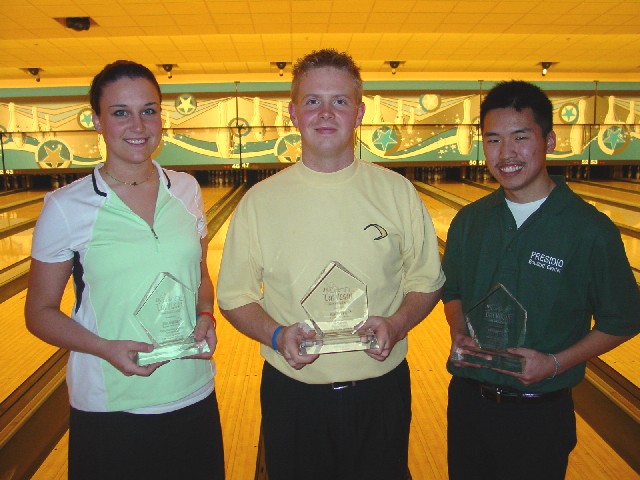 Girls Scratch champ Zakrzewski, Scratch champ Bowers, Handicap champ Yoshii
Maggie Zakrzewski of Palatine IL, Brent Bowers of Mulvane KS, and Adam Yoshii of San Francisco captured singles titles at the 2009 JBT Las Vegas Main Event, presented by Ebonite International and the Junior Bowlers Tour, and hosted by Texas Star Lanes.
Bowers became the first bowler to win two Main Event singles titles, having also captured the scratch title in 2006. Bowers qualified as the #2 seed after 14 grueling games on a very tough pattern, and survived his semifinal match over Nathan Panaligan, the 2006 champ, 179-163. The other semifinal was a battle of highly decorated JBT veterans, as #5 Christian Jensen, Wichita KS, upset #3 seed Josh Blanchard 200-193, setting up an all-Kansas title match.
Brent chose the tougher of the two pairs for the title game, and he was able to grind out a 213-196 win over Jensen for the title. Bowers earned a huge $5,000 scholarship for the win, Jensen cashed for $3,000, Blanchard earned $2,000, and Panaligan picked up a $1,500 scholarship check.
Zakrzewski was the Girls Scratch runner-up last season, and led wire-to-wire to earn the 2009 championship. Maggie won her semifinal match in a grind over Kelsey Muther 166-154, while #2 Amanda Fry stopped a great run by #8 Allie Ijams 237-207, to set up the final match. In the final, Zakrzewski ground out a 193-178 win, earning a $1,500 scholarship for the victory. Fry won $1,000, Muther cashed for $750, while Ijams picked up $600 for fourth. Maggie's stats would have cashed in many of the Open Scratch categories (and she earned over $1,000 in the mixed-gender side events), and she says she is considering playing against the guys next year- look out, fellas!
Yoshii and Coltin Dotson, Farmington NM, had been 1-2 the entire event, and seemed headed for an inevitable title match clash. Their semifinal opponents both had them on the ropes, though. In the end, Yoshii pulled out a 257-245 win over hard-charging Luke Jordan, Bellingham WA, while Dotson edged DJ Jarosz, Reedley CA, 228-217, to set up the expected finale.
The title match was well bowled by both players, but in the end Adam won the match 245-227 for the championship and the $2,000 top scholarship. Dotson claimed $1,500 for second, Jarosz earned $1,000 for third, and Jordan picked up $900 in fourth.
Michael Pixley, Sacramento CA, and Joey Chuo, La Quinta CA, split $1,000 as the scratch doubles champs, with 1421 for six games. Jenny Phandanouvong and Isaiah Cleveland, San Diego, picked up the handicap doubles $1,000 top prize with 1376. Team and All-Events awards were also distributed.
In total, over $52,000 was awarded to bowlers from all over North America. Thanks again to Jerry Francomano and the fantastic crew at Texas Station for an unparalleled job hosting this prestigious event. Complete results and so much more are all at www.bowljbt.com , check it out today, and make plans for the 2010 Main Event, at Texas Station December 24-28, 2010.
Scratch singles top finishers:
| | | | | | |
| --- | --- | --- | --- | --- | --- |
| Rank | Last | First | City | State | prize |
| 1 | Bowers | Brent | Mulvane | KS | $5,000 |
| 2 | Jensen | Christian | Witchita | KS | $3,000 |
| 3 | Blanchard | Josh | Wichita | KS | $2,000 |
| 4 | Panaligan | Nathan | N. Las Vegas | NV | $1,500 |
| 5 | Jackson | Josh | Everett | WA | $1,000 |
| 6 | Manier | Steven | Vista | CA | $750 |
| 7 | Glover | Jeremy | Compton | CA | $650 |
| 8 | Hawkins | James | Perris | CA | $600 |
| 9 | Fujita | Michael | El Sobrante | CA | $550 |
| 10 | Patrick | John | New Smyrna Beach | FL | $500 |
| 11 | Weier | Cameron | Federal Way | WA | $450 |
| 12 | Miller | Brad | Raytown | MO | $400 |
| 13 | Lopez | Miguel | Peoria | AZ | $300 |
| 14 | Peters | Jake | Decatur | IL | $250 |
| 15 | Zehntner | Travis | Goleta | CA | $200 |
| 16 | Tan | Justin | Flower Mound | TX | $180 |
Handicap singles top finishers:
| | | | | | |
| --- | --- | --- | --- | --- | --- |
| Rank | Last | First | City | State | prize |
| 1 | Yoshii | Adam | San Francisco | CA | $2,000 |
| 2 | Dotson | Colton | Farmington | NM | $1,500 |
| 3 | Jarosz | DJ | Reedley | CA | $1,000 |
| 4 | Jordan | Luke | Bellingham | WA | $900 |
| 5 | Cando | Anthony | San Diego | CA | $800 |
| 6 | Throne | Jeremy | Farmington | NM | $700 |
| 7 | Tam | Alex | San Francisco | CA | $600 |
| 8 | Grupe | Brian | Las Vegas | NV | $500 |
| 9 | Jordan | Jerome | Carson | CA | $400 |
| 10 | Andrews | Kyle | Carlsbad | CA | $300 |
| 11 | Torrence | Eric | Los Angeles | CA | $200 |
| 12 | Rose | Tony | Las Vegas | NV | $180 |
| 13 | Lim | Robert | Bellflower | CA | $170 |
| 14 | Lim | Brian | San Francisco | CA | $160 |
| 15 | Chan | Oscar | Diamond Bar | CA | $150 |
| 16 | Long | Tanner | Murietta | CA | $140 |
Girls Scratch top finishers:
| | | | | | |
| --- | --- | --- | --- | --- | --- |
| Rank | Last | First | City | State | prize |
| 1 | Zakrzewski | Maggie | Palatine | IL | $1,500 |
| 2 | Fry | Amanda | Antelope | CA | $1,000 |
| 3 | Muther | Kelsey | Topeka | KS | $750 |
| 4 | Ijams | Allie | Flagstaff | AZ | $600 |
| 5 | Landers | Caycee | Mission Hills | CA | $500 |
| 6 | Hesley | Samantha | Wellington | FL | $400 |
| 7 | Carrillo | Deanna | Montebello | CA | $300 |
| 8 | Gill | Christine | Lakewood | CO | $200 |