2009 Las Vegas Main Event Open Scratch Singles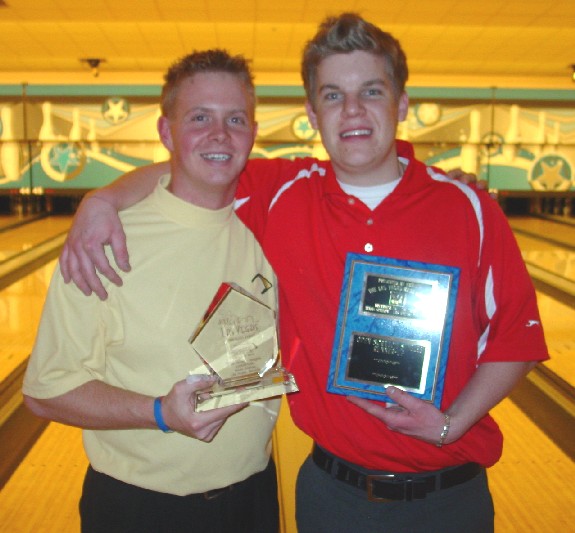 champ Brent Bowers and runner-up Christian Jensen
Brent Bowers, Mulvane KS, became the first two-time Main Event singles winner by capturing the Open Scratch Singles title at the 2009 Las Vegas Main Event, presented by Ebonite International and the Junior Bowlers Tour, and hosted by Texas Star Lanes.
An extremely demanding condition challenged an extremely talented field that contained some of the best under-22 talent in the country, requiring only a 192 average to make the cut to the semifinal's top 60 bowlers. Mike Fujita led the 8-game qualifier at 1766, and hung on through the six-game matchplay semifinals to nab the #10 seed for the 16-man bracket-style stepladder finals. In the first round, he had to face three other bowlers, and his 225 was enough to advance over #16 Justin Tan (212), #14 Jake Peters (180), and defending champion #12 Brad Miller (196). In a simultaneous 4-way match, #11 John Patrick's 202 eliminated #9 Cameron Weier (153), #13 Miguel Lopez (180), and #15 Travis Zehntner (183), who did claim the scratch all-events title with his tournament-long excellence in singles, doubles, and team.
In round two, #5 Christian Jensen (215) eliminated Fujita (205) and #7 Jeremy Glover (184). In the other bracket, #6 Steven Manier defended his seed with a 198 that ousted Patrick (162) and #8 James Hawkins (149). In round three Jensen rolled on with a 216-198 win over #4 Josh Jackson, while #3 and 2006 Main Event champ Nathan Panaligan edged Manier 200-189.
Down to the semifinals, #2 Bowers beat Panaligan 178-163, while Jensen ousted top seed Josh Blanchard, who is about as veteran as you can get for an under-22 bowler, 200-193, setting up an all-Kansas title match. Blanchard finished third for $2,000, while Panaligan added $1,500 to his JBT earnings for fourth.
The pair that Bowers had been on was definitely the tougher of the two, and as the higher seed Brent chose to bowl the title game on that pair. It was a grind all the way, but a ninth frame 6-7-10 from Jensen gave Bowers the edge he needed, and his tenth frame strike sealed a 212-196 win, the championship, and a whopping $5,000 first place scholarship prize. As the only two-time singles champ, he's now earned well over $10,000 in scholarships in only a handful of career JBT events! Jensen, one of the JBT's most veteran bowlers, wrapped up his Main Event career in fine fashion with a $3,000 scholarship windfall.
In total, over $52,000 was awarded to bowlers from all over North America. Thanks again to Jerry Francomano and the fantastic crew at Texas Station for an unparalleled job hosting this prestigious event. Complete results and so much more are all at www.bowljbt.com , check it out today, and make plans for the 2010 Main Event, at Texas Station December 24-28, 2010.
Finalists:
| | | | | | |
| --- | --- | --- | --- | --- | --- |
| Rank | Last | First | City | State | prize |
| 1 | Bowers | Brent | Mulvane | KS | $5,000 |
| 2 | Jensen | Christian | Witchita | KS | $3,000 |
| 3 | Blanchard | Josh | Wichita | KS | $2,000 |
| 4 | Panaligan | Nathan | N. Las Vegas | NV | $1,500 |
| 5 | Jackson | Josh | Everett | WA | $1,000 |
| 6 | Manier | Steven | Vista | CA | $750 |
| 7 | Glover | Jeremy | Compton | CA | $650 |
| 8 | Hawkins | James | Perris | CA | $600 |
| 9 | Fujita | Michael | El Sobrante | CA | $500 |
| 10 | Patrick | John | New Smyrna Beach | FL | $450 |
| 11 | Weier | Cameron | Federal Way | WA | $400 |
| 12 | Miller | Brad | Raytown | MO | $350 |
| 13 | Lopez | Miguel | Peoria | AZ | $300 |
| 14 | Peters | Jake | Decatur | IL | $250 |
| 15 | Zehntner | Travis | Goleta | CA | $200 |
| 16 | Tan | Justin | Flower Mound | TX | $180 |
Semifinalists:
| | | | | |
| --- | --- | --- | --- | --- |
| 17 | Chapman | AJ | Machester | IA |
| 18 | King | Kyle | Glendale | AZ |
| 19 | Kent | Marshall | Yakima | WA |
| 20 | Bidwell | Devin | Simi Valley | CA |
| 21 | George | Kris | Las Vegas | NV |
| 22 | Hattori | Zack | Las Vegas | NV |
| 23 | Mochizuki | Peter | Honolulu | HI |
| 24 | McBride | Josh | Wichita | KS |
| 25 | Young | Geoffrey | Denton | TX |
| 26 | White | Clarence | Mountain House | CA |
| 27 | Lavery-Spahr | Sean | Pasadena | TX |
| 28 | Tatrow | Kevin | Bel Aire | KS |
| 29 | Setchel | Jacob | Manteca | CA |
| 30 | Lee | Nick | Tuscon | AZ |
| 31 | Shern | Brent | Los Angeles | CA |
| 32 | Geering | Greg | Phoenix | AZ |
| 33 | Chuo | Joey | La Quinta | CA |
| 34 | Sloan | DJ | Las Vegas | NV |
| 35 | Hayes | Mike | Witchita | KS |
| 36 | Edwards | Wes | Blue Springs | MO |
| 37 | Uppdegraff | Daniel | Alta Loma | CA |
| 38 | Paris | Blake | Brentwood | CA |
| 39 | Pirtle | James | Waipaitu | HI |
| 40 | Curtis | Tristan | Fife | WA |
| 41 | Kraye | Brandon | La Habra | CA |
| 42 | Patacsil | Austin | Kailua | HI |
| 43 | Leong | Dallas | Las Vegas | NV |
| 44 | Nakagawa | Jonathan | Honolulu | HI |
| 45 | Monteith | JR | Orange | CA |
| 46 | Plunkett | Jordan | Everett | WA |
| 47 | Boyle | Scott | | |
| 48 | Dias | Alex | Lafayette | CO |
| 49 | Lou | Justin | San Diego | CA |
| 50 | Hewitt | Travis | Fremont | CA |
| 51 | Myers | Mark | Anaheim | CA |
| 52 | Del Cerro | Mark | Fremont | CA |
| 53 | Ballard | Brian | San Diego | CA |
| 54 | Franklin | Brandon | Hampton | VA |
| 55 | Tang | Darren | San Francisco | CA |
| 56 | Ursillo | Tim | El Cajon | CA |
| 57 | Cote | Randy | Tucson | AZ |
| 58 | Pacheco | Frank | Goleta | CA |
| 59 | Garcia | AJ | Covina | CA |
| 60 | Inafuku | Keene | Mililani | HI |
Qualifying:
| | | | | |
| --- | --- | --- | --- | --- |
| 61 | Kawada | Ethan | | |
| 62 | Patty | Dan | Alamo | CA |
| 63 | Ragland | Lance | | |
| 64 | Perry | Devin | | |
| 65 | Garriott | Andy | | |
| 66 | Lamek | Nick | Las Vegas | NV |
| 67 | Alford | Nicholas | | |
| 68 | Lavery-Spahr | Anthony | Pasadena | TX |
| 69 | Benoit | Kenny | Topeka | KS |
| 70 | Smith | Cameron | El Cajon | CA |
| 71 | Hogan | Paul | | |
| 72 | Fujita | Ronnie | El Sobrante | CA |
| 73 | Allred | Brandon | Las Vegas | NV |
| 74 | Hair | Charlie | Lake Forest | CA |
| 75 | Fukumizu | Preston | Los Angeles | CA |
| 76 | Svoren | Andrew | Bakersfield | CA |
| 77 | Ezrol | Matt | Coconut Creek | FL |
| 78 | Peden | Ryan | Sanger | CA |
| 79 | Foshie | Aaron | Tempe | AZ |
| 80 | Lemus | Keyon | Inglewood | CA |
| 81 | Takara | Ray | Honolulu | HI |
| 82 | Fry | Billy | Antelope | CA |
| 83 | Leach | Labriel | | |
| 84 | Teaney | Ryan | Kansas City | MO |
| 85 | Earle | Alexander | Spokane | WA |
| 86 | Herbert | Matt | Prescott | AZ |
| 87 | Cruz | Tyler | | |
| 88 | Jones | Kevin | Diamond Bar | CA |
| 89 | Thiedke | Adam | | |
| 90 | Berry | Kyle | Chesapeake Beach | MD |
| 91 | Ono | Jordan | Pearl City | HI |
| 92 | Douglas | Anthony | Tacoma | WA |
| 93 | Hefley | James | | |
| 94 | Bonneville | Kylee | Mesa | AZ |
| 95 | McPherson | Cort | Simi Valley | CA |
| 96 | Chin | Reily | | CA |
| 97 | Hansen | Dan | Henderson | NV |
| 98 | Tang | Michael | San Francisco | CA |
| 99 | Horst | Alex | Garden Grove | CA |
| 100 | Cormack | Matt | Woodland Hills | CA |
| 101 | Malacky | Brandon | Aurora | CO |
| 102 | Gagliardi | Jess | Alamosa | CO |
| 103 | Curtis | Mark | Torrance | CA |
| 104 | Clemens | Sam | Beaverton | OR |
| 105 | Phandanouvong | Foster | San Diego | CA |
| 106 | White | Schrader | Kalama | WA |
| 107 | Hansen | Brad | Henderson | NV |
| 108 | Walker | Matt | Atwater | CA |
| 109 | Simon | Zach | | |
| 110 | Dempsey | Riley | Avondale | AZ |
| 111 | Griener | Alex | Richmond | CA |
| 112 | Dukes | Jon | | |
| 113 | Kamiyama | Micah | Clovis | CA |
| 114 | Ford | Zach | Las Vegas | NV |
| 115 | Ward | Matthew | Loveland | CO |
| 116 | Ardo | Chasen | Kaneohe | HI |
| 117 | Grinfelds | Dzintars | | |
| 118 | Pixley | Michael | Sacramento | CA |
| 119 | Oceguera | Adrian | Selma | CA |
| 120 | Hughes | Chris | Syracuse | UT |
| 121 | Ferrer | Jordan | Henderson | NV |
| 122 | Robbins | Matthew | Pacifica | CA |
| 123 | Akau | Landon | Honolulu | HI |
| 124 | Coveris | Delano | | |
| 125 | Hatchett | Eric | | |
| 126 | Wyman | Robert | | |
| 127 | Stanley | Marcus | | |
| 128 | Tajiri | Joshua | Mililani | HI |
| 129 | Ho | Matthew | Kailua | HI |
| 130 | Akau | Leland | Honolulu | HI |
| 131 | Herbert | Zach | Prescott | AZ |
| 132 | Kanda | Justin | | |
| 133 | Young | Ryunn | Danville | CA |
| 134 | Godoy | Armando | | CA |
| 135 | Kennedy | Logan | Las Vegas | NV |
| 136 | Tindell | Kevin | | |
| 137 | Owen | Brandon | Las Vegas | NV |
| 138 | Spacey | Tanner | Burien | WA |
| 139 | Arakawa | Bryce | | |
| 140 | Lindeman | Curtis | Spokane | WA |
| 141 | Raymond | Aaron | Bloomfield | NM |
| 142 | Englehart | Scott | West Hills | CA |
| 143 | Tanna | Scott | Honolulu | HI |
| 144 | Brown | Ricky | Daytona Beach | FL |
| 145 | Jordan | John | Bellingham | WA |
| 146 | Williams | Jeff | Surprise | AZ |
| 147 | Honcuuada | Philip | Houston | TX |
| 148 | Kinzler | Randy | | |
| 149 | Fukuda | Justin | Honolulu | HI |
| 150 | Hopfner | Todd | | |
| 151 | Kern | Gregg | | |
| 152 | Kutcher | Chris | Las Vegas | NV |
| 153 | Katz | Jordan | Henderson | NV |
| 154 | Pandoff | Wesley | Charlotte | NC |
| 155 | Page | Robert | Los Angeles | CA |
| 156 | Hernandez | Andre | Chula Vista | CA |
| 157 | Sims | Justin | Ventura | CA |
| 158 | Bronstein | Michael | Costa Mesa | CA |
| 159 | Cruz | Anthony | San Diego | CA |
| 160 | Billman | Jared | Phoenix | AZ |
| 161 | Corrao | Andrew | | |
| 162 | Karpovich | Kyle | Chandler | AZ |
| 163 | Becker | Richard | | |