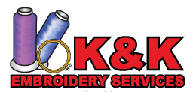 We are thrilled to have K&K Embroidery Services as the official supplier of JBT merchandise!
We think you'll love the line of shirts and towels we offer, and we KNOW you'll love...
--- Fast turnaround time! Most orders will be completed in 2 weeks or less!
--- Great pricing! Shirts start at just $17, and the most expensive style is only $40!
View and download the JBT Catalog in hi-res (high quality, slower loading)
View and download the JBT Catalog in low-res (fast loading, lower quality)