BRC ZONE GLENDALE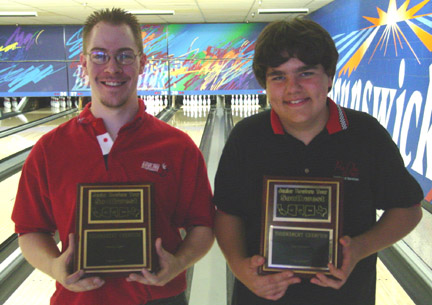 David Sevier & Kyle King

A lesson in lane conditions dictating the scoring pace resulted in victories for two JBT SW veterans as the Arizona Conference began its 9th season stretch run at BRC Zone Glendale.

The scratch division bowled on the 2005 ABC tournament pattern, a very demanding condition as anyone who has bowled on it knows. Bill Grant, who has grown a reputation for being tough on the hard patterns, opened round one of the stepladder finals with a 187 game that was enough to get by Jason Arnold (165) and Berman Sae-Aee (148). Chris Weyrauch then returned to the top 5 with a big 220 game that eliminated Grant (203) and Steven Black (200). In the semifinal round, another shotmaking specialist, David Sevier, rolled a 210 to advance over Weyrauch (156) and Kevin Saunders (200) when Saunders got only one of the two strikes he needed in the tenth frame.

Top qualifier Josh Blanchard took care of earning his Arizona Invitational bid by leading the large field. Josh has averaged over 240 in other JBT events this year, but his 210 clip was enough to lead on this pattern. Strikes were hard to come by for both bowlers in the title match, and when David finished with 185, Josh needed a double to win. A pure shot left a solid-10, however, and the relieved Sevier claimed a long-awaited 7th title of his JBT SW career.

The handicap division bowled on a standard house pattern, and given some room top play, the higher-average handicap bowlers lit up the scoreboard with big numbers. In round one of the finals, #7 seed Corey Sandberg, who won his only JBT title from this seed, got on his way to doing it again with a 203 game that beat Kris George (156) and just edged Taylor Brennan (201).

In round two, Mark Mandell, who recaptured the points lead with this finals appearance, solidified that with a big 262 that defeated Sandberg (190) and Tim Bonneville (211). Mark struggled to a 188 next game, and watched as Alex Van Kirk, the low average in the finals, doubled in the tenth for a 245 game that defeated Bryan Caldwell's 224, advancing Alex to the title match.

Top qualifier Kyle King had a slow start to the season, but has put it all together in the spring with an impressive run that has put him into the Bowler of the Year hunt. Van Kirk more than held his own in the title match, but in the end Kyle had enough in the tank for a 225-216 victory, good for his 3rd career victory, and second this season.

$2,365 was awarded to a 107 bowler field. Thanks to BRC Zone Glendale for another fun-filled visit to their center!
BRC Zone Glendale- final results and optional scholarship winners
5/1/2005
Arizona Conference
Scratch Division
rank
name
city, state
score
prize
1
David Seveir
Gilbert, AZ
p 129
$255
2
Josh Blanchard
Upland, CA
p 157
$275
3
Kevin Saunders
Goodyear, AZ
p 50
$155
4
Chris Weyrauch
Tempe, AZ
m 14
$85
5
Steven Black
Phoenix, AZ
p 49
$195
6
Bill Grant
Rio Rancho, NM
m 31
$40
7
Jason Arnold
Phoenix, AZ
m 46
$30
8
Berman Sae-Aee
San Diego, CA
m 48
$20
9
Jerod Florez
Bosque Farms, NM
m 66
$15
10
Marc Algeri
Phoenix, AZ
m 68
$15
11
Elias Ewert
Chandler, AZ
m 71

12
Miguel Lopez
Peoria, AZ
m 92

13
Brandy Silva
Albuquerque, NM
m 97
$30
14
Greg Shoaf
Phoenix, AZ
m 101

15
Andy Byer
Albuquerque, NM
m 112
$25
16
Lanndyn Carnate
Glendale, AZ
m 134

17
Bear Wiltfang
Lake Havasu City, AZ
m 143
$15
18
BJ Baker
Tempe, AZ
m 144

19
Zach Herbert
Prescott, AZ
m 144

20
Greg Garbera
Glendale, AZ
m 160
$30
21
Hasan Kural
Glendale, AZ
m 162

22
Gary Vose Jr.
Casa Grande, AZ
m 173

23
Tiffany Chi
Prescott, AZ
m 214
$10
24
Adam Laskey
Fargo, ND
m 222

25
Steven Sheffey
Glendale, AZ
m 146

26
Dan Bodinet
Phoenix, AZ
m 148
27
Christian Jensen
Anthem, AZ
m 151
28
Chris Ingram
Phoenix, AZ
m 154
29
Labriel Leach
Tucson, AZ
m 154
30
Joseph Anderson
Avondale, AZ
m 155
31
Matt Herbert
Prescott, AZ
m 166
32
Emily Ornelas
Phoenix, AZ
m 167
33
DeShaun jefferson
Phoenix, AZ
m 175
34
Savahna Porter
Yuma, AZ
m 182
35
Paul Haymaker
Phoenix, AZ
m 185
36
Erin Patterson
Tempe, AZ
m 189
37
Derek Thurber
Phoenix, AZ
m 201
38
Bobby Fisher
Phoenix, AZ
m 202
39
Andre Hernandez
Phoenix, AZ
m 205
40
Rachel Carr
Chandler, AZ
m 207
41
Jimmy Kremer
Peoria, AZ
m 228
42
Matt Seegel
Fort Sill, OK
m 249
43
Michael Cross
Tucson, AZ
m 258
44
Tom Anderson
Chandler, AZ
m 264
45
Sarah Carity
Pheonix, AZ
dnf
Handicap Division
rank
name
city, state
score
prize
1
Kyle King
Phoenix, AZ
p 328
$255
2
Alex Van Kirk
Prescott Valley, AZ
p 273
$125
3
Bryan Caldwell
Phoenix, AZ
p 250
$80
4
Mark Mandell
Queen Creek, AZ
p 215
$165
5
Tim Bonneville
Mesa, AZ
p 213
$50
6
Corey Sandberg
Prescott Valley, AZ
p 170
$85
7
Kris George
Glendale, AZ
p 197
$85
8
Taylor Brennan
Prescott, AZ
p 168
$55
9
Philip Stephens
Phoenix, AZ
p 167
$15
10
Kylee Bonneville
Mesa, AZ
p 165
$15
11
Amanda Albani
Phoenix, AZ
p 161
$15
12
Jenny Ortag
Phoenix, AZ
p 154
$40
13
Luis Soto
Tucson, AZ
p 146

14
Zach huglin
Gilbert, AZ
p 146

15
Rebeca Reguero
Phoenix, AZ
p 145

16
Josh Downs
Mesa, AZ
p 136

17
Jake Tatum
Prescott Valley, AZ
p 122
$60
18
JT Tatum
Prescott Valley, AZ
p 121
$15
19
Robert Atherton
Glendale, AZ
p 109

20
Chris Huglin
Gilbert, AZ
p 109

21
Nicholas Lee
Tucson, AZ
p 99

22
Michael Kremer
Peoria, AZ
p 98

23
Jeff Millmier
Phoenix, AZ
p 98

24
Brian Weyrauch
Tempe, AZ
p 93
$15
25
Casey Candiotti
Scottsdale, AZ
p 84
$30
26
Kevin Narciso
Phoenix, AZ
p 81
$15
27
Jess McCrackin
Phoenix, AZ
p 74

28
Bryce Techmer
Phoenix, AZ
p 69

29
Dan Eagy
Phoenix, AZ
p 40

30
Max Van Kirk
Prescott Valley, AZ
p 31
31
Samantha Olmsted
Phoenix, AZ
m 32
32
Dale Williams
Flagstaff, AZ
p 26

33
Cara Miller
Phoenix, AZ
p 23
$15
34
Eric Warren
Phoenix, AZ
p 21

35
Rachelle Davis
Tucson, AZ
p 18

36
CJ Crowley
Mesa, AZ
p 15

37
Dallas Sandberg
Prescott Valley, AZ
p 13
$15
38
Brad bandes
Phoenix, AZ
p 4

39
Brittany Crowell
Glendale, AZ
p 3

40
Greg Geering
Phoenix, AZ
even

41
Eric Rubin
Phoenix, AZ
m 4
42
Chelsea Zemelka
Phoenix, AZ
m 5
$15
43
Larry Gilgur
Cave Creek, AZ
m 9
44
Christina Waldron
Albuquerque, NM
m 17
45
Tim Radney
Mesa, AZ
m 19
46
Rebeca Bodinet
Phoenix, AZ
m 38
$15
47
Megan Withey
Glendale, AZ
m 38
48
Alex Powell
Phoenix, AZ
m 46
49
Kevin Schoenfeld
Phoenix, AZ
m 51
50
Bryanna Dawson
Phoenix, AZ
m 51
51
Nicki Nunez
Peoria, AZ
m 53
52
Laura Sitton
Phoenix, AZ
m 54
53
Matt Payne
Phoenix, AZ
m 54
$15
54
Rane Lacona
Phoenix, AZ
m 55
55
Ryan Hailey
Flagstaff, AZ
m 63
56
Rachel Lynn
Peoria, AZ
m 64
$15
57
Kayla Frederick
Chandler, AZ
m 78
58
Chris Wurm
Chandler, AZ
m 82
59
Kyle Frederick
Chandler, AZ
m 104
60
Jonathan Crowell
Glendale, AZ
m 115

61
Michael Curry
Phoenix, AZ
m 123
62
Courtney Dutton
Chandler, AZ
m 146
High Games: scratch: Blanchard 250, Byer 245, Sevier 244.

Handicap: Brennan 293, Weyrauch 285, Mandell 282
High Female: Silva 882, Ortag 937
Cuts: scratch -141 (ABC conidtion); handicap +31
Storm Ball Winner: Robert Atherton
Jr. Gold Qualifier: none
TOTAL AWARDED THIS EVENT: $2,365