MOJAVE INVITATIONAL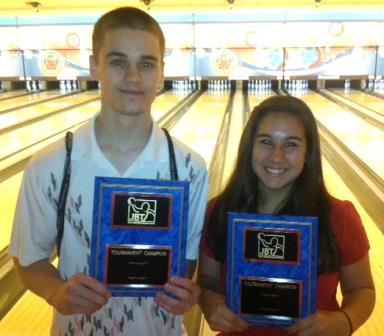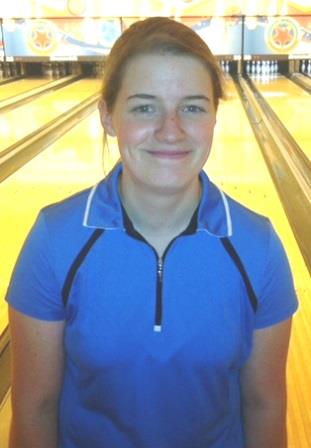 champs Curtis Lindeman, Ryanna Patterson, and Girls' Invite champ Heather Penatzer
Three Arizona bowlers dominated their respective divisions, capturing JBT major championships at the 2014 Mojave Invitational, hosted by Texas Star Lanes in North Las Vegas.
Heather Penatzer was easily the top seed for the Girls Invitational, qualifying 140 pins over second-seeded Correen Lieber. She started strong in the title match as well, but the always-tough Lieber fought back, getting within 1 pin after nine frames. Heather came up with a clutch double in her tenth, but a short fill ball allowed Lieber to double + count for the win. Correen got the first strike, but when the second wouldn't carry, Penatzer escaped with a 196-185 win, the Girls' Invite title, and the $200 scholarship bonus courtesy of Women's Series title sponsor Impact Bowling.
Ryanna Patterson qualified as the #5 seed, then went on a tear, winning her first six games in the exciting triple-elimination format before Trevor Thompson gave her her first loss. In the next round, Alexis Atkin beat Ryanna, while Kristen Lee eliminated Thompson, leaving only the three Arizona ladies alive, each with two losses. This gave Patterson a bye, while Alexis and Kristen, each in their final season of eligibility, played a classic semifinal that ended in a 191 tie. Kristen won the tiebreaker, giving her a chance to play for the title.
Patterson was the only one of a group of bowlers that travel together to not win a title this season, but she left little doubt in the title match that that was about to change. She led right from the beginning, eventually winning 234-167 for the first title of her JBT career, and the big $1,000 scholarship payday.
Curtis Lindeman was in severe danger of missing the cut to the finals, then blasted a 266 game on the demanding patterns- cheetah on one lane, shark on the other- to jump all the way up to the #8 seed. It turned out it really didn't matter what seed he got, as he then went on one of the most impressive runs in Invitational history, starting with a 6-0 run that left him undefeated and the five other remaining players each with two losses. He then knocked out Zach Hattori, and watched as Oscar Chan knocked out Dallas Leong, leaving Oscar in the unenviable position of having to beat Curtis three straight times for the title.
Oscar, the current Main Event champion, bowled great to get this far, but Curtis' look on both patterns was outstanding, and he cruised to a 245-193 win, the $1,000 first prize, and his 7th career JBT title.
Huge thanks as always to Jerry Francomano and his staff at Texas Star for another great job hosting a JBT weekend. Over $5,000 in scholarships was awarded to the field of 76 qualifiers- wow! The top 20 season-long point scorers in each division now advance to the 2014 Touring Players Championship, our biggest event of the year! Want in on all this excitement? Join us for our big open-field summer events, and again when the new season debuts this fall!
Mojave Invitational- final results and scholarship winners
5/18/2014
Scratch Division
rank
bowler

prize

1
Curtis Lindeman
$1,000
2
Oscar Chan
$544
3
Dallas Leong
$250
4
Zach Hattori
$216
5
Derek Acuff
$100
6
Eric Hatchett
$100
7
Heather Penatzer
$200
8
Kyle Duster
9
Bobby Hornacek
10
Joe Grondin
11
Nick Pollak
$50
12
Brendan Thomas
13
Harley Sweigart
$15
14
Zach Martinez
15
Darren Stanley
$30
16
Cortez Schenck
$50
17
Russ Oviatt
$30
18
Anthony Dang
19
Jamison Peyton
20
Tyler Boe
$59
21
Kennison Andrews
22
Kyle Andrews
$30
23
Wesley Low
$30
24
Brandon Russom
$14
25
Alex Watanabe
26
Correen Lieber
27
Luke Holley
28
Jacob Camacho
29
TJ Rock
30
Joshua Franz
31
Andrew Guba
32
Brandon Myers
33
Andrew Kellogg
34
Randi Speiler
Handicap Division
1
Ryanna Patterson
$1,000
2
Kristen Lee
$500
3
Alexis Atkin
$250
4
Trevor Thompson
$165
5
Paul Colyer
$125
6
April McDonnell
$115
7
Marguerite Evans
$130
8
Leah Glazer
9
Dylan Amico
$30
10
Brendan Lindsey
$50
11
Jason Pappas
12
David Galvan
13
Talon Hendrickson
$50
14
Cerell Cardines
$50
15
Jopfel Gafate
16
Jeremy Cardines
$50
17
Nathan Hanuscin
18
KJ Martinez
$15
19
Zahn Bouder
20
Destiny Johnson
$30
21
Kevin Mette
22
James Wilson
23
Alayna Purdy
24
Daryus Alo
25
Abby Franklin
26
Cole Telford
$45
27
Crystalene Pineda
28
Collin Deppe
29
Sebastian Polhill
30
Sabrina Reyes
31
Dee Handley
$15
32
Mandy Arriola
33
Amanda Atkin
34
Hezy Miller
$25
35
Brooke Martinez
36
Jake Hilton
37
Ethan Wolfe
38
Mike Rose
39
RJ Reyes
40
Joe Gerencser
41
Tyler Hedges
$15
42
Dayna Goshen
Girls Invitational
1
Heather Penatzer
$200
2
Correen Lieber
3
Alexis Atkin
4
Leah Glazer
5
Crystalene Pineda
6
Brooke Martinez
7
Dee Handley
8
Amanda Atkin
9
Randi Speiler
High Games
Scratch
Handicap
1
Lindeman 279
Lindsey 271
2
Stanley 278
Pappas 270
3
Kyle Andrews 267
Thompson 258
4
Lindeman 266
D Amico 253
5
Grondin 264
Lee 252
Round Leaders
Scratch
Handicap
1
Grondin
Pappas
2
Grondin
Gafate
3
Chan
Gafate
4
Chan
D Amico
5
Stanley
Gafate
TOTAL AWARDED THIS EVENT: $5,378