STRIKE ZONE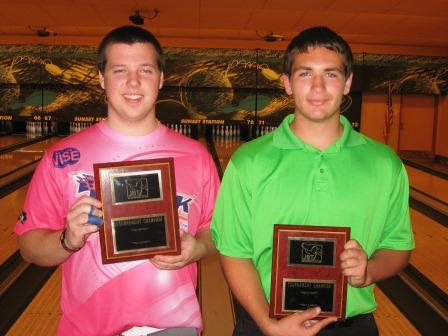 champs Riley Dempsey & Steven Acuff
Two veteran Arizona bowlers wrapped up the 2011-12 Mojave Conference regular season with exciting wins at Sunset Station's Strike Zone bowling center.
Dallas Leong opened up the scratch division stepladder finals with a 245-206 win over Eric Hatchett. JBT all-time titles leader Kyle King then stopped Leong 233-202. Dempsey then turned the tables on King 231-199 to advance to the title match.
Top seed Zack Hattori recovered from a bad first game to put on an impressive performance on the challenging 'Stockholm' lane pattern, but both bowlers found the carry tough to come by on a well bowled, tense final match. Dempsey doubled in the tenth frame, forcing Zack to do the same to capture (amazingly) his first title since December 2009. Hattori's perfect first shot destroyed the rack but somehow left a solid-7, giving Dempsey the 212-203 win and the 14th title of his excellent JBT career.
Brendan Lindsey, a champ earlier this season in Pahrump, opened the handicap stepladder finals with a 227-212 win over David Galvan. Lindsey then beat California's Shauna Schultz 223-202. Acuff then stopped Brendan's run with a 241-220 semifinal win to advance to the title match.
Justin Villa earned the top seed in a logjammed field with just a +41 score, indicative of the day's tough lane pattern. He then proceeded to fire a clean 227 in the title game... and get blown out by Acuff, who found a look he didn't have all day for a 257 scratch game, resulting in a 269-241 total win. It's his 8th career JBT title, earning him the record for the most all time handicap wins.
Alexis Atkin won the day's Impact Bowling Women's Series event with a 203-142 win over Kayla Goad, solidifying her position in the 2012 Girls TPC, held here at Strike Zone this July.
Thanks as always to the crew at Strike Zone for hosting our event. Over $1,400 in scholarships were earned by bowlers of all averages and ages- want in on the fun? Check out our schedule and come on down to the next JBT event you can, it's that simple!
Strike Zone- final results and scholarship winners
4/14/2012
Scratch Division
rank
bowler
prize
1
Riley Dempsey
$215
2
Zack Hattori
$223
3
Kyle King
$70
4
Dallas Leong
$80
5
Eric Hatchett
$30
6
Jordan Ono
$20
7
Cortez Schenck
8
Aaron Foshie
9
Jakob Butturff
$53
10
Nick Pollak
11
Jordan Ferrer
12
Kyle Karpovich
$15
13
Nick Lee
14
Mark Curtis
15
Bruan Gruoe
16
Mark Myers
17
Oscar Chan
18
Jeffrey Holen
19
Kayla Goad
20
Chase Nadeau
21
Danny Varholdt
22
Joe Lewandowski
23
Curtis Lindeman
24
Teddy Lucente
25
Derek Acuff
26
Ian Hanuscin
27
Cameron Smith
28
Daniel Holden
29
Tony Rose
30
Dan Hansen
31
Marina Stever
32
Mark Caparas
Handicap Division
1
Steven Acuff
$200
2
Justin Villa
$100
3
Brendan Lindsey
$105
4
Shauna Schultz
$55
5
David Galvan
$30
6
Taylor Ray
$28
7
Joe Gerencser
$15
8
Kennison Andrews
9
Leah Glazer
$40
10
Randi Speiler
$15
11
Veronica Schleicher
12
KJ Martinez
$30
13
Alexis Atkin
14
Matt Dragovich
15
Shelby Demspey
16
Michael Butz
17
Brandon Duffy
18
Candace Gardner
19
Alexandra Dammier
20
TJ Rock
21
Jake Smith
22
Kyle Andrews
$35
23
Teagan Smale
24
Savannah Carr
$45
25
Jason Pappas
26
Marguerite Evans
$15
27
Andrew Valdez
28
Jeremy Cardines
29
Aaron Watkins
30
Megan Carlson
$28
31
Rance Dvorak
32
Elijah Lomotan
33
Jake Bryan
34
Cerell Cardnies
35
Kyli Selley
36
Brooke Martinez
$15
37
Sam Amaral
High Games
Scratch
Handicap
1
Hatchett 276
Acuff 269
2
Karpovich 259
Lindsey 257
3
Hattori 259
Galvan 254
4
Hattori 258
Gerencser 249
5
Dempsey, Butturff 258
Dragovich 247
High Female
1
Goad -84
2
Atkin -146*
3
Glazer -160
4
Speiler -185
5
Carr -201
Round Leaders
Scratch
Handicap
1
Pollak
Gerencser
2
Ferrer
Gerencser
3
Ferrer
Lindsey
4
Ferrer
Gerencser
5
Ferrer / Karpovich
Lindsey
6
Hattori
Lindsey
7
Hattori
Villa
8
Hattori
Villa
TOTAL AWARDED THIS EVENT: $1,462