ARIZONA INVITATIONAL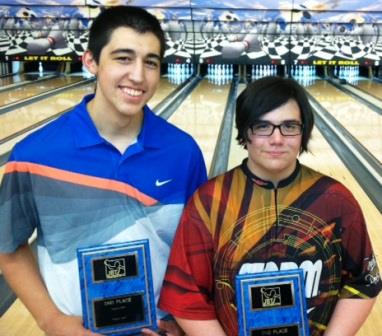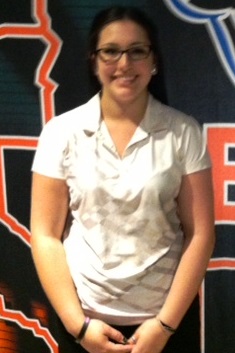 champs Eric Hatchett, Jarred Starr-Moncayo, and Correen Lieber
Hatchett, Starr-Moncayo, Lieber win JBT AZ Invitational Titles;
$5,000+ In Scholarships Awarded!
Eric Hatchett, Jarred Starr-Moncayo, and Correen Lieber earned JBT major titles, winning the championships at the 18th annual JBT Arizona Invitational tournament, hosted by Let It Roll.
Jakob Butturff tamed the tricky, slick lanes in the qualifying round to grab the top seed for the triple-elimination matchplay finals, but dug an early hole he couldn't escape from, eventually bowing out in round 6. Nobody was able to dominate the extremely talented field, as by round eight five bowlers remained, all with two losses. In that round, #5 Cortez Schenck enjoyed a bye, while Kyle Duster eliminated Main Event champion Oscar Chan, and Eric Hatchett eliminated Ben Canfield, who still locked up Bowler of the Year with his strong finish here, as well as seven previous Arizona Conference wins on the season. With three players now remaining, Hatchett earned the valuable bye, and Duster ousted Schenck, setting up a one game title match between Kyle and Eric.
Hatchett and Duster had done their biggest previous Invitational damage in California, as Kyle won the 2013 So Cal Invite, and Eric the 2014 edition just six days earlier. The title match was a total grind, with neither bowler able to stay clean or double early on. However, it was Eric who made the adjustments first, striking out from the 8th to defeat Duster 208-183 and earn the title, $1,000 payday, second major in six days, and 12th career JBT title.
Moncayo began the day unspectacularly, but had the benefit of being exempt for the finals by being in the top five in season-long points. When matchplay started, though, he became spectacular very quickly, storming out to a 8-0 record before Aaron Coleman finally handed him his first loss. Two games later, after Aaron defeated Max Polhill (who locked up Bowler of the Year with a tenacious performance), they were the only two left standing, and Coleman had two win two straight against Jarred to take away the title.
The first game was a total struggle for both bowlers. Needing marks in the final frames to lock it up, Starr-Moncayo got two consecutive nose-high hits to carry, and the double gave him plenty of room for a 197-173 win. Jarred's win is his third in his very impressive rookie season, while 10 year-old Coleman wrapped up a fine season of his own with his second runner-up finish.
Correen Lieber grabbed the top seed for the simultaneous Girls Invitational, while hard-charging Heather Penatzer nabbed the second seed. They both made the cut in the main tournament as well, with Correen eliminating Heather in round six, thus their girls' title match was a bit of a rematch. A tenth frame washout from Penatzer spelled doom for her though, as Lieber came through with the 204-185 win, second Girls Invite title, and another $200 bonus, courtesy of Women's Series title sponsor Impact Bowling!
Thanks to the great crew at Let It Roll for a great job hosting another major JBT event. Over $5,000 in scholarships were earned by bowlers of all ages and averages! The top 20 in AZ points now advance to the 2014 Touring Players Championship this July for our biggest event of the season.
AZ Invitational- final results and scholarship winners
6/7/2014
Scratch Division
rank
bowler

prize

1
Eric Hatchett
$1,000
2
Kyle Duster
$500
3
Cortez Schenck
$293
4
Ben Canfield
$150
5
Oscar Chan
$114
6
Darren Stanley
7
Jakob Butturff
$50
8
Matthew Redmon
9
Russ Oviatt
$50
10
Correen Lieber
$200
11
Derek Acuff
$50
12
Shane Valleau
13
Aaron Yamamoto
14
Heather Penatzer
$28
15
Curtis Lindeman
16
Ben Subeck
17
Tim Jacob
18
Keith Fung
19
Bryan Van Sickle
20
Matt Zweig
21
Aaron Munyon
22
Adel Wahner
$50
23
Riley Dempsey
24
Harley Sweigart
25
Nick Pollak
26
Josh Franz
Handicap Division
1
Jarred Starr-Moncayo
$1,014
2
Aaron Coleman
$529
3
Max Polhill
$250
4
Abby Franklin
$165
5
Paul Colyer
$125
6
Sebastian Polhill
$100
7
Ryanna Patterson
$100
8
Alexis Atkin
$100
9
Jeremy Cardines
10
Bella Flowers
11
Kendra Edgett
12
Bex Boyko
$15
13
Rachael Berg
$103
14
Shauna Schultz
15
Cameron Peck
16
Samantha Sellers
$55
17
Chad Alexander
18
Connor Lawrence
19
Destiny Johnson
20
Kyle Ponzo
21
Devyn Patalina
22
Kristen Lee
23
Kyle Lawrence
$15
24
Jozef Corwin
25
Jessica Weygint
26
Tony Edgett
27
Amanda Atkin
28
Chris Huglin
29
Jerod Walker
30
Justin Lawrence
$5
31
Chris Rouse
32
Daryus Alo
33
Mathew Adragna
34
Stefanhy Toala
35
Steven Acuff
36
Zach Huglin
37
Andrew Dorsey
38
Zach Rapp
39
Katelyn Corwin
40
Dante Rohe
41
Rashaad Jordan
42
Celeste Valdez
43
Jake Tucker
High Games
Scratch
Handicap
1
Acuff 275
Moncayo 297
2
Valleau 256
Franklin 297
3
Butturff 256
K Edgett 265
4
Duster 247
Coleman 253
5
Oviatt 245
J Cardines 251
Girls' Invitational
1
C Lieber -20*
2
Penatzer -59
3
Al. Atkin -124
4
Lee -132
5
Wahner -136
Round Leaders
Scratch
Handicap
1
Redmon
Walker
2
Redmon
S Polhill
3
Valleau
Boyko
4
Valleau
S Polhill
5
Butturff
S Polhill
TOTAL AWARDED THIS EVENT: $5,072