NM-TX DOUBLES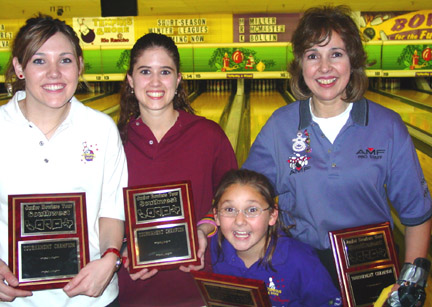 champs Adrienne Miller, Bryanna Caldwell, Janeyl Carper, and Dana Miller-Mackie
Ladies' Day at Tenpins & More produced an historic result and some great storylines in the NM-TX Doubles Classic.
Although the JBT SW has had plenty of female champions over the years, we've never had both the scratch and handicap divisions have a female champ at the same event. That stat was wiped out doubly as two all-female teams captured their respective divisions.
In the scratch division, the father-son team of Andy and Cliff Byer, who finished second in this event last year, won the opening match of the stepladder finals 224-159 over Brandon Abeyta and Brian Hare. The finish was the first scratch top 5 of Abeyta's career.
In round two, the adult-junior team of Bill Grant and Donna Dowd came on to defeat the Byers 205-135. In the semifinals, Tony Genovesi, bowling in his first JBT SW event, and his partner Peter Vasquez, defeated Grant and Dowd 198-146, advancing them to the championship match.
Miss Miller had won the NM-TX Doubles last year with partner Jason Daniels, and electrified the crowd this year by tossing a 300 game in qualifying, the second perfecto of her JBT SW career. Miss Caldwell, a JBT superstar for years, came back from her freshman year at Central Missouri State, to team with Miller (a U of Nebraska standout) to easily gain the top seed. In the title match, both bowlers remained solid while Genovesi and Vasquez struggled a bit. In the end, Adrienne and Bryanna won the match 202-172. It was Miller's 2nd JBT SW title, and Bryanna's 6th, which moves her ahead of Shannon Pluhowsky to make her the JBT SW's female all-time title leader.
In the handicap division, Janeyl Carper and Dana Miller-Mackie just barely qualified for the finals, but then caught fire to run the ladder. They began with a 199-150 round one win over Josh Arceo and Jessica Palma.
In round two, they survived a much closer match, beating Paul Espinoza Sr. & Jr. 180-155. In the semifinal, both teams struggled a little, but Janeyl and Dana had enough in the tanks to pull out a 174-156 win over Danielle and Larry Rogers, to advance to the title match.
Top qualifiers Travis Gudelj and Eric Kear had led for most of the day, but ran into a buzzsaw in Carper and Miller-Mackie. When you're bowling with a talent like Dana, all Janeyl had to do was fill frames and they'd be hard to beat. But Carper did more than hold up her end of the bargain, staying clean with 2 strikes to help her team to a 215-182 win over Travis and Eric. It was the first JBT SW title for Janeyl, while Dana claims this as her 60th win in tournament competition. It's the first junior title for the member of 7 sports Halls of Fame, though, since she was into other sports as a child!
Thanks to Steve Mackie and everyone at Tenpins & More for another terrific job hosting one of our most fun events of the year! Thanks also to Mr. Jim Dines of Dines & Gross Trail Attorneys for their sponsorship of the day's event!
NM-TX Doubles at Tenpins & More- final results and optional scholarship winners
12/18/2004
NM-TX Conference
Scratch Division
rank
name
prize
partner, schol. won
prize
score
total prize
1
Bryanna Caldwell
Adrienne Miller
p 300
2
Tony Genovesi
$405
Peter Vasquez
p 241
$405
3
Bill Grant
$150
Donna Dowd
p 212
$150
4
Andy Byer
$95
Cliff Byer
p 61
$95
5
Brandon Abeyta
$60
Brian Hare
p 76
$60
6
Amanda Falk
$25
Joseph Anderson
$25
p 51
$50
7
Jerod Florez
Aaron Hahn
p 50
8
Chris Wurm
Allen Van Tassel
p 33
9
CJ Brown
$15
Elizabeth Artley
m 4
$15
10
Justin Medina
Marcus Medina
m 14
11
Philip Schwartz
Eric Vanderlip
m 52
12
Brandy Silva
Juan Cordova
m 52
13
Dan Romero
Dennis Brown
m 72
14
Jarrad Espinoza
Manuel Salazar
m 169
Handicap Division
rank
name
prize
name
prize
score
total prize
1
Janeyl Carper
$395
Dana Miller-Mackie
p 198
$395
2
Travis Gudelj
$145
Eric Kear
$100
p 294
$245
3
Danielle Rogers
$100
Larry Rogers
p 257
$100
Paul Espinoza Jr.
Paul Espinoza Sr.
p 243
4
Josh Arceo
$125
Jessica Palma
$65
p 218
$190
5
Rachel Espinda
$60
Eric Espinda
p 193
$60
7
Michael Valdez
$25
Antonio Garcia
$25
p 187
$50
8
Matthew Helmick
$35
Alex Baker
$20
p 156
$55
9
Angelo Espinoza
$55
Lee Espinoza
p 151
$55
10
Cody Mansfield
$10
Amanda Johnson
$10
p 145
$20
11
Zachary Barnard
$15
Tom Barnard
p 117
$15
12
Nick Muller
Jesse Gage
p 91
13
Janine Rogers
$30
Renee Guilliams
p 50
$30
14
Taylor Cruz
Elona Cruz
p 45
15
Matthew Gumbrecht
Glenn Gumbrecht
$15
p 43
$15
16
Charlie Elliott
$60
Belinda Sena
$15
m 10
$75
17
Cerra Strickland
Lonnie Hampe
m 14
18
Vincent Michel
$15
Juan Romero
m 19
$15
19
Mariah Martinez
Al Booker
m 26
20
Paul Carper
$45
Jim Tillery
m 27
$45
21
Amy Jo English
Annalicia Martinez
m 33
22
Julian Ortega
James Ortega
m 46
23
Jeremy Baca
$15
Pat Baca
m 157
$15
24
Carlos Abeyta
Rene Roybal
m 14
25
Susan Kurzeka
Stephanie Sheffer
m 16
26
Hannah Dowd
Eddie Dowd
m 28
27
Wendy Shelton
$30
Paul Bierly
m 29
$30
28
Jamison Spam
Jim Spam
m 30
29
Nathan Hughes
Jeff Hughes
m 33
30
Zakary Strickland
Scott Fuqua
m 39
31
Ariel Urioste
Michael Urioste Jr.
m 39
32
Mark Mares
$30
Joseph jaramillo
m 43
$30
33
Sarah English
Ruby Valdez
m 48
34
Emily Milbank
Dan Milbank
m 49
35
Joseph Cormier
Jerami Monreal
m 50
36
Edward Hererra
Linda Herrera
m 51
37
Jordan Yussman
Brian Yussman
m 55
38
Christina Waldron
Andrew Nuzzo
m 59
39
Jennifer Greggerson
Tim Greggerson
m 67
40
Jordan Spam
Brad McKensey
m 70
41
Heaven Pajala
Robin Sandler
m 73
42
Jonah bell
Anthony Bell
m 94
43
Andres Gallegos
Antonio Chavez
m 115
44
Thomas Gutierrez
Tom Gutierrez
m 127
45
Dennis Helmick
Joshua Helmick
m 135
46
Bobbi Reich
Jeff Satterfield
m 138
47
Jesse Henson
Becky Henson
m 195
Cuts: scratch minus 2; handicap minus 12
TOTAL AWARDED THIS EVENT: $2,295