MOJAVE DOUBLES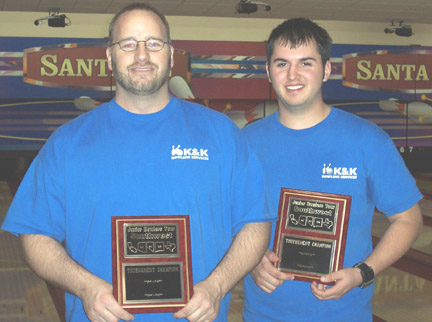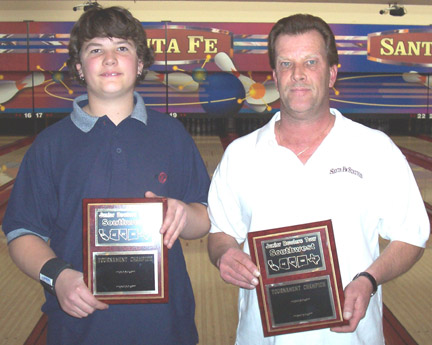 Scratch champs Phil Platko and Philip Schwartz, and handicap winners Bobby and Tom Majdanski
The spectacularly remodeled Santa Fe Station Lanes saw some high scoring and a great time in the Mojave Doubles Classic.
In the scratch division, the team of Theo Douthit and Christian Jensen opened the Baker-style stepladder finals with a 217-181 win over Chris and Mike Clemence. This marks Theo's third finals appearance in as many doubles events this year. In the next round, Douthit and Jensen fell to the team of Derrick Parnell and women's pro standout Wendy MacPherson 225-151. In the semifinals, the team of Mike Thompson and Tony Martinez came on strong to defeat Parnell and MacPherson 256-198, advancing to the title match.
Top qualifiers Phil Platko and Philip Schwartz had lapped the field, going +327 in qualifying, and each averaging over 220 for the day. In the championship game, The team, representing K & K, threw lots of X & X, just as they had all day. Their 242-204 victory over Thompson and Martinez gave Schwartz his 7th JBT SW title, breaking him out of a protracted slump.
In the handicap division, The adult-junior team of Anthony Ramirez and Chona Kardell defeated Sean Harrison and Jay Johnson 224-154. Round two saw a bizarre circumstance as Kyle and Fred Adams came on to edge Ramirez and Kardell 158-141. However, due to other obligations the Adams team could not continue, advancing Anthony and Chona by default. Ramirez and Kardell could not take advantage of the gift, however, falling to Sean Huggins and Danial Fong 172-146 in the semifinal battle.
Top-seeded Bobby and Tom Majdanski had also been on a day-long roll, and were not to be denied in the title match, despite a game effort from Danial and Sean. Both bowlers were solid through the match, and the 233-187 final tally gave Bobby his 2nd career JBT SW title.
Thanks to Joy Francomano and her staff for hosting us on short notice- she and her staff at Santa Fe do a fantastic job both hosting and promoting JBT SW events, and we appreciate the help very much!
Mojave Doubles at Santa Fe Station- final results and optional scholarship winners
12/19/2004
Mojave Conference
Scratch Division
rank
name
prize
partner, schol. won
prize
score
total prize
1
Phil Platko
Philip Schwartz
$470
p 428
$470
2
Mike Thompson
Tony Martinez
$225
p 322
$225
3
Derrick Parnell
$125
Wendy MacPherson
p 285
$125
4
Theo Douthit
$60
Christian Jensen
$65
p 191
$125
5
Chris Clemence
$60
Mike Clemence
p 244
$60
6
Johnny Ray
$15
Sakae Watanabe
p 97
$15
7
Josh Blanchard
$45
Tom Godfrey
p 90
$45
8
BJ Baker
$10
Dave Bourgon
p 84
$10
9
Jeff Ellis
$30
Chris Ingram
p 74
$30
10
Daniel Hansak
Jason Lucero
$15
p 45
$15
11
Brandon Allred
Mike Wise
p 33
12
Heather Brown
Christina Kinney
p 28
13
John Ailstock
$15
Ed Ailstock
p 13
$15
14
Lanndyn Carnate
Tiffany Chi
m 99
15
Jerimiah Wiltfang
Art Ramirez
m 14
16
Matt Cossey
Berman Sae-Aee
m 32
17
Brandon Watts
Randy Chi
m 39
18
Chris McCloskey
Kyle Turner
m 55
19
Nathan Panaligan
Cease Panaligan
m 61
20
Cody Raynoha
Bobby Holmes
m 86
21
Kelly White
George Palumbo
m 88
22
Maddie Pellegrino
Paul Renteria
m 90
23
Hasan Kural
Mike Donnelly
m 108
24
Rachel Carr
Mel Stene
m 130
25
Kurt Plotkin
Steve Plotkin
m 132
26
Chris Castro
Paolo Castro
m 146
27
Jessica Hetkowski
Ski Hetkowski
m 177
28
Jon Castro
Melissa Castro
m 208
29
Bobby Sherman
Greg Garofalo
m 259
Handicap Division
rank
name
prize
name
prize
score
total prize
1
Bobby Majdanski
$380
Tommy Majdanski
p 394
$380
2
Sean Huggins
$130
Danial Fong
$100
p 257
$230
3
Anthony Ramirez
$100
Chona Kardell
p 199
$100
4
Kyle Adams
$80
Fred Adams
p 220
$80
5
Sean Harrison
$60
Jay Johnson
p 160
$60
6
Brittany Yocum
$85
Richard Yocum
p 157
$85
7
Jessie Ramirez
$50
Kenneth Ramirez
p 127
$50
8
Taylor McKenrick
$30
Tim McKenrick
p 79
$30
9
Walker Newman
Zack Newman
p 78
10
Steven Slivka
Al Slivka
p 76
11
Troy Graydon
$15
William Graydon
p 73
$15
12
Adam Stroud
William Stroud
p 67
13
Josh Melnick
Kyle Halpin
p 65
14
Brandon Ramirez
Robert Kardell
p 57
15
Natali Seghetti
Tony Seghetti
p 53
16
Steven Clemence
Chris Kagawa
p 51
17
Ryan Yadao
$15
Robert Yadao
p 30
$15
18
Ray Griffith
$30
Stephen Griffith
p 19
$30
19
Daniel Ball
Robert Ball
p 14
20
Nick Lamek
Nick Seghetti
p 13
21
Amanda Voight
Matthew Moss
p 4
22
Jason Majdanski
Tim Thurtle
p 1
23
Valerie Street
Darcie Staggs
$60
m 15
$60
24
Ken Keegan
Hannah Chipman
m 22
25
Kyle Bridgman
Cliff Smith
m 27
26
Amanda Dewees
Josh Brooks
m 28
27
Sabreana Robinson
Reba Harrison
m 40
28
Brandon Dauphinais
Sue Johnson
m 49
29
Alesha Pannier
Dave Pannier
m 53
30
Matt Raagas
Larry Raagas
m 62
31
Melanie Griffith
Jim Duggins
m 64
32
Kalani Dilliner
Matthew Jaramillo
m 76
33
Travis Stroud
Wanda Stroud
m 76
34
Willie Dubovik III
Willie Dubovik IV
m 100
35
Michael Rhoan
Alex Proffitt
m 106
36
Jordan Ferrer
Carl Winder
m 117
37
Nathan Weaver
James Sanders
m 156
Cuts: scratch minus 9; handicap plus 22
Storm Ball Winner: Sakae Watanabe
TOTAL AWARDED THIS EVENT: $2,270