THE ORLEANS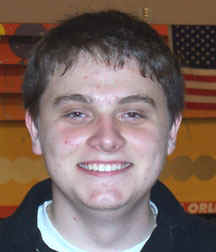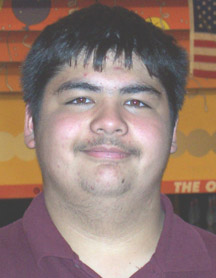 champs DJ Sloan and Matt Raagas
The event at Orleans in Las Vegas saw the scratch division being tested on yet another very tough Sport condition while the handicap division was given the regular house pattern. In both divisions, it appeared that the winners had already been determined through eight games. Steven Black stayed at or near the top the entire day to become tournament leader, and the only bowler to be plus all day in the scratch division. Willie Dubovik IV took over after the fourth game and lapped the field to become tournament leader in the handicap division. Both bowlers would eventually lose in their respective championship matches. DJ Sloan took care of Black by three pins 186-183 and Matt Raagas upset Dubovik IV by four pins 176-172.
Starting his climb up the ladder, DJ Sloan left opens in the first two frames but would come from behind to defeat Brandon Allred 182-157. Allred's fifth place finish was enough to move him into 3rd spot in the point standings. Sloan, who never bowled more than 231 all day on the tough pattern, tossed the last six strikes to easily take out Cameron Foster 216-157. In the semifinal match Sloan would meet Christian Jensen, making his third consecutive top 5 appearance. Sloan would fall behind by more than 20 pins thru five frames. The tide then turned and Sloan, showing no signs that this was his first finals of the season, rattled off 6 strikes in the last seven frames sending Jensen home 202-166.
Sloan was now in the championship match against Steven Black, the veteran JBTSW and Arizona State University star with 30 titles to his name. DJ's one other title was last seasons Doubles Classic when he won with Brian Trubiro. Black would get into trouble early with a pair of splits that he couldn't convert. Sloan would stay clean through the first eight frames. Black's late triple was still not enough to overcome Sloan, and DJ scored his first singles title.

8 year-old handicap finalist Jason Majdanski
In the handicap portion Carl Winder would start by eeking out a win over Jason Majdanski 196-190. Majdanski becomes the youngest finalist in the short history of the Mojave Conference at just 8 years old. But don't let his age fool you. This tiny powerhouse already sports a 145 tour average and even rolled a huge 198 in the last game of the semifinals to make the top 5. In match number two Nick Seghetti would use his handicap to overcome a pair of triples thrown by Winder, Seghetti winning 226-209. The semifinal match brought in Raagas, already in his third top 5 finals this season. Raagas stayed clean in all but one frame to defeat Seghetti, who ran into spare problems late in his match, 193-172.
Raagas would now take on Willie Dubovik IV, who may easily be the most improved bowler on tour from last season. Dubovik never looked back after taking the lead in game 4 and after shooting a 268 in the semifinals had over a 100 pin lead. In the championship match, Raagas never had a lead, but trailed by no more than 11 pins at any time. Dubovik's unfortunate split in the tenth frame was the deciding factor as Raagas was able to spare and strike for the four pin victory. Dubovik's second place finish can be added to his 4th and 5th place earlier this year but look out for him in the near future. Raagas, on the other hand, ended his frustrating run of two 3rd place finishes earlier this season.
The Orleans- final results and optional scholarship winners
12/5/2004
Mojave Conference
Scratch Division
rank
name
city, state
score
prize
1
DJ Sloan
Las Vegas, NV
m 96
$210
2
Steven Black
Phoenix, AZ
p 60
$260
3
Christian Jensen
Chandler, AZ
p 44
$90
4
Cameron Foster
Taylorsville, UT
m 83
$130
5
Brandon Allred
Las Vegas, NV
m 90
$20
6
Robert Adams
Las Vegas, NV
m 110
7
Cayson Coyle
Las Vegas, NV
m 123

8
Nathan Panaligan
N. Las Vegas, NV
m 133

9
Jerimiah Wiltfang
Lake Havasu City, AZ
m 159

10
BJ Baker
Tempe, AZ
m 250
11
Philip Schwartz
Oro Valley, AZ
m 251
12
Cody Raynoha
Las Vegas, NV
m 262

13
Tiffany Chi
Prescott, AZ
m 149

14
Daniel hansak
Las Vegas, NV
m 195

15
Brandon Watts
Lake Havasu City, AZ
m 207
16
Jessica Hetkowski
Las Vegas, NV
m 214
17
Steven Clemence
Las Vegas, NV
m 221
18
Chris Kagawa
Las Vegas, NV
m 222
19
Heather Brown
Las Vegas, NV
m 231
20
Ray Griffith
Las Vegas, NV
m 240
21
Matt Cossey
Henderson, NV
m 248
22
Johnny Ray
Las Vegas, NV
m 270
23
Andrew Decker
Las Vegas, NV
m 271
24
Bobby majdanski
Las Vegas, NV
m 289
25
Ray Bhawnani
Lake Havasu City, AZ
m 319
$15
Handicap Division
rank
name
city, state
score
prize
1
Matt Raagas
Las Vegas, NV
p 247
$215
2
Willie Dubovik IV
Las Vegas, NV
p 261
$135
3
Nick Seghetti
Las Vegas, NV
p 201
$60
4
Carl Winder
Las Vegas, NV
p 131
$40
5
Jason Majdanski
Las Vegas, NV
p 135
$20
6
John Haggerty
Las Vegas, NV
p 129

7
Zach Hattori
Las Vegas, NV
p 94
$15
8
Walker Newman
Las Vegas, NV
p 93

9
Sean harrison
Las Vegas, NV
p 76
$40
10
Amanda DeWees
Henderson, NV
p 75

11
Kelly White
Henderson, NV
p 46
12
Maddie Pellegrino
Henderson, NV
p 247
$40
13
Hannah Chipman
Las Vegas, NV
p 16
$15
14
Scott Schickling
Lake Havasu City, AZ
p 13
$15
15
Natali Seghetti
Las Vegas, NV
m 17
16
Brandon Ramirez
Las Vegas, NV
m 36
17
Taylor McKenrick
Henderson, NV
m 59
$30
18
Michael Rhoan
Las Vegas, NV
m 80

19
Alesha Pannier
Lake Havasu City, AZ
m 3
20
Zack Newman
Las Vegas, NV
m 14
21
Kyle Bridgman
Kingman, AZ
m 22
22
Dacrie Staggs
Bullhead City, AZ
m 24
$15
23
Brandon Dauphinais
Henderson, NV
m 25
24
Travis Stroud
Las Vegas, NV
m 31
25
Jordan Ferrer
Las Vegas, NV
m 37
26
Nick Lamek
Las Vegas, NV
m 42

27
Andrew Gottlieb
Las Vegas, NV
m 62
28
Justin Newkirk
Tucson, AZ
m 70
29
Melanie Griffith
Las Vegas, NV
m 75
30
Teofisto Cipriaso
Las Vegas, NV
m 83
31
Cody McCullough
Las Vegas, NV
m 90
32
Jeff Thyr
Las Vegas, NV
m 105
33
Adam Stroud
Las Vegas, NV
m 133
34
Anthony Lianzo
Las Vegas, NV
m 179
High Games: scratch: Foster 246, Jensen 237, Sloan 231.

Handicap: Dubovik 275, Schikling 257, Harrison 251
High Female: Maddie Pellegrino
Cuts: scratch minus 145; handicap even
Storm Ball Winner: Bobby Majdanski
Finals results:
Scratch:
Sloan def. Allred 182-157
Sloan def. Foster 216-157
Sloan def. Jensen 202-166
Sloan def. Black, 186-183
Handicap:
Winder def. Majdanski 196-190
Seghetti def. Winder 226-209
Raagas def. Seghetti 191-172
Raagas def. Dubovik 182-172
TOTAL AWARDED THIS EVENT: $1,365