PARKWAY BOWL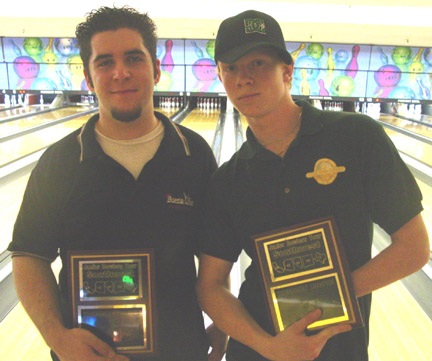 champs Mason Sherman & Logan Bain
One of the best title matches in JBT SW history highlighted an exciting day of action at Parkway Bowl.
In scratch division action, first time finalist Forrest Holland opened the stepladder finals with 10 out of 12 strikes for a 263-149 victory over his good friend Chris Fore. In round two, Theo Douthit took care of Holland 210-170, before Mason Sherman turned the tables on Douthit 215-188, as two late opens sealed Theo's fate.
Top qualifier Josh Blanchard had just hung on to the #1 seed, but faced a tough challenge in Mason. Both bowlers had met in many matches in JST and JAT events (and have won plenty each), but this marked their first battle in JBT SW action. And what a battle it was, as Blanchard was perfect through nine frames except for a 6th frame 9-spare, while Mason strung strikes in frames 3-9 after two opening spare. In his tenth frame, Sherman threw three perfect strikes- punctuated with a cry of "where you at, Spanky!" to his buddy Josh after the last strike. Blanchard then needed to throw all three strikes to win by a pin. After a perfect first shot, his second ball came up high and left a 6-10. The breathtaking final result was a 278-266 win, good for Mason's first JBT SW title. The match was, amazingly, only the second-highest-scoring match in JBT SW history, as Andrew Cain beat Hugh Rodman 299-278 in 1999.
In the high scoring handicap division, Daniel Trinh made his first stepladder appearance a success, firing a big 266 to defeat Carlos Vasquez (184) and Enrique Curiel (199). In round two, Andrew Chain came up with a 234, good enough to defeat Kaitlin Mayall (208) and Trinh (175). In the semifinals, Eric Warren made his visit from Arizona a success with a 226 game that defeated Chain (193) and Shane Peck (201), advancing Eric to the championship game.
Top qualifier Logan Bain had been at or near the top of the leaderboard all day. Despite a stout resistance from Warren, Bain was able to carry key shots while Eric struggled to string strikes. The result was a 235-189 decision in Logan's favor, good for the first title of his JBT SW career.
Parkway Bowl- final results and optional scholarship winners
3/5/2005
Southern California Conference
Scratch Division
rank
name
city, state
score
prize
1
Mason Sherman
Moorpark, CA
p 270
$335
2
Josh Blanchard
Upland, CA
p 295
$130
3
Theo Douthit
San Diego, CA
p 252
$70
4
Chris Fore
Oceanside, CA
p 191

5
Forrest Holland
Escondido, CA
p 191
$45
6
Shelby Shirlock
Lake Elsinore, CA
p 157
$60
7
Jared Lawrence
Redondo Beach, CA
p 137
$40
8
Ramey Rahib
San Diego, CA
p 122
$40
9
Brian Carmichael
Moreno Valley, CA
p 105
$15
10
Kevin Valmonte
El Monte, CA
p 98

11
Matt Clune
San Diego, CA
p 97
12
Paul Green
San Diego, CA
p 67
$30
13
Josh Wilson
Vista, CA
m 14

14
Brian Ballard
San Diego, CA
m 87

15
Danielle Schilling
Littlerock, CA
p 14
16
Kacy Bonifacini
San Diego, CA
p 1
17
Anthony Diaz
San Diego, CA
m 7
18
Daniel Soraci
Oceanside, CA
m 14
19
Mark White
San Diego, CA
m 21
20
Julian Bosley
San Diego, CA
m 39
21
Angelica Diaz
San Diego, CA
m 45
22
Michael Cripe
San Diego, CA
m 51
23
Matthew Hutchinson
Escondido, CA
m 77
24
Jonathan Pletcher
Chandler, AZ
m 82
25
Sam Hitchcock
Lake Forest, CA
m 82
26
Richard Brown
Rancho Santa Margarita, CA
m 84
27
Justin Lou
San Diego, CA
m 90
28
Bryan Wasserman
Mission Viejo, CA
m 140
29
Brandon Sherman
San Diego, CA
m 141
Handicap Division
rank
name
city, state
score
prize
1
Logan Bain
El Cajon, CA
p 239
$200
2
Eric Warren
Phoenix, AZ
p 220
$150
3
Shane Peck
Riverside, CA
p 186
$150
4
Andrew Chain
San Diego, CA
p 176
$120
5
Kaitlin Mayall
Chula Vista, CA
p 181
$75
6
Daniel Trinh
San Diego, CA
p 176
$40
7
Enrique Curiel
San Diego, CA
p 113

8
Carlos Vasquez
San Diego, CA
p 146

9
Jason Hermann
El Cajon, CA
p 111
$30
10
Anthony Cruz
San Diego, CA
p 101
$35
11
Kenny Taylor
San Diego, CA
p 94
$15
12
Nick Powanda
San Diego, CA
p 93

13
Kris George
Glendale, AZ
p 87
$15
14
Jason Larcome
Chula Vista, CA
p 81

15
Lana Lycan
San Diego, CA
p 81
16
Jesus Garcia
San Diego, CA
p 64
17
Matt Carter
San Diego, CA
p 64

18
Mimi Duong
San Diego, CA
p 58

19
Foster Phandanouvong
San Diego, CA
p 39
20
Jennylee Valles
San Bernardino, CA
p 38
21
Anthony Stevenson
San Diego, CA
p 36
$30
22
Marycruz Mora
San Diego, CA
p 34
23
Justen Danforth
Lake Forest, CA
p 22
24
Brenden Lou
San Diego, CA
m 10
25
April Urban
Rancho Santa Margarita, CA
p 28
26
Erin Ballard
San Diego, CA
p 25

27
Brandi Childers
San Diego, CA
p 24
28
Tyler Boscarino
Alpine, CA
p 23
29
Joe McLoed
Fallbrook, CA
p 13
30
Drew Thevenot
Santee, CA
p 9
31
Gerardo Duron
San Diego, CA
m 4
32
Kyle Ruzylo
Oceanside, CA
m 11
33
Michael Lozano
San Diego, CA
m 14
34
Melissa Long
Long Beach, CA
m 31
35
Stephanie Udell
El Cajon, CA
m 34
36
Matt Rennick
La Mesa, CA
m 59
37
Kelly Ruzylo
Oceanside, CA
m 59
38
Christina Fraijo
Lake Forest, CA
m 64
39
Alan Perez
San Diego, CA
m 67
40
Paul Ospital, Jr
Crestline, CA
m 76
41
Michael Leslie
San Diego, CA
m 83
42
Kevin Valles
San Bernardino, CA
m 90
43
Alejandro Romero
San Diego, CA
m 93
44
Cameron Smith
Santee, CA
m 96
45
Monica Lozano
San Diego, CA
m 97
46
Samantha Meyers
Mission Hills, CA
m 98
47
Todd Udell
El Cajon, CA
m 119
48
Steven Lanning
San Diego, CA
m 134
High Games: scratch: Sherman 279, Rahib 269, Douthit 256. Handicap: Warren 282, Peck 282, Mayall 254
High Female: none
Cuts: scratch + 15; handicap +29
Storm Ball Winner: Kaitlin Mayall
TOTAL AWARDED THIS EVENT: $1,575