JBT-PBA PRO-AM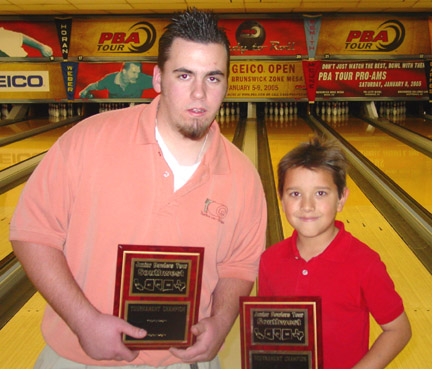 champs Theo Douthit & Chris Huglin
The best of the JBT SW got together with the best bowlers in the world, and the result was a very special PBA-JBT Pro-Am event at BRC Zone Mesa.
The JBT SW is very thankful to the PBA for helping make this event possible. Each JBT bowler teamed with 6 different PBA professionals for a three-game doubles event, with all the usual JBT points, scholarships, and titles on the line. Among the Pros bowling were ex-JBT stars Michael Fagan, Patrick Allen, Danny Wiseman, Joe Ciccone. PBA Hall of Famer, JBT alumnus, and Geico Open runner-up Parker Bohn III also attended. Everyone was entertained and educated by these wonderful professionals, and a great time was had by all, win or lose.
In the scratch division, extremely high scores was the name of the day, and nobody was able to keep up with the pace set by Theo Douthit. Douthit partnered a 751 series of his own with a whopping 820 from his Pros for a 1571 total that won by over 50 pins. The win was Theo's third of the season, and with the help of a clean sweep in the brackets, he cashed for almost $500 in scholarships, to push him over the $3000 mark for his JBT SW career. De Shaun Jefferson, who seems to thrive in Pro-Am formats, finished second, and red-hot David Sevier finished third. Scott Gilman earned his first top 5 this season with a fourth place finish, and Steven Black earned his 98th career top-5 finish with a fifth place performance.
The handicap division champion was Chris Huglin of Gilbert, AZ. The little guy put on a big-time show with games of 249, 273, and 238, to go with the same 820 from his Pros, for a 1580 total that took the $350 top prize. Chris joins his brother Zach in the JBT SW winners' circle with his first JBT SW title.
Finishing second was a fine 1552 effort from Kaitlin Mayall, while David Price broke out of his slump with a 1546 third place tally. Francisco Peralta finished 4th at 1544 for his first top-5 of the year, while Eric Warren rounded out the top 5 in fifth.
Over $2,800 was awarded to the jam-packed field, pushing us further past the $500,000 mark in scholarships awarded by the JBT SW! Thanks to Mr. Tim Brenden and everyone at BRC Zone Mesa, as well as everyone at the PBA once again, for a phenomenal evening.
JBT/PBA Pro-Am- final results and optional scholarship winners
1/8/2005
Arizona Conference
Scratch Division
rank
name
city, state
score
prize
1
Theo Douthit
San Diego, CA
1571
$448
2
DeShaun Jefferson
Phoenix, AZ
1523
$150
3
David Sevier
Gilbert, AZ
1494
$100
4
Scott Gilman
Tempe, AZ
1468
$75
5
Steven Black
Phoenix, AZ
1456
$70
6
Brandy Silva
Albuquerque, NM
1447
$55
7
Steven Sheffey
Scottsdale, AZ
1442
$50
8
Jason Arnold
Phoenix, AZ
1428

9
Labriel Leach
Tucson, AZ
1424

10
Derek Thurber
Phoenix, AZ
1421

11
Joseph Anderson
Avondale, AZ
1406

12
Kevin Saunders
Goodyear, AZ
1404

13
Bryanna Caldwell
Warrensburg, MO
1402
14
Andy Byer
Albuquerque, NM
1372

15
Jerod Florez
Bosque Farms, NM
1368
16
Matthew Hutchinson
Escondido, CA
1364
17
Tiffany Chi
Prescott, AZ
1358
18
Tom Anderson
Chandler, AZ
1356

19
Jonathan Pletcher
Chandler, AZ
1343

20
BJ Baker
Tempe, AZ
1337

21
Tim Bertotti
Kingman, AZ
1337

22
Bill Grant
Rio Rancho, NM
1329

23
CJ Lee
Gilbert, AZ
1328

24
Miguel Lopez
Peoria, AZ
1325

25
Paul Szymanski
Tempe, AZ
1324
26
Emily Ornelas
Phoenix, AZ
1322
27
Tony Silva
Mesa, AZ
1321
28
Matt Herbert
Prescott, AZ
1309
29
Rachel Carr
Chandler, AZ
1294
30
Jerimiah Wiltfang
Lake Havasu City, AZ
1251
31
Andrew Hutchinson
Escondido, CA
1248
32
Scott Millard
Tucson, AZ
1247
Handicap Division
rank
name
city, state
score
prize
1
Chris Huglin
Gilbert, AZ
1580
$350
2
Kaitlin Mayall
Chula Vista, CA
1552
$218
3
David Price
Safford, AZ
1546
$186
4
Francisco Peralta
Tucson, AZ
1544
$143
5
Eric Warren
Phoenix, AZ
1539
$118
6
Bryanna Dawson
Tempe, AZ
1515
$75
7
Max Van Kirk
Prescott, AZ
1505
$70
8
Christina Waldron
Albuquerque, NM
1496
$65
9
Kevin Schoenfeld
Phoenix, AZ
1494
$60
10
Anthony Cruz
San Diego, CA
1494
$55
11
Jordan Vanderweyst
Phoenix, AZ
1491
$50
12
Jewels Giordano
Phoenix, AZ
1489
$104
13
Kylee Bonneville
Mesa, AZ
1479
$50
14
Jeff Millmier
Phoenix, AZ
1477
$86
15
Taylor King
Phoenix, AZ
1453

16
Kristina Williams
Tucson, AZ
1453
$18
17
Mark Mandell
Queen Creez, AZ
1452

18
Jess McCrackin
Phoenix, AZ
1449
19
Brian Weyrauch
Tempe, AZ
1449
$54
20
Jenny Ortag
Phoenix, AZ
1448
21
Cody Vanderweyst
Phoenix, AZ
1446

22
Michael Curry
Phoenix, AZ
1439
$54
23
Rebecca Bodinet
Phoenix, AZ
1438
24
Kyle King
Phoenix, AZ
1437
$36
25
Cameron Smith
Santee, CA
1437
$18
26
Emmanuel Durazo
Phoenix, AZ
1429
$18
27
Mike Altherr
Mesa, AZ
1426

28
Velia Lopez
Phoenix, AZ
1419

29
Megan Withey
Phoenix, AZ
1418
30
Brittany Riggers
Phoenix, AZ
1418
31
Alex Van kirk
Prescott, AZ
1415
32
Bryce Techmer
Tempe, AZ
1414

33
Justin White
Phoenix, AZ
1414

34
Steven Mitchell
Phoenix, AZ
1414
35
Dan Eagy
Phoenix, AZ
1411
$18
36
Matt Payne
Phoenix, AZ
1409
$18
37
Alex Powell
Phoenix, AZ
$1,403
$18
38
Dacrcie Staggs
Bullhead City, AZ
1402
39
Kris George
Phoenix, AZ
1400
40
Justin Weber
Phoenix, AZ
1395
41
Sarah Carity
Flagstaff, AZ
1383
42
Zach Huglin
Gilbert, AZ
1383
43
Sean Balbos
Prescott, AZ
1383
44
Tasha Jaszay
Gilbert, AZ
1382
45
Jaymes Conn
La Mesa, CA
1382
46
Jake Tatum
Prescott, AZ
1381
47
Eric Rubin
Phoenix, AZ
1380
48
Katie Andros-Murphy
Kingman, AZ
1376
49
Kevin Narciso
Phoenix, AZ
1372
50
Courtney Dutton
Chandler, AZ
1369
51
Ashlee Weinholdt
Phoenix, AZ
1364
52
Justin Newkirk
Tucson, AZ
1360
53
Austen Christensen
Phoenix, AZ
$1,354
54
Tim Bonneville
Mesa, AZ
1354
55
Nicole Stanczak
Phoenix, AZ
1351
56
Taylor Brennan
Prescott, AZ
1344
57
Andi Jaszay
Gilbert, AZ
1340
58
Greg Geering
Phoenix, AZ
1330
59
Rachelle Davis
Tucson, AZ
1321
60
Rane Lacona
Phoenix, AZ
1299
61
Larry Gilgur
Cave Creek, AZ
1299
62
Christine Sevier
Gilbert, AZ
1279
63
CJ Crowely
Tempe, AZ
1276
64
Kevin Millard
Tucson, AZ
1258
65
Beth Houston
Tucson, AZ
1252
66
Zach Herbert
Prescott, AZ
1230
Storm Ball Winner: Greg Geering
TOTAL AWARDED THIS EVENT: $2,884