PBA-JBT West Region Pro-Am at Tri-City Bowl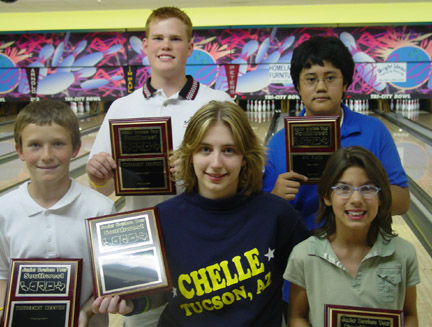 (l-r) Champs Kyle Frederick, Alex Powell, Rachelle Davis, Lanndyn Carnate, and Taylor King

Five champions- three of them first time winners- were crowned in the annual PBA-JBT Western Region Pro-Am, hosted by Tri-City Bowl.

In each division, bowlers rolled three games with a different pro partner, with the top two advancing to a one-game playoff with a top-scoring Pro. We believe that this is a format not used at any other PBA events, and we're grateful to the Pros for taking the time to bowl the extra game.

In the scratch division, top qualifier Lanndyn Carnate teamed with John DeBenedetta for a 426-368 win over David Sevier and David Leverage. The win was the third of Carnate's career.

In boys' 14+ competition, #2 seed Alex Powell and pro partner David Prange upset the #1 seed Michael Kremer and Marv Sargent, 460-442. The victory was the first of Powell's JBT SW career.

In the boys' 13- division, Kyle Frederick made his first JBT SW event a big success by teaming with Murray Hickman for a 223-192 win over Rakan Najdawi and Pat Calahan, for his first career win.

The girls 14+ division provided the noisiest match of the finals, as two JBT veterans clashed for the title. In the end, Rachelle Davis captured win #3 with her and Darron Peters' 457-433 win over Beth Houston and Missy Bellinder.

Last but not least, the girls' 13- final match saw Taylor King and Dave Arnold, the top seeds, take out Courtney Dutton and Nick Smith 375-356, good for the first win of Taylor's JBT SW career.

Big thanks to Terry Adolph and the staff at Tri-City for hosting us, and for putting on a fine regional event on very short notice.
JBT-PBA Western Region Pro-Am- final results and optional scholarship winners
3/11/2005
Arizona Conference
Scratch Division
rank
name
city, state
score
prize
1
Lanndyn Carnate
Glendale, AZ
1549
$125
2
David Sevier
Gilbert, AZ
1517
$148
3
Kavin Saunders
Goodyear, AZ
1485
$50
4
Chris Ingram
Phoenix, AZ
1473

5
BJ Baker
Tempe, AZ
1468
$9
6
Dan Bodinet
Phoenix, AZ
1467

7
Christian Jensen
Anthem, AZ
1466

8
Savahna Porter
Yuma, AZ
1449

9
Steven Black
Phoenix, AZ
1434
$9
10
Michael Cross
Tucson, AZ
1408

11
Joseph Anderson
Avondale, AZ
1385

12
Jason Arnold
Phoenix, AZ
1375
$9
13
Emily Ornelas
Phoenix, AZ
1352

14
Derek Thurber
Phoenix, AZ
1345
$18
15
Tom Anderson
Chandler, AZ
1272
16
Sarah Carity
Phoenix, AZ
1245

Boys' 14+ Division
1
Alex Powell
Pheonix, AZ
1575
$202
2
Michael Kremer
Peoria, AZ
1611
$100
3
Andrew Bass
Goodyear, AZ
1570
$50
4
Kevin Schoenfeld
Phoenix, AZ
1531
$58
5
Michael Curry
Phoenix, AZ
1528
$48
6
Chris Spinner
Phoenix, AZ
1521

7
Matt Payne
Phoenix, AZ
1511
8
Philip Stephens
Phoenix, AZ
1493
$36
9
Tim Bonneville
Mesa, AZ
1481
10
Bryce Techmer
Phoenix, AZ
1457
11
Eric Warren
Phoenix, AZ
1451
$72
12
Mark Mandell
Queen Creek, AZ
1445
$27
13
Kylee Bonneville
Mesa, AZ
1431
14
Kris George
Glendale, AZ
1425
15
Michael Kenny
Prescott Valley, AZ
1416
$27
16
Dan Eagy
Pheonix, AZ
1412
$36
17
Eric Rubin
Chandler, AZ
1408
$18
18
Rane Lacona
Phoenix, AZ
1385
19
Brandon Colwill
Goodyear, AZ
1395
20
Daniel Carabajal
Goodyear, AZ
1377
21
Chet Kyman
Goodyear, AZ
1367
22
Larry Gilgur
Cave Creek, AZ
1360
23
Kevin Narciso
Phoenix, AZ
1359
24
Brian Weyrauch
Tempe, AZ
1319
25
Dale Williams
Flagstaff, AZ
1282
26
Justni White
Phoenix, AZ
1278
27
Jake Tatum
Prescott Valley, AZ
1265
28
Corey Sandberg
Prescott Valley, AZ
1258
29
Taylor Brennan
Prescott Valley, AZ
1256
Boys 13- Handicap Division
rank
name
city, state
score
prize
1
Kyle Frederick
Chandler, AZ
1454
$100
2
Rakan Najdawi
Phoenix, AZ
1470
$50
3
Dallas Sandberg
Prescott, AZ
1448
$9
4
Anthony Cruz
San Diego, CA
1400

5
Max Van Kirk
Prescott, AZ
1348

6
Alex Van Kirk
Prescott, AZ
1334

7
Zachary Najdawi
Phoenix, AZ
1324

8
Austen Christensen
Mesa, AZ
1316

Girls' 14+ Handicap Division
1
Rachelle Davis
Tucson, AZ

$137
2
Beth Houston
Tucson, AZ
1545
$34
3
Bryanna Dawson
Phoenix, AZ
1367

Girls' 13- Handicap Division
1
Taylor King
Phoenix, AZ
1519
$127
2
Courtney Dutton
Chandler, AZ
1424
$25
3
Kayla Frederick
Chandler, AZ
1347

4
Rebeca Reguero
Phoenix, AZ
1313
Storm Ball Winner: Mark Mandell
TOTAL AWARDED THIS EVENT: $1,520