SAM'S TOWN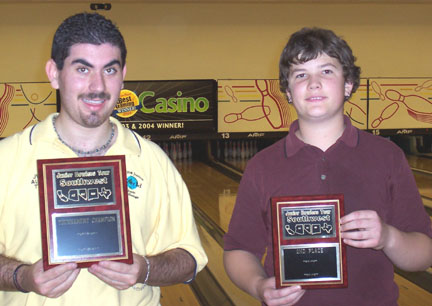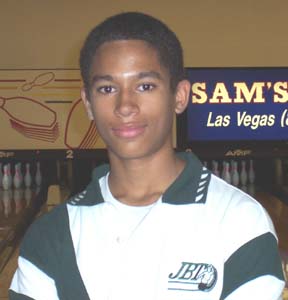 Scratch champ Steven Black, scratch runner-up Bobby Majdanski, and handicap champion Justin White
On a day where PBA great Walter Ray Williams made bowling history with title #40, JBT great Steven Black made history with title number 30 by winning the Sam's Town Scratch Challenge.
Bowlers rolled a seven-game qualifier on conditions so demanding that nobody was plus at the break. The top 16 advanced to matchplay, with the field including three females, and bowlers from four states. Round one featured four upsets, with the biggest one being #12 Rachel Carr outlasting #5 Nathan Panaligan in three greuling games.
In round two, Cayson Coyle, Bobby Majdanski, and Steven Black all swept, while Philip Schwartz outlasted Christian Jensen 190-184 in a bizarre third game to advance.
In the semis, Black defeated Coyle, while Majdanski took care of Schwartz, to advance to the championship game.
Majdanski was one of the handicap division bowlers who came to try out the scratch division, and he wowed everyone by rolling through the very tough field. However, the veteran Black used all his experience to not give Majdanski a chance in the finale. The 223-198 final score was good for Black's 30th JBT SW title (not to mention his 101st top-5 finish). There was no shame at all in Majdanski's runner-up finish, one of the most impressive scratch debut performances we've ever seen.
In the handicap division, a dramatic come-from-behind finish allowed Justin White to claim his first Junior Bowlers Tour Southwest title.
The eight person finals began with Nick Lamek, Alyssa Madrid and Emily Garcia. The match remained very tight until Lamek's clutch double late in the game propelled him to victory with a 220 over Madrid's 197 and Garcia's 206.
Match number two saw Lamek taking on Matthew Raagas and Bobby Majdanski. Raagas was down in 18th position after 5 games and rallied during the semifinals to make the final round. Majdanski had been the tournament leader after qualifying before slipping a few spots. The three bowlers were on their games and none were leaving any opens. Lamek and Raagas would end up tying at 237 apiece and a four frame rolloff was necessary to determine the winner. Both bowlers would start with doubles but Lamek fell into trouble on his next two frames. Raagas moved on with a 94-74 sudden death victory.
The semifinal match didn't let up on excitment. Raagas faced off against Willie Dubovik IV and Brandon Faulkenborg. Dubovik's 278 scratch game during qualifying kept him in the lead for a few games and gave him the days high game award with a 312. Faulkenborg appeared out of it early on as he missed a couple of easy spares. However, all three bowlers would begin striking midway thru their games. Raagas strung a four-bagger while Dubovik IV bravely threw his own triple. Faulkenborg found his line and didn't stop until he had six strikes and eeked out a win, Brandon shooting 264 to Raagas' 248 and Dubovik IV's 235.
Not to be outdone, the championship match between Justin White and Faulkenborg had its share of Halloween suspense. White had quietly taken the lead during the semifinals with some solid bowling. Faulkenborg began with a triple and took a commanding 33 pin lead thru six frames as White struggled to find the pocket. Justin managed to triple in the 7th, 8th and 9th frames and suddenly it was anyone's game. Finishing first, White got a spare and strike in the 10th to finish at 236 forcing Faulkenborg to get a strike in the tenth frame. Brandon couldn't pull it off and ended up with 220 giving White his first JBTSW title.
Sam's Town- final results and optional scholarship winners
11/14/2004
Mojave Conference
Scratch Division
rank
name
city, state
score
prize
1
Steven Black
Phoenix, AZ
m 12
$460
2
Bobby Majdanski
Las Vegas, NV
m 55
$200
3
Cayson Coyle
Las Vegas, NV
m 92
$125
4
Philip Schwartz
Oro Valley, AZ
m 93
$100
5
Christian Jensen
Chandler, AZ
m 21
$60
6
Michael Cripe
San Diego, CA
m 80
$40
7
Rachel Carr
Chandler, AZ
m 95
$30
8
BJ Baker
Tempe, AZ
m 120
$20
9
Johnny Ray
$in City, NV
m 52
$45
10
Nathan Panaligan
N. Las Vegas, NV
m 56
11
Tiffany Chi
Prescott, AZ
m 61
$15
12
Cameron Foster
Taylorsville, UT
m 66
$120
13
Brandon Allred
Las Vegas, NV
m 75
$30
14
Kacy Bonifacini
San Diego, CA
m 105
15
Theo Douthit
San Diego, CA
m 121
$30
16
Carl Winder
Las Vegas, NV
m 124
17
Bobby Sherman
Las Vegas, NV
m 132
18
DJ Sloan
Las Vegas, NV
m 134
19
Ty Brown
Phoenix, AZ
m 149
20
Brandon Watts
Lake Havasu City, AZ
m 168
21
Hasan Kural
Glendale, AZ
m 168
22
Eddie Schaub
Las Vegas, NV
m 171
23
Chris Weyrauch
Tempe, AZ
m 173
24
John Ailstock
Laughlin, NV
m 174
25
Chris Kagawa
Las Vegas, NV
m 184
26
Ray Griffith
Las Vegas, NV
m 188
27
Jessica Hetkowski
Las Vegas, NV
m 264
28
Jeff Millmier
Phoenix, AZ
m 293
29
Raoul Saiz
Las Vegas, NV
m 294
30
Heather Brown
Las Vegas, NV
m 294
31
Andrew Decker
Las Vegas, NV
m 322
32
Chris McCloskey
Las Vegas, NV
m 369
33
Sam Ficalora
Las Vegas, NV
m 446
Cut: scratch: minus 121 (7 games)
Storm Ball Winner: Bobby Majdanski
Finals results:
Quarterfinals:
#10 Coyle def. #14 Baker 236-201, 179-164
#4 Majdanski def. #9 Cripe 248-163, 203-174
#1 Black def. #12 Carr 224-221, 241-181
#11 Schwartz def. #2 Jensen 181-196, 2250198, 190-184
Semifinals:
#1 Black def. #10 Coyle 225-209
#4 Majdanski def. #11 Schwartz 181-150
Final:
Black def. Majdanski, 223-198
Handicap Division
rank
name
city, state
score
prize
1
Justin White
Detroit, MI
p 188
$200
2
Brandon Faulkenborg
Las Vegas, NV
p 167
3
Matthew Raagas
Las Vegas, NV
p 62
$100
4
Willie Dubovik IV
Las Vegas, NV
p 154
$95
5
Bobby Majdanski
Las Vegas, NV
p 86
$100
6
Nick Lamek
Las Vegas, NV
p 58
$20
7
Erika Garcia
San Diego, CA
p 33
$15
8
Alyssa Madrid
Las Vegas, NV
p 36
$15
9
Steven Slivka
Las Vegas, NV
p 19
10
Ashley Ulgaran
Las Vegas, NV
p 14
11
Jason Majdanski
Las Vegas, NV
m 5
12
Kealey Fukuyama
Las Vegas, NV
m 12
13
Troy Graydon
Las Vegas, NV
m 18
14
Jeremy Bellflower
Las Vegas, NV
m 19
15
Nick Seghetti
Las Vegas, NV
m 24
$15
16
Sasha Black
Ft. Mohave, AZ
m 51
$45
17
Taylor McKenrick
Henderson, NV
m 56
$10
18
Christina Fraijo
Covina, CA
m 66
19
Andrew Gottlieb
Las Vegas, NV
m 79
20
Raoul Saiz
Las Vegas, NV
m 93
21
Katelyn Scott
Las Vegas, NV
m 49
22
John Haggerty
Las Vegas, NV
m 54
23
Zachary Hattori
Las Vegas, NV
m 54
24
Marycruz Mora
San Diego, CA
m 65
25
Tracy Berna
Las Vegas, NV
m 68
26
Maddie Pellegrino
Henderson, NV
m 72
27
Hannah Chipman
Las Vegas, NV
m 74
28
Chris Kagawa
Las Vegas, NV
m 75
29
Andrew Decker
Las Vegas, NV
m 87
30
Jenna Graydon
Las Vegas, NV
m 88
31
Carl Winder
Las Vegas, NV
m 92
32
Jesus Garcia
San Diego, CA
m 101
33
Dillon Hageman
Las Vegas, NV
m 104
34
Jordan Ferrer
Las Vegas, NV
m 108
35
Brandon Dauphinais
Henderson, NV
m 110
36
Kalani Dilliner
Las Vegas, NV
m 116
37
Teofosto Cipriaso
Las Vegas, NV
m 132
38
Jerad Faulkenborg
Las Vegas, NV
m 162
39
Ryan Yadao
Las Vegas, NV
m 173
40
Kelly White
Henderson, NV
m 184
High Games: Handicap: Dubovik 312, Majdanski 247, McKenrick 240
Cut: handicap minus 42
Storm Ball Winner: Willie Dubovik
Finals results:
Handicap:
Lamek (220) def. Garcia (206) and Madrid (197)
Raagas (237) def. Majdanski (222) and tied Lamek (237)
Raagas won rolloff, 94-74
Faulkenborg (264) def. Raagas (248) and Dubovik (235)
White def. Faulkenborg, 236-220
TOTAL AWARDED THIS EVENT: $1,920