SAM'S TOWN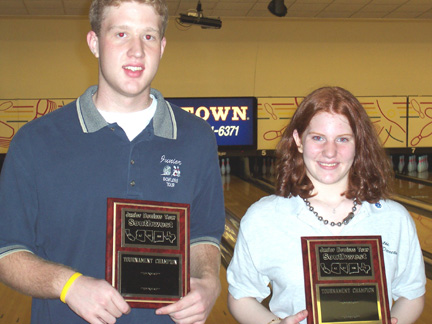 champs BJ Baker & Katie Andros-Murphy
Scratch:
Most bowlers consider Las Vegas to be the "Bowling Capital of the World". With the adult megabuck tournaments having just concluded one day earlier, there was no better setting for BJ Baker to have won his 8th career title, surpassing a milestone along the way. Baker, who won the previous day's JBTSW Arizona Conference tournament for his 7th title, capped off his perfect weekend by defeating California's Josh Blanchard 237-184 to become the first person ever to win two titles on the same weekend. With the win, Baker also avenged a championship match loss to Blanchard last May in a California Conference event. Baker's dual wins and $695 two-day scholarship total allowed him to become just the 10th bowler in JBTSW history (and only second lefty, the other being Team USA's Andrew Cain) to surpass the $5,000 plateau in earnings.
The 53-person star-studded scratch division field was the largest ever in the Mojave Conference and second largest field ever in JBTSW history. The crowd was treated to a superb display of bowling by two of California's finest juniors, Blanchard and Brian Carmichael. Although Carmichael's big 794 in games 3 through 5 allowed him to become the qualifying leader, it was Blanchard's steady barrage of large deuces that gave him the top spot after the semifinals was completed and an astounding 243 average for his eight games.
High scores would not be seen, however, in the finals as the large field stripped most of the oil from the lanes. Philip Schwartz threw a four-bagger in the middle of his game, which would be enough for him to defeat Tom Anderson and Josh Wilson 224-193-179 in the opening match of the eight person stepladder finals. Anderson had wowed the huge crowd at Sam's Town with a 297 in the second game of qualifying. In match two, Baker, winner of the 2003/2004 Sportsmanship Award, would take over with a double in the tenth frame to shut out Bobby Majdanski and Schwartz 203-181-176. Baker would once again be the only bowler to string strikes in the semifinal match. A triple was enough to defeat Carmichael's clean game and Brandon Watts 225-215-165, setting up his rematch against Blanchard for the championship. Before that game, Watts was the only person in the tournament NOT to shoot under 200 the entire day. His fourth place finish is his best scratch division finish to date. In the finale, Baker began with a triple and never relinquished his lead. The right-handed Blanchard would, amazingly, leave three 7 pins along the way as Baker cruised home with 5 more strikes and his place in the JBTSW record book.
In the important Points race, both Watts and Schwartz moved into the top 5 knocking out DJ Sloan and an inactive Cayson Coyle. The top 5 at the end of the season receive additional scholarship bonuses as well as getting an automatic bye into the finals portion of the year ending Invitational event held at Gold Coast Bowling Center in May.
Handicap:
The handicap division certainly had its share of excitement. Nick Lamek, riding a super wave of confidence with his victory just last week at Suncoast Bowling Center, attempted to climb the ladder and win four matches for his second consecutive title. He fell just short, allowing Katie Andros-Murphy to become the second female to win a title in the Mojave handicap division this season, the other being Maddie Pellegrino at Suncoast Bowling Center at the season opener in September.
Lamek opened up the finals round by defeating first-time finalist Casey Bybee 213-191, throwing the first six out of seven strikes. Lamek cruised through the next two matches with easy victories. Against third seeded Robert Page, Lamek had the last four out of five strikes to win 204-150, and against number two seed Justin Spurrier he struck out from the 8th frame for a 215-137 win to propel him into the championship match against Andros-Murphy. The strikes became harder to come by for Lamek, who averaged over 192 for his 12 games. Andros-Murphy only had one open in her first championship match, winning 218-171 for her first title.
In the Points race, Lamek edged ever closer to leader Taylor McKenrick, jumping two spots into second place. Nick Seghetti also took over 5th position by outbowling Hannah Chipman in today's event.
The JBTSW wishes to thank Sam's Town Bowling Center once again for supporting junior bowling through hosting our events. Thanks to manager Mike Kaufman's great staff, Mike, Cheryl and the rest of the great desk support, and event coordinator Donna Harding. Thank you to Storm Bowling Products for their continued support of all JBTSW events. Tim Bertotti won a Storm ball of his choice by winning today's raffle.
The JBTSW Mojave Conference takes some time off to allow for the SNUSBC Junior Masters Tournament on March 5-6 at Santa Fe Station Bowling Center.

Our next event will take us on a day trip to Havasu Lanes in Lake Havasu City, AZ on Sunday March 13 followed the next week by a return to Texas Station.

The JBTSW tournaments are perfect for ALL bowlers of ANY age with ANY average.

We hope to see you at one of these great events!
Sam's Town- final results and optional scholarship winners
2/13/2005
Mojave Conference
Scratch Division
rank
name
city, state
score
prize
1
BJ Baker
Tempe, AZ
p 252
$280
2
Josh Blanchard
Upland, CA
p 438
$210
3
Brian Carmichael
Moreno Valley, CA
p 305
$90
4
Brandon Watts
Lake Havasu City, AZ
p 267
$130
5
Bobby Majdanski
Las Vegas, NV
p 260
$60
6
Philip Schwartz
Oro Valley, AZ
p 174
$80
7
Tom Anderson
Chandler, AZ
p 249
$40
8
Josh Wilson
Vista, CA
p 200
$45
9
Michael Yusi
Las Vegas, NV
p 104
$20
10
Nathan Panaligan
N. Las Vegas, NV
p 91

11
Jerimiah Wiltfang
Lake Havasu City, AZ
p 86

12
Christian Jensen
Anthem, AZ
p 81
$15
13
Steven Black
Phoenix, AZ
p 80
$75
14
Steven Slivka
Las Vegas, NV
p 79

15
Kurt Plotkin
Las Vegas, NV
p 75

16
Steven Florez
Las Vegas, NV
p 71

17
Brandon Donnelly
Lake Havasu City, AZ
p 67

18
John Ailstock
Laughlin, NV
p 47
$15
19
Chris McCloskey
Las Vegas, NV
p 20
$30
20
Cody Raynoha
Las Vegas, NV
p 17

21
Sam Ficalora
Las Vegas, NV
p 14

22
Daniel Hansak
Las Vegas, NV
p 7
$15
23
Antoine Kawaauhau
Las Vegas, NV
m 12

24
Heather Brown
Las Vegas, NV
m 19
$30
25
Berman Sae-Aee
Glendale, AZ
m 26
26
Raoul Saiz
Las Vegas, NV
m 30
$15
27
Chris Clemence
Las Vegas, NV
m 46

28
Tim Bertotti
Kingman, AZ
m 51
29
Chris Kagawa
Las Vegas, NV
m 29

30
Jeff Mathews
Las Vegas, NV
m 30
$15
31
Carl Winder
Las Vegas, NV
m 32
32
Jerad Faulkenborg
Las Vegas, NV
m 32

33
Johnny Ray
Las Vegas, NV
m 33
34
Andrew Decker
Las Vegas, NV
m 41
35
DJ Sloan
Las Vegas, NV
m 49

36
Chris Hooks
Las Vegas, NV
m 52
37
Augie Guerrero
Las Vegas, NV
m 68
38
Brandon Faulkenborg
Las Vegas, NV
m 68
39
Andy Reynoso
Las Vegas, NV
m 73
40
Nick Lindsey
Las Vegas, NV
m 73
41
Brandon Allred
Las Vegas, NV
m 77
42
Derrick Parnell
Las Vegas, NV
m 99
$15
43
Jessica Hetkowski
Las Vegas, NV
m 106
44
Ray Griffith
Las Vegas, NV
m 112
45
Hasan Kural
Glendale, AZ
m 119
46
Steven Archer
Las Vegas, NV
m 120
47
Savannah Guerrero
Riverside, CA
m 142
48
Matt Cossey
Henderson, NV
m 147
49
Steven Clemence
Las Vegas, NV
m 154
50
Bobby Sherman
Las Vegas, NV
m 155
51
Jeremy Bellflower
Las Vegas, NV
m 170
52
Kyle Turner
Las Vegas, NV
m 175
53
Eddie Schaub
Las Vegas, NV
m 205
Handicap Division
rank
name
city, state
score
prize
1
Katie Andros-Murphy
Kingman, AZ
p 148
$30
2
Nick Lamek
Las Vegas, NV
p 117
$245
3
Justin Spurrier
Las Vegas, NV
p 134
$115
4
Robert Page
Los Angeles, CA
p 132
$60
5
Casey Bybee
Las Vegas, NV
p 110
$55
6
Sam Cefalu
Las Vegas, NV
p 94
$43
7
Zack Newman
Las Vegas, NV
p 91
$20
8
Brandon Dauphinais
Henderson, NV
p 86
$15
9
Steven Ashley
N. Las Vegas, NV
p 75
$15
10
Alicia Sullivan
Kingman, AZ
p 73
$73
11
Melanie Griffith
Las Vegas, NV
p 69

12
Jordan Ferrer
Las Vegas, NV
p 68
$15
13
Allie Ijams
Mission Viejo, CA
p 58

14
Brittany Page
Los Angeles, CA
p 43
$15
15
Maddie Pellegrino
Henderson, NV
p 28

16
Bryce Hackney
Las Vegas, NV
p 14
17
Merrill Hill
Las Vegas, NV
p 8

18
Nick Seghetti
Las Vegas, NV
m 45
19
Taylor McKenrick
Henderson, NV
p 15
$58
20
Danielle Guidone
Las Vegas, NV
p 14

21
Jenna Graydon
Las Vegas, NV
m 12

22
Kyle Bridgman
Kingman, AZ
m 13
23
Sasha Black
Fort Mohave, AZ
m 16

24
Jordan Katz
Las Vegas, NV
m 22

25
Hannah Chipman
Las Vegas, NV
m 29
26
Garrett Lowery
Las Vegas, NV
m 32
27
Matthew Raagas
Las Vegas, NV
m 34

28
Erica Mox
Henderson, NV
m 44

29
Jason Majdanski
Las Vegas, NV
m 49

30
Walker Newman
Las Vegas, NV
m 63

31
Kelly White
Henderson, NV
m 69

32
Willie Dubovik IV
Las Vegas, NV
m 69

33
Alex Katz
Las Vegas, NV
m 112

34
Mike Lugo
Las Vegas, NV
m 135
35
Troy Graydon
Las Vegas, NV
dnf

High Games: scratch: Schwartz 279, McCloskey 279, Wilson 276.

Handicap: Cefalu 299, Sullivan 252, McKenrick 252
High Female: Heather Brown 1005, Brittany Page 980
Cuts: scratch -26, handicap +16
Storm Ball Winner: Tim Bertotti
Junior Gold Qualifier: Josh Wilson, Brandon Donnelly
TOTAL AWARDED THIS EVENT: $1,969