SANTA CRUZ LANES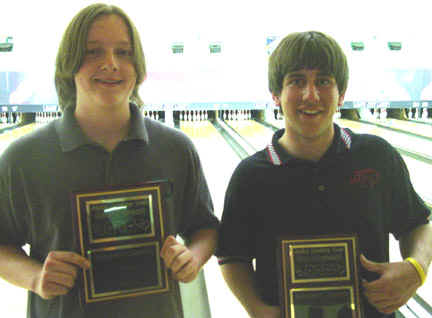 champions Kevin Saunders & Philip Stephens
Kevin Saunders returned to the winners' circle, while Philip Stephens tasted victory for the first time, in JBT SW action at Santa Cruz Lanes.
The scratch division finals opened with Greg Garbera blasting a big 246 to overpower Philip Schwartz (188) and CJ Crooks (178). In round two, Kevin Saunders turned the tables and shot an overpowering 249, taking out Garbera (180) and Derek Thurber (175).
The semifinal match was a true clash of the titans, as Saunders faced David Sevier and Steven Black, who made his 100th scratch top-5 appearance (yes, that was one HUNDRED top 5's). Sevier, throwing a plastic ball on the drying conditions, managed a 201, but took a back seat in the later frames as Kevin and Steven battled it out. Steven missed a 4-pin in the 9th to let Kevin back in, but then doubled in his 10th to force Kevin to get the first strike and high count to win. Kevin got the strike, but then left a washout on his next ball. When he only got 3 on the spare, the match ended tied at 215, forcing a one-shot rolloff. Steven, electing to go first, struck, but Kevin matched it to tie again. Black left a ringing-10 on his next ball, and Kevin came up clutch again, striking to win the match.
Top seeded BJ Baker was looking for his 10th career title and a stranglehold on AZ Bowler of the Year, but opened surprisingly shaky with two missed spares early. A ball change and a resulting late string by Baker got the match closer, but a 7-pin whiff in the 9th sealed his fate, and Saunders took advantage, striking out for a 225-184 win, good for the third title of his JBT SW career.
The handicap division finals opened with Kris George, continuing his annual spring fling, rolling a big 235 to defeat Alex Powell's 211 and Kyle Frederick's 157. In an exciting round two, Michael Kremer came up with a 254 game that beat out fine efforts from Bobby Lopez (231) and George (205). Kremer then took on two ladies in the semifinals, and showed no chivalry in shooting a 217 to defeat Holly Emery (187) and Kayln Washburn (183), advancing to the title match.
Top qualifier Philip Stephens was leading a JBT SW event for the first time, and fought off the nerves to stay clean through the first five frames, which built a lead that was big enough to last the rest of the match. In the end, Philip defeated Michael 215-183, capturing the first title of his JBT SW career.
Thanks to Dale Schnell for another great day of action at the nicely remodeled Santa Cruz center!
Santa Cruz Lanes- final results and optional scholarship winners
4/2/2005
Arizona Conference
Scratch Division
rank
name
city, state
score
prize
1
Kevin Saunders
Goodyear, AZ
p 153
$230
2
BJ Baker
Tempe, AZ
p 212
$175
3
Steven Black
Phoenix, AZ
p 173
$150
4
David Sevier
Gilbert, AZ
p 160
$140
5
Greg Garbera
Glendale, AZ
p 113
$105
6
Derek Thurber
Phoenix, AZ
p 116
$55
7
Philip Schwartz
Oro Valley, AZ
p 115
$60
8
CJ Crooks
Oro Valley, AZ
p 86

9
Mike Hayes
Tucson, AZ
p 63
$20
10
Grant Sudbeck
Tucson, AZ
p 52
$40
11
Savahna Porter
Yuma, AZ
p 24
$20
12
Miguel Lopez
Peoria, AZ
p 1

13
Jimmy Kremer Jr.
Peoria, AZ
m 11

14
Spencer Firman
Casa Grande, AZ
m 38

15
Berman Sae-Aee
Glendale, AZ
m 55
16
Chris McHenry
Tucson, AZ
m 63

17
Christian Jensen
Anthem, AZ
m 85
$15
18
Adam Laskey
Fargo, ND
m 89
$30
19
Chris Davenport
Tucson, AZ
m 104

20
Robert Majeske
Tucson, AZ
m 121

21
Matt Seegel
Fort Sill, OK
m 146

22
Will McPherson
Chandler, AZ
m 157

23
Elias Ewert
Chandler, AZ
m 54

24
Michael Cross
Tucson, AZ
m 60

25
Jason Arnold
Phoenix, AZ
m 68
26
Randy Cote
Tucson, AZ
m 68
27
Tyler Addotta
Tucson, AZ
m 76
28
Gary Vose Jr.
Casa Grande, AZ
m 79
29
Amanda Falk
Tucson, AZ
m 82
30
Gary Pennington
Tucson, AZ
m 94
31
Mike Smith
Chandler, AZ
m 97
32
Sean Grant
Casa Grande, AZ
m 103
33
Tom Anderson
Chandler, AZ
m 114
34
Chris Ingram
Phoenix, AZ
m 115
35
Rachel Carr
Chandler, AZ
m 115
36
Mike Armstrong
Tucson, AZ
m 122
37
Labriel Leach
Tucson, AZ
m 126
38
Dan Bodinet
Phoenix, AZ
m 130
39
Carlos Jimenez
Peoria, AZ
m 144
40
Kurt Lehner
Tucson, AZ
m 186
41
Michael Noblesse
Tucson, AZ
m 200
42
Sarah Carity
Phoenix, AZ
m 213
43
Eric Thompson
Tucson, AZ
m 219
Handicap Division
rank
name
city, state
score
prize
1
Philip Stephens
Phoenix, AZ
p 157
$215
2
Michael Kremer
Peoria, AZ
p 102
$115
3
Kayln Washburn
Tucson, AZ
p 153
$100
4
Holly Emery
Queen Creez, AZ
p 125

5
Bobby Lopez
Tucson, AZ
p 112
$60
6
Kris George
Glendale, AZ
p 100
$110
7
Alex Powell
Phoenix, AZ
p 85
$55
8
Kyle Frederick
Chandler, AZ
p 94
$60
9
Delano Coveris
Tucson, AZ
p 81

10
Rebecca Bodinet
Phoenix, AZ
p 80
$20
11
Francisco Peralta
Tucson, AZ
p 58

12
Kyle King
Phoenix, AZ
p 58
$15
13
Selena Coveris
Tucson, AZ
p 56
$15
14
Luis Soto
Tucson, AZ
p 45

15
Rane Lacona
Phoenix, AZ
p 44
$30
16
Bo LaLonde
Phoenix, AZ
p 38
17
Shane Peck
Riverside, CA
p 34
$60
18
Justin Newkirk
Tucson, AZ
p 31
19
Taylor King
Phoenix, AZ
p 23
20
Jeff Millmier
Phoenix, AZ
p 13
$15
21
Aaron Quintana
Phoenix, AZ
p 11

22
Justin White
Phoenix, AZ
p 1

23
Kayla Frederick
Chandler, AZ
m 2
$15
24
Eric Warren
Phoenix, AZ
m 5
$15
25
Kevin Narciso
Phoenix, AZ
m 14

26
Dan Eagy
Phoenix, AZ
m 42
27
Eric Rubin
Phoenix, AZ
m 43
28
Cody Vanderweyst
Phoenix, AZ
m 54

29
Mark Mandell
Queen Creez, AZ
m 55
$30
30
Jesus Contreras
Tucson, AZ
m 30
31
Jake Tatum
Prescott, AZ
m 32
32
Corey Sandberg
Prescott, AZ
m 35

33
Kevin Millard
Tucson, AZ
m 35

34
Nicki Nunez
Peoria, AZ
m 39

35
Chris Wurm
Chandler, AZ
m 40
36
Tim Radney
Mesa, AZ
m 43
$15
37
Loren Lemcke
Mesa, AZ
m 47

38
David Price
Safford, AZ
m 55
39
Megan Withey
Phoenix, AZ
m 59
$15
40
Brandon Dauphinais
Henderson, NV
m 65
$30
41
Melissa Del Rio
Tucson, AZ
m 66
42
Nicholas Lee
Tucson, AZ
m 69
43
Brian Weyrauch
Tempe, AZ
m 70
44
Kyle Smith
Casa Grande, AZ
m 71
45
Matt Payne
Phoenix, AZ
m 76
46
Beth Houston
Tucson, AZ
m 78
47
Bryanna Dawson
Phoenix, AZ
m 85
48
Kylee Bonneville
Mesa, AZ
m 88
49
Courtney Dutton
Chandler, AZ
m 91
50
CJ Crowley
Mesa, AZ
m 93
51
Rachelle Davis
Tucson, AZ
m 100
52
Taylor Brennan
Prescott, AZ
m 126
53
Bryce Techmer
Phoenix, AZ
m 132
54
Kevin Schoenfeld
Phoenix, AZ
m 171
55
Jeff Weyrauch
Tempe, AZ
m 185
56
Ken Russell
Queen Creez, AZ
m 198
High Games: scratch: Black 268, Baker 254, Thurber 244, Garbera 244.

Handicap: Millmier 281, Warren 269, Stephens 250
High Female: Porter 1020
Cuts: scratch -50; handicap -27
Storm Ball Winner: David Price
Jr. Gold Qualifier: Kris George
TOTAL AWARDED THIS EVENT: $2,045