SANTA FE STATION LANES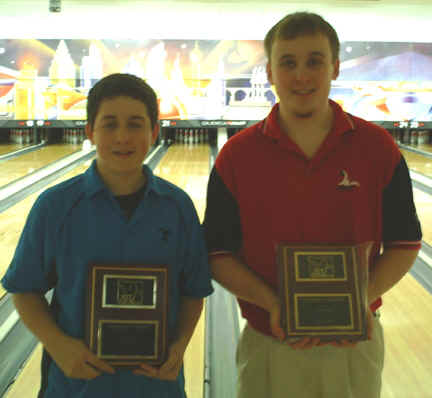 champs Bobby Sherman and Dillon Hageman
In our second trip to Santa Fe Station in a month's time, Bobby Sherman and Dillon Hageman found the brand new facility to their liking in capturing JBT SW victories.
In the scratch division, Mojave points leader Nathan Panaligan opened the finals with a 258-203 win over Brandon Watts, who made his first scratch top-5 appearance. In round two, Nathan kept up the high scores with a 223-197 win over Cayson Coyle, before falling 215-194 to Brandon Allred.
Brandon and top qualifier Bobby Sherman engaged in a low-scoring but exciting title match, with Bobby prevailing 180-176 in the end. The win was good for the second title of his JBT SW career.
In the handicap division, Jordan Ferrer squeaked by Nick Lamek in round one of the finals by a 181-171 score. Ferrer then got by Jordan Katz 170-140, and followed with a 181-156 win over Ray Griffith, to climb the ladder to the title match.
Top qualifier Dillon Hageman proved once again that the little guys can hang with the bigger kids just fine in JBT SW, and he kept up his fine all-day performance with a 173-149 win over Ferrer, good for his first career JBT SW title.
Thanks once again to Ms. Joy Francomano and her staff for another great job hosting the JBT SW in their beautifully remodeled center.
Santa Fe Station- final results and optional scholarship winners
1/9/2005
Mojave Conference
Scratch Division
rank
name
city, state
score
prize
1
Bobby Sherman
Las Vegas, NV
p 198
$210
2
Brandon Allred
Las Vegas, NV
p 146
$130
3
Nathan Panaligan
North Las Vegas, NV
p 17
$60
4
Cayson Coyle
Las Vegas, NV
p 135
$120
5
Brandon Watts
Lake Havasu City, AZ
p 86
$35
6
Johnny Ray
Las Vegas, NV
p 13
7
Chris McCloskey
Las Vegas, NV
p 5

8
Kyle Turner
Las Vegas, NV
p 3

9
DJ Sloan
Las Vegas, NV
m 17

10
Bobby majdanski
Las Vegas, NV
m 43
$15
11
Eddie Schaub
Las Vegas, NV
m 78
12
Jerimiah Wiltfang
Lake Havasu City, AZ
m 99
$15
13
Ryan Johnson
Las Vegas, NV
m 105

14
Chris Kagawa
Las Vegas, NV
m 107

15
Paolo Castro
Las Vegas, NV
m 113
16
Carl Winder
Las Vegas, NV
m 138
17
Heather Brown
Las Vegas, NV
m 143
18
Cody Raynoha
Las Vegas, NV
m 146
19
Melissa Castro
Las Vegas, NV
m 160
20
Raoul Saiz
Las Vegas, NV
m 199
21
Andrew Decker
Las Vegas, NV
m 201
Handicap Division
rank
name
city, state
score
prize
1
Dillon Hageman
Las Vegas, NV
p 301
$210
2
Jordan Ferrer
Las Vegas, NV
p 251
$115
3
Ray Griffith
Las Vegas, NV
p 235
$95
4
Jordan Katz
Las Vegas, NV
p 173
$40
5
Nick Lamek
Las Vegas, NV
P 149
$50
6
Alesha Pannier
Lake Havasu City, AZ
p 142

7
Adam Stroud
Las Vegas, NV
p 139

8
Jason Majdanski
Las Vegas, NV
p 130
$30
9
Travis Stroud
Las Vegas, NV
p 107

10
Alex Katz
Las Vegas, NV
p 107

11
Maddie Pellegrino
Henderson, NV
p 104
$20
12
Merrill Hill
Las Vegas, NV
p 100
$45
13
Jeremy Bellflower
Las Vegas, NV
P 55

14
Garrett Lowery
Henderson, NV
p 38

15
Taylor McKenrick
Henderson, NV
p 27
$15
16
Walker Newman
Las Vegas, NV
m 12
17
Kyle Bridgman
Kingman, AZ
m 25

18
Zack Newman
Las Vegas, NV
m 25

19
Brandon Ramirez
Las Vegas, NV
p 10
20
Anthony Ramirez
Las Vegas, NV
p 8
21
Samson DuPaul
Las Vegas, NV
p 1
22
John Haggerty
Las Vegas, NV
even

23
Alyssa Madrid
Las Vegas, NV
m 2
24
Hannah Chipman
Las Vegas, NV
m 30
25
Scott Schickling
Las Vegas, NV
m 33
26
Alicia Sullivan
Kingman, AZ
m 46

27
Brandon Lasiloo
Las Vegas, NV
m 51
28
Brandon Dauphinais
Las Vegas, NV
m 51
29
Steven Slivka
Las Vegas, NV
m 61
30
Nick Seghetti
Las Vegas, NV
m 74
31
Kealey Fukuyama
Las Vegas, NV
m 120
32
Andrew Gottlieb
Las Vegas, NV
m 120
33
Willie Dubovik IV
Las Vegas, NV
m 160
High Games: scratch: Coyle 256, Watts 237, Sherman 236.

Handicap: Griffith 265, Hill 251, Hageman 249
High Female: Maddie Pellegrino
Cuts: scratch -48, handicap +2
Storm Ball Winner: Merrill Hill
TOTAL AWARDED THIS EVENT: $1,220