AMF SHEA VILLAGE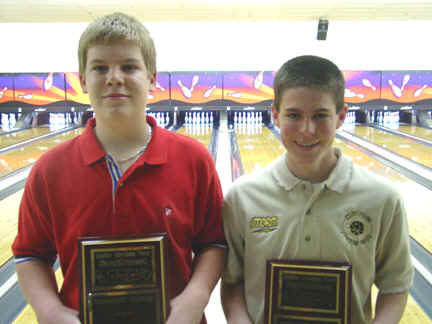 champs Christian Jensen and Kris George
Christian Jensen ended a season-long drought, while Kris George made it two wins in a row, in JBT SW action at AMF Shea Village.
The scratch division finals opened up with a tense match between Theo Douthit and Bill Grant. Needing a double in the tenth to win, Grant flushed his first shot, but a half-10 in on the second ball resulted in a 227-222 victory for Theo.
In round two, Douthit remained hot, eliminating Kevin Saunders 222-189. The tables were turned in round three, when Christian Jensen- who was outside the cut after game 4 but roared back with an even 1000 for the next 4- started with the front five en route to a 233-201 victory, advancing him to the championship match.
Top qualifier Jeff Ellis was leading a JBT SW singles event for the first time, after rolling 708 in the semifinals. However, four solid-10 pins spelled doom for him, as the veteran Jensen piled up the strikes. Christian's 248-193 triumph was good for his third career JBT SW title, but his first since the 2004 Pro-Am,. almost exactly one year ago.
The handicap division saw one of the highest scoring qualifying rounds ever, with a +50 cut. Andy Garriott rolled a 230 game to win the opening round of the stepladder finals over Chris Thompson (216) and Michael Kremer (176). Garriott remained en fuego in round two, rolling a 247 to beat fine efforts by Chris Wurm (230) and Zach Herbert (213). The semifinal match was about as close as it could get, as Kris George spared a 3-6-9 in the tenth for a 199 game that just edged Garriott (196) and Dan Eagy (197).
Top qualifier Nicholas Lee grabbed the top seed in his first stepladder appearance with the aid of a big 280 game to open the semifinals, but struggled in the early frames of the title match. George, however, bowled with confidence, and the result was a 247-205 win for Kris. George had one of the all-time hot streaks in JBT SW history last spring, and he seems on his way again this spring. The Shea win was his second consecutive, and is his 6th career handicap division win, the best all-time in JBT SW competition.
Thanks to John Rumery and his staff at Shea Village for hosting a fine event.
AMF Shea Village- final results and optional scholarship winners
3/19/2005
Arizona Conference
Scratch Division
rank
name
city, state
score
prize
1
Christian Jensen
Anthem, AZ
p 282
$215
2
Jeff Ellis
Phoenix, AZ
p 286
$210
3
Theo Douthit
San Diego, CA
p 221
$70
4
Kevin Saunders
Goodyear, AZ
p 228
$130
5
Bill Grant
Rio Rancho, NM
p 190
$55
6
Derek Thurber
Phoenix, AZ
p 184
$70
7
BJ Baker
Tempe, AZ
p 138
8
Sean Grant
Eloy, AZ
p 132

9
Philip Schwartz
Oro Valley, AZ
p 104
$35
10
Dan Bodinet
Phoenix, AZ
p 104
$60
11
Lanndyn Carnate
Glendale, AZ
p 87

12
Steven Sheffey
Glendale, AZ
p 87

13
Matt Herbert
Prescott, AZ
p 42
$15
14
Jerod Florez
Bosque Farms, NM
p 31

15
Jimmy Kremer Jr.
Peoria, AZ
p 26
16
Andre Hernandez
Glendale, AZ
p 15
17
Robert Smith
Phoenix, AZ
m 158
$15
18
Hasan Kural
Glendale, AZ
m 26

19
DeShaun Jefferson
Phoenix, AZ
p 2

20
Andy Byer
Albuquerque, NM
m 10

21
Chris Ingram
Phoenix, AZ
m 29

22
Joseph Anderson
Avondale, AZ
m 43

23
Tiffany Chi
Prescott, AZ
m 47
$40
24
Rachel Carr
Chandler, AZ
m 57

25
Randy Cote
Tucson, AZ
m 73
26
Amanda Falk
Tucson, AZ
m 79
27
Brandy Silva
Albuquerque, NM
m 90
28
Tom Anderson
Chandler, AZ
m 91
29
Will McPherson
Chandler, AZ
m 95
30
Emily Ornelas
Phoenix, AZ
m 115
31
Miguel Lopez
Peoria, AZ
m 133
32
Paul Szymanski
Phoenix, AZ
m 133
33
Michael Cross
Tucson, AZ
m 137
34
Chris Weyrauch
Tempe, AZ
m 151
35
CJ Lee
Gilbert, AZ
m 157
36
Berman Sae-Aee
Glendale, AZ
inc card
Handicap Division
rank
name
city, state
score
prize
1
Kris George
Glendale, AZ
p 235
$215
2
Nicholas Lee
Tucson, AZ
p 307
$100
3
Dan Eagy
Phoenix, AZ
p 244
$168
4
Andy Garriott
Scottsdale, AZ
p 181
$60
5
Zach Herbert
Prescott, AZ
p 207
$95
6
Chris Wurm
Chandler, AZ
p 199
$70
7
Michael Kremer
Peoria, AZ
p 198
$45
8
Chris Thompson
Phoenix, AZ
p 171
$95
9
Kayla Frederick
Chandler, AZ
p 167
$25
10
Jonathan Crowell
Glendale, AZ
p 163
$15
11
Kylee Bonneville
Mesa, AZ
p 163
$30
12
Zach Huglin
Gilbert, AZ
p 147

13
Courtney Dutton
Chandler, AZ
p 141

14
Jake Tatum
Prescott, AZ
p 141
$60
15
Mark Mandell
Queen Creez, AZ
p 138
$75
16
Jeffrey Goad
Phoenix, AZ
p 133
17
Aaron Quintana
Phoenix, AZ
p 132
$18
18
Rachel Lynn
Glendale, AZ
p 113
19
Austen Christensen
Mesa, AZ
p 113
20
Emmanuel Durazo
Phoenix, AZ
p 111
21
Max Van Kirk
Prescott Valley, AZ
p 109

22
Philip Stephens
Phoenix, AZ
p 102
$10
23
Kevin Schoenfeld
Phoenix, AZ
p 87
$15
24
Taylor Brennan
Prescott, AZ
p 81
25
Justin White
Phoenix, AZ
p 79
$15
26
Kyle Smith
Casa Grande, AZ
p 78
27
Cody Vanderweyst
Phoenix, AZ
p 63
28
Casey Candiotti
Scottsdale, AZ
p 46

29
Greg Geering
Phoenix, AZ
p 37

30
Melissa Del Rio
Tucson, AZ
p 22
31
Rane Lacona
Phoenix, AZ
p 19
32
Jenny Ortag
Phoenix, AZ
p 10
$40
33
Rebecca Bodinet
Phoenix, AZ
p 48

34
Megan Withey
Phoenix, AZ
p 40

35
Kyle Frederick
Chandler, AZ
p 38
36
Matt Payne
Phoenix, AZ
p 32
$15
37
Kayla Goad
Phoenix, AZ
p 26
38
Brian Weyrauch
Tempe, AZ
p 26
39
Samantha Olmsted
Phoenix, AZ
p 21
40
Dallas Sandberg
Prescott, AZ
p 17
$15
41
Jeff Millmier
Phoenix, AZ
p 14
42
Bo LaLonde
Phoenix, AZ
p 11
43
Larry Gilgur
Cave Creek, AZ
p 7
44
Steven Mitchell
Phoenix, AZ
p 5
45
Eric Rubin
Chandler, AZ
p 4
46
Alex Van Kirk
Prescott Valley, AZ
p 2
47
Jordan Vanderweyst
Phoenix, AZ
m 5
48
Chris Huglin
Gilbert, AZ
m 11
49
Michael Curry
Phoenix, AZ
m 26
50
Nicki Nunez
Glendale, AZ
m 40
51
Rebeca Reguero
Phoenix, AZ
m 48
52
Kevin Narciso
Phoenix, AZ
m 52
53
Michael Gombrich
Phoenix, AZ
m 53
54
Francisco Peralta
Tucson, AZ
m 53
55
Rachelle Davis
Tucson, AZ
m 56
56
Amanda Anderson
Avondale, AZ
m 69
57
Eric Warren
Phoenix, AZ
m 76
58
CJ Crowley
Mesa, AZ
m 77
59
Sean Balbos
Prescott, AZ
m 78
60
Brittany Crowell
Glendale, AZ
m 100
61
Bryanna Dawson
Phoenix, AZ
m 110
62
Corey Sandberg
Prescott, AZ
m 113
High Games: scratch: Bodinet 299, Saunders 289, Grant 277.

Handicap: Thompson 308, Eagy 288, Quintana 288
High Female: Chi 954
Cuts: scratch +3; handicap +50
Storm Ball Winner: Sue Davis
TOTAL AWARDED THIS EVENT: $2,040