SILVA LANES- Albuquerque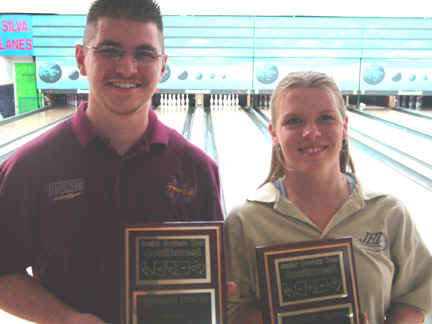 champs Andy Byer & Rachel Thompson
Andy Byer and Rachel Thompson defended their top seeds with convincing victories in JBT SW action at Silva Lanes in Albuquerque.
The scratch division finals opened with Philip Schwartz defeating Jeremy Medina 204-182 when Medina could not come up with a double in the tenth on the demanding lane conditions. Bill Grant then came on and defeated Schwartz 189-169. In the semifinals Stephen Gaucin advanced over Grant 205-189, coming back from over 40 pins down when Grant uncharacteristically opened in his final three frames.
Top seeded Byer threw a confident game in the title match, and his 203-167 victory gave him the 4th title of his JBT SW career, and inched him closer to Grant in the tightly contested points race.
The handicap division was taken over by the younger crowd this event, as many of our single-digit-age bowlers made both the semifinals and finals. Joesph Cormier wasn't fazed by that stat however, as he opened round one of the finals with a 205 game that just edged two younger bowlers, Sabrina Vargas (203) and Sophie Diaz (200). In round two, Jerami Monreal uncorked a 227 game that defeated Cormier (169) and Sara Vargas (176). Round three produced a classic, as two more younger bowlers waged an amazing battle. While Monreal struggled to a 176, both Cerra Strickland (113 average) and Angelo Espinoza (102 average) had a turkey early in their game. When Cerra finished with a 255 score, Espinoza needed a spare plus good count to advance. Angelo was up to the task, converting a 10-pin and getting 9 for a 260 total, advancing him to the title match.
Top qualifier Rachel Thompson had lapped the rest of the field in qualifying, and showed no mercy in the title match against Espinoza. The final score of 255-199 gave Thompson the first title of her JBT SW career and a big $275 scholarship payday.
Silva Albuquerque- final results and optional scholarship winners
2/5/2005
New Mexico-Texas Conference
Scratch Division
rank
name
city, state
score
prize
1
Andy Byer
Albuquerque, NM
m 49
$350
2
Stephen Gaucin
El Paso, TX
m 67
$140
3
Bill Grant
Rio Rancho, NM
m 68
$65
4
Philip Schwartz
Oro Valley, AZ
m 138
$40
5
Jeremy Medina
Santa Fe, NM
m 89
$40
6
Justin Medina
Santa Fe, NM
m 158
7
Robyn Ashley
Farnington, NM
m 177
8
Justin DeDera
Albuquerque, NM
m 181
$50
9
CJ Crooks
Tucson, AZ
m 193
10
Sarah Carity
Glendale, AZ
m 194
11
Brandy Silva
Albuquerque, NM
m 187
$10
12
Ashley Dale
Albuquerque, NM
m 187
13
Pablo Herrera
Las Cruces, NM
m 213
14
Jerod Florez
Bosque Farms, NM
m 231
15
Berman Sae-Aee
San Diego, CA
m 248
16
Jarrad Espinoza
Albuquerque, NM
m 286
17
Nick Muller
Santa Fe, NM
m 355
Handicap Division
rank
name
city, state
score
prize
1
Rachel Thompson
Albuquerque, NM
p 165
$275
2
Angelo Espinoza
Albuquerque, NM
p 115
$100
3
Cerra Strickland
Albuquerque, NM
p 92
$45
4
Jerami Monreal
Rio Rancho, NM
p 74
$50
5
Sara Vargas
Albuquerque, NM
p 90
$50
6
Joseph Cormier
Rio Rancho, NM
p 55
$85
7
Sophie Diaz
Santa Fe, NM
p 66
8
Sabrina Vargas
Albuquerque, NM
p 32
$40
9
Susan Kurzeka
Albuquerque, NM
p 12
$75
10
Olivia Silva
Albuquerque, NM
p 5
11
Carlos Abeyta
Alcalde, NM
m 4
12
Zachary Barnard
Albuquerque, NM
m 5
$45
13
Brittany McComb
Albuquerque, NM
m 5
14
Jessica Palma
Albuquerque, NM
m 31
$60
15
Rachel Espinda
Albuquerque, NM
m 44
16
Amanda LaPointe
Albuquerque, NM
m 54
$60
17
Christina Waldron
Albuquerque, NM
m 58
$15
18
Camille Martinez
Santa Fe, NM
m 58
19
Heaven Pajala
Albuquerque, NM
m 59
$30
20
Bobbi Reich
Albuquerque, NM
m 61
$30
21
Kara Casaus
Roswell, NM
m 66
22
Kyla Casaus
Roswell, NM
m 68
23
Elizabeth Romero
Santa Fe, NM
m 83
24
Mike Romero
Santa Fe, NM
m 89
$30
25
Pablo Guss
Santa Fe, NM
m 94
26
Briana Jaramillo
Albuquerque, NM
m 94
27
Joseph Palma
Roswell, NM
m 95
28
Jonah Bell
Albuquerque, NM
m 105
29
Joey Grant
Rio Rancho, NM
m 106
30
Ricardo Martinez
Santa Fe, NM
m 132
31
John Perea
Santa Fe, NM
m 181
32
Josh Arceo
Albuquerque, NM
m 223
33
Jordan Yussman
Albuquerque, NM
m 98
$45
34
Wendy Shelton
Albuquerque, NM
m 98
35
Stephanie Sheffer
Albuquerque, NM
m 101
36
Kris George
Glendale, AZ
m 105
37
Cody Mansfield
Albuquerque, NM
m 114
$30
38
Kyle Pearce
Espanola, NM
m 116
$15
39
Mark Mares
Los Lunas, NM
m 119
$15
40
Charlie Elliott
Santa Fe, NM
m 120
41
Eric Kear
Albuquerque, NM
m 131
42
Alex Powell
Phoenix, AZ
m 133
43
Lacey Shelton
Albuquerque, NM
m 138
44
Thomas Gutierrez
Albuquerque, NM
m 143
$15
45
Paul Carper
Rio Rancho, NM
m 147
46
Janeyl Carper
Rio Rancho, NM
m 147
$15
47
Travis Gudelj
Albuquerque, NM
m 149
48
Taylor Cruz
Santa Fe, NM
m 154
$15
49
Bennie Vigil
Santa Fe, NM
m 158
50
Andres Gallegos
Albuquerque, NM
m 162
51
Justin Deubel
Santa Fe, NM
m 164
52
Juan Romero
Albuquerque, NM
m 171
53
Jeremy Baca
Albuquerque, NM
m 184
54
Jerrico Palma
Roswell, NM
m 185
55
Dan Romero
Santa Fe, NM
m 188
56
Jordan Spam
Rio Rancho, NM
m 193
57
Zakary Strickland
Albuquerque, NM
m 193
58
Sarah Diaz
Santa Fe, NM
m 201
59
Jamison Spam
Rio Rancho, NM
m 202
60
Amanda Johnson
Albuquerque, NM
m 211
61
Vincent Michel
Albuquerque, NM
m 219
62
Antonio Garcia
Santa Fe, NM
m 274
63
Nathan Hughes
San Jose, NM
m 277
64
Cody Lucero
Albuquerque, NM
m 301
65
Michael Valdez
Santa Fe, NM
m 306
High Female: Silva 813
Cuts: scratch -160, handicap -89
Storm Ball Winner: Janeyl Carper
TOTAL AWARDED THIS EVENT: $1,835