SILVER BOWLING CENTER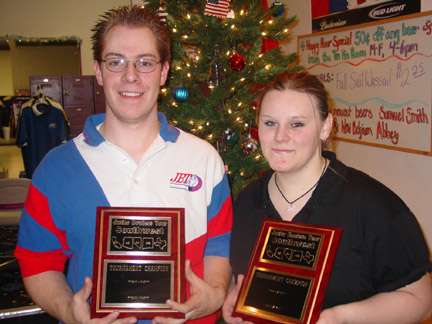 champs David Sevier & Wendy Shelton
Our 2005 stop to Silver City produced our highest scoring event ever held at Silver City, which was just fine with David Sevier and Wendy Shelton, who emerged with JBT SW titles at the exciting event.
The scratch division finals began with another battle in the history of an all-time classic- Bryanna Caldwell vs. Steven Black. The match lived up to its billing, with Bryanna doubling in the tenth for a 236-227 victory. In round two, Sevier began his charge, defeating Caldwell 243-207, and then squeaking by Andy Byer 242-232, to reach the title match.
Top qualifier Jason Arnold had put on a spectacular show all day, and held on in game 8 to capture the top seed. It looked like today was the day for Arnold to finally break his long title drought, but a crucial eighth frame split proved to be fatal. Sevier calmly took advantage of the opening, and the result was a 227-218 win, good for the fifth title of his JBT SW career.
In the handicap division, Kelly Klassen, one of three Klassen Kids to make the Kut, won her first ladder match with a 234 game, defeating Joshua Whittingon's 224 and Emily Milbank's 179. In round two, Klassen came up with a 223, good enough to defeat Ryan Fast (201) and Skylar Miller (175). In the semifinal match, Wendy Shelton's 219 effort stopped Klassen (202) and Shawn Rogers (207), and she advanced to her first title match.
Top qualifier Nathan Hughes had taken over the event with a 269 scratch game (the 323 handicap total was the 5th highest in JBT SW history), but found himself struggling in the title match. Shelton bowled a composed game, and the 204-171 result was good for the first JBT SW title of Wendy's career.
Silver Bowling Center- final results and optional scholarship winners
1/5/2005
New Mexico-Texas Conference
Scratch Division
rank
name
city, state
score
prize
1
David Sevier
Gilbert, AZ
p 211
$260
2
Jason Arnold
Phoenix, AZ
p 321
$185
3
Andy Byer
Albuquerque, NM
p 307
$85
4
Bryanna Caldwell
Warrensburg, MO
p 142

5
Steven Black
Phoenix, AZ
p 183
$130
6
BJ Baker
Tempe, AZ
p 133
$20
7
Stephen Gaucin
El Paso, TX
p 129
$10
8
Jeremy Medina
Santa Fe, NM
p 123

9
Bill Grant
Rio Rancho, NM
p 119
10
Philip Schwartz
Oro Valley, AZ
p 109
11
Justin DeDera
Albuquerque, NM
p 83
12
Preston Ryan
Safford, AZ
p 73
13
CJ Brown
Lubbock, TX
m 5
$15
14
Brandy Silva
Albuquerque, NM
m 9
$25
15
Justin Medina
Santa Fe, NM
m 11
16
Jerod Florez
Bosque Farms NM
m 19
17
Jay Lent
Las Cruces, NM
m 114
18
Amanda Falk
Tucson, AZ
m 134
19
Brandon Abeyta
Alcalde, NM
m 143
20
Ashley Dale
Las Cruces, NM
m 153
21
Greg Milbank
Albuquerque, NM
m 187
Handicap Division
rank
name
city, state
score
prize
1
Wendy Shelton
Albuquerque, NM
p 157
$240
2
Nathan Hughes
San Jose, NM
p 247
$100
3
Shawn Rogers
Silver City, NM
p 218
$105
4
Kelly Klassen
Silver City, NM
p 86

5
Skylar Miller
Silver City, NM
p 124
$60
6
Ryan Fast
Las Cruces, NM
p 102

7
Joshua Whittington
Silver City, NM
p 71
$50
8
Emily MIlbank
Albuquerque, NM
p 64
$185
9
Mark Mares
Los Lunas, NM
p 57
$60
10
Stephanie Gonzales
Albuquerque, NM
p 56
$20
11
David Price
Safford, AZ
p 54
$15
12
Jennifer Fast
Las Cruces, NM
p 42
13
Kyle Pearce
Espanola, NM
p 30

14
Dustin Brezina
Las Cruces, NM
p 11
15
Labriel Leach
Tucson, AZ
p 9

16
Amanda Johnson
Silver City, NM
m 10
17
Eric Kear
Albuquerque, NM
m 12
18
Megan McClean
Silver City, NM
m 13
19
Katie Klassen
Silver City, NM
m 14
20
Rachelle Davis
Tucson, AZ
m 18
$30
21
Paul Carper
Rio Rancho, NM
m 36
$100
22
Jordan Spam
Rio Rancho, NM
m 55
23
Charlie Elliott
Santa Fe, NM
m 102
$45
24
Kim Klassen
Silver City, NM
m 84
25
Thomas Gutierrez
Albuquerque, NM
m 20
26
Copry Shepan
Las Cruces, NM
m 21
27
Stephanie Sheffer
Albuquerque, NM
m 25
28
Christen Rogers
Silver City, NM
m 26
29
Travis Gudelj
Albuquerque, NM
m 30
$15
30
Ashley Burns
Albuquerque, NM
m 34
31
Janeyl Carper
Rio Rancho, NM
m 42
32
Thomas Sanchez
Las Cruces, NM
m 43
33
Anthony Tripi
El Paso, TX
m 45
$15
34
Danielle Rogers
Las Cruces, NM
m 53
$15
35
Trisha Harvey
Las Cruces, NM
m 55
36
Josh Arceo
Albuquerque, NM
m 55
37
Ahkeen Williams
El Paso, TX
m 59
38
Elizabeth Artley
Lubbock, TX
m 61
39
Christina Waldron
Albuquerque, NM
m 73
40
Marie Napolitano
Las Cruces, NM
m 74
41
Jeremy Baca
Albuquerque, NM
m 77
42
John Freeman
Silver City, NM
m 78
43
Carlos Abeyta
Alcalde, NM
m 80
44
Christine Kiser
Silver City, NM
m 90
45
Janine Rogers
Las Cruces, NM
m 91
46
Jamison Spam
Rio Rancho, NM
m 98
47
Michael Hinojosa
Las Cruces, NM
m 107
48
Juan Romero
Albuquerque, NM
m 141
High Games: scratch: Sevier 280, Black 265, Gaucin 258. Handicap: Shelton 259, Johnson 255, Elliott 248
High Female: Silva 991
Cuts: scratch +20, handicap -19
Storm Ball Winner: Ashley Burns
Finals results:
Scratch:
Caldwell def. Black 236-227
Sevier def. Caldwell 243-207
Sevier def. Byer 242-232
Sevier def. Arnold 227-218
Handicap:
Klassen (234) def. Whittington (226) and Milbank (179)
Klassen (223) def. Fast (201) and Miller (175)
Shelton (219) def. Rogers (207) and Klassen (202)
Shelton def. Hughes, 204-171
TOTAL AWARDED THIS EVENT: $1,785