SOUTHERN CALIFORNIA INVITATIONAL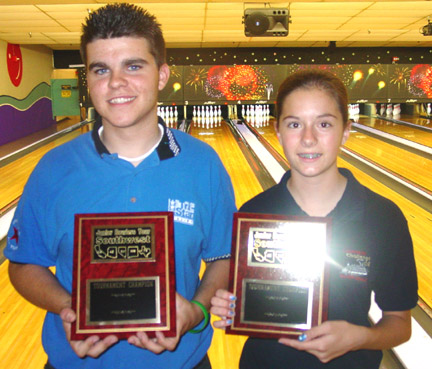 champs Josh Blanchard & Kaitlin Mayall
A terrific day of action at Admiral Robinson saw Josh Blanchard and Kaitlin Mayall come up with clutch victories to earn Bowler of the Year honors as the Southern California Conference of the JBT SW wrapped up its season at the So Cal Invitational.
After ten games of qualifying and five grueling rounds of triple-elimination matchplay, the scratch division was whittled down to six bowlers, including Blanchard, #1 seed Jared Lawrence, #4 BJ Baker, #6 Steven Black, and the last-chance squad winner, #16 Philip Schwartz. In round six, #11 Jeff Spiesman handed Blanchard his second loss, #6 Black did the same to Lawrence, and in elimination games, #14 Bryanna Caldwell defeated Schwartz, while Baker gave the knockout blow to #9 Anthony Dancel.
In round seven, Black defeated Spiesman 228-192 to become the only bowler with one loss, while Blanchard eliminated Lawrence 267-179, and Baker eliminated Caldwell in a heartbreaker for Bry, 205-203. In round eight, Blanchard stayed alive (and received a valuable bye) by defeating Black in a thrilling match 233-226, while Baker ousted Spiesman, the only other lefty left, by a 225-191 margin.
In the semifinal match, Black took care of business against Baker with a 259-185 win, setting up one more rematch against Blanchard for the win. The title match was well bowled by both bowlers, but Blanchard had just enough carry to pull out a 238-222 win, good for his 4th career JBT SW title, first JBT SW "major", and $750 in scholarships. The win also solidified his place as JBT SW So Cal Scratch Bowler of the Year.
In the handicap division, eight bowlers also remained after five rounds, highlighted by four of the top five seeds (only #5 Anthony Cruz suffered an early exit), as well as last-chance winner #16 Aprille LeBaquin, who also found herself as the only remaining undefeated bowler as well. She continued the streak in round six, defeating #12 Kyle Ruzylo. Also in round 6, #10 Samantha Meyers was defeated by Mayall, #3 Cameron Smith stayed alive by eliminating #1 Shane Peck, and #4 chain stayed alive by eliminating #8 Withey.
In round seven, Meyers finally handed LeBaquin her first loss, while Mayall eliminated Ruzylo and Chain eliminated Smith. With four bowlers now left, Mayall stayed alive (and snared a valuable bye) with a 223-179 round 8 win over LeBaquin, while Chain eliminated Meyers by a 262-203 decision. In the semifinal, LeBaquin defeated Chain 195-171 to advance to the title match.
LeBaquin was looking to become the second last-chance winner to ever win the Invitational, but some thumb problems- understandable after 18 games- hampered her efforts. Still the match was nip-and-tuck against Mayall, who had all the pressure in the world on her, needing a win to pass Peck in points on the way to Bowler of the Year honors. Kaitlin's mark in the tenth forced Aprille to double for the win. With the vocal crowd cheering her on, LeBaquin got the first strike, but missed on the second shot, giving Mayll a breathtaking 211-205 win, good for her 3rd career title, first major, $715 in scholarships, and ultimately the triumphant difference in the Bowler of the Year race.
Thanks to Mr. Dom DeLuca and his staff at Admiral Robinson for another fine day of bowling at San Diego Naval Station.
So Cal Invitational- final results and optional scholarship winners
6/11/2005
Southern California Conference
Scratch Division
rank
name
city, state
prize
1
Josh Blanchard
Upland, CA
$750
2
Steven Black
Phoenix, AZ
$515
3
BJ Baker
Tempe, AZ
$370
4
Jeff Spiesman
Ventura, CA
$210
5
Jared Lawrence
Redondo Beach, CA
$325
6
Bryanna Caldwell
Tucson, AZ
$145
7
Anthony Dancel
El Monte, CA
$75
8
Philip Schwartz
Oro Valley, CA
$75
9
Theo Douthit
San Diego, CA
$175
10
Daniel Soraci
Oceanside, CA
$75
11
Kevin Valmonte
La Verne, CA
$50
12
Brian Carmichael
Moreno Valley, CA
$100
13
Shelby Shirlock
Lake Elsinore, CA
$50
14
Cayson Coyle
Las Vegas, NV
$50
15
Christian Jensen
Anthem, AZ
$110
16
Michael Cripe
San Diego, CA
$80
17
Ramey Rahib
San Diego, CA
18
Forrest Holland
Vista, CA
19
Brittany Page
Los Angeles, CA
20
Josh Wilson
Fallbrook, CA
21
Kacy Bonifacini
San Diego, CA
22
Brian Ballard
San Diego, CA
23
Logan Bain
El Cajon, CA
24
Britni Zilisch
Moreno Valley, CA
25
Paul Green
San Diego, CA
26
Mason Sherman
Moorpark, CA
27
Berman Sae-Aee
Glendale, AZ
28
Julian Bosley
San Diego, CA
$15
29
Rachel Carr
Chandler, AZ

30
Patrick Porritt
Lakeside, CA
31
Justin Lou
San Diego, CA
32
Robert Page
Los Angeles, CA

33
Matt Clune
San Diego, CA
Handicap Division
rank
name
city, state
prize
1
Kaitlin Mayall
Chula Vista, CA
$715
2
Aprille LeBaquin
Cerritos, CA
$400
3
Andrew Chain
San Diego, CA
$375
4
Samantha Meyers
Mission Hills, CA
$245
5
Cameron Smith
Santee, CA
$245
6
Kyle Ruzylo
Oceanside, CA
$100
7
Shane Peck
Riverside, CA
$240
8
Megan Withey
Glendale, AZ
$105
9
Anthony Cruz
San Diego, CA
$125
10
Mimi Duong
San Diego, CA
$225
11
Melissa Long
Long Beach, CA
$65
12
Paul Ospital Jr
Crestline, CA
$65
13
Kelly Ruzylo
Oceanside, CA
$50
14
Todd Udell
San Diego, CA
$50
15
Greg Geering
Phoenix, AZ
$80
16
Joe McLeod
Oceanside, CA
$80
17
Jason Larcome
Chula Vista, CA

18
Erika Garcia
San Diego, CA

19
Savannah Guerrero
Riverside, CA

20
Allie Ijams
Mission Viejo, CA
$30
21
Eric Warren
Phoenix, AZ
22
Lana Lycan
San Diego, CA

23
Christina Fraijo
Covina, CA

24
Jesus Garcia
San Diego, CA
25
Jordan Ferrer
Henderson, NV
26
Taylor Brennan
Prescott, AZ

27
Foster Phandanouvong
San Diego, CA
28
Nicholas Lee
Tucson, AZ

29
Stephanie Udell
San Diego, CA

30
Drew Thevenot
Santee, CA
31
Jaymes Conn
La Mesa, CA
32
Kenny Taylor
San Diego, CA
33
Kyle De Cew
Riverside, CA
34
Justen Danforth
Laguna Hills, CA
35
Steven Lanning
San Diego, CA
Cuts: scratch -76; handicap +22
Storm Ball Winner: Tom Godfrey
TOTAL AWARDED THIS EVENT: $6,220