SUNCOAST BOWLING CENTER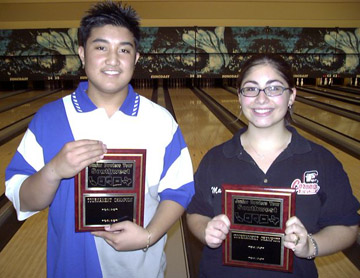 champs Nathan Panaligan & Maddie Pellegrino
Nathan Panaligan capped off a high-scoring day with a thrilling show, while Maddie's ladder-climbing skills put a Pellegrino in the winner's circle for the first time in ten years, in the Mojave Conference season-opener at Suncoast.
The very high-scoring scratch division action was highlighted by Christian Jensen's 300 game during qualifying, and our third highest-scoring match ever during matchplay, as Hasan Kural bested Matt Herbert 279-277.
The scratch finals opened with Cameron Foster rolling ten strikes en route to a 265-178 victory over Robert Adams. In round two, Foster cooled off, and Cayson Coyle took advantage for a 210-191 win. In an exciting semifinal match, 27-time winner Steven Black finished with 212, forcing Coyle to strike out for the win. Cayson got the first hit, but his second shot came in high, giving Steven a 212-201 win to advance to another title match. For Coyle, it was his third 3rd place finish in as many events this season.
15-year old top qualifier Nathan Panaligan caught the lead with a big game eight, but came out with three spares to open the title match, while Steven ran the front five. However, the carry started to turn in the late frames, as Panaligan strung four of his own. After a spare in the eighth, Nathan dug out a clutch four-bagger to finish, forcing Steven to also double to win. Steven's first ball looked absolutely perfect, but an ultra-solid 10 stared back at him, and Panaligan came away with a 240-235 win, and the second JBT SW title of his career.
The handicap division featured, by far, the closest spread of finalists in our 230+ tournament history. Taylor McKenrick led after game 8 at +208, while three bowlers tied for 3rd-5th at +202, for a grand total of six pins between first and fifth.
In round one of the finals, two of those +202 bowlers squared off, with Maddie Pellegrino edging Teodoro Cipriaso 205-201. Miss Pellegrino then defeated Ryan Yadao 198-182, and followed with an exciting 228-224 win over a very tough John Haggerty to advance to the title match.
In the final, Pellegrino remained in control and was able to defeat McKenrick 214-187, for her first JBT title. Big brother Mike last won a JBT title (on the east coast) in 1994, so her win brings the Pellegrino name back to the JBT winners' circle for the first time in a decade.
Suncoast- final results and optional scholarship winners
9/19/2004
Scratch Division
rank
name
city
score
prize
1
Nathan Panaligan
North Las Vegas, NV
p 351
$200
2
Steven Black
Phoenix, AZ
p 322
$170
3
Cayson Coyle
Las Vegas, NV
p 246
$100
4
Cameron Foster
Taylorsville, UT
p 215
$80
5
Robby Adams
Las Vegas, NV
p 201
$30
6
Hasan Kural
Glendale, AZ
p 197
$50
7
Kevin Valmonte
La Verde, CA
p 193
$90
8
Ty Brown
Phoenix, AZ
p 172

9
BJ Baker
Tempe, AZ
p 159

$35

10
Kurt Plotkin
Henderson, NV
p 148
$30
11
Heather Brown
Las Vegas, NV
p 136
$35
12
Berman Sae-Aee
San Diego, CA
p 135

13
Christian Jensen
Chandler, AZ
p 127
$40
14
Theo Douthit
San Diego, CA
p 115
$30
15
Cody Raynoha
Las Vegas, NV
p 72
16
Matt Herbert
Prescott, AZ
p 54

17
John Ailstock
Laughlin, NV
p 47
18
Andrew Decker
Las Vegas, NV
p 32
$15
19
Eddie Schaub
Las Vegas, NV
m 11
20
Tiffany Chi
Prescott, AZ
m 18

21
Brandon Watts
Lake Havasu City, AZ
m 25
22
Brandon Allred
Las Vegas, NV
m 26
23
Matt Cossey
Henderson, NV
m 34

24
Daniel Hansak
Las Vegas, NV
m 40
25
DJ Sloan
Las Vegas, NV
m 41
26
Rand Kelly
Las Vegas, NV
m 66

27
Kyle Turner
Las Vegas, NV
m 77
28
Sam Ficalora
Las Vegas, NV
m 77
29
Rachel Carr
Chandler, AZ
m 77
30
Jerimiah Wiltfang
Lake Havasu City, AZ
m 86
31
Bobby Sherman
Las Vegas, NV
m 95
32
Derick Parnell
Las Vegas, NV
m 99
33
Johnny Ray
Las Vegas, NV
m 100
34
Brian Ballard
San Diego, CA
m 102
35
Stacey Schofield
Las Vegas, NV
m 106
36
Sarah Carity
Flagstaff, AZ
m 135
37
Philip Schwartz
Oro Valley, AZ
DNF
Handicap Division
rank
name
city
score
prize
1
Maddie Pellegrino
Henderson, NV
p 202

2
Taylor McKenrick
Las Vegas, NV
p 208
$240
3
John Haggerty
Las Vegas, NV
p 203
$100
4
Ryan Yadao
Las Vegas, NV
p 202

5
Teofisto Cipriaso Jr.
Las Vegas, NV
p 202

6
Brandon Dauphinais
Las Vegas, NV
p 165
$60
7
Chris McCloskey
Las Vegas, NV
p 152
$60
8
Chris Kagawa
Las Vegas, NV
p 149
$20
9
Alyssa Madrid
Las Vegas, NV
p 149
$20
10
Darcie Staggs
Las Vegas, NV
p 143

11
Sean Harrison
Las Vegas, NV
p 131
$15
12
Kyle Bridgman
Kingman, AZ
p 119

13
Michelle Cashmon
Las Vegas, NV
p 64

14
Steven Slivka
Las Vegas, NV
p 64

15
Kelly White
Las Vegas, NV
p 54

16
Megan Withey
Phoenix, AZ
p 53

17
Travis Stroud
Las Vegas, NV
p 37
18
Brianna Mullins
Las Vegas, NV
DNF

19
Anthony Euerle
Las Vegas, NV
p 31

20
Jordan Ferrer
Las Vegas, NV
p 23
$15
21
Taylor Aufill
Las Vegas, NV
p 21
22
Jason Majdanski
Las Vegas, NV
p 14
23
Jessica Hetkowski
Las Vegas, NV
p 6
24
Bobby Majdanski
Las Vegas, NV
p 1

25
Nick Seghetti
Las Vegas, NV
even
26
Alesha Pannier
Lake Havasu City, AZ
m 10

27
Kealey Fukuyama
Las Vegas, NV
m 22
28
Hannah Chipman
Las Vegas, NV
m 27
29
Andrew Gottlieb
Las Vegas, NV
m 62
30
Carl Winder III
Las Vegas, NV
m 85

31
Tracy Berna
Las Vegas, NV
m 90
32
Vaughn Cruz
Las Vegas, NV
m 124
33
Nick Lamek
Las Vegas, NV
m 143

34
Troy Graydon
Las Vegas, NV
DNF
35
Jeremy Bellflower
Las Vegas, NV
no card
300 Games: Christian Jensen
Cuts: scratch: minus 25, handicap: plus 35
High Games: scratch: Jensen 300, Baker 279, Coyle 278.

handicap: McCLoskey 256, Harrison 251, McKenrick 250
Jr. Gold Qualifiers: none
Hi Female: Heather Brown 1071
Storm Ball Winner: Darcie Staggs
Stepladder Results:
Scratch:
Foster def. Adams 265-178
Coyle def. Foster 210-191
Black def. Coyle 212-201
Panaligan def. Black 240-235
Handicap:
Pellegrino def. Cipriaso 205-201
Pellegrino def. Yadao 198-192
Pellegrino def. Haggerty 228-224
Pellegrino def. McJenrick 214-187
TOTAL AWARDED THIS EVENT: $1,495