WINDERMERE REAL ESTATE OPEN at AMF TEMPE VILLAGE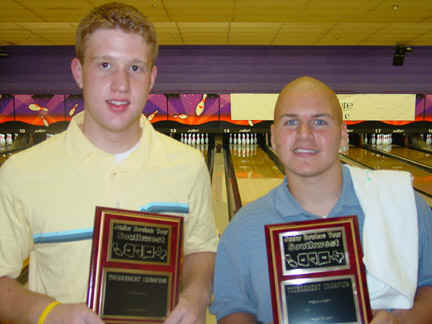 champs BJ Baker & Kyle Smith
A large field means more bowlers to compete against for the top spot, but that didn't intimidate BJ Baker or Kyle Smith, as they claimed JBT SW titles with excellent performances.
In the scratch division, Greg Garbera made his scratch finals debut a success with a 237 game that was enough to defeat Kevin Saunders (222) and Miguel Lopez (212). Greg came up with a 214 in round two that beat Chris Ingram (201) and Mike Hayes (170). Greg then ran into two lefties in the number 2 and 3 spots, and Baker's 246 was plenty to beat Theo Douthit (171) and Garbera (185).
Baker took over the points lead from Douthit with the semifinal win, and remained hot against top qualifier Steven Sheffey. Sheffey, who was leading a JBT SW event for the first time, suffered opens in his first three frames, and that was too much ground to give against the veteran Baker. BJ's 230-172 win was good for the sixth title of his JBT career, and a $345 scholarship payday.
In handicap division finals action, Greg Geering finally won his first ever match in the finals, firing a 228 that defeated Kyle Ruzylo (208) and Eric Rubin (195). With the monkey off his back, Geering spared in the tenth frame of match two for a 201 game that edged both Jeff Millmier (197) and Philip Stephens (190). However, in the semifinal match, a missed 10-pin once again plagued Geering, as Dale Williams' 229 beat out Geering (222) and David Price (201) to advance to the title match.
Top qualifier Kyle Smith had not had good results in his first two JBT SW events, but found Tempe Village perfect for his game, as he easily led the qualifying round. A close match turned on some late opens by Williams, and Smith was able to take advantage for a 222-196 win, his first JBT SW title, and $300 in scholarships. Williams' impressive debut performance earned him $150 in scholarships and a trip to the Invitational.
Windermere Real Estate, the title sponsor of this event, is a big name in realty in the Northwest, and is starting to turn heads in the Southwest as well with their exceptional level of service to both customers and the community. Find out more about Windermere, and agent Jeff Hoover at www.jhooverrealtor.com.
AMF Tempe Village- final results and optional scholarship winners
1/29/2005
Arizona Conference
Scratch Division
rank
name
city, state
score
prize
1
BJ Baker
Tempe, AZ
p 226
$345
2
Steven Sheffey
Glendale, AZ
p 239
$150
3
Greg Garbera
Glendale, AZ
p 142
$115
4
Theo Douthit
San Diego, CA
p 177
$85
5
Mike Hayes
Tucson, AZ
p 171
$100
6
Chris Ingram
Phoenix, AZ
p 144
$55
7
Kevin Saunders
Goodyear, AZ
p 140
$90
8
Miguel Lopez
Peoria, AZ
p 142
$25
9
Josh Wilson
Vista, CA
p 109

10
Lanndyn Carnate
Glendale, AZ
p 105
$15
11
Matt Herbert
Prescott, AZ
p 99
$15
12
Scott DeHass
Tempe, AZ
p 96

13
Labriel Leach
Tucson, AZ
p 85
14
Will McPherson
Chandler, AZ
p 83

15
Joseph Anderson
Avondale, AZ
p 72
$30
16
Tiffany Chi
Prescott, AZ
p 60
$20
17
Hasan Kural
Glendale, AZ
p 47
$15
18
Bill Grant
Rio Rancho, NM
p 46
$20
19
Christian Jensen
Chandler, AZ
p 22

20
Devyn Scotford
Mesa, AZ
p 6

21
Michael Cripe
San Diego, CA
m 45
$75
22
Paul Szymanski
Tempe, AZ
m 72

23
Andre Hernandez
Glendale, AZ
m 13

24
Sean Grant
Eloy, AZ
m 14

25
Amanda Falk
Tucson, AZ
m 18
26
Tom Anderson
Chandler, AZ
m 22
27
DeShaun Jefferson
Phoenix, AZ
m 26
28
Randy Cote
Tucson, AZ
m 28
29
Michael Cross
Phoenix, AZ
m 33
30
Mike Smith
Chandler, AZ
m 42
31
Harold Galmez
Tempe, AZ
m 51
32
Philip Schwartz
Oro Valley, AZ
m 54
$45
33
Brian Ballard
San Diego, CA
m 64
34
Bobby Fisher
Glendale, AZ
m 64
35
Patrick Porritt
San Diego, CA
m 72
$15
36
Emily Ornelas
Phoenix, AZ
m 79
37
Matthew Hutchinson
Escondido, CA
m 85
38
Tony Silva
Mesa, AZ
m 89
39
Gary Vose, Jr
Casa Grande, AZ
m 98
40
Jerimiah Wiltfang
Lake Havasu City, AZ
m 107
41
Berman Sae-Aee
San Diego, CA
m 127
42
Spencer Firman
Casa Grande, AZ
m 150
43
CJ lee
Gilbert, AZ
m 200
44
Sarah Carity
Flagstaff, AZ
m 207
45
Ryan Dugan
Mesa, AZ
m 230
Handicap Division
rank
name
city, state
score
prize
1
Kyle Smith
Casa Grande, AZ
p 255
$300
2
Dale Williams
Flagstaff, AZ
p 239
$150
3
Greg Geering
Phoenix, AZ
p 171
$145
4
David Price
Safford, AZ
p 219
$245
5
Jeff Millmier
Phoenix, AZ
p 203
$70
6
Philip Stephens
Phoenix, AZ
p 198
$105
7
Eric Rubin
Phoenix, AZ
p 179
$30
8
Kyle Ruzylo
Oceanside, CA
p 179
$25
9
Zach Huglin
Gilbert, AZ
p 165
$20
10
Matt Payne
Phoenix, AZ
p 163
$30
11
Zach Herbert
Prescott, AZ
p 141
$30
12
Jordan Vanderweyst
Phoenix, AZ
p 125
$15
13
Mark Mandell
Queen Creez, AZ
p 124
$30
14
Larry Gilgur
Phoenix, AZ
p 115
15
Megan Withey
Phoenix, AZ
p 113

16
Brian Weyrauch
Tempe, AZ
p 112
17
Rachelle Davis
Tucson, AZ
p 109
$15
18
Beth Houston
Tucson, AZ
p 108
19
Courtney Dutton
Chandler, AZ
p 106
20
Kris George
Phoenix, AZ
p 96
21
Ricky Davis
Mesa, AZ
p 90
$30
22
Richard Stone
Casa Grande, AZ
p 82
23
Brittany Crowell
Phoenix, AZ
p 80
24
Max Van Kirk
Prescott Valley, AZ
p 73
25
Zachary Marczeski
Mesa, AZ
p 73
26
Rane Lacona
Phoenix, AZ
p 71
27
Rakan Najdawi
Phoenix, AZ
p 62
28
Chris Huglin
Gilbert, AZ
p 61

29
Jeff Weyrauch
Tempe, AZ
p 45
$15
30
Eric Warren
Phoenix, AZ
p 40
31
Austen Christensen
Avondale, AZ
p 35
$15
32
Taylor Brennan
Prescott, AZ
p 26
$30
33
Emmanuel Durazo
Phoenix, AZ
p 10
$30
34
Sean Balbos
Prescott, AZ
p 4
35
Casey Candiotti
Scottsdale, AZ
m 2
36
Christopher Spinner
Mesa, AZ
m 8

37
Brittany Riggers
Phoenix, AZ
m 49
38
Cody Vanderweyst
Phoenix, AZ
m 67
39
Dan Eagy
Phoenix, AZ
p 7
$15
40
Chris Thompson
Mesa, AZ
p 6
$15
41
Bryanna Dawson
Phoenix, AZ
p 6
42
Tim Bonneville
Mesa, AZ
p 5
43
Jewels Giordano
Phoenix, AZ
p 3
$15
44
Kevin Schoenfeld
Phoenix, AZ
even
45
Mike L'Heureux
Mesa, AZ
m 2
46
Samantha Olmsted
Phoenix, AZ
m 7
47
Kylee Bonneville
Mesa, AZ
m 10
$15
48
Bo LaLonde
Phoenix, AZ
m 11
49
Laura Sitton
Phoenix, AZ
m 11
50
Jonathan Crowell
Phoenix, AZ
m 17
51
Nicole Stanczak
Phoenix, AZ
m 21
52
Stephen Tarnowski
Mesa, AZ
m 24
53
Ryne Rossetti
Chandler, AZ
m 24
54
Bryce Techmer
Phoenix, AZ
m 28
55
Amanda Anderson
Avondale, AZ
m 29
56
Justin White
Phoenix, AZ
m 39
$15
57
Nicholas Lee
Tucson, AZ
m 47
58
Henry Silva
Mesa, AZ
m 48
59
Kyle King
Phoenix, AZ
m 50
$15
60
Justin Weber
Glendale, AZ
m 51
61
Jenny Ortag
Phoenix, AZ
m 53
62
Francisco Peralta
Phoenix, AZ
m 53
63
CJ Crowley
Mesa, AZ
m 57
64
Alex Ellis
Phoenix, AZ
m 63
65
Kevin Narcisco
Phoenix, AZ
m 67
66
Tim Radney
Mesa, AZ
m 67
67
Aashan Johnson
Phoenix, AZ
m 71
68
Brandon White
Casa Grande, AZ
m 74
69
Corey Sandberg
Prescott, AZ
m 83
70
Steven Mitchell
Phoenix, AZ
m 92
71
Joshua Weber
Glendale, AZ
m 92
72
Rebeca Reguero
Phoenix, AZ
m 93
73
Alex Powell
Phoenix, AZ
m 95
74
Chelsea Dale
Casa Grande, AZ
m 109
75
Ken Russell
Queen Creez, AZ
m 124
76
Alex Van Kirk
Prescott Valley, AZ
m 137
77
Zachary Najdawi
Phoenix, AZ
dnf
78
Holly Emery
Queen Creez, AZ
dnf
High Games: scratch: Hayes 277, Grant 269, Saunders 268.

Handicap: Price 289, Stephens 279, Payne 274
High Female: Chi 1026
Cuts: scratch -7, handicap +8
Storm Ball Winner: Brittany Crowell
TOTAL AWARDED THIS EVENT: $2,615