VIRGIN RIVER LANES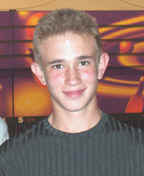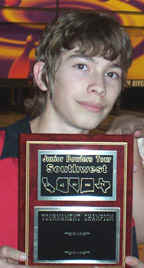 champs Jeremy Bellflower & Brandon Allred
Brandon Allred ended a frustrating stretch of events by winning his first scratch title, while Jeremy Bellflower tasted victory for the first time in JBT SW action at Virgin River Bowling Center.
A tiny field made the trip, and thus were rewarded by an easier than usual shot at valuable JBT points, and reaped the benefits of our minimum scholarship guarantees, which allowed us to award $1,065 to just 32 bowlers.
The scratch finals opened with two-time defending champ Nathan Panaligan defeating first-time finalist Derick Parnell 226-162. In round two, Nathan took on another stepladder rookie, and the results were similar as Panaligan cruised 177-139. In the semifinals, 2003-04 Mojave conference Bowler of the Year Philip Schwartz finally stopped Nathan's bid for a three-peat, 237-205, to advance to his first title match of the year.
Top qualifier Allred had suffered a couple of heartbreaking near-misses of the finals, but took advantage of early miscues by Schwartz to build an early lead. Brandon won the match 191-171, earning the first scratch title of his JBT SW career, to go with a handicap win to open last season.
The handicap division stepladder opened up with newcomer Alex Montes getting past Adam Stroud by a 205-144 margin. Round two was a struggle, but in the end Montes defeated Darcie Staggs 136-115 to move on. Bellflower and Montes then hooked up in another war of attrition, but Jeremy righted the ship quicker, leading to a 155-142 win to advance to the title match.
Top qualifier Amanda Dewees had led for most of the day, but was unable to pull away from Bellflower. In the end, Amanda needed a spare plus count to win. Leaving a 10-pin, Amanda unfortunately missed the spare by a hair, giving Bellflower a 159-152 win, and his first JBT SW title.
Virgin River- final results and optional scholarship winners
Mojave Conference
10/17/2004
Scratch Division
rank
name
city
score
prize
1
Brandon Allred
Las Vegas, NV
m 43
$230
2
Philip Schwartz
Oro Valley, AZ
m 65
$230
3
Nathan Panaligan
North Las Vegas, NV
m 100
$70
4
Andrew Decker
Las Vegas, NV
m 89
$50
5
Derick Parnell
Las Vegas, NV
m 150
$20
6
Chris Kagawa
Las Vegas, NV
m 250
7
Daniel Hansak
Las Vegas, NV
m 267
8
Bobby Sherman
Las Vegas, NV
m 269
9
DJ Sloan
Las Vegas, NV
m 157
10
Kurt Plotkin
Las Vegas, NV
m 165
11
Jerimiah Wiltfang
Lake Havasu City, AZ
m 184
12
Matt Cossey
Henderson, NV
m 188
13
Chris Hooks
Henderson, NV
m 243
14
Cayson Coyle
Las Vegas, NV
m 245
15
Eddie Schaub
Las Vegas, NV
m 256
$20
16
Johnny Ray
Las Vegas, NV
m 261
17
Cody Raynoha
Las Vegas, NV
m 397
Handicap Division
rank
name
city
score
prize
1
Jeremy Bellflower
Las Vegas, NV
p 42
$200
2
Amanda Dewees
Las Vegas, NV
p 91
$100
3
Alex Montes
Las Vegas, NV
m 39
$75
4
Darcie Staggs
Bullhead City, AZ
m 8
$40
5
Adam Stroud
Las Vegas, NV
m 51
$20
6
Brandon Dauphinais
Henderson, NV
m 154
$20
7
Steven Slivka
Las Vegas, NV
m 167
8
Travis Stroud
Las Vegas, NV
m 202
9
Kealey Fukuyama
Las Vegas, NV
m 95
10
Maddie Pellegrino
Henderson, NV
m 123
11
Jordan Ferrer
Las Vegas, NV
m 148
12
Hanna Chipman
Las Vegas, NV
m 152
13
John Haggerty
Las Vegas, NV
m 155
14
Kelly White
henderson, NV
m 207
15
Taylor McKenrick
Henderson, NV
m 226
$10
300 Games: none
Cuts: scratch: minus 153, handicap: minus 91
High Games: scratch: Schaub 233, Schwartz 226, Decker 223.

handicap: Dauphinais 255, Montes 230, McKenrick 203.
Jr. Gold Qualifiers: none
Storm Ball Winner: Chris Kagawa
Stepladder Results:
Scratch:
Panaligan def. Parnell 226-162
Panaligan def. Decker 177-139
Schwartz def. Panaligan 237-205
Allred def. Schwartz 191-171
Handicap:
Montes def. Stroud 205-144
Montes def. Staggs 136-115
Bellflower def. Montes 159-142
Bellflower def. Dewees 159-152
TOTAL AWARDED THIS EVENT: $1,065