ARIZONA DOUBLES at BOWLERO MESA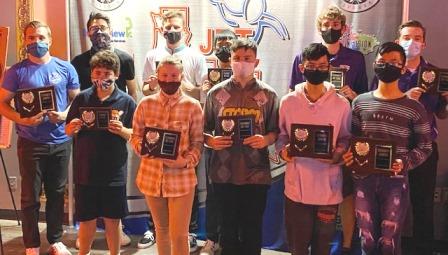 AZ Doubles champs and finalists
JBT veterans and rookies shared in over $3,300 in scholarships awarded at the annual Arizona Doubles, hosted by Bowlero Mesa.
Ethan Young and Kaitlynn Pennington began the baker-format handicap stepladder finals with a 170-132 win over newcomers Ryan Doyle and Bryn Widows. Ethan and Kaitlynn then squeezed by Conner Pendergrass 183-173 when Young came up with a clutch tenth frame double. Top seeded twins Reef and Ryder Hirokane had run away from the field in qualifying and matchplay, but found themselves in a battle in the title match. Needing a mark to win, they got the strike they needed for the win and first career JBT titles each.
The scratch division was studded with JBT stars both past and present, and nothing was decided after round one, with Ben Canfield and Mathew Adragna tying Cerell Cardines and Andrew Guba at 217. Adragna's strike won the ensuing rolloff, and they rode the momentum of that to a 259-179 win over Hunter Mayes and Justin Song to reach the title match.
2017 Main Event champ Brennan 'Bean' Haugh teamed with all-time JBT 'goat' Cortez Schenck to lead a tightly-packed field after matchplay, but a ringing-10 from Tez gave Ben and Matt a chance to take the tournament away. 23-time champ Canfield's first effort came up high though, and Haugh collected JBT title #3, while it was #97 (!) for Schecnk as a result.
Huge thanks to the adult bowlers, many of them JBT alumni, who came out to bowl with today's JBT bowlers. Bowlero Mesa is a great place to run an event, so huge thanks to them as well. Want in on all this fun for all ages and averages? Just check out our schedule and come on down!
AZ Doubles- final results and scholarship winners
12/12/2020
Scratch Division
rank
bowler
prize
bowler
prize
total
1
Cortez Schenck
$590
Bean Haugh
$590
2
Matthew Adragna
$344
Ben Canfield
$344
3
Hunter Mayes
$339
Justin Song
$339
4
Cerell Cardines
$100
Andrew Guba
$128
$228
5
Jacob Gaddam
$80
Michael Fitzgerald
$80
6
Dylan Taylor
Max Premeau
$70
$70
7
Lucas Rabb
$60
Chris Klerk
$60
8
Jarrod Spangler
Devin Thornton
9
Kyle Reed
Derek Acuff
10
Sebastian Huffman
Skyler McGowan
11
Cesar Padilla
Mackenzie Hammer
12
Chris Mayes
Josh Mullen
13
Josh Molloy
Mikey McQuisten
14
Brock Bivins
CJ Todeschi
15
Stephen Abkin
$59
Wayne King
$59
16
Daniel Hong
Leoj Chin
17
Tyler Morgan
$40
Gavin Holter
$40
18
Zach Greim
Gael Egana
19
Josh Williams
Chris Berryman
20
Madison Holman
Brandi Calderon
21
Hayden Hull
John Hull
22
Daron Cowart Jr
Daron Cowart Sr
23
Dawson Reese
$5
Chris Tucker
$5
24
Keith Ylvisaker
Bryan Van Sickle
25
Victoria Cruz
Mike Friedrichs
26
Daryus Alo
Harley Sweigart
27
Kody Kilber
Prestin Frazee
28
Corbin Hirsch
Noel Hernandez
29
Payton Workman
Anthony Stabolito
30
Josh Brown
Joe Huber
31
Rachael Berg
Matthew Garrett
$45
$45
32
Jason Bardol
Miya Greene
33
Emily Cheesman
Jennifer Peterson
34
Juan Canez
Joey Burke
35
Aileen Linares
Toby Cdebaca
36
Amarr Bryant
Tyler Gideon
37
Tim Hill
Donna Lamb
Handicap Division
1
Reef Hirokane
$225
Ryder Hirokane
$225
$450
2
Ethan Young
$150
Kaitlynn Pennington
$150
$300
3
Conner Pendergrass
$100
Peyton Lee
$100
$200
4
Ryan Doyle
$90
Bryn Widows
$90
$180
5
Jason Gootzeit
$80
Jaden Workman
$50
$130
6
Aiden Ruiz-Jimenez
$80
Kristen Ruiz-Jimenez
$80
7
Tyler Castronova
Josh Castronova
8
Baylee Snow
Sean Trzaskowski
9
Jimmy Pfaff
Mark Pfaff
10
Devin Thornton
Nathan Ryan
$15
$15
11
Harper Schmidt
Jason Schmidt
12
Alisabeth Rich
Jake Creek
13
Joshua Carlson
Bailey Knight
$15
$15
14
Kaitlyn Hammer
$38
Amy Hammer
$38
15
Lindsay Greim
Mike Mayes
16
Kieran Roth
$30
Joe Reguero
17
Jadeyn Mabry
Paityn Gaines
$15
$15
18
JT Verde
Jon Verde
19
RJ Pointon
Tracy Lee
20
Mackenzie Theophilus
Ben Laffoon
21
Caden Meliska
$5
Connor Meliska
$5
22
Kloey Kielich
$45
Karl Kielich
$45
23
Ethan Chambers
Mike Lee
24
Garrett Lee
Alexis Lee
25
Jack Haines
Derek Hamm
26
Eric Hull
Michael Hull
27
Kendall Bollea
Josh Blanchard
28
Harrison Cole
Raymond Cole
29
Jacob Ellis
Derrick Bollea
30
Jonah Cowart
Patty Cowart
31
Emma Downing
James Burke
32
Nathan Chambers
Steve Lee
33
Lathan Chin
Richard Delgado
34
Hannah Holt
Monroe Holt
High Games
Scratch
Handicap
1
Reed 299
Doyle 320
2
Schenck 279
Ry. Hirokane 308
3
Padilla 278
Re. Hirokane 290
4
H Mayes 268
Young 286
5
Chin 268
Snow 278
Round Leaders
Scratch
Handicap
1
H Mayes / Song
Doyle / Widowsn
2
H Mayes / Song
Hirokane / Hirokane
3
H Mayes / Song
Hirokane / Hirokane
4
H Mayes / Song
Hirokane / Hirokane
5
Cardines / Guba
Hirokane / Hirokane
6
Cardines / Guba
Hirokane / Hirokane
7
Schenck / Haugh
Hirokane / Hirokane
TOTAL AWARDED THIS EVENT: $3,383
DEC 12 BOWLERO MESA MESA AZ AZ 11 AM
*Teams must have AT LEAST one JBT-eligible bowler. Partner can be ANY bowler.
(JBT eligible means age 21 or under as of 8/1/20)
*Handicap AND Scratch divisions!
*$400 1st place scholarship minimum per team guaranteed at each event !
ENTRY FEE: $80 per team FORMAT: (2 divisions, scratch & handicap)
--bowl 4 team games across 8 lanes
Teams with 'juniors' who --top 40% bowl 3 team matchplay games
have never bowled in a JBT
enter for $5 off per junior! --top 4 teams in each division bowl a BAKER
style stepladder finals
OPTIONAL EXTRAS FOR ADULTS AND JUNIORS !! (all returned 100%)
Brackets – 'adult' and 'junior' scratch and handicap brackets will be run.
'Junior' prizes are awarded as scholarship and 'adult' prizes are awarded as cash.
Adults may also choose to declare any/all winnings to their partner as scholarship.
Position prizes awarded as scholarship to 'juniors' only
(in other words, brackets are the only part where 'adults' can receive cash)
HANDICAP 90% OF 400 (i.e. -- team entering at 380 will get 18 pins)
Bowlers who have competed in JBT events in 19-20 will use their JBT average. All others must use their highest
19-20 average, 15 games minimum. All others will use 200. Teams over 400 MUST bowl scratch.
For more info or to sign up, visit us at www.bowlJBT.com
AZ DOUBLES
Date: Saturday December 12, 2020 (This is a ONE day doubles tournament. There is a separate singles tournament Sunday morning. You can do either or both.)
Start Time: Saturday qualifying is one squad only, at 11 AM.
Re-entries?: There's only one qualifying squad, so there are no re-entries.
Reservations: Please email director@bowljbt.com to reserve a spot. You can prepay (not required) at the 'Prepaying' section of this website. Reservations (paid or unpaid) must check in no later than 15 minutes before start time. At that time, all bowlers will be taken on a first come, first serve basis until the field is full.
Format: All bowlers roll 4 games in the qualifying round. The top 40% of each division rolls three additional games. The top 4 then do a stepladder finals.
Divisions: Scratch or handicap. It is the bowlers' choice of division. Also, everyone age 16 or under as of 8/1/20 is automatically entered in the U-17 side event. Also, every female is automatically entered in the Girls Scratch side event.
Points: This event counts for Southwest Conference and All-Conference points. Points qualify you for the big money season-ending Invitationals and Touring Players Championship, so get all you can. Visit the 'statistics' section of the website to check on your points.
Entry fee: $80 per team. Teams with a new JBT-eligible 'junior' get $5 off per new bowler.. Scholarship brackets are available for $2 each. Raffle tickets for Ebonite bowling balls, and our PowerBowl and '25' jackpots, are available on-site.
Covid details: JBT events follow- at least- all local Covid safety protocols, which you must be prepared for. This will likely include but not be limited to wearing masks at all times, and maintaining 6 feet of social distancing from non-family members. Please stay posted so you're not surprised about anything required of you.
Scholarships: 1:6 in each division earn scholarships, scratch and handicap. Minimum prizes in scratch are $250, $125, $75, $50. In handicap, $200, $100, $60, $40. Bowlers must finish in the top 4 once this season to qualify for that conference's Invitational, which features $1,000 for first place. Bowlers who finish in the top 20 in a conference's points race, or the top 100 in all-conference points, qualify for the Touring Players Championship, featuring $2,000 for first.
Lane conditions: conditions vary from event to event, and are not posted prior to the event (unless otherwise announced). Some events do not post the pattern until after qualifying. Be ready for anything- it makes you a better bowler! Check out previous patterns and corresponding cut scores at the 'lane conditions' section of this website.
Dress code: Anything goes EXCEPT tank tops, hats, gym shorts, clothing promoting alcohol, drugs, or firearms, or excessively ripped or short clothing, subject solely to the director's discretion. However, bowlers wearing slacks or dress shorts/skirts, and a 'name shirt' or PBA-style 'dye-sub' shirt, or college or high school team shirt, earn an extra 10 points on their season-long points total. If you're not sure about dress code, check with us. If you're new to us, the vast majority of the bowlers do dress in the 'bonus' dress code, and those points become very important, so plan accordingly.
RESERVED BOWLERS:
PLEASE do not forget to contact us if you need to cancel or adjust your reservation.
| | | |
| --- | --- | --- |
| no | bowler | Saturday |
| | | max 80 teams |
| 1 | Abigania, J / partner | x |
| 2 | Abigania, K / partner | x |
| 3 | Abkin, Stephen / | x |
| 4 | Acuff, Derek / Reed, Kyle | x |
| 5 | Adragna, M / Canfield, B (a) | x |
| 6 | Alo, Daryus / Sweigart, Harley | x |
| 7 | Berg, R / Garrett, M | x |
| 8 | Bollea, K / Blanchard, J (a) | x |
| 9 | Brown, Joshua / Huber, Joe | x |
| 10 | Bryant, A / Gideon, T | x |
| 11 | Burke, James / Downing, Emma | x |
| 12 | Cardines, C / Guba, A | x |
| 13 | Carlson, J / Knight, B | x |
| 14 | Castronova, T / Castronova, Josh | x |
| 15 | Chambers, Ethan / Lee, MIke | x |
| 16 | Chambers, Nathan / Lee, Steve | x |
| 17 | Cheesman, Emily / | x |
| 18 | Chin, Lathan / Delgado, Richard | x |
| 19 | Cole, H / Cole, R | x |
| 20 | Cowart, DJ / Cowart, Daron Sr | x |
| 21 | Cowart, Jonah / Cowart, Patty | x |
| 22 | Creek, J / Rich, A | x |
| 23 | Cruz, Victoria / Friedrichs, Mike | x |
| 24 | Ellis, J / Bollea, D (a) | x |
| 25 | Fetters, Justin / Doyle, Ryan | x |
| 26 | Gaddam, J / partner | x |
| 27 | Gaines, Paityn / Bell, Connor | x |
| 28 | Gootzeit, J / Workman, J | x |
| 29 | Greene, M / Bardol, J | x |
| 30 | Greim, Z / Egana, G | x |
| 31 | Haines, J / Hamm, D | x |
| 32 | Hammer, K / Hammer, A (a) | x |
| 33 | Hammer, M / Padilla, C | x |
| 34 | Hernandez, N / Reid-Hirsch, C | x |
| 35 | Hill, Tim / partner | x |
| 36 | Hirokane, Reef / Hirokane, Ryder | x |
| 37 | Holman, Madison / Calderon, Brandi | x |
| 38 | Holt, Hannah / Holt, Monroe | x |
| 39 | Hong, Daniel / Chin, Leoj | x |
| 40 | Hong, Stephanie / | x |
| 41 | Huffman, S / McGowan, S | x |
| 42 | Hull, E / partner | x |
| 43 | Hull, H / partner | x |
| 44 | | |
| 45 | Kielich, Kloey / Kielich, Karl | x |
| 46 | Kilber, Kody / Frazee, Prestin | x |
| 47 | | x |
| 48 | | x |
| 49 | Lee, Garrett / Lee, Alexis | X |
| 50 | Lee, P / Pendergrass, C | x |
| 51 | Linares, Aileen / Cdebaca, Toby | x |
| 52 | Mabry, J / partner | x |
| 53 | Mayes, C / Mullen, J (a) | x |
| 54 | Mayes, H / Song, J | x |
| 55 | McQuisten, M / Molloy, J | x |
| 56 | Meliska, C / partner | x |
| 57 | Meliska, Co / partner | x |
| 58 | Morgan, T / Holter, G | x |
| 59 | Pennington, K / Young, E | x |
| 60 | Pfaff, Jimmy / Pfaff, Mark (a) | x |
| 61 | Pointon, RJ / partner | x |
| 62 | Premeau, Max / Riley, R | x |
| 63 | Rabb, L / partner | x |
| 64 | Reese, D / Tucker, C | x |
| 65 | Robbins, William / Burke, Joey | x |
| 66 | Roth, K / partner | x |
| 67 | Greim, L / partner | x |
| 68 | Ruiz-Jimenez, A / partner | x |
| 69 | Schenck, Cortez / Haugh, Brennan | x |
| 70 | Schmidt, H. / partner | x |
| 71 | Snow, Baylee / partner | x |
| 72 | Spangler, J / Thronton, Da | x |
| 73 | Theophilus, M / Laffoon, B | x |
| 74 | Thornton, De / Ryan, N | x |
| 75 | Todeschi, CJ / Bivins, Brock | x |
| 76 | Valenzuela, CJ / Valenzuela, C | x |
| 77 | Verde, JT / partner | x |
| 78 | Williams, J / partner | x |
| 79 | Workman, P / partner | x |
| 80 | Ylvisaker, K / Van Sickle, B (a) | x |
| 81 | Yoshishige, T / Yoshishige, J | x |
| 82 | Zent, R / Conaway, J (a) | x |