BOWLERO MESA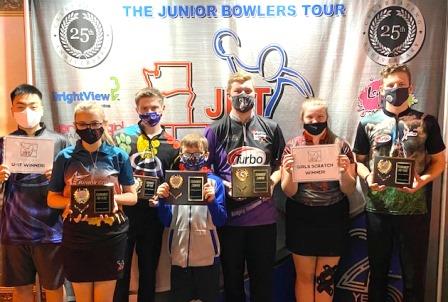 champs Zach Greim & JT Verde, with finalists
Zach Greim and JT Verde wrapped up a big Southwest Conference weekend with singles titles in exciting action at Bowlero Mesa.
After five qualifying games on the challenging 'Boardwalk' pattern, the top 16 in each division advanced to matchplay. Scratch division top seed Hunter Mayes led qualifying at a blistering 242 average, and had no problem with his opponents, including a 279 semifinal win over Andrew Guba to reach the final. He'd face his constant rival Zach Greim, who defended his #2 seed with wins over Kyle Reed, Daniel Hong, and Lucas Rabb to reach the championship game. In the finale, Mayes lost his look a bit, and Greim grinded out a clean 216, good enough for the 12th title of his JBT career.
Jason Bardol earned the top seed in the handicap division, and survived to the semifinal, but red-hot Mackenzie Hammer defeated him 190-181 to advance to the final. On the other side of the bracket, Las Vegas' JT Verde took out So Cal's Jimmy Pfaff 222-206 to reach his first singles title match. The 10 year-old didn't perform like a rookie in the final though, blasting 215 srctah for a 245-182 win over Hammer, and first career JBT title.
Daniel Hong fired a back-seven 250 to beat Cesar Padilla for the day's U17 title. Emily Cheesman won the day's Girls Scratch event with a win over Madison Holman, who also finished 8th in the main scratch event. Caden Meliska won the day's bowling ball from our title sponsor Ebonite.
Big thanks to the team at Mesa for their usual fantastic job hosting our Tour! Want in on the fun? Just check out our schedule and come on down!
Bowlero Mesa- final results and scholarship winners
12/13/2020
Scratch Division
rank
bowler
prize
1
Zach Greim
$315
2
Hunter Mayes
$404
3
Lucas Rabb
$165
4
Andrew Guba
$125
5
Skyler McGowan
$100
6
Payton Workman
$75
7
Daniel Hong
$85
8
Madison Holman
$75
9
Cerell Cardines
10
Keith Ylvisaker
11
Cesar Padilla
12
Joshua Molloy
13
Sebastian Huffman
14
Ben Laffoon
15
Kyle Reed
16
Tim Hill
$5
17
Emily Cheesman
$65
18
Dawson Reese
19
Josh Williams
20
CJ Todeschi
21
Abby Franklin
22
Gael Egana
23
Matthew Garrett
24
Max Premeau
25
Jarrod Spangler
26
Rachael Berg
5
27
Chris Mayes
28
DJ Cowart
29
Garrett Lee
15
30
Darin Thornton
31
Gavin Holter
32
Daryus Alo
33
Leoj Chin
34
Hayden Hull
35
Brock Bivins
36
Vctoria Cruz
37
Mikey McQuisten
38
Ethan Young
39
Noel Hernandez
40
Jonah Cowart
41
Cristian Roque
42
Stephen Abkin
43
Toby Cdebaca
44
Jacob Gaddam
45
Aileen Linares
46
Tyler Gideon
47
Miya Greene
48
Corbin Reid-Hirsch
Handicap Division
1
JT Verde
$225
2
Mackenzie Hammer
$140
3
Jason Bardol
$130
4
Jimmy Pfaff
$75
5
Ryland Pimentel
$134
6
RJ Pointon
$50
7
Lathan Chin
$90
8
Hannah Holt
$40
9
Jason Gootzeit
$15
10
Kieran Roth
11
Caden Meliska
12
Kloey Kielich
$14
13
Conner Pendergrass
14
Peyton Lee
15
Jaden Workman
16
Monroe Holt
17
Jake Creek
18
Jadeyn Mabry
19
Raeden Pimentel
20
Peyton Gaines
$15
21
Joshua Fabianek
22
Nathan Ryan
23
Tyler Castronova
24
Ethan Chambers
25
Eric Hull
26
Alisabeth Rich
27
Joshua Carlson
28
Kendall Bollea
$5
29
Bailey Knight
$15
30
Mackenzie Theophilus
31
Jack Haines
32
Harrison Cole
33
Emily Rohrbacker
34
Joshua Castrobova
35
Nathan Chambers
36
Lindsay Greim
$14
37
Alexis Lee
38
Harper Schmidt
39
Kaitlyn Hammer
40
Aiden Ruiz-Jimenez
41
Jacob Ellis
42
Jadeyn Mabry
High Games
Handicap
1
Scratch
Verde 276
2
H Mayes 279
Pendergrass 273
3
H Mayes 268
Bardol 258
4
Z Greim 268
Pfaff 257
5
Z Greim 261
Pointon 253
H Mayes 257
Pafilla 257
1
High Female
2
Holman -18
3
Cheesman -24*
4
Franklin -56
5
M Hammer -71
Berg -93
Qualifying Leaders
Handicap
1
Scratch
Bardol +45
2
H Mayes +211
Ry. Pimentel +44
3
Z Greim +146
Pointon +37
Cardines +62
1
U-17
2
Padilla -3
3
Hong -8*
4
Huffman -17
5
Cheesman -24
Gootzeit -47
Round Leaders
Handicap
1
Scratch
Pendergrass
2
Todeschi
Pendergrass
3
Franklin
Pointon
4
H Mayes
Bardol
5
H Mayes
Bardol
H Mayes
Total Awarded This Event: $2,396
Date: Sunday December 13, 2020 (This is a ONE day singles tournament. There is a separate doubles tournament Saturday morning. You can do either or both.)
Start Time: Sunday qualifying is one squad only, at 10 AM.
Re-entries?: There's only one qualifying squad, so there are no re-entries.
Reservations: Please email director@bowljbt.com to reserve a spot. You can prepay (not required) at the 'Prepaying' section of this website. Reservations (paid or unpaid) must check in no later than 15 minutes before start time. At that time, all bowlers will be taken on a first come, first serve basis until the field is full.
Format: All bowlers roll 5 games in the qualifying round. The top 40% of each division to a maximum of 16 advance to head to head matchplay.
Divisions: Scratch or handicap. It is the bowlers' choice of division. Also, everyone age 16 or under as of 8/1/20 is automatically entered in the U-17 side event. Also, every female is automatically entered in the Girls Scratch side event.
Points: This event counts for Southwest Conference and All-Conference points. Points qualify you for the big money season-ending Invitationals and Touring Players Championship, so get all you can. Visit the 'statistics' section of the website to check on your points.
Entry fee: $40 handicap; $50 scratch. Scholarship brackets are available for $2 each. Raffle tickets for Ebonite bowling balls, and our PowerBowl and '25' jackpots, are available on-site.
Covid details: JBT events follow- at least- all local Covid safety protocols, which you must be prepared for. This will likely include but not be limited to wearing masks at all times, and maintaining 6 feet of social distancing from non-family members. Please stay posted so you're not surprised about anything required of you.
Scholarships: 1:6 in each division earn scholarships, scratch and handicap. Minimum prizes in scratch are $250, $125, $75, $50. In handicap, $200, $100, $60, $40. Bowlers must finish in the top 4 once this season to qualify for that conference's Invitational, which features $1,000 for first place. Bowlers who finish in the top 20 in a conference's points race, or the top 100 in all-conference points, qualify for the Touring Players Championship, featuring $2,000 for first.
Lane conditions: conditions vary from event to event, and are not posted prior to the event (unless otherwise announced). Some events do not post the pattern until after qualifying. Be ready for anything- it makes you a better bowler! Check out previous patterns and corresponding cut scores at the 'lane conditions' section of this website.
Dress code: Anything goes EXCEPT tank tops, hats, gym shorts, clothing promoting alcohol, drugs, or firearms, or excessively ripped or short clothing, subject solely to the director's discretion. However, bowlers wearing slacks or dress shorts/skirts, and a 'name shirt' or PBA-style 'dye-sub' shirt, or college or high school team shirt, earn an extra 10 points on their season-long points total. If you're not sure about dress code, check with us. If you're new to us, the vast majority of the bowlers do dress in the 'bonus' dress code, and those points become very important, so plan accordingly.
RESERVED BOWLERS:
PLEASE do not forget to contact us if you need to cancel your reservation.
| | | |
| --- | --- | --- |
| no | bowler | Sunday |
| | | max 100 |
| 1 | Abigania, Joshua | x |
| 2 | Abigania, Katelyn | x |
| 3 | Alo, Daryus | x |
| 4 | Alvares, Yarelis | x |
| 5 | Bardol, Jason | x |
| 6 | Bell, Connor | x |
| 7 | Berg, Rachael | x |
| 8 | Bivins, Brock | x |
| 9 | Bollea, Kendall | x |
| 10 | Cardines, Cerell | x |
| 11 | Carlson, Joshua | x |
| 12 | Castronova, Tyler | x |
| 13 | Cdebaca, Toby | x |
| 14 | Chambers, Ethan | x |
| 15 | Chambers, Nathan | x |
| 16 | Cheesman, Emily | x |
| 17 | Chin, Lathan | x |
| 18 | Chin, Leoj | x |
| 19 | Cole, Harrison | x |
| 20 | Cowart, Daron | x |
| 21 | Cowart, Jonah | x |
| 22 | Creek, Jake | x |
| 23 | Cruz, Victoria | x |
| 24 | Egana, Gael | x |
| 25 | Ellis, Jacob | x |
| 26 | Fabianek, Joshua | x |
| 27 | Fetters, Justin | x |
| 28 | Franklin, Abby | x |
| 29 | Gaddam, Jacob | x |
| 30 | Gaines, Paityn | x |
| 31 | Garrett, Matthew | x |
| 32 | Gideon, Tyler | x |
| 33 | Gootzeit, Jason | x |
| 34 | Greene, Miya | x |
| 35 | Greim, Lindsay | x |
| 36 | Greim, Zach | x |
| 37 | Guba, Andrew | x |
| 38 | Haines, Jack | x |
| 39 | Hammer, Kaitlynn | x |
| 40 | Hammer, Mackenzie | x |
| 41 | Hernandez, Noel | x |
| 42 | Hill, Tim | x |
| 43 | Hirokane, Reef | x |
| 44 | Hirokane, Ryder | x |
| 45 | Holman, Madison | x |
| 46 | Holt, Hannah | x |
| 47 | Holt, Monroe | x |
| 48 | Holter, Gavin | x |
| 49 | Hong, Daniel | x |
| 50 | Hong, Stephanie | x |
| 51 | Huffman, Sebastian | x |
| 52 | Hull, Eric | x |
| 53 | Hull, Hayden | x |
| 54 | Ickes, Mackenzie | x |
| 55 | Kielich, Kloey | x |
| 56 | King, Reilley | x |
| 57 | Kirby, Chase | x |
| 58 | Knight, Bailey | x |
| 59 | Laffoon, Ben | x |
| 60 | Lee, Alexis | x |
| 61 | Lee, Garrett | x |
| 62 | Lee, Peyton | x |
| 63 | Linares, Aileen | x |
| 64 | Mabry, Jadeyn | x |
| 65 | Mayes, Chris | x |
| 66 | Mayes, Hunter | x |
| 67 | McGowan, Skyler | x |
| 68 | McQuisten, Mikey | x |
| 69 | Meliska, Caden | x |
| 70 | Molloy, Josh | x |
| 71 | Morgan, Tyler | x |
| 72 | Padilla, Cesar | x |
| 73 | Pendergrass, Conner | x |
| 74 | Pfaff, Jimmy | x |
| 75 | Pimentel, Raeden | x |
| 76 | Pimentel, Ryland | x |
| 77 | Pointon, RJ | x |
| 78 | Premeau, Max | x |
| 79 | Rabb, Lucas | x |
| 80 | Reed, Kyle | x |
| 81 | Reese, Dawson | x |
| 82 | Reid-Hirsch, Corbin | x |
| 83 | Rich, Alisabeth | x |
| 84 | Rohrbacker, Emily | x |
| 85 | Roque, Cristian | x |
| 86 | Roth, Kieran | x |
| 87 | | |
| 88 | Ruiz-Jimenez, Aiden | x |
| 89 | Ryan, Nathan | x |
| 90 | Schmidt, Harper | x |
| 91 | Snow, Baylee | x |
| 92 | Spangler, Jarrod | x |
| 93 | Theophilus, Mackenzie | x |
| 94 | Thornton, Darin | x |
| 95 | Thornton, Devin | x |
| 96 | Todeschi, CJ | x |
| 97 | Valenzuela, CJ | x |
| 98 | Verde, JT | x |
| 99 | Williams, Josh | x |
| 100 | Workman, Jaden | x |
| 101 | Workman, Payton | x |
| 102 | Ylvisaker, Keith | x |
| 103 | Yoshishige, Taner | x |
| 104 | Young, Ethan | x |
| 105 | Zent, Ryan | x |
| 106 | Abkin, Stephen | x |
| | | |