CAL BOWL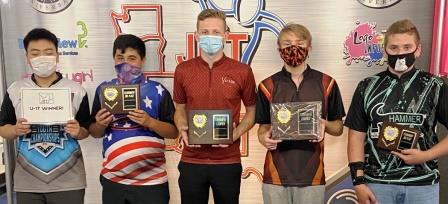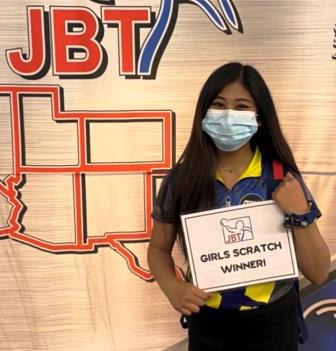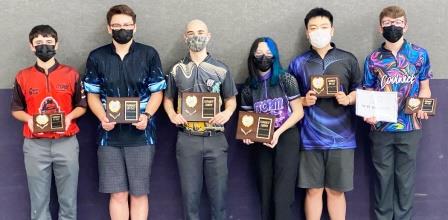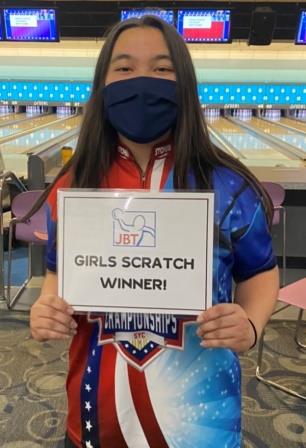 champs and finalists
Four bowlers earned JBT titles and over $4,200 in scholarships were awarded in tremendous JBT Southern California Conference action at Lakewood's Cal Bowl.
Saturday's event featured stepladder finals in scratch and handicap, and two ladder-climbs from the #4 seeds. In scratch, Elias O'Hollaren fired big games to roll past Gael Egana 258-212, and Sebastian Huffman 236-201 to reach the final. Top seed Hunter Mayes struck a ton all day, but needed to keep it up against Elias. He did so, running the front six, but O'Hollaren never quit, and when Mayes finished at 259, he found himself in a position to double to win. Elias got the first hit, but a good second shot didn't carry, and Mayes had the thrilling 259-258 win in one of the year's best finals, good for his 12th career JBT title.
Ethan Santos was simultaneously climbing the handicap stepladder, starting with a 222-217 win over Matt Wang, and following with a 232-191 victory over Hayden Wegner to reach the title match. Chase Simmons had he best event of his young JBT career to earn the top seed, and he consolidated it wit a win over Santos in the final, good for his first career JBT title.
Sunday used a matchplay bracket format in both divisions. In the scratch semifinals, Solomon Salama returned for a win over Daniel Hong, while Hunter Mayes continued his red hot streak, blasting 289 to rout Sebastian Huffman and set up a battle of two of our most decorated current bowlers. The finale was controlled by Salama, and the resulting win was good for the 27th title of his outstanding career. In handicap semifinals, Kaili Purugganan beat Jacob Lepore in a battle of league teammates, while Nathan Chambers beat Tyler Weitzman to set up the title match. Kaili stayed in the lead in the finale, and her win was good for the first title of her JBT career.
Avery Domaguin and Katelyn Abigania found themselves in a familiar position as Girls Scratch winners on the weekend, while the U17 events went to Sebastian Huffman and Daniel Hong. Tans as always to Leonard and the team at Cal for making the event happen. $4,202 in scholarships were earned by bowlers of all skill levels and ages- come on down to the nex JBT event to get in on the fun!
scroll below for Sunday results
Cal Bowl Saturday- final results and scholarship winners
5/15/2021
Scratch Division
rank
bowler
prize
1
Hunter Mayes
$265
2
Elias O'Hollaren
$125
3
Sebastian Huffman
$208
4
Gael Egana
$75
5
Daniel Hong
$100
6
Cerell Cardines
$50
7
Katelyn Abigania
$100
8
Avery Domaguin
$118
9
Madison Holman
10
Kyler Orosco
11
Garrett Lee
12
Ben Dinenberg
13
Skyler McGowan
14
Jennifer Loredo
$30
15
Jacob Gaddam
$14
16
Zach Greim
$15
17
Kara Thompson
18
Costa Gastouniotis
19
Emily Cheesman
20
Ardani Rodas
21
Chris Mayes
$30
22
Josh Abigania
23
Jamison Kaboli
24
Brock Bivins
25
Solomon Salama
26
Emily Schrider
27
Allex Zieg
28
Connor Steelmon-Hill
29
Adrian Yamanoha
30
Stephanie Fung
31
Michael Marmolejo
32
Brody LaRose
33
Shane Howard
34
Noel Hernandez
35
Miranda Emery
36
Jacee Correa
37
David Waybright
38
Austin Sugarman
39
Jonathan Fung
40
Dani Swaisgood
Handicap Division
1
Chase Simmons
$230
2
Ethan Santos
$180
3
Hayden Wegner
$130
4
Matt Wang
$100
5
Alexis Lee
$75
6
Kaili Purugganan
$80
7
Ethan Chambers
$50
8
Kendall Bollea
$70
9
Asa Smith
10
Stephanie Hong
11
Kayden O'Dell
12
Kaitlynn Yukihiro
13
Charlise Esmena
$30
14
Nathan Chambers
15
Ian Fiel
16
Jacob Lepore
17
Lathan Chin
18
Hayden Fernandez
19
Brent Purugganan
20
Kevin Tate
21
Mark Wang
22
Gavin Fernandez
23
Tyler Weitzman
$30
24
Cade Correa
25
Cuzack Bove
26
Amon Todd
27
Kaitlynn Martin
28
Akayla Orosco
29
James McGough
30
Bryce Nakunz
31
JP Griffin
32
Stephen Abkin
33
Lindsay Greim
$15
34
Jadeyn Mabry
35
Ben Pierce
36
Kaitlyn Touchette
$5
37
Julian Stenroos
38
Jacob McGough
39
Brandon Rother
40
Martin Velasco
41
Ben Martin
High Games
Scratch
Handicap
1
Huffman 289
Yukihiro 269
2
Egana 279
E Chambers 268
3
H Mayes 268
Santos 268
4
Holman 268
Matt Wang 267
5
G Lee 267
Simmons 260
Tate 260
High Female
1
K Abigania +70*
2
Domaguin +68
3
Holman +62
4
Loredo +13
5
K Thompson -9
Qualifying Leaders
Scratch
Handicap
1
Huffman +150
A Lee +128
2
Hong +129
Matt Wang +108
3
Egana +117
Wegner +95
U-17
1
Huffman +150
2
Hong +125*
3
K Abigania +70
4
Domaguin +68
5
Holman +62
Round Leaders
Scratch
Handicap
1
Gastouniotis
Yukihiro
2
Huffman
A Lee
3
Huffman
A Lee
4
Huffman
A Lee
5
Huffman
A Lee
6
Huffman
A Lee
7
H Mayes
Simmons
Total Awarded This Event: $2,125
Cal Bowl Sunday- final results and scholarship winners
5/16/2021
Scratch Division
rank
bowler
prize
1
Solomon Salama
$337
2
Hunter Mayes
$165
3
Daniel Hong
$125
4
Sebastian Huffman
$125
5
Cerell Cardines
$102
6
Skyler McGowan
$50
7
Zach Greim
$50
8
Ronnie Castillo
$65
9
Costa Gastouniotis
10
Jennifer Loredo
$25
11
Garrett Lee
12
Ben Dinenberg
13
Chris Mayes
$74
14
Elias O'Hollaren
15
Avery Domaguin
$50
16
Kyler Orosco
17
Noel Hernandez
18
Brody LaRose
19
Josh Abigania
20
Emily Cheesman
21
Jamison Kaboli
22
Madison Holman
23
Ardani Rodas
24
Brandon Howard
25
Brock Bivins
26
Michael Marmolejo
27
Gael Egana
28
Stephanie Fung
29
David Waybright
30
Jacob Gaddam
31
Ryan Bass
32
Allex Zieg
33
Miranda Emery
34
Jacee Correa
35
Bryce Aquiningoc
36
Emily Schrider
37
Austin Sugarman
38
Katelyn Abigania
39
Jaclyn Azvedo
40
Allison Azvedo
41
Shane Howard
42
Kara Thompson
43
Aaric Sims
44
Justin Erickson
45
Adrian Yamanoha
46
Connor Steelmon-Hill
Handicap Division
1
Kaili Purugganan
$215
2
Nathan Chambers
$125
3
Jacob Lepore
$100
4
Tyler Weitzman
$154
5
Gavin Fernandez
$75
6
Kaitlyn Griffin
$65
7
Kendall Bollea
$40
8
Kayden O'Dell
$55
9
Brent Purugganan
$30
10
Kaitlyn Touchette
$15
11
Kaitlynn Yukihiro
12
Stephanie Hong
13
Philip Hall
14
Ethan Santos
15
Lathan Chin
$5
16
Hayden Fernandez
$45
17
Alexis Lee
18
James McGough
19
Akayla Orosco
20
Ian Fiel
21
Jadeyn Mabry
22
Charlise Esmena
23
JP Griffin
24
Kaitlynn Martin
25
Cade Correa
26
Maikayla Villa
27
Matt Wang
28
Mark Wang
$15
29
Julian Stenroos
30
Jacob McGough
31
Lindsay Greim
32
Asa Smith
33
Cuzack Bove
34
Bryce Nakunz
35
Stephen Abkin
36
Drayden Quintana
37
Aarin Shepard
38
Ethan Chambers
39
Brandon Rother
40
Chase Simmons
41
Martin Velasco
High Games
Scratch
Handicap
1
H Mayes 289
G Fernandez 276
2
Cardines 279
Weitzman 264
3
H Mayes 268
K Purugganan 247
4
Z Greim 267
G Fernandez 242
5
Salama 259
K Griffin 241
Bollea 241
O'Dell 241
High Female
1
Loredo +2
2
Domaguin -63*
3
Cheesman -93
4
Holman -106
5
S Hong -136
Qualifying Leaders
Scratch
Handicap
1
Cardines +119
B Purugganan -4
2
Salama +100
Touchette -4
3
D Hong +93
Lepore -6
U-17
1
Huffman +93*
2
D Hong +67
3
Castillo -12
4
Dinenberg -31
5
O'Hollaren -36
Round Leaders
Scratch
Handicap
1
Cardines
Mabry
2
Cardines
G Fernandez
3
Cardines
G Fernandez
4
Cardines
Lepore
5
Cardines
B Purugganan
Total Awarded This Event: $2,077
Date: Saturday & Sunday May 15 & 16 (These are TWO separate one-day singles tournaments. You can bowl only Saturday, only Sunday, or both.)
Start Time: Saturday qualifying is at 8:30 AM. Sunday qualifying is also at 8:30 AM.
Re-entries?: There is only one qualifying squad at each event, so there are no re-entries allowed at these events.
Reservations: Please email director@bowljbt.com to reserve a spot. You can prepay (not required) at the 'Prepaying' section of this website. Reservations (paid or unpaid) must check in no later than 15 minutes before start time. At that time, all bowlers will be taken on a first come, first serve basis until the field is full.
Format: These are two separate one day events. Saturday, all bowlers roll 5 games in the qualifying round. The top 40% of each division rolls two additional games. The top 4 then do a stepladder finals. Sunday, all bowlers roll 5 games in the first round. The top 40% to a maximum of 16 bowlers per division advance to head to head matchplay, two game total pinfall in rounds of 16 and 8..
Divisions/ Averages: Scratch or handicap. It is the bowlers' choice of division. Also, everyone age 16 or under as of 8/1/20 is automatically entered in the U-17 side event. Also, every female is automatically entered in the Girls Scratch side event. If this is your first JBT event this season, we will be asking for average info. In most cases, your highest average from any current form of organized competition of at least 15 games is what we need. If you bowl in multiple leagues / clubs, bring everything and we'll sort it out for you. After your first JBT event, your average is re-rated before every JBT event according to JBT rules. Please see JBT Rule 13 for complete details. If you haven't bowled organized competition since shutdown last March, we likely need what your average was at that time. If it was a USBC league that average should be on www.bowl.com . Otherwise, it might take some digging to track down your average- give yourself time to do so!
Points: This event counts for So Cal Conference and All-Conference points. Points qualify you for the big money season-ending Invitationals and Touring Players Championship, so get all you can. Visit the 'statistics' section of the website to check on your points.
Entry fee: $40 handicap; $50 scratch. Scholarship brackets are available for $2 each. Raffle tickets for Ebonite bowling balls, and our PowerBowl and '25' jackpots, are available on-site.
Covid details: JBT events follow- at least- all local Covid safety protocols, which you must be prepared for. This will likely include but not be limited to wearing masks at all times, and maintaining social distancing from non-family members. Please stay posted so you're not surprised about anything required of you.
Scholarships: 1:6 in each division earn scholarships, scratch and handicap. Minimum prizes in scratch are $250, $125, $75, $50. In handicap, $200, $100, $60, $40. Bowlers must finish in the top 4 once this season to qualify for that conference's Invitational, which features $1,000 for first place. Bowlers who finish in the top 20 in a conference's points race, or the top 100 in all-conference points, qualify for the Touring Players Championship, featuring $2,000 for first.
Lane conditions: conditions vary from event to event, and are not posted prior to the event (unless otherwise announced). Some events do not post the pattern until after qualifying. Be ready for anything- it makes you a better bowler! Check out previous patterns and corresponding cut scores at the 'lane conditions' section of this website.
Dress code: Anything goes EXCEPT tank tops, hats, gym shorts, clothing promoting alcohol, drugs, or firearms, or excessively ripped or short clothing, subject solely to the director's discretion. However, bowlers wearing slacks or dress shorts/skirts, and a 'name shirt' or PBA-style 'dye-sub' shirt, or college or high school team shirt, earn an extra 10 points on their season-long points total. If you're not sure about dress code, check with us. If you're new to us, about 95% of the bowlers do dress in the 'bonus' dress code, and those points become very important, so plan accordingly.
RESERVED BOWLERS:
PLEASE do not forget to contact us if you need to cancel or adjust your reservation.
no.
Bowler
Saturday
Sunday
max 108
max 108
8:30 AM
8:30 AM
1
Abigania, Josh
x
x
2
Abigania, Katelyn
x
x
3
Abkin, Stephen
x
x
4
Aquiningoc, Bryce
x
5
Azvedo, Allison
x
6
Azvedo, Jaclyn
x
7
Bass, Ryan
x
8
Bivins, Brock
x
x
9
Bollea, Kendall
x
x
10
Bove, Cuzack
x
x
11
12
Cardines, Cerell
x
x
13
Castillo, Ronnie
x
14
15
Chambers, Ethan
x
x
16
Chambers, Nathan
x
x
17
Cheesman, Emily
x
x
18
Chin, Lathan
x
x
19
Correa, Cade
x
x
20
Correa, Jacee
x
x
21
22
Criss, Cameron
x
x
23
24
DePero, Louis
x
25
Dinenberg, Ben
x
x
26
Domaguin, Avery
x
x
27
Egana, Gael
x
x
28
Emery, Miranda
x
x
29
Esmena, Charlise
x
x
30
Fernandez, Gavin
x
x
31
Fernandez, Hayden
x
x
32
Fiel, Ian
x
x
33
Flaisig, Sam
x
x
34
Frazee, Prestin
x
x
35
Fung, Jonathan
x
x
36
Fung, Stephanie
x
x
37
Gaddam, Jacob
x
x
38
Gastouniotis, Costa
x
x
39
Greim, Lindsay
x
x
40
Greim, Zach
x
x
41
Lepore, Jacob
x
x
42
Hernandez, Noel
x
x
43
Hill, Tim
x
x
44
Holman, Madison
x
x
45
Hong, Daniel
x
x
46
Hong, Stephanie
x
x
47
Huffman, Sebastian
x
x
48
Kaboli, Jamison
x
x
49
Karney, Josh
x
x
50
LaRose, Brody
x
x
51
Lee, Alexis
x
x
52
Lee, Garrett
x
x
53
54
55
Mabry, Jadeyn
x
x
56
Marmolejo, Michael
x
x
57
Martin, Ben
x
x
58
Martin, Kaitlynn
x
x
59
Mayes, Chris
x
x
60
Mayes, Hunter
x
x
61
McGough, Jacob
x
x
62
McGough, James
x
x
63
McGowan, Skyler
x
x
64
Metcalfe, Marissa
x
x
65
Nakunz, Bryce
x
x
66
O'Dell, Kayden
x
x
67
O'Hollaren, Elias
x
x
68
Orosco, Akayla
x
x
69
Orosco, Kyler
x
x
70
Pfaff, Jimmy
x
x
71
Pimentel, Raeden
x
72
Pimentel, Ryland
x
73
Pollom, RIcky
x
x
74
Purugganan, Brent
x
x
75
Purugganan, Kaili
x
x
76
Quintana, Drayden
x
77
Erickson, Justin
x
78
Rodas, Ardani
x
x
79
Rother, Brandon
x
x
80
Salama, Solomon
x
x
81
Schrider, Emily
x
x
82
83
Shepherd, Aarin
x
84
Simmons, Chase
x
x
85
Sims, Aaric
x
86
Smith, Asa
x
x
87
Steelmon-Hill, Connor
x
x
88
Stenroos, Julian
x
x
89
Sugarman, Austin
x
x
90
Swaisgood, Dani
x
91
Thompson, Kara
x
x
92
Touchette, Kaitlyn
x
x
93
Velasco, Martin
x
x
94
Villa, Maikayla
x
95
Wang, Mark
x
x
96
Wang, Matt
x
x
97
Waybright, David
x
x
98
Wegner, Hayden
x
x
99
Weitzman, Tyler
x
x
100
Yamanoha, Adrian
x
x
101
Yoshishige, Taner
x
x
102
Yukihiro, Kaitlynn
x
x
103
Zieg, Allex
x
x
104
Hall, pHillip
x
105
106
107