CERBAT LANES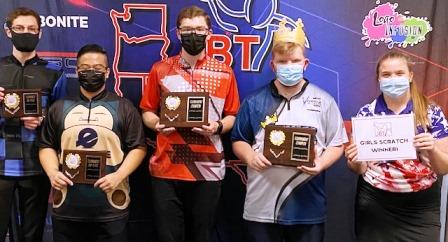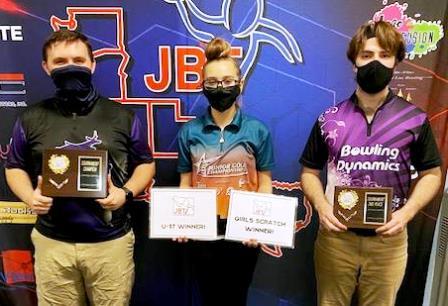 Saturday finalists; Sunday finalists
Over $3,400 in scholarships were awarded to youth bowlers of all ages and averages in exciting JBT Southwest Conference action at Cerbat Lanes in Kingman.
On Saturday, current TPC champ Matthew Garrett added another title to his collection with a title match victory over 16-time champ Cerell Cardines. The handicap division would see a first time winner, as top seed Seth Stovall played Jacob Ellis. Stovall dominated the day, but Ellis dominated the title match, coming through for JBT win #1. Emily Cheesman won the Girls Scratch subdivision, while Sebastian Huffman edged Cesar Padilla in what is looking to be a season-long battle in U17.
Sunday's scratch-only event was contested on one of the toughest patterns of the season, with a new twist on an old matchplay format- lower seeds needed more wins than higher seeds in order to advance. #5 Payton Workman out-performed his seed, beating #4 Zach Greim to be the only lower seed to advance to the final four, but #1 Lucas Rabb stopped him in the semifinal. #3 Josh Molloy upended #2 Cerell Cardines in the other semi to set up the title match. Two of the best shotmakers on Tour went at it in the final, but it was Molloy who came up with the brilliant game, firing 243 to earn his third career JBT title. Mackenzie Hammer had a breakout performance, finishing sixth in the tournament and sweeping the subdivisions, beating Cheesman for Girls Scratch and Elias O'Hollaren for U17.
Big thanks to the team at Cerbat for their usual great hosting job. Want in on all the fun? Just check out our schedule and come on down!
Cerbat Lanes (Sat)- final results and scholarship winners
11/21/2020
Scratch Division
rank
bowler
prize
1
Matthew Garrett
$250
2
Cerell Cardines
$150
3
Chris Mayes
$125
4
Payton Workman
$100
5
Hunter Mayes
$149
6
Lucas Rabb
$79
7
Cesar Padilla
8
Joshua Molloy
9
CJ Todeschi
10
Ben Laffoon
11
Zach Greim
$59
12
Alex Seng
13
Kyle Reed
14
Ryan Zent
$15
15
Rachael Berg
$40
16
Skyler McGowan
17
Gavin Holter
18
Sebastian Huffman
$25
19
Elias O'Hollaren
20
Brock Bivins
21
Tim Hill
22
Emily Cheesman
50
23
Josh Williams
24
Noel Hernandez
25
Mikey McQuisten
26
Hayden Hull
27
Tyler Morgan
$45
28
Miya Greene
$10
29
Connor Steelmon-Hill
30
Jarrod Spangler
31
Keith Ylvisaker
32
Corbin Reis-Hirsch
Handicap Division
1
Jacob Ellis
$200
2
Seth Stovall
$170
3
Jason Gootzeit
$115
4
Jazmyne Compehos
$75
5
Harper Schmidt
$59
6
Hayden Fernandez
$70
7
Aiden Ruiz-Jimenez
$50
8
Gavyn Miller
9
Vikki Walker
10
Brockton Scotford
11
Conner Pendergrass
12
Nathan Ryan
13
JT Verde
$30
14
Kaylee Miller
15
Kendall Bollea
$50
16
Koryn Marquez
17
Mackenzie Hammer
18
Mackenzie Theophilus
19
Gerilynn Delegarito
20
Eric Hull
21
Tyler Castronova
22
Wyatt Linderman
23
Lindsay Greim
$15
24
Jadeyn Mabry
25
Kaitlyn Hammer
$30
26
Bailey Knight
27
Alisabeth Rich
28
Mackenzie Ickes
29
Gavin Fernandez
30
Jason Bardol
31
Joshua Carlson
32
Jake Creek
High Games
Scratch
Handicap
1
Greim 280
Schmidt 286
2
Garrett 279
M Hammer 280
3
C Mayes 278
Ruiz-Jimenez 275
4
Todeschi 278
Gootzeit 273
5
Zent 278
Walker 269
High Female
1
Berg +47
2
Cheesman +15*
3
Walker -33
4
Greene -37
5
Compehos -42
Qualifying Leaders
Scratch
Handicap
1
Cardines +180
Stovall +215
2
Todeschi +162
J Ellis +163
3
Greim +155
Ruiz-Jimenez +135
U-17
1
Padilla +117
2
Huffman +44*
3
Gootzeit +29
4
O'Hollaren +28
5
Schmidt +11
Round Leaders
Scratch
Handicap
1
Zent
Schmidt
2
C Mayes
Stovall
3
C Mayes
Stovall
4
C Mayes
Stovall
5
Cardines
Stovall
6
Cardines
Stovall
7
Cardines
Stovall
8
Cardines
Stovall
Total Awarded This Event: $1,952
Cerbat Lanes (Sun)- final results and scholarship winners
11/22/2020
Scratch Division
rank
bowler
prize
1
Josh Molloy
$365
2
Lucas Rabb
$290
3
Cerell Cardines
$150
4
Payton Workman
$125
5
Zach Greim
$145
6
Mackenzie Hammer
$150
7
Cesar Padilla
$60
8
Kyle Reed
$50
9
Elias O'Hollaren
10
Chris Mayes
$15
11
Hunter Mayes
$69
12
Harper Schmidt
13
Skyler McGowan
14
Emily Cheesman
$25
15
Jason Gootzeit
16
Caleb Andrews
17
Sebastian Huffman
18
Tim Hill
19
Ben Laffoon
20
Lindsay Greim
21
Corbin Reid-Hirsch
22
Rachael Berg
23
Nathan Ryan
24
Matthew Garrett
$15
25
Tyler Morgan
26
Brock Bivins
27
Kendall Bollea
$15
28
Hayden Hull
29
CJ Todeschi
30
Jarrod Spangler
31
Gavin Holter
32
Connor Steelmon-Hill
$15
33
Gerilynn Delegarito
34
Keith Ylvisaker
35
Miya Greene
36
Alex Seng
37
Jadeyn Mabry
38
Noel Hernandez
39
Kaitlyn Hammer
40
Joshua Carlson
41
Seth Stovall
42
Audrey Andrews
43
Aiden Ruiz-Jimenez
$10
44
Reiley King
45
Hayden Fernandez
46
Jason Bardol
47
Jazmyne compehos
48
Bailey Knight
49
Ryan Zent
50
Tyler Castronova
51
Mackenzie Theophilus
52
Alisabeth Rich
53
Jacob Ellis
54
Gavin Fernandez
High Games
Scratch
1
Reed 279
2
Cardines 278
3
Cardines 256
4
Z Greim 255
5
Bardol 253
High Female
1
M Hammer -61*
2
Cheesman -91
3
L Greim -116
4
Berg -120
5
Bollea -132
Qualifying Leaders
Scratch
1
Rabb +70
2
Cardines +60
3
Molloy -26
U-17
1
O'Hollaren -59
2
M Hammer -61*
3
Padilla -72
4
Schmidt -85
5
Cheesman -91
Round Leaders
Scratch
1
Padilla
2
Rabb
3
Cardines
4
Cardines
5
Rabb
Total Awarded This Event: $1,499
Date: Saturday & Sunday November 21 & 22, 2020 (These are TWO separate one-day tournaments. You can bowl only Saturday, only Sunday, or both. Sunday's tournament is scratch-only, but bowlers who usually compete in handicap are welcome to 'give it a shot' in scratch.)
Start Time: Saturday qualifying is one squad only, at 11 AM. Sunday qualifying is one squad only, at 9:30 AM.
Re-entries?: There's only one qualifying squad for each event, so there are no re-entries.
Reservations: Please email director@bowljbt.com to reserve a spot. You can prepay (not required) at the 'Prepaying' section of this website. Reservations (paid or unpaid) must check in no later than 15 minutes before start time. At that time, all bowlers will be taken on a first come, first serve basis until the field is full.
Format: These are two separate one day events. Saturday: All bowlers roll 5 games in the qualifying round. The top 40% of each division rolls three additional games. The top 4 then do a stepladder finals. Sunday: All bowlers roll 5 games in the qualifying round. The top 40% of each division, to a maximum of 16, advance to "TADOTAT"- head to head matchplay where in round one, higher seeds need 2 wins to advance, and lower seeds need 3 wins to advance! In round two, higher seeds need one win and lower seeds need two. Rounds 3 and 4 are single game matches. At least one female must advance to the top 16.
Divisions: Scratch or handicap. It is the bowlers' choice of division. Also, everyone age 16 or under as of 8/1/20 is automatically entered in the U-17 side event. Also, every female is automatically entered in the Girls Scratch side event.
Points: This event counts for Southwest Conference and All-Conference points. Points qualify you for the big money season-ending Invitationals and Touring Players Championship, so get all you can. Visit the 'statistics' section of the website to check on your points.
Entry fee: $40 handicap; $50 scratch. Scholarship brackets are available for $2 each. Raffle tickets for Ebonite bowling balls, and our PowerBowl and '25' jackpots, are available on-site.
Covid details: JBT events follow- at least- all local Covid safety protocols, which you must be prepared for. This will likely include but not be limited to wearing masks at all times, and maintaining 6 feet of social distancing from non-family members. Please stay posted so you're not surprised about anything required of you. We continue to ask that each bowler bring a MAX of one guest with them, to make distancing possible. If you can bring ZERO guests with you, that's ideal (yes we know not everyone can do that). Face coverings are required at all times from all bowlers and spectators.
Scholarships: 1:6 in each division earn scholarships, scratch and handicap. Minimum prizes in scratch are $250, $125, $75, $50. In handicap, $200, $100, $60, $40. Bowlers must finish in the top 4 once this season to qualify for that conference's Invitational, which features $1,000 for first place. Bowlers who finish in the top 20 in a conference's points race, or the top 100 in all-conference points, qualify for the Touring Players Championship, featuring $2,000 for first.
Lane conditions: conditions vary from event to event, and are not posted prior to the event (unless otherwise announced). Some events do not post the pattern until after qualifying. Be ready for anything- it makes you a better bowler! Check out previous patterns and corresponding cut scores at the 'lane conditions' section of this website.
Dress code: Anything goes EXCEPT tank tops, hats, gym shorts, clothing promoting alcohol, drugs, or firearms, or excessively ripped or short clothing, subject solely to the director's discretion. However, bowlers wearing slacks or dress shorts/skirts, and a 'name shirt' or PBA-style 'dye-sub' shirt, JBT-logo shirts, or college or high school team shirt, earn an extra 10 points on their season-long points total. If you're not sure about dress code, check with us. If you're new to us, the vast majority of the bowlers do dress in the 'bonus' dress code, and those points become very important, so plan accordingly.
RESERVED BOWLERS:
PLEASE do not forget to contact us if you need to cancel or adjust your reservation.
| | | | |
| --- | --- | --- | --- |
| no | bowler | Saturday | Sunday |
| | | max 72 | max 66 |
| 1 | Abigania, Josh | x | x |
| 2 | Abigania, Katelyn | x | x |
| 3 | Andrews, Audrey | | x |
| 4 | Andrews, Caleb | | x |
| 5 | Bardol, Jason | x | x |
| 6 | Berg, Rachael | x | x |
| 7 | Bivins, Brock | x | x |
| 8 | Bollea, Kendall | x | x |
| 9 | Cardines, Cerell | x | x |
| 10 | Carlson, Joshua | x | x |
| 11 | Castronova, Tyler | x | x |
| 12 | Cheesman, Emily | x | x |
| 13 | Compehos, Jazmyne | x | x |
| 14 | Creek, Jake | x | |
| 15 | Delegarito, Gerilynn | x | x |
| 16 | Downing, Emma | x | |
| 17 | Egana, Gael | x | x |
| 18 | Ellis, Jacob | x | x |
| 19 | Esmena, Charlise | x | |
| 20 | Fernandez, Gavin | x | x |
| 21 | Fernandez, Hayden | x | x |
| 22 | Garrett, Matthew | x | x |
| 23 | Gootzeit, Jason | x | x |
| 24 | Greene, Miya | x | x |
| 25 | Greim, Lindsay | x | x |
| 26 | Greim, Zach | x | x |
| 27 | Hammer, Kaitlynn | x | x |
| 28 | Hammer, Mackenzie | x | x |
| 29 | Hernandez, Noel | x | x |
| 30 | Hill, Tim | x | x |
| 31 | Holman, Madison | x | |
| 32 | Holter, Gavin | x | x |
| 33 | Huffman, Sebastian | x | x |
| 34 | Hull, Eric | x | |
| 35 | Hull, Hayden | x | x |
| 36 | Ickes, Mackenzie | x | |
| 37 | Kaboli, Jason | | |
| 38 | King, Reilley | | x |
| 39 | Knight, Bailey | x | x |
| 40 | Laffoon, Ben | x | x |
| 41 | Mabry, Jadeyn | x | x |
| 42 | Marquez, Koryn | x | |
| 43 | Mayes, Chris | x | x |
| 44 | Mayes, Hunter | x | x |
| 45 | McGowan, Skyler | x | x |
| 46 | McLaughlin, Ava | | x |
| 47 | McQuisten, Mikey | x | x |
| 48 | MIller, Gavyn | x | |
| 49 | Miller, Kaylee | X | |
| 50 | Molloy, Josh | x | x |
| 51 | Morgan, Tyler | x | x |
| 52 | Nguyen, Travis | | x |
| 53 | O'Hollaren, Elias | x | x |
| 54 | Padilla, Cesar | x | x |
| 55 | Pendergrass, Conner | x | |
| 56 | Rabb, Lucas | x | x |
| 57 | Reed, Kyle | x | x |
| 58 | Reid-Hirsch, Corbin | x | x |
| 59 | Rich, Alisabeth | x | x |
| 60 | Rohrbacker, Emily | | |
| 61 | Ruiz-Jimenez, Aiden | x | x |
| 62 | Ryan, Nathan | x | x |
| 63 | Schmidt, Harper | x | x |
| 64 | Scotford, Brockton | x | |
| 65 | Seng, Alex | x | x |
| 66 | Snow, Baylee | x | |
| 67 | Spangler, Jarrod | x | x |
| 68 | Steelmon-Hill, Connor | x | x |
| 69 | Stovall, Seth | x | x |
| 70 | Theophilus, Mackenzie | x | x |
| 71 | Todeschi, CJ | x | x |
| 72 | Verde, JT | x | |
| 73 | Walker, Vikki | x | |
| 74 | Williams, Josh | x | x |
| 74 | Workman, Payton | x | x |
| 75 | Ylvisaker, Keith | x | x |
| 76 | Zent, Ryan | x | x |
| 77 | Caner, Nick | x | x |