CERBAT LANES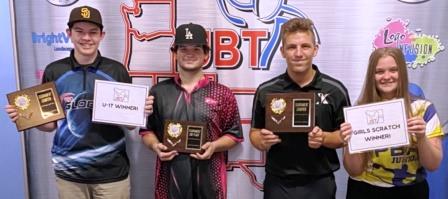 Nathan Tidball, Keith Ylvisaker, Brock Bivins, Emily Cheesman
A high scoring regular season finale saw Brock Bivins and Nathan Tidball emerge victorious in exciting Southwest Conference JBT action at Cerbat Lanes in Kingman.
The scratch division stepladder finals opened with Keith Ylvisaker firing a perfect 300 game, the second of the event after Hunter Mayes', to oust a fine 217 effort from Jacob Gaddam. Ylvisaker kept striking in the next match, needing most of them in a 279-247 win over Dawson Reese, who snuck in the Invitational with the great finish. Top seed Brock Bivins knew he would need a lot of strikes to stay in the match against Keith, and was up to the challenge, stringing them for a 248-236 win over Ylvisaker for the victory, the third of his JBT career. Keith was runner-up, but he could hardly be called a loser, as that stepladder total adds up to a tremendous 810.
Scores were stratospheric in the handicap finals as well, beginning with Lindsay Greim's 257-223 win over Julian Stenroos. Red hot Nathan Tidball then beat Greim 258-236 to advance to the title game. Top seed Connor Bell was impressive all day, and rolled a fine 247 with pins in the finale, but Nathan is on some kind of roll, firing 263 to take the win and his second consecutive JBT title.
Emily Cheesman stopped Katelyn Abigania for the day's Priority Girl Scratch crown, while Tidball completed the dream day with a win over Abigania for the U17 subdivision crown.
Big thanks to the team at Cerbat for their usual great hosting job. The field is now set for the Southwest Invitational, with $1,000 top prizes up for grabs! Don't miss all this action when season 26 begins in August!
Cerbat Lanes- final results and scholarship winners
6/26/2021
Scratch Division
rank
bowler
prize
1
Brock Bivins
$250
2
Keith Ylvisaker
$125
3
Dawson Reese
$105
4
Jacob Gaddam
$89
5
Hunter Mayes
$90
6
Joshua Molloy
$80
7
Katelyn Abigania
$65
8
Skyler McGowan
$14
9
Matthew Garrett
10
Lucas Rabb
11
CJ Todeschi
12
Emily Cheesman
$94
13
Rachael Berg
$14
14
Daniel Hong
15
Daryus Alo
16
Tim Hill
17
Madison Holman
18
Cesar Padilla
19
Josh Abigania
20
Seth Stovall
$29
21
Payton Workman
22
Aileen Linares
23
Leoj Chin
24
Tyler Morgan
25
Noel Hernandez
26
Chris Mayes
59
27
Kyle Reed
28
Josh Brown
29
Faythe Reid
30
Connor Steelmon-Hill
$14
31
CJ Stuart
Handicap Division
1
Nathan Tidball
$305
2
Connor Bell
$150
3
Lindsay Greim
$155
4
Julian Stenroos
$145
5
Jacob Ellis
$75
6
Joanna MOlloy
$60
7
Bailey Knight
$83
8
Mackenzie Paige
$50
9
Dodge Flynn
$194
10
RJ Pointon
$40
11
Tyler Castronova
$40
12
Jake Creek
13
Brockton Scotford
$119
14
Kaitlyn Hammer
15
Lucas Buffet
16
Lathan Chin
17
Marissa Ruiz
$15
18
Koryn Marquez
19
Raeden Pimentel
$15
20
Joshua Carlson
21
Mason Snow
$100
22
Earl Garner
23
Gavin Fernandez
$45
24
Harper Schmidt
25
Ryland Pimentel
$15
26
Jordan Gil
27
Caden Meliska
28
Hayden Fernandez
29
Kaili Purugganan
$15
30
Aiden Ruiz-Jimenez
31
Xaden Todacheenie
32
Taylinn Uzzell
33
Kieran Roth
34
Conner Pendergrass
35
Sam Flaisig
36
Bryan Orellana
37
Austin Nash
38
Daniel Fincham
39
Brent Purugganan
40
Jimmy Pfaff
41
Peyton Lee
42
Jadeyn Mabry
43
Kendall Bollea
$15
44
JT Verde
45
Gavyn Miller
46
Alayna Purdy
47
Emma Downing
48
Kelcey Aczon-Kawamura
49
Devin Fincham
50
Jaden Workman
51
Chase Simmons
52
Joey Markowitz
53
Bryce Nakunz
54
Jason Gootzeit
55
Gyrus Alo
56
Kaylee Miller
57
Jon Abigania
58
Desiree Najera
High Games
Scratch
Handicap
1
Ylvisaker 300
Ellis 308
2
H Mayes 300
C Bell 302
3
H Mayes 290
Scotford 298
4
Ylvisaker 289
Paige 295
5
Gaddam 289
Castronova 285
High Female
1
K Abigania +178
2
Cheesman +135*
3
Berg +126
4
Holman +85
5
Paige +71
Qualifying Leaders
Scratch
Handicap
1
Gaddam +202
Todball +241
2
Garrett +191
J Ellis +234
3
K Abigania +178
Flynn +232
U-17
1
K Abigania +178
2
Tidball +141*
3
Cheesman +135
4
Hong +118
5
Alo +93
Round Leaders
Scratch
Handicap
1
Gaddam
Scotford
2
Garrett
Scotford
3
Garrett
Tidball
4
Gaddam
Tidball
5
Gaddam
Tidball
6
H Mayes
Tidball
7
H Mayes
Tidball
8
Bivins
C Bell
Total Awarded This Event: $2,664
Date: Saturday June 26 (This is a one-day singles tournament. Sunday is the Southwest Invitational, which you may already be qualified for, or may qualify from your performance at this event.)
Start Time: Saturday qualifying is at 9 AM or 1 PM. You may choose either one.
Re-entries?: Re-entries as space available. Limited re-entry space is expected.
Reservations: Please email director@bowljbt.com to reserve a spot. You can prepay (not required) at the 'Prepaying' section of this website. Reservations (paid or unpaid) must check in no later than 15 minutes before start time. At that time, all bowlers will be taken on a first come, first serve basis until the field is full.
Format: All bowlers roll 5 games in the qualifying round. The top 40% of each division (both squads combined) rolls three additional games. The top 4 then do a stepladder finals.
Divisions/ Averages: Scratch or handicap. It is the bowlers' choice of division. Also, everyone age 16 or under as of 8/1/20 is automatically entered in the U-17 side event. Also, every female is automatically entered in the Girls Scratch side event. If this is your first JBT event this season, we will be asking for average info. In most cases, your highest average from any current form of organized competition of at least 15 games is what we need. If you bowl in multiple leagues / clubs, bring everything and we'll sort it out for you. After your first JBT event, your average is re-rated before every JBT event according to JBT rules. Please see JBT Rule 13 for complete details. If you haven't bowled organized competition since shutdown last March, we likely need what your average was at that time. If it was a USBC league that average should be on www.bowl.com . Otherwise, it might take some digging to track down your average- give yourself time to do so!
Points: This event counts for Southwest Conference and All-Conference points. Points qualify you for the big money season-ending Invitationals and Touring Players Championship, so get all you can. Visit the 'statistics' section of the website to check on your points.
Entry fee: $40 handicap; $50 scratch. Scholarship brackets are available for $2 each. Raffle tickets for Ebonite bowling balls, and our PowerBowl and '25' jackpots, are available on-site.
Covid details: JBT events follow- at least- all local Covid safety protocols, which you must be prepared for. Please stay posted so you're not surprised about anything required of you.
Scholarships: 1:6 in each division earn scholarships, scratch and handicap. Minimum prizes in scratch are $250, $125, $75, $50. In handicap, $200, $100, $60, $40. Bowlers must finish in the top 4 once this season to qualify for that conference's Invitational, which features $1,000 for first place. Bowlers who finish in the top 20 in a conference's points race, or the top 100 in all-conference points, qualify for the Touring Players Championship, featuring $2,000 for first.
Lane conditions: conditions vary from event to event, and are not posted prior to the event (unless otherwise announced). Some events do not post the pattern until after qualifying. Be ready for anything- it makes you a better bowler! Check out previous patterns and corresponding cut scores at the 'lane conditions' section of this website.
Dress code: Anything goes EXCEPT tank tops, hats, gym shorts, clothing promoting alcohol, drugs, or firearms, or excessively ripped or short clothing, subject solely to the director's discretion. However, bowlers wearing slacks or dress shorts/skirts, and a 'name shirt' or PBA-style 'dye-sub' shirt, or college or high school team shirt, earn an extra 10 points on their season-long points total. If you're not sure about dress code, check with us. If you're new to us, about 95% of the bowlers do dress in the 'bonus' dress code, and those points become very important, so plan accordingly.
RESERVED BOWLERS:
PLEASE do not forget to contact us if you need to cancel or adjust your reservation.
This is the reservation list for Saturday. If you qualify for Sunday's Invitational, your spot is already guaranteed for you.
no.
Bowler
Sat 9 AM
Sat 1 PM
max 44
max 77
currently:
19
74
1
Aczon-Kawamura, Kelcey
x
2
Alo, Daryus
x
3
Alo, Gyrus
x
4
Bell, Connor
x
5
Berg, Rachael
x
6
Bivins, Brock
x
7
Bollea, Kendall
x
8
Buffett, Lucas
x
9
Carlson, Joshua
x
10
Castronova, Tyler
x
11
Cheesman, Emily
x
12
Chin, Lathan
x
13
Chin, Leoj
14
15
Creek, Jake
x
16
Downing, Emma
x
17
Ellis, Jacob
x
18
19
Fernandez, Gavin
x
20
Fernandez, Hayden
x
21
Fincham, Danielle
x
22
Fincham, Devin
x
23
Flaisig, Sam
x
24
Flynn, Dodge
x
25
Gaddam, Jacob
x
26
Garner, Earl
x
27
Gootzeit, Jason
x
28
Greim, Lindsay
x
29
Hammer, Kaitlyn
x
30
Hernandez, Noel
x
31
Hill, Tim
x
32
Holman, Madison
x
33
Hong, Daniel
x
34
Hong, Stephanie
x
35
Knight, Bailey
x
36
Lee, Peyton
x
37
38
Linares, Aileen
x
39
Mabry, Jadeyn
x
40
Marquez, Koryn
x
41
Mayes, Chris
x
42
Mayes, Hunter
x
43
McGowan, Skyler
x
44
McQuisten, Mikey
x
45
Meliska, Caden
x
46
MIller, Gavyn
x
47
Miller, Kaylee
x
48
Molloy, Joanna
x
49
Molloy, Josh
x
50
Morgan, Tyler
x
51
Najera, Desiree
x
52
Nakunz, Bryce
x
53
Nash, Austin
x
54
O'Dell, Kayden
x
55
Orellana, Bryan
x
56
Padilla, Cesar
x
57
Paige, Mackenzie
x
58
Pendergrass, Conner
x
59
Pfaff, Jimmy
x
60
Phillips, Silas
61
Pimentel, Raeden
x
62
Pimentel, Ryland
x
63
Pointon, RJ
x
64
Purdy, Alayna
x
65
Purugganan, Brent
x
66
Purugganan, Kaili
x
67
Rabb, Lucas
x
68
Reed, Kyle
x
69
Reese, Dawson
x
70
Reid, Faythe
x
71
Roth, Kieran
x
72
Ruiz, Marissa
x
73
Ruiz-Jimenez, Aiden
x
74
Schmidt, Harper
x
75
Scotford, Brockton
x
76
Simmons, Chase
x
77
Snow, Mason
x
78
Steelmon-Hill, Connor
x
79
Stenroos, Julian
x
80
Stovall, Seth
x
81
Stuart, CJ
x
82
Tidball, Nathan
x
83
Todacheenie, Xaden
x
84
Todeschi, CJ
x
85
Uzell, Taylinn
x
86
Verde, JT
x
87
Workman, Jaden
x
88
Workman, Payton
x
89
Ylvisaker, Keith
x
90
Yoshishige, Taner
x
91
Abigania, Josh
x
92
Abigania, Jon
x
93
Abigania, Katelyn
x
94
Garrett, Matthew
x
95
Markowitz, Joseph
x
96
Gil, Jordan
x
97
Brown, Joshua
x
98
Nash, Austin