NARROWS PLAZA BOWL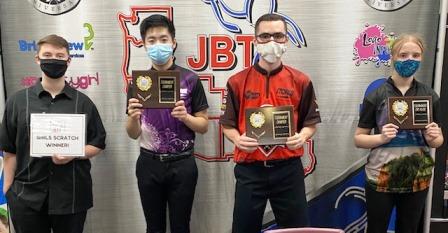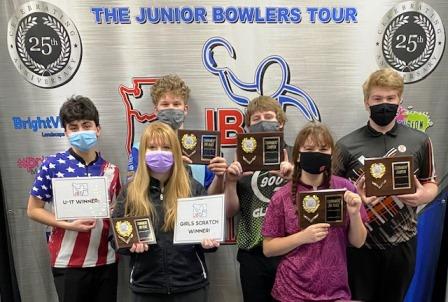 Saturday & Sunday finalists
Eight different winners were crowned and over $3,200 in scholarships were awarded in exciting JBT Pacific Northwest Conference action at Narrows Plaza Bowl in University Place.
Saturday's scratch title match was a great one, as Brian DeLuisa-Anderson came through with a clutch double on a very difficult lane pattern for the win over Tyler Coates for his 5th career JBT title. The handicap win went to newcomer Benjamin Lang, who squeezed by Alena McDugle for the title match victory.
Coates got his revenge Sunday, beating Spencer Sullivan for the scratch title in a match neither one thought they'd be in, as both of their semifinal opponents suffered tenth frame opens. Spokane's Dante Sellgren came through with the handicap win via a title match victory over Shelby Unger.
Duke Knudsen and Kenji London (who also hit the '25' jackpot) won the weekend's U17 subdivision events, while Priority Girls Scracth was split between Piper Chalmers (who led qualifying and finished third in handicap Sunday), and Texas' Joleigh Murphy, making her visit up north well worth the trip!
Huge thanks to Chris and the team at Narrows for hosting our event, the first in Washington since March- it CAN be done! Want in on the fun for all ages and averages? Just check out our schedule and come on down!
Narrows Plaza (Saturday)- final results and scholarship winners
11/7/2020
Scratch Division
rank
bowler
prize
1
Brian DeLuisa-Anderson
$250
2
Tyler Coates
$150
3
Kenji London
$200
4
Andrew Martin
$89
5
Duke Knudsen
$75
6
Spencer Sullivan
7
Liam Hardman
$40
8
Charlie Simperman
9
Makana Wong
10
Harry Davis
11
Paul Rosales
$14
12
Marissa Lindeke
$25
13
Michael Strothman
14
Preston Criag
15
Elijah Chin
16
Ben Heisler
17
Henry Hind
18
Cosmo Castellano
19
Mac Kaurin
20
Mason McKenzie
21
Juliauna Gosney-Tuiloma
22
Cadin Cervine
23
Colt Jance
24
Dante Sellgren
25
Sienna Stoner
Handicap Division
1
Benjamin Lang
$200
2
Alena McDugle
$159
3
Bryan Zeutenhorst
$119
4
Stacy Griffith
$60
5
DoHoon Kwon
$50
6
Aydri Turnbull
$59
7
Braeden Young
$40
8
Toby Wills
$30
9
Shelby Unger
10
Hailey Johnson
$5
11
Tiana Richard
12
Ayden Lynn
13
Joleigh Murphy
$65
14
Izabella Curry
$15
15
Addysen Case
16
Kierra Wilcox
17
Isabella Winchell
18
McKenna Oller
19
Lucas LeBlanc
20
Kailee Wilcox
21
Emily Strehle
22
Adam Roadruck
23
Courtney Oller
24
Payton Bower
25
Hallie Stuart
26
Aiden Wong
28
Eli Storer
28
McKenzie Sparano
29
Kamiakan Lee
30
Raiden Garcia
31
Logan Winchell
32
Carter Humphries
33
Julian Stenroos
34
Logenn Storer
35
Hannah Hamilton
$5
36
JT Taylor
37
Ewan Oester
Qualifying Leaders
Scratch
Handicap
1
Sullivan -33
Lang +43
2
Knudesn -38
McDugle +23
3
Martin -48
Wills +5
High Games
Scratch
Handicap
1
DeLuisa-Anderson 256
Unger 243
2
London 256
Sparano 239
3
Martin 249
Turnbull 231
4
Simperman 243
Young 230
5
Sullivan 239
Richard 230
Girls Scratch subdivision
1
Lindeke -171
2
Murphy -176*
3
Turnbull -206
4
Strehle -208
5
Bower -225
U-17 scratch subdivision
1
Sullivan -33
2
Knudesn -38*
3
Hardman -118
4
Simperman -119
5
London -123
Round Leaders
Scratch
Handicap
1
Knudsen
Lang
2
Knudsen
Lang
3
Knudsen
Lang
4
Knudsen
Lang
5
Sullivan
Lang
6
Knudsen
McDugle
7
DeLuisa-Anderson
Lang
8
Coates
McDugle
TOTAL AWARDED THIS EVENT: $1,650
Narrows Plaza (Sunday)- final results and scholarship winners
11/8/2020
Scratch Division
rank
bowler
prize
1
Tyler Coates
$250
2
Spencer Sullivan
$150
3
Liam Hardman
$142
4
Ben Heisler
$75
5
Kenji London
$75
6
Duke Knudsen
$12
7
Elijah Chin
8
Charlie Simperman
9
Brian DeLuisa-Anderson
10
Logan Setera
11
Mason McKenzie
12
Mac Kaurin
13
Juliauna Gosney-Tuiloma
$25
14
Preston Craig
15
Cosmo Castellano
16
Makana Wong
$14
17
Marissa Lindeke
18
Harry Davis
19
Henry Hind
20
Colt Jance
21
Michael Strothman
22
Cadin Cervine
23
Hunter Setera
24
Matthew Lennox
25
Jordan Hartwell
26
Alex Palacios
27
Sienna Stoner
Handicap Division
1
Dante Sellgren
$200
2
Shelby Unger
$100
3
Piper Chalmers
$150
4
Alena McDugle
$90
5
Toby Wills
$99
6
Kailee Wilcox
$50
7
Isabella Winchell
$40
8
Kierra Wilcox
$40
9
Kamiakan Lee
$59
10
DoHoon Kwon
11
Hannah Hamilton
12
Madison Flatin
13
Tai Garrett
$14
14
Logenn Storer
15
Benjamin Lang
16
Hailey Johnson
17
Kaylee Lundgren
18
Aiden Wong
19
Hailey Lennox
20
Carter Humphries
$5
21
Courtney Oller
22
Payton Bower
23
Danny Chalmers
24
Joleigh Murphy
$15
25
Mary Sicard
26
Hallie Stuart
28
Isabella Fontana
28
Lucas LeBlanc
29
Raiden Garcia
30
Audri Turnbull
31
Jessica Curette
32
Logan Winchell
33
JT Taylor
34
Emily Strehle
35
Braeden Young
36
Eli Storer
37
McKenna Oller
38
Franklin Pihl
Qualifying Leaders
Scratch
Handicap
1
London +56
P Chalmers +144
2
Knudsen -3
Sellgren +128
3
Sullivan -9
McDugle +97
High Games
Scratch
Handicap
1
Hardman 255
McDugle 270
2
London 247
McDugle 264
3
Gosney-Tuiloma 245
Kierra Wilcox 261
4
Simperman 244
Kailee Wilcox 258
5
Coates 240
Sellgren 253
Girls Scratch subdivision
1
P Chalmers +34*
2
Gosney-Tuiloma -76
3
M Sicard -100
4
Lindeke -101
5
McDugle -108
U-17 scratch subdivision
1
London +56*
2
Knudsen -3
3
Sullivan -9
4
Sellgren -12
5
Simperman -24
Round Leaders
Scratch
Handicap
1
Lindeke
P Bower
2
Knudsen
Kailee Wilcox
3
Knudsen
P Chalmers
4
Knudsen
P Chalmers
5
London
P Chalmers
TOTAL AWARDED THIS EVENT: $1,624
Date: Saturday & Sunday November 7 & 8, 2020 (These are TWO separate one-day tournaments. You can bowl only Saturday, only Sunday, or both.)
Per WA mandate, masks are required at all times by all people in the building. Each bowler can bring a MAXIMUM of one guardian with them (zero is suggested when possible). Please adhere to these rules so our centers can stay open and tournaments can continue to be run.
Start Time: Saturday qualifying is one squad only, at Noon. Sunday qualifying is one squad only, at 10 AM.
Re-entries?: There's only one qualifying squad each day, so there are no re-entries.
Reservations: Please email director@bowljbt.com to reserve a spot. You can prepay (not required) at the 'Prepaying' section of this website. Reservations (paid or unpaid) must check in no later than 15 minutes before start time. At that time, all bowlers will be taken on a first come, first serve basis until the field is full.
Format: These are two separate one day events. Saturday: All bowlers roll 5 games in the qualifying round. The top 40% of each division rolls three additional games. The top 4 then do a stepladder finals. Sunday: All bowlers roll 5 games in the qualifying round. The top 40% of each division advance to head to head matchplay.
Divisions: Scratch or handicap. It is the bowlers' choice of division. Also, everyone age 16 or under as of 8/1/20 is automatically entered in the U-17 side event. Also, every female is automatically entered in the Girls Scratch side event.
Points: This event counts for Pacific Northwest Conference and All-Conference points. Points qualify you for the big money season-ending Invitationals and Touring Players Championship, so get all you can. Visit the 'statistics' section of the website to check on your points.
Entry fee: $40 handicap; $50 scratch. Scholarship brackets are available for $2 each. Raffle tickets for Ebonite bowling balls, and our PowerBowl and '25' jackpots, are available on-site.
Covid details: JBT events follow- at least- all local Covid safety protocols, which you must be prepared for. This will likely include but not be limited to wearing masks at all times, and maintaining 6 feet of social distancing from non-family members. Please stay posted so you're not surprised about anything required of you.
Scholarships: 1:6 in each division earn scholarships, scratch and handicap. Minimum prizes in scratch are $250, $125, $75, $50. In handicap, $200, $100, $60, $40. Bowlers must finish in the top 4 once this season to qualify for that conference's Invitational, which features $1,000 for first place. Bowlers who finish in the top 20 in a conference's points race, or the top 100 in all-conference points, qualify for the Touring Players Championship, featuring $2,000 for first.
Lane conditions: conditions vary from event to event, and are not posted prior to the event (unless otherwise announced). Some events do not post the pattern until after qualifying. Be ready for anything- it makes you a better bowler! Check out previous patterns and corresponding cut scores at the 'lane conditions' section of this website.
Dress code: Anything goes EXCEPT tank tops, hats, gym shorts, clothing promoting alcohol, drugs, or firearms, or excessively ripped or short clothing, subject solely to the director's discretion. However, bowlers wearing slacks or dress shorts/skirts, and a 'name shirt' or PBA-style 'dye-sub' shirt, or college or high school team shirt, earn an extra 10 points on their season-long points total. If you're not sure about dress code, check with us. If you're new to us, about 95% of the bowlers do dress in the 'bonus' dress code, and those points become very important, so plan accordingly.
RESERVED BOWLERS:
PLEASE do not forget to contact us if you need to cancel your reservation. Again, masks are required at all times by all people in the building, and each bowler can have a maximum of one guardian with them.
| | | | |
| --- | --- | --- | --- |
| no | bowler | Saturday | Sunday |
| | | max 80 | max 80 |
| 1 | Baltazar, Bradley | x | x |
| 2 | Bower, Payton | x | x |
| 3 | Castellano, Zachary | x | x |
| 4 | Cervine, Cadin | x | x |
| 5 | Chalmers, Danny | | x |
| 6 | Chalmers, Piper | | x |
| 7 | Chin, Elijah | x | x |
| 8 | Coates, Tyler | x | x |
| 9 | Craig, Preston | x | x |
| 10 | Curette, Jessica | | x |
| 11 | Davis, Harry | x | x |
| 12 | DeLuisa-Anderson, B. | x | x |
| 13 | Flatin, Madison | | x |
| 14 | Garcia, Raiden | x | x |
| 15 | Garrett, Tai | | x |
| 16 | Gritzke, Sam | x | x |
| 17 | Hamilton, Hannah | x | x |
| 18 | Hardman, Liam | x | x |
| 19 | Hartwell, Jordan | | x |
| 20 | Heisler, Ben | x | x |
| 21 | Hind, Henry | x | x |
| 22 | Humphries, Carter | x | x |
| 23 | Jance, Colt | x | x |
| 24 | Johnson, Hailey | x | x |
| 25 | Kaurin, Mac | x | x |
| 26 | Knudsen, Duke | x | x |
| 27 | Kwon, Do Hoon | x | x |
| 28 | Lang, Benjamin | x | x |
| 29 | LaTurner, WendyJo | | x |
| 30 | LeBlanc, Lucas | x | x |
| 31 | Lee, Kamiakan | x | x |
| 32 | Lennox, Hailey | x | x |
| 33 | Lennox, Matthew | x | x |
| 34 | Lindeke, Marissa | x | x |
| 35 | London, Kenji | x | x |
| 36 | Lundgren, Kaylee | | x |
| 37 | Martin, Andrew | x | x |
| 38 | Mason, Dalton | x | x |
| 39 | McDugle, Alena | x | x |
| 40 | McKenzie, Mason | x | x |
| 41 | Murphy, Joleigh | x | x |
| 42 | Oester, Ewan | x | x |
| 43 | Oller, Courtney | x | x |
| 44 | Oller, McKenna | x | x |
| 45 | Palacios, Alex | | x |
| 46 | Pihl, Franklin | | x |
| 47 | Richard, Aidden | x | |
| 48 | Richard, Tiana | x | |
| 49 | Roadruck, Adam | x | |
| 50 | Rosales, Paul | x | x |
| 51 | Sellgren, Dante | x | x |
| 52 | Setera, Hunter | | x |
| 53 | Setera, Logan | | x |
| 54 | Sicard, Mary | | x |
| 55 | Simperman, Charlie | x | x |
| 56 | Sparano, Mackenzie | x | x |
| 57 | Stenroos, Julian | x | x |
| 58 | Storer, Eli | x | x |
| 59 | Storer, Logenn | x | x |
| 60 | Strehle, Emily | x | x |
| 61 | Strothman, Michael | x | x |
| 62 | Stuart, Hallie | x | x |
| 63 | Sullivan, Spencer | x | x |
| 64 | Taylor, JT | x | x |
| 65 | Tuiloma, Juliauna | x | x |
| 66 | Unger, Shelby | x | x |
| 67 | Wilcox, Kailee | x | x |
| 68 | Wilcox, Kierra | x | x |
| 69 | Wills, Toby | x | x |
| 70 | Winchell, Isabella | x | x |
| 71 | Winchell, Logan | x | x |
| 72 | Wong, Aiden | x | x |
| 73 | Wong, Makana | x | x |
| 74 | Zeutenhorst, Bryan | x | x |
| 75 | Curry, Izabella | x | x |
| 76 | Young, Braeden | x | x |
| 77 | Fontana, Isabelle | | x |
| 78 | Turnbull, Aydri | x | x |
| 79 | Case, Addysen | x | |
| 80 | | | |