STRIKE ZONE at Sunset Station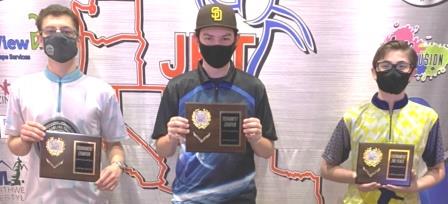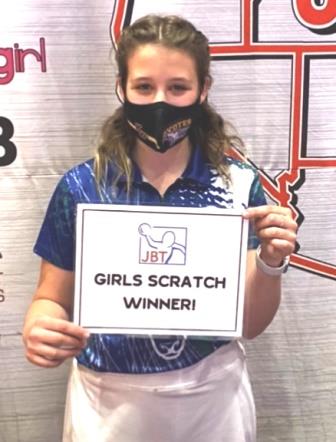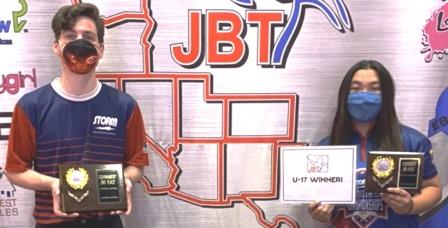 champs and finalists
Chris Mayes and Nathan Tidball prevailed in tremendous Southwest Conference JBT action at Sunset Station's Strike Zone, with over $4,000 awarded to all skill levels and ages over the weekend.
The challenging format featured ten qualifying games on two patterns, with bonuses for the top performers on each pattern, but only the top 40% of the overall combined scores advancing to the semifinals, and the top 4 to the stepladder finals. In the scratch division, 13 year-old Avery Domaguin continued her rapid development into a star bowler with a 228-190 win over all-conference points leader Hunter Mayes to begin the stepladder. Chris then stepped in and avenged his brother's loss with a 238-217 win over Domaguin to reach the title game.
Top seed Harley Shene was impressive all weekend, leading on Saturday's short pattern and qualifying fifth on the long, surviving through match play to grab the #1 spot. However, we couldn't find the same look on the championship pair, and Mayes was able to capitalize, stringing strikes for a 239-192 victory, the fourth of his JBT career.
Tyler Castronova enjoyed the Las Vegas area home cooking with a thrilling 245-239 win over Sam Flaisig to open the handicap stepladder. He rolled on against fellow Nevadan Alayna Purdy 211-194 to reach the title match. The weekend belonged to Nathan Tidball though. He led on Saturday, and qualified second on Sunday, building an insurmountable lead. He still had to win one more game though, and in a very well bowled match from both players, he escaped 234-232, good for the first title of his JBT career.
Domaguin's excellent weekend wrapped with a win over Shene for the U17 subdivision crown. New Mexico's Kara Thompson turned the tables on Avery with a win over her for the Priority Girls Scratch subdivision win. Balls from Ebonite, our amazing title sponsor, were won by Tim Hill, Koryn Marquez, and Brody LaRose.
Big thanks to the team at Strike Zone for hosting our Tour, and to everyone for attending. Want in on all the fun for all skill levels and averages? Just check out our schedule and come on down!
Strike Zone- final results and scholarship winners
5/9/2021
Scratch Division
rank
bowler
TOTAL
overall
1st 5
2nd 5
U17
Girls
brackets
raffle
1
Chris Mayes
$572
$250
100
222
2
Harley Shene
$492
$150
100
25
100
117
3
Avery Domaguin
$305
$125
50
50
75
5
4
Hunter Mayes
$192
$100
40
52
5
Cerell Cardines
$127
$75
52
6
Skyler McGowan
$164
$60
40
50
14
7
Zach Greim
$65
$50
15
8
Jacob Gaddam
$79
$50
29
9
Tim Hill
$30
30
10
Brock Bivins
11
Gael Egana
12
Emily Schrider
$20
20
13
Cesar Padilla
$15
15
14
Emily Cheesman
15
Allex Zieg
$25
25
16
Kara Thompson
$110
30
80
17
Sebastian Huffman
18
Daryus Alo
$15
15
19
Connor Steelmon-Hill
20
Seth Stovall
21
Jamison Kaboli
22
Faythe Reid
23
Lucas Rabb
24
CJ Todeschi
25
Brody LaRose
26
Samantha Conti
27
Marissa Metcalfe
28
Aileen Linares
29
Mikey McQuisten
30
Ardani Rodas
31
David Waybright
$5
5
32
Andrew Guba
33
Madison Holman
34
Cameron Criss
35
Hayden Hull
36
Edward Hear
37
Nolan Sepulveda
$5
5
38
Cameron Lilley
39
Vanessa Fuzie
40
Anthony Prevetti
41
Miranda Emery
42
Kody Manabe*
43
Milan Vasquez*
*competed in 1 of 2 events
Handicap Division
total
overall
1st 5
2nd 5
U17
Girls
brackets
raffle
1
Nathan Tidball
$410
$200
100
100
10
2
Tyler Castronova
$175
$125
50
3
Alayna Purdy
$155
$100
25
30
4
Sam Flaisig
$160
$80
30
50
5
Derek Raridon
$110
$70
40
6
Taner Yoshishige
$60
$60
7
Jacob Ellis
$75
$50
25
8
Julian Stenroos
$40
$40
9
Cuzack Bove
$40
$40
10
Gavin Fernandez
$20
15
5
11
Kaitlynn Hammer
$15
15
12
Lathan Chin
$15
15
13
Hayden Fernandez
$59
30
29
14
Austin Nash
15
Gage Baker
16
Kendall Bollea
$115
40
75
17
Brandon Rother
18
Bryan Orellana
19
JT Verde
$45
45
20
Jadeyn Mabry
21
Kelcey Aczon-Kawamura
$60
60
22
Charlise Edmena
23
Mackenzie Paige
24
D'art Longa
25
Xaden Todacheenie
26
Lindsay Greim
$45
45
27
Joshua Carlson
28
Kaili Purugganan
$30
30
29
Mark Wang
30
Kayden O'Dell
$43
43
31
Marissa Ruiz
32
Harper Schmidt
$30
30
33
Mason Snow
34
Brent Purugganan
35
Matt Wang
36
Jake Creek
37
Earl Garner
38
Dylan Donahue
39
Koryn Marquez
$100
100
40
Marcus Lu
41
Aiden Ruiz-Jimenez
42
Gyrus Alo
43
Ava McLaughlin*
*competed in 1 of 2 events
High Games
Scratch
Handicap
1
Stovall 300
Tidball 313
2
H Mayes 299
Greim 291
3
H Mayes 279
J Ellis 283
4
H Mayes 279
Purdy 277
5
Gaddam 279
Raridon 273
High Female
1
Domaguin +115
2
K Thompson -18*
3
Cheesman -35
4
Schrider -42
5
Reid -80
Qualifying Leaders (10 games)
Scratch
Handicap
1
Shene +252
Tidball +315
2
McGowan +198
Flaisig +219
3
C Mayes +175
Purdy +154
U-17
1
Shene +252
2
Domaguin +115*
3
Padilla -27
4
Cheesman -35
5
Stovall -47
Round Leaders
Scratch
Handicap
1
Domaguin
Nash
2
Shene
Flaisig
3
Shene
Flaisig
4
Shene
Tidball
5
Shene
Tidball
6
Shene
Tidball
7
Shene
Tidball
8
Shene
Tidball
9
Shene
Tidball
10
Shene
Tidball
11
Shene
Tidball
12
Shene
Tidball
13
Shene
Tidball
Total Awarded This Event: $4,028
***Both days of this two-day event are now at Strike Zone. You must choose to bowl either at 9 AM or 1 PM on Saturday, then everyone bowls at 10 AM on Sunday, for a 10-game qualifying total.
***If you signed up prior to April 11 (when Saturday was still scheduled at Wildfire), please contact us and let us know you are aware of this change.
If you can only bowl Saturday or only bowl Sunday, we have arrangements for that, see below.
Date: Saturday & Sunday May 8 & 9 (This is ONE tournament that is TWO days long. There are options if you can only bowl one of the two days- see format and entry fee sections below)
Start Time: Saturday qualifying is at 9 AM or 1 PM. Sunday qualifying is at 10 AM.
Re-entries?: If you bowl Saturday at 9 am, you may re-enter Saturday at 1 pm if space permits. You can not sign up in advance for re-entries, they will be taken on a lottery basis on-site before the 1 PM squad starts. The 1 PM squad is full, so we will not be accepting re-entries.
Reservations: Please email director@bowljbt.com to reserve a spot. You can prepay (not required) at the 'Prepaying' section of this website. Reservations (paid or unpaid) must check in no later than 15 minutes before start time. At that time, all bowlers will be taken on a first come, first serve basis until the field is full.
Format: Saturday, all bowlers roll 5 qualifying games at either 9 AM or 1 PM. All bowlers then roll 5 more qualifying games Sunday at 10 AM for a 10-game qualifying total. The top 40% of each division then advances to 3 additional games, with the top 4 then bowling a stepladder finals. The top 5 bowlers from Saturday's scores earn bonus scholarships, and the top 5 bowlers from Sunday morning's scores earn bonus scholarships.
Divisions/ Averages: Scratch or handicap. It is the bowlers' choice of division. Also, everyone age 16 or under as of 8/1/20 is automatically entered in the U-17 side event. Also, every female is automatically entered in the Girls Scratch side event. If this is your first JBT event this season, we will be asking for average info. In most cases, your highest average from any current form of organized competition of at least 15 games is what we need. If you bowl in multiple leagues / clubs, bring everything and we'll sort it out for you. After your first JBT event, your average is re-rated before every JBT event according to JBT rules. Please see JBT Rule 13 for complete details.
Points: This event counts for Southwest Conference and All-Conference points. 1/2 finishing points are awarded after Saturday qualifying, 1/2 finishing points are awarded from Sunday's qualifying scores, and all standard points from your overall finishing position. Points qualify you for the big money season-ending Invitationals and Touring Players Championship, so get all you can. Visit the 'statistics' section of the website to check on your points.
Entry fee: $60 handicap; $80 scratch. Scholarship brackets are available for $2 each. Raffle tickets for Ebonite bowling balls, and our PowerBowl and '25' jackpots, are available on-site. If you can only bowl Saturday or only bowl Sunday, the entry fee is $40 for that one day.
Covid details: JBT events follow- at least- all local Covid safety protocols, which you must be prepared for. This will likely include but not be limited to wearing masks at all times, and maintaining 6 feet of social distancing from non-family members. Guests will most likely be limited. Please stay posted so you're not surprised about anything required of you.
Scholarships: 1:6 in each division earn scholarships, scratch and handicap. Minimum prizes in scratch are $250, $125, $75, $50. In handicap, $200, $100, $60, $40. Bowlers must finish in the top 4 once this season to qualify for that conference's Invitational, which features $1,000 for first place. Bowlers who finish in the top 20 in a conference's points race, or the top 100 in all-conference points, qualify for the Touring Players Championship, featuring $2,000 for first.
Lane conditions: conditions vary from event to event, and are not posted prior to the event (unless otherwise announced). Some events do not post the pattern until after qualifying. Be ready for anything- it makes you a better bowler! Check out previous patterns and corresponding cut scores at the 'lane conditions' section of this website.
Dress code: Anything goes EXCEPT tank tops, hats, gym shorts, clothing promoting alcohol, drugs, or firearms, or excessively ripped or short clothing, subject solely to the director's discretion. However, bowlers wearing slacks or dress shorts/skirts, and a 'name shirt' or PBA-style 'dye-sub' shirt, or college or high school team shirt, earn an extra 10 points on their season-long points total. If you're not sure about dress code, check with us. If you're new to us, about 95% of the bowlers do dress in the 'bonus' dress code, and those points become very important, so plan accordingly.
RESERVED BOWLERS:
PLEASE do not forget to contact us if you need to cancel or adjust your reservation.
| | | | | | |
| --- | --- | --- | --- | --- | --- |
| | | change | Strike Zone | Strike Zone | Strike Zone |
| no. | Bowler | confirmed? | Saturday 9 AM | Saturday 1 PM | Sunday 10 AM |
| | | | max 60 | max 60 | max 120 |
| | | | 45 | 60 | 110 |
| 1 | Abigania, Josh | | x | | x |
| 2 | Abigania, Katelyn | | x | | x |
| 3 | Aczon-Kawamura, Kelcey | | | x | x |
| 4 | Alo, Daryus | yes | | x | x |
| 5 | Alo, Gyrus | yes | | x | x |
| 6 | Baker, Gage | yes | | x | x |
| 7 | Bivins, Brock | yes | x | | x |
| 8 | Bollea, Kendall | | | x | x |
| 9 | Bove, Cuzack | | x | | x |
| 10 | Brackett, Sean | | | x | |
| 11 | Bryant, Amarr | | | x | x |
| 12 | Cardines, Cerell | yes | x | | x |
| 13 | Carlson, Joshua | yes | | x | x |
| 14 | Castronova, Tyler | yes | | x | x |
| 15 | Cheesman, Emily | yes | | x | x |
| 16 | Chin, Lathan | yes | | x | x |
| 17 | Conti, Samantha | | | x | x |
| 18 | Creek, Jake | yes | x | | x |
| 19 | Criss, Brandon | yes | x | | x |
| 20 | Criss, Cameron | yes | x | | x |
| 21 | Domaguin, Avery | yes | | x | x |
| 22 | Donahue, Dylan | yes | | x | x |
| 23 | Egana, Gael | | | x | x |
| 24 | Ellis, Jacob | | | x | x |
| 25 | Emery, Miranda | yes | x | | x |
| 26 | Esmena, Charlise | yes | | x | x |
| 27 | Fernandez, Gavin | yes | | x | x |
| 28 | Fernandez, Hayden | yes | | x | x |
| 29 | Flaisig, Sam | yes | x | | x |
| 30 | Fuzie, Vanessa | yes | x | | x |
| 31 | Gaddam, Jacob | yes | | x | x |
| 32 | Garner, Earl | yes | | x | x |
| 33 | Greim, Lindsay | yes | | x | x |
| 34 | Greim, Zach | yes | | x | x |
| 35 | Guba, Andrew | yes | x | | x |
| 36 | Hammer, Kaitlynn | | | x | x |
| 37 | Hear, Edward | | | x | x |
| 38 | Hill, Tim | | | x | x |
| 39 | Holman, Madison | | | x | x |
| 40 | Hong, Daniel | | | x | x |
| 41 | Hong, Stephanie | | | x | x |
| 42 | Huffman, Sebastian | | | x | x |
| 43 | Hull, Hayden | yes | x | | x |
| 44 | Kaboli, Jamison | yes | x | | x |
| 45 | Klinge, Trip | | x | | x |
| 46 | Knight, Bailey | | | x | x |
| 47 | LaRose, Brody | | | x | x |
| 48 | Lee, Payton | | x | | x |
| 49 | Linares, Aileen | yes | | x | x |
| 50 | Longa, D'art | | | x | x |
| 51 | Lu, Marcus | yes | | x | x |
| 52 | Luna, Elias | | x | | x |
| 53 | Luna, Louis | | x | | x |
| 54 | Mabry, Jadeyn | yes | | x | x |
| 55 | Manabe, Kody | yes | x | | x |
| 56 | Marmolejo, Michael | | x | | x |
| 57 | Marquez, Koryn | yes | x | | x |
| 58 | Martinez, KJ | | | x | x |
| 59 | Mayes, Chris | | | x | x |
| 60 | Mayes, Hunter | | | x | x |
| 61 | McGowan, Skyler | yes | | x | x |
| 62 | McLaughlin, Ava | | x | | |
| 63 | McQuisten, Mike | yes | x | | x |
| 64 | Metcalfe, Marissa | | x | | x |
| 65 | Nakunz, Bryce | | | | x |
| 66 | Nash. Austin | yes | x | | x |
| 67 | O'Dell, Kayden | | | x | x |
| 68 | Orellana, Bryan | yes | x | | x |
| 69 | Padilla, Cesar | | x | | x |
| 70 | Paige, Mackenzie | | | x | x |
| 71 | Pointon, RJ | yes | | | x |
| 72 | Pollom, Ricky | | x | | x |
| 73 | Prevetti, Anthony | yes | | x | x |
| 74 | Purdy, Alayna | yes | | x | x |
| 75 | Purugganan, Brent | yes | | x | x |
| 76 | Purugganan, Kaili | yes | | x | x |
| 77 | Rabb, Lucas | yes | | x | x |
| 78 | Raridon, Derek | yes | | x | x |
| 79 | Reid, Faythe | yes | x | | x |
| 80 | Rodas, Ardani | yes | x | | x |
| 81 | Rother, Brandon | | | x | x |
| 82 | Ruiz, Marissa | yes | x | | x |
| 83 | Ruiz-Jimenez, Aiden | yes | | x | x |
| 84 | Schmidt, Harper | yes | | x | x |
| 85 | Schrider, Emily | | x | | x |
| 86 | Sepulveda, Nolan | yes | x | | x |
| 87 | Shene, Harley | yes | x | | x |
| 88 | Silva, Ian | | x | | x |
| 89 | Smith, Shane | | | x | x |
| 90 | Snow, Mason | yes | x | | x |
| 91 | Steelmon-Hill, Connor | | | x | x |
| 92 | Stenroos, Julian | yes | | x | x |
| 93 | Stovall, Seth | | x | | x |
| 94 | Thompson, Kara | yes | x | | x |
| 95 | Tidball, Nathan | yes | x | | x |
| 96 | Todacheenie, Xaden | | | x | x |
| 97 | Todeschi, CJ | yes | x | | x |
| 98 | Vazquez, Milan | | x | | x |
| 99 | Verde, JT | | x | | x |
| 100 | Wang, Mark | yes | x | | x |
| 101 | Wang, Matt | yes | x | | x |
| 102 | Waybright, David | yes | x | | x |
| 103 | Williams, Josh | | | x | x |
| 104 | Yoshishige, Taner | yes | | x | x |
| 105 | Zieg, Allex | | | x | x |
| 106 | | | | | |
| 107 | | | | | |