RIVERSIDE LANES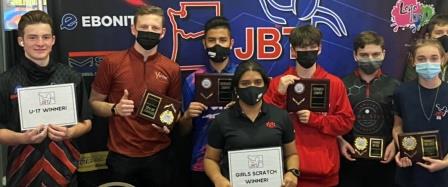 champs and finalists
Cesar Padilla and Hayden King claimed JBT titles in exciting dual Mojave and Arizona Conference action at Laughlin's Riverside Lanes.
Padilla began a dramatic climb up the ladder with a 209-181 win over Sebastian Huffman. In the next match Cesar filled the 20 in the tenth he needed to tie Chris Mayes at 192. Both bowlers struck in the ensuing rolloff, but Padilla's second strike beat Mayes' 8 count, and he advanced to take on Chris' brother Hunter for the title. Hunter was looking to avenge a runner-up finish the night before, but the 6-8 had other ideas, as he left it an unlikely three times on the left lane (converting one), allowing Padilla, who stayed clean, escape with a 198-191 win, and his third career JBT victory.
Bailey Knight and Bryce Nakunz both rebounded from a rough Friday night to reach the handicap finals, and in their first match, Bailey prevailed in a close one 189-183. Newcomer Elijah McMakin then stopped Knight 230-213 to advance to the finale. Top seed Hayden King's last visit to the finals ended in heartbreak with an infamous finish at the Mojave doubles, but this time it was elation, as he finished strong for a 225-186 win, and first career JBT title.
Aileen Linares rebounded from a rough night of her own Friday to win today's Girls Scratch event with a 215-189 win over Madison Holman. Huffman's frustating carry continued in the U17 final, which Seth Stovall took advantage of for a 174-155 grindout win in that subdivision.
Huge thanks to the team at Riverside for a smooth hosting job all weekend. Want in on all the fun for all ages and skill levels? Just check out our schedule and come on down!
Riverside Lanes- final results and scholarship winners
1/22/2022
Scratch Division
rank
bowler
prize
1
Cesar Padilla
$343
2
Hunter Mayes
$192
3
Chris Mayes
$125
4
Sebastian Huffman
$100
5
Aileen Linares
$125
6
Madison Holman
$85
7
Seth Stovall
$25
8
Daryus Alo
9
Skyler McGowan
10
JR Barczyszyn
11
Julian Stenroos
12
Josh Carlson
13
CJ Todeschi
14
Keith Ylvisaker
15
Brandon Rother
16
Edward Hear
17
Harper Schmidt
18
Josh Burnett
19
Mason Snow
20
Quinten Bell
21
Emily Cheesman
22
Hayden Hull
23
Mackenzie Paige
24
Rog Abad
25
Earl Garner
26
Tyler Castronova
27
Jason Gootzeit
28
Marcelo Trejo Jr
29
Jason Bardol II
30
Kaitlyn Hammer
31
Daniel Hong
Handicap Division
1
Hayden King
$250
2
Elijah McMakin
$150
3
Bailey Knight
$154
4
Bryce Nakunz
$100
5
Nathan Harnit
$75
6
Kayden O'Dell
$60
7
Connor Bell
$64
8
Brockton Scotford
$44
9
Samuel Winemiller
10
Cuzack Bove
$43
11
Gyrus Alo
12
Abigail Hunt
13
Stephanie Hong
14
Jadeyn Mabry
15
Luka Gregorich
16
Nicholas Harnit
17
David Mendez
18
Lilyann Winemiller
19
Zackary Evans
20
Thomas Glass
$10
21
Tyson Lopes
22
Kieran Roth
23
Briella Bullard
24
Araceli Hunt
25
Kendall Bollea
$14
26
Koryn Marquez
$20
27
Noel Gregorich
$15
28
Vikki Walker
29
Emily Rohrbacker
30
Gage Baker
31
Simeon Dimitrov
32
Justin Worthington
High Games
Scratch
Handicap
1
McGowan 277
Nakunz 270
2
Holman 261
Scotford 266
3
C Mayes 257
O'Dell 257
4
Barczyszyn 254
Q Bell 256
5
C Mayes 246
Knight 256
High Female
1
Linares +44
2
Holman +3
3
Cheesman -112
4
Mabry -120
5
Paige -134
6
Hong -148
7
Marquez -156
8
Bollea -160
9
K Hammer -212
10
Rohrbacker -237
Qualifying Leaders
Scratch
Handicap
1
H Mayes +125
H King +160
2
McGowan +78
McMakin +122
3
C Mayes +61
Scotford +103
U-17
1
Huffman +38
2
Stovall +31
3
Padilla +30
4
Alo +1
5
King -10
6
C Bell -36
7
Scotford -52
8
Barczyszyn -54
9
Nakunz -86
10
Rother -86
Round Leaders
Scratch
Handicap
1
Linares
Mabry
2
McGowan
King
3
McGowan
McMakin
4
H Mayes
King
5
H Mayes
King
6
H Mayes
King
7
H Mayes
King
8
H Mayes
King
Total Awarded This Event: $1,894
Date: Saturday January 22, 2022 (This is ONE tournament that is one day long. Saturday is a separate one day event. You can bowl only Friday, only Saturday, or both).
Start Time: Saturday qualifying squad at 10 AM, one squad only.
Re-entries?: There's only one qualifying squad, so there are no re-entries this event..
Reservations: Please email director@bowljbt.com to reserve a spot. You can prepay (not required) at the 'Prepaying' section of this website. Reservations (paid or unpaid) must check in no later than 15 minutes before start time. At that time, all bowlers will be taken on a first come, first serve basis until the field is full.
Format: Qualifying round is 5 games. The top 40% bowl a 3 game semifinals.. The top 4 then do a stepladder finals.
Divisions/ Averages: Scratch or handicap. It is the bowlers' choice of division. Also, everyone age 16 or under as of 8/1/21 is automatically entered in the U-17 side event. Also, every female is automatically entered in the Girls Scratch side event. If this is your first JBT event this season, we will be asking for average info. In most cases, your highest average from any current form of organized competition of at least 15 games is what we need. If you bowl in multiple leagues / clubs, bring everything and we'll sort it out for you. After your first JBT event, your average is re-rated before every JBT event according to JBT rules. Please see JBT Rule 13 for complete details.
Points: This event counts for Arizona, Mojave, and All-Conference and All-Conference points. Points qualify you for the big money season-ending Invitationals and Touring Players Championship, so get all you can. Visit the 'statistics' section of the website to check on your points. As the end of the season, the top 32 in AZ and Mojave points, plus anyone who had a top-4 finish in an AZ or Mojave JBT event this season, advance to their respective Invitationals.
Entry fee: $50 handicap; $60 scratch. Scholarship brackets are available for $2 each. Raffle tickets for Ebonite bowling balls, and our PowerBowl and '26' jackpots, are available on-site.
Covid details: JBT events follow- at least- all local Covid safety protocols, which you must be prepared for. Please stay posted so you're not surprised about anything required of you.
Scholarships: 1:6 in each division earn scholarships, scratch and handicap. Minimum prizes in scratch are $300, $150, $100, $60. In handicap, $250, $125, $75, $50. Bowlers must finish in the top 4 once this season to qualify for that conference's Invitational, which features $1,000 for first place. Bowlers who finish in the top 20 in a conference's points race, or the top 100 in all-conference points, qualify for the Touring Players Championship, featuring $2,000 for first.
Lane conditions: conditions vary from event to event, and are not posted prior to the event (unless otherwise announced). Some events do not post the pattern until after qualifying. Be ready for anything- it makes you a better bowler! Check out previous patterns and corresponding cut scores at the 'lane conditions' section of this website.
Dress code: Anything goes EXCEPT tank tops, hats, gym shorts, clothing promoting alcohol, drugs, or firearms, or excessively ripped or short clothing, subject solely to the director's discretion. However, bowlers wearing slacks or dress shorts/skirts, and a 'name shirt' or PBA-style 'dye-sub' shirt, or college or high school team shirt, earn an extra 10 points on their season-long points total. If you're not sure about dress code, check with us. If you're new to us, the vast majority of the bowlers do dress in the 'bonus' dress code, and those points become very important, so plan accordingly.
RESERVED BOWLERS:
PLEASE do not forget to contact us if you need to cancel or adjust your reservation. This list may not be updated after the Friday of the event as we travel, etc. However, walk-ins / late entries are still gladly accepted as space permits. There is generally plenty of room for walk-ins / late entries, and we'll post here clearly if an event is nearing sellout or sold out.
| | | |
| --- | --- | --- |
| no. | bowler | 10 AM Sat |
| 1 | Abad, Rog | x |
| 2 | Aczon-Kawamura, K. | x |
| 3 | Alo, Daryus | x |
| 4 | Alo, Gyrus | x |
| 5 | Baker, Gage | x |
| 6 | Barczyszyn, JR | x |
| 7 | Bardol, Jason | x |
| 8 | Bell, Connor | x |
| 9 | Bell, Quinten | x |
| 10 | Bollea, Kendall | x |
| 11 | Bove, Cuzack | x |
| 12 | Bravo, Nathan | x |
| 13 | Brown, Josh | x |
| 14 | Burnett, Joshua | x |
| 15 | Carlson, Josh | x |
| 16 | Castronova, Tyler | x |
| 17 | Cheesman, Emily | x |
| 18 | | |
| 19 | Fukushima, Jana | x |
| 20 | Garner, Earl | x |
| 21 | Glass, Thomas | x |
| 22 | Gootziet, Jason | x |
| 23 | Dimitrov, Simeon | x |
| 24 | Gregorich, Luka | x |
| 25 | Gregorich, Noel | x |
| 26 | Guba, Andrew | x |
| 27 | Hammer, Kaitlyn | x |
| 28 | Harnit, Nathan | x |
| 29 | Harnit, Nicholas | x |
| 30 | Hear, Edward | x |
| 31 | Holman, Madison | x |
| 32 | Huffman, Sebastian | x |
| 33 | Hull, Hayden | x |
| 34 | Hunt, Abigail | x |
| 35 | Hunt, Araceli | x |
| 36 | King, Hayden | x |
| 37 | Knight, Bailey | x |
| 38 | Linares, Aileen | x |
| 39 | Lopes, Tyson | x |
| 40 | Mabry, Jadeyn | x |
| 41 | Markowitz, Joey | x |
| 42 | Marquez, Koryn | x |
| 43 | Mayes, Chris | x |
| 44 | Mayes, Hunter | x |
| 45 | McGee, Meghan | x |
| 46 | McGowan, Skyler | x |
| 47 | Nakunz, Bryce | x |
| 48 | O'Dell, Kayden | x |
| 49 | Padilla, Cesar | x |
| 50 | Paige, Mackenzie | x |
| 51 | Pendergrass, Conner | x |
| 52 | Rohrbacker, Emily | x |
| 53 | Roth, Kieran | x |
| 54 | Rother, Brandon | x |
| 55 | Schmidt, Harper | x |
| 56 | Scotford, Brockton | x |
| 57 | Snow, Mason | x |
| 58 | Stenroos, Julian | x |
| 59 | Stovall, Seth | x |
| 60 | Walker, Vikki | x |
| 61 | Winemiller, Lily | x |
| 62 | Winemiller, Samuel | x |
| 63 | Worthington, Justin | x |
| 64 | Hong, Daniel | x |
| 65 | Hong, Stephanie | x |
| 66 | Ylvisaker, Keith | x |
| 67 | Todeschi, CJ | x |
| 68 | Castillo, Ronnie | x |
| 69 | Marquez, Koryn | x |
| 70 | Walker, Vikki | x |
| 71 | Berg, Matthew | x |
| 72 | Zerbe, Emily | x |
| 73 | Bullard, Briella | x |
| 74 | McMakin, Elijah | x |
| 75 | | |