MIRA MESA LANES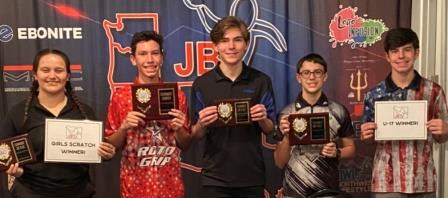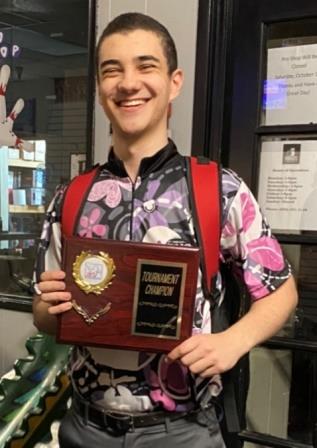 Koryn Marquez, Stephen Abkin, Aidan Miles, Brandon Rother, Harper Schmidt, Solomon Salama
Two JBT veterans claimed milestones on opposite ends of the spectrum, in exciting Southern California Conference action at San Diego's Mira Mesa Lanes.
The scratch division stepladder finals began with defending Bowler of the Year Elias O'Hollaren blasting a 269 to defeat Chris Mayes' fine 223 effort. Mayes earlier had the high game of the day with a front-10 289 score. Elias then got by a fine rookie performance from Aidan Miles 234-214 to reach the title match.
Top seed Solomon Salama is the bowler Elias unseated for Bowler of the Year, and the outstanding veteran found the right move after both struggled in the first half of the match, eventually earning a 227-188 win. It's the 30th title of his incredible JBT career, becoming only teh 9th bowler to reach that milestone, and tying Derek Acuff for 8th place on the all-time list!
The handicap division saw a very high scoring pace, with all four finalists over +300 on the day. Brandon Rother kept up the momentum in the finals, beginning with a 236-225 win over Brian Chan, who won the day's Ebonite bowling ball courtesy of our title sponsor. Rother then stopped Koryn Marquez 242-196 to advance to the final. Top seed Stephen Abkin had taken the lead away from Marquez in the final game of round two, and kept up the fantastic scoring in the finals. So did Brandon, though, and it led to a classic match, with Stephen beating Rother 288-248 for the first title of his JBT career.
Marquez' excellent day continued with a Priority Girls Scratch triumph over Madison Holman. Harper Schmidt got his revenge in U17, beating Josh Abigania, who had beat him in Scottsdale a week earlier.
Big thanks to the team at Mira Mesa for hosting our Tour! Want in on the fun for all skill levels? Just check out our schedule and come on down!
Mira Mesa (Sat)- final results and scholarship winners
10/16/2021
Scratch Division
rank
bowler
prize
1
Solomon Salama
$300
2
Elias O'Hollaren
$179
3
Aidan Miles
$125
4
Chris Mayes
$160
5
Allex Zieg
$75
6
Josh Abigania
$60
7
Ronnie Castillo
$89
8
Matthew Berg
9
Cerell Cardines
$14
10
Harper Schmidt
$25
11
Kyler Orosco
$15
12
Madison Holman
$25
13
Thomas Lawrence
14
Katelyn Abigania
15
Daniel Hong
16
Kayden O'Dell
17
Josh Molloy
18
Michael Marmolejo
19
Avery Domaguin
20
Austin Sugarman
21
Hunter Mayes
22
Andrew Ramirez
23
Ryland Pimentel
24
Jerrad Barczyszyn
25
Sebastain Huffman
26
Prestin Frazee
27
Ricky Pollom
28
Connor Steelmon-Hill
29
Hilari Hampton
Handicap Division
1
Stephen Abkin
$250
2
Brandon Rother
$125
3
Koryn Marquez
$160
4
Brian Chan
$75
5
Theo DeLaCruz
$60
6
Ethan Chambers
$50
7
Brent Purugganan
$65
8
Lindsay Greim
9
Bryce Nakunz
$30
10
Jimmy Pfaff
$29
11
Taylinn Uzzell
12
Trevor Zieske
13
Keir Smyth
14
Maikayla Villa
15
Ben Martin
16
John Hardin
17
Raeden Pimentel
18
Nathan Chambers
19
Hayden Wegner
20
Andrew Sanchez
21
Kaili Purugganan
$15
22
Bryce Wetphall
23
Chase Simmons
$20
24
Hannah McGough
25
James McGough
26
Nathan Tidball
$15
27
Jon Abigania
28
Thaison Northrup
29
Cuzack Bove
$15
30
Stephanie Hong
31
Jasmia Alshamary
32
Ryleigh Smyth
33
Jerry Wang
34
Regis Tonelete
35
Jacob McGough
$10
36
Briella Bullard
37
Emily Zerbe
38
Miranda Ruiz-Ade
U-17
Girls Scratch
1
J Abigania +106
Marquez +160*
2
Schmidt +90*
Holman +115
3
Rother +78
K Abigania +72
4
K Abigania +72
Domaguin +31
5
O'Dell +61
Greim -19
6
B Chan +43
M Villa -25
7
Domaguin +31
Uzzell -157
8
Abkin +4
Alshamary -175
9
Ry. Pimentel -16
Hampton -184
10
Barczyszyn -22
S Hong -209
Qualifying Leaders
Scratch
Handicap
1
C Mayes +154
Marquez +280
2
Zieg +154
Rother +223
3
Cardines +128
B Chan +213
Round Leaders
Scratch
Handicap
1
Castillo
B Chan
2
C Mayes
B Chan
3
C Mayes
Rother
4
C Mayes
Rother
5
C Mayes / Zieg
Marquez
6
Salama
Marquez
7
Salama
Marquez
8
Salama
Abkin
Scratch High Game
1
C Mayes 289
2
Salama 279
3
Miles 278
4
O'Hollaren 269
5
O'Dell 267
Handicap High Game
1
Abkin 288
2
Abkin 287
3
Marquez 281
4
Bove 276
5
Chan 275
TOTAL AWARDED THIS EVENT: $1,986
Date: Saturday October 16 (This is ONE tournament that is one day long. Sunday is a separate one day event. You can bowl only Saturday, only Sunday, or both).
Start Time: Saturday qualifying squads is now one squad only, 1 PM. Please note the change if you originally asked for 9 AM.
Re-entries?: There are no re-entries for this event.
Reservations: Please email director@bowljbt.com to reserve a spot. You can prepay (not required) at the 'Prepaying' section of this website. Reservations (paid or unpaid) must check in no later than 15 minutes before start time. At that time, all bowlers will be taken on a first come, first serve basis until the field is full.
Format: Qualifying round is 5 games. The top 40% advances and then bowls a 3 game semifinals.. The top 4 then do a stepladder finals.
Divisions/ Averages: Scratch or handicap. It is the bowlers' choice of division. Also, everyone age 16 or under as of 8/1/21 is automatically entered in the U-17 side event. Also, every female is automatically entered in the Girls Scratch side event. If this is your first JBT event this season, we will be asking for average info. In most cases, your highest average from any current form of organized competition of at least 15 games is what we need. If you bowl in multiple leagues / clubs, bring everything and we'll sort it out for you. After your first JBT event, your average is re-rated before every JBT event according to JBT rules. Please see JBT Rule 13 for complete details.
Points: This event counts for Southern California Conference and All-Conference points. Points qualify you for the big money season-ending Invitationals and Touring Players Championship, so get all you can. Visit the 'statistics' section of the website to check on your points. At the end of the season, the top 32 in So Cal points, plus anyone who had a top-4 finish in a So Cal JBT event this season, advance to the Invitational.
Entry fee: $50 handicap; $60 scratch. Scholarship brackets are available for $2 each. Raffle tickets for Ebonite bowling balls, and our PowerBowl and '25' jackpots, are available on-site.
Covid details: JBT events follow- at least- all local Covid safety protocols, which you must be prepared for. Please stay posted so you're not surprised about anything required of you.
Scholarships: 1:6 in each division earn scholarships, scratch and handicap. Minimum prizes in scratch are $300, $150, $100, $60. In handicap, $250, $125, $75, $50. Bowlers must finish in the top 4 once this season to qualify for that conference's Invitational, which features $1,000 for first place. Bowlers who finish in the top 20 in a conference's points race, or the top 100 in all-conference points, qualify for the Touring Players Championship, featuring $2,000 for first.
Lane conditions: conditions vary from event to event, and are not posted prior to the event (unless otherwise announced). Some events do not post the pattern until after qualifying. Be ready for anything- it makes you a better bowler! Check out previous patterns and corresponding cut scores at the 'lane conditions' section of this website.
Dress code: Anything goes EXCEPT tank tops, hats, gym shorts, clothing promoting alcohol, drugs, or firearms, or excessively ripped or short clothing, subject solely to the director's discretion. However, bowlers wearing slacks or dress shorts/skirts, and a 'name shirt' or PBA-style 'dye-sub' shirt, or college or high school team shirt, earn an extra 10 points on their season-long points total. If you're not sure about dress code, check with us. If you're new to us, the vast majority of the bowlers do dress in the 'bonus' dress code, and those points become very important, so plan accordingly.
RESERVED BOWLERS:
PLEASE do not forget to contact us if you need to cancel or adjust your reservation.
There is only one qualifying squad now, at 1 PM. Please contact us to confirm the switch to 1 PM if you were planning on 9 AM.
| | | |
| --- | --- | --- |
| no. | bowler | 1 PM Sat |
| 1 | Abkin, Stephen | x |
| 2 | Pfaff, Jimmy | x |
| 3 | Mayes, Hunter | x |
| 4 | Mayes, Chris | x |
| 5 | Holman, Madison | x |
| 6 | Rother, Brandon | x |
| 7 | O'Hollaren, Elias | x |
| 8 | Sanchez, Andrew | x |
| 9 | Cardines, Cerell | x |
| 10 | Orosco, Akayla | x |
| 11 | Orosco, Kyler | x |
| 12 | Sugarman, Austin | x |
| 13 | Degnan, Marshall | x |
| 14 | Hong, Daniel | x |
| 15 | Hong, Stephanie | x |
| 16 | Ramirez, Andrew | x |
| 17 | Wang, Jerry | x |
| 18 | Stanger, Max | x |
| 19 | Simmons, Chase | x |
| 20 | Tidball, Nathan | x |
| 21 | Pimentel, Ryland | x |
| 22 | Pimentel, Raeden | x |
| 23 | Emery, Miranda | x |
| 24 | Huffman, Sebastian | x |
| 25 | O'Dell, Kayden | x |
| 26 | Bove, Cuzack | x |
| 27 | Schmidt, Harper | x |
| 28 | Greim, Lindsay | x |
| 29 | Abigania, Jon | x |
| 30 | Abigania, Josh | x |
| 31 | Abigania, Katelyn | x |
| 32 | Chambers, Ethan | x |
| 33 | Chambers, Nathan | x |
| 34 | Purugganan, Kaili | x |
| 35 | Purugganan, Brent | x |
| 36 | Pollom, Ricky | x |
| 37 | Hampton, Hilari | x |
| 38 | McGough, James | x |
| 39 | McGough, Jacob | x |
| 40 | Barczyszyn, JR | x |
| 41 | Alshamary, Jasmia | x |
| 42 | Smyth, Keir | x |
| 43 | Smyth, Ryleigh | x |
| 44 | Tonelete, Regis | x |
| 45 | Bullard, Briella | x |
| 46 | Berg, Matthew | x |
| 47 | Marquez, Koryn | x |
| 48 | Zerbe, Emily | x |
| 49 | Nakunz, Bryce | x |
| 50 | Chan, Brian | x |
| 51 | | |