JIM KENT CLASSIC at RIVERSIDE LANES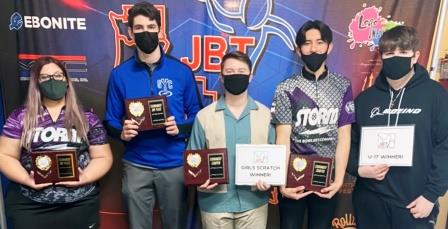 Kierra Wilcox, Bud Sicard, Joleigh Murphy, Duncan Whitaker, Liam Hardman
Duncan Whitaker and Joleigh Murphy claimed JBT titles oh the first day of the Jim Kent Classic, hosted by Riverside Lanes in Mount Vernon.
Bud Sicard began the scratch division stepladder finals with a 207-183 win over Ashton Yamasaki. Bud then topped early round leader Liam Hardman 204167 to reach the title match.
Top seed Duncan Whitaker blasted 748 in round two to take over the lead, but found out, as the other finalists had, that the previous high-scoring look was deteriorating fast on this pair. In what became a classic grind-out, it was Duncan escaping 189-173 to earn the 4th title of his JBT career.
The handicap division finals belonged to Texan Joleigh Murphy, beginning with a 239-232 squeaker over raffle-guru Hailey Johnson. She then fired 249 to defeat Erick Romen's 194 semifinal effort, advancing her to the title game, where she'd face top seed Kierra Wilcox.
Wilcox had broken out of an early season slump in a huge way here, firing a big first game and never looking back. However, Joleigh had built up a huge amount of momentum, and continued it in the final with a 226-206 win over Wilcox. It was Murphy's second career JBT title, but- get th0s- her first since October 15, 2011- over ten years, wow! Her long trip was made even more worth it with a $625 scholarship payday, as the title match win over Kierra was good for the Girls Scratch subdivision title.
U-17 went to Hardman, avenging his stepladder loss with a win over Charlie Simperman, breaking out of a slump of his own, for that subdivision crown. Matthew Lennox picked up a quick $100 by nailing the '26' jackpot with three perfect shots.
The $2,870 scholarship windfall on the day was due to in large part to a generous contribution from the Boe family, as well as 11-time JBT champ Marshall Kent himself, who coordinated raffles and auctions at the PBA's Jim Kent Memorial, some proceeds from which went to this event's scholarship awards. It was an honor for the JBT to be a part of honoring Marshall's father, a pillar of the Northwest bowling community.
Want in on all the fun for all skill levels and ages? Just check out our schedule and come on down, that's all you have to do!
Riverside Lanes (Sat)- final results and scholarship winners
10/6/2021
Scratch Division
rank
bowler
prize
1
Duncan Whitaker
$500
2
Bud Sicard
$250
3
Liam Hardman
$265
4
Ashton Yamasaki
$115
5
Mac Kaurin
$60
6
Kyle Groves
$60
7
Kalym Henry
8
Charlie Simperman
$25
9
DoHoon Kwon
10
Matthew Lennox
$100
11
Piper Chalmers
12
Duke Knudsen
13
Paul Rosales
$15
14
Cadin Cervine
15
Elijah Chin
16
Sienna Stoner
$15
17
Preston Craig
18
Mac Reese
$30
19
Michael Strothman
20
Nick Karr
21
Alex Palacios
22
Colt Jance
$10
23
Kenji London
24
Kailee Wilcox
25
Jessica Holbrook
26
Ewan Oester
Handicap Division
1
Joleigh Murphy
$625
2
Kierra Wilcox
$275
3
Erick Romen
$175
4
Hailey Johnosn
$125
5
Thomas McDugle
$85
6
Maddie Rowe
$50
7
Mary Sicard
$50
8
Matt Hess
9
Georgia Rahla
10
Payton Bower
11
Tai Garrett
12
Jazel Tiquia
$30
13
Mackenzi Clark
14
Madison Flatin
15
Shelby Unger
16
Danny Chalmers
17
Jamine Yetter
18
Karson Schwind
$10
19
Alena McDugle
20
Nathaniel Nagel
21
Hailey Lennox
22
Eddie Strange
23
Colby Hull
24
Megan Lelli
25
Toby Wills
26
Samuel Strange
27
Logan Van Siclen
28
Jessica Curette
29
Corina Aguon-Africa
30
Jax Bareno
31
Logan Winchell
32
Ayden Lynn
33
Daniel Rosales
Qualifying Leaders
Scratch
Handicap
1
Hardman +159
Kierra Wilcox +208
2
Whitaker +106
Murphy +151
3
Simperman +75
Romen +116
Round Leaders
Scratch
Handicap
1
Whitaker
Kierra Wilcox
2
Simperman
Kierra Wilcox
3
Simperman
Kierra Wilcox
4
Simperman
Kierra Wilcox
5
Hardman
Kierra Wilcox
6
Whitaker
Kierra Wilcox
7
Whitaker
Kierra Wilcox
8
Whitaker
Kierra Wilcox
U-17
Girls Scratch
1
Hardman +159*
Murphy +6*
2
Simperman +75
Kierra Wilcox -42
3
B Sicard +69
M Sicard -53
4
K Henry +30
P Chalmers -53
5
Knudsen -7
Stoner -76
6
Kwon -22
P Bower -84
7
Kaurin -40
Flatin -144
8
P Chalmers -53
Kailee Wilcox -168
9
Rosales -56
Yetter -174
10
Romen -64
Clark, H Johnson -185
Scratch High Game
1
Whitaker 279
2
Whitaker 279
3
Hardman 268
4
Kwon 266
5
Henry 265
Handicap High Game
1
Kierra Wilcox 277
2
Garrett 269
3
Hess 267
4
Unger 265
5
Kierra Wilcox 263
TOTAL AWARDED THIS EVENT: $2,870
Date: Saturday November 6 (This is ONE tournament that is one day long. Sunday is a separate one day event. You can bowl only Saturday, only Sunday, or both).
Start Time: Saturday qualifying squad at 1 PM, one squad only.
Re-entries?: There's only one qualifying squad, so there are no re-entries this event..
Reservations: Please email director@bowljbt.com to reserve a spot. You can prepay (not required) at the 'Prepaying' section of this website. Reservations (paid or unpaid) must check in no later than 15 minutes before start time. At that time, all bowlers will be taken on a first come, first serve basis until the field is full.
Format: Qualifying round is 5 games. The top 40% bowl a 3 game semifinals.. The top 4 then do a stepladder finals.
Divisions/ Averages: Scratch or handicap. It is the bowlers' choice of division. Also, everyone age 16 or under as of 8/1/21 is automatically entered in the U-17 side event. Also, every female is automatically entered in the Girls Scratch side event. If this is your first JBT event this season, we will be asking for average info. In most cases, your highest average from any current form of organized competition of at least 15 games is what we need. If you bowl in multiple leagues / clubs, bring everything and we'll sort it out for you. After your first JBT event, your average is re-rated before every JBT event according to JBT rules. Please see JBT Rule 13 for complete details.
Points: This event counts for Pacific Northwest Conference and All-Conference points. Points qualify you for the big money season-ending Invitationals and Touring Players Championship, so get all you can. Visit the 'statistics' section of the website to check on your points. After this event, the top 32 in Pac NW points, plus anyone who had a top-4 finish in a Pac NW JBT event this season, advance to the Invitational.
Entry fee: $50 handicap; $60 scratch. Scholarship brackets are available for $2 each. Raffle tickets for Ebonite bowling balls, and our PowerBowl and '25' jackpots, are available on-site.
Covid details: JBT events follow- at least- all local Covid safety protocols, which you must be prepared for. Please stay posted so you're not surprised about anything required of you.
Scholarships: 1:6 in each division earn scholarships, scratch and handicap. Minimum prizes in scratch are $300, $150, $100, $60. In handicap, $250, $125, $75, $50. Bowlers must finish in the top 4 once this season to qualify for that conference's Invitational, which features $1,000 for first place. Bowlers who finish in the top 20 in a conference's points race, or the top 100 in all-conference points, qualify for the Touring Players Championship, featuring $2,000 for first.
Lane conditions: conditions vary from event to event, and are not posted prior to the event (unless otherwise announced). Some events do not post the pattern until after qualifying. Be ready for anything- it makes you a better bowler! Check out previous patterns and corresponding cut scores at the 'lane conditions' section of this website.
Dress code: Anything goes EXCEPT tank tops, hats, gym shorts, clothing promoting alcohol, drugs, or firearms, or excessively ripped or short clothing, subject solely to the director's discretion. However, bowlers wearing slacks or dress shorts/skirts, and a 'name shirt' or PBA-style 'dye-sub' shirt, or college or high school team shirt, earn an extra 10 points on their season-long points total. If you're not sure about dress code, check with us. If you're new to us, the vast majority of the bowlers do dress in the 'bonus' dress code, and those points become very important, so plan accordingly.
RESERVED BOWLERS:
PLEASE do not forget to contact us if you need to cancel or adjust your reservation. This list may not be updated after the Friday of the event as we travel, etc. However, walk-ins / late entries are still gladly accepted as space permits. There is generally plenty of room for walk-ins / late entries, and we'll post here clearly if an event is nearing sellout or sold out.
| | | |
| --- | --- | --- |
| no. | bowler | 1 PM Sat |
| 1 | Aguon-Africa, Corina | x |
| 2 | Allard, Payton | x |
| 3 | Bower, Payton | x |
| 4 | Cervine, Cadin | x |
| 5 | Chalmers, Danny | x |
| 6 | Chalmers, Piper | x |
| 7 | Chin, Elijah | x |
| 8 | Clark, Mackenzi | x |
| 9 | Craig, Preston | x |
| 10 | Curette, Jessica | x |
| 11 | Flatin, Madison | x |
| 12 | Garrett, Tai | x |
| 13 | Groves, Kyle | x |
| 14 | Hardman, Liam | x |
| 15 | Hess, Matthew Jr | x |
| 16 | Hofbuhr, Jack | x |
| 17 | Holbrook, Jessica | x |
| 18 | Hull, Colby | x |
| 19 | Humphries, Carter | x |
| 20 | Humphries, Jaadyn | x |
| 21 | Jance, Colt | x |
| 22 | Johnson, Hailey | x |
| 23 | Jones, Michael | x |
| 24 | Jones, Zachary | x |
| 25 | Karr, Nicholas | x |
| 26 | Kaurin, Mac | x |
| 27 | Knudsen, Duke | x |
| 28 | Lelli, Megan | x |
| 29 | London, Kenji | x |
| 30 | Lynn, Ayden | x |
| 31 | McDugle, Alena | x |
| 32 | McDugle, Thomas | x |
| 33 | Morales, Eduardo | x |
| 34 | Murphy, Joleigh | x |
| 35 | Nagel, Nathaniel | x |
| 36 | Oester, Ewan | x |
| 37 | Oller, McKenna | x |
| 38 | Palacios, Alex | x |
| 39 | Pratt, Addi | x |
| 40 | Rahla, Georgia | x |
| 41 | Reese, Mac | x |
| 42 | Romen, Erick | x |
| 43 | Rosales, Daniel | x |
| 44 | Rosales, Paul | x |
| 45 | Rowe, Maddie | x |
| 46 | Schwind, Karson | x |
| 47 | Sicard, Bud | x |
| 48 | Sicard, Mary | x |
| 49 | Simperman, Charlie | x |
| 50 | Strange, Eddie | x |
| 51 | Strange, Samuel | x |
| 52 | Strehle, Emily | x |
| 53 | Strothman, Michael | x |
| 54 | Tiquia, Jazel | x |
| 55 | Unger, Shelby | x |
| 56 | Van Siclen, Logan | x |
| 57 | Whitaker, Duncan | x |
| 58 | Wilcox, Kailee | x |
| 59 | Wilcox, Kierra | x |
| 60 | Wills, Toby | x |
| 61 | Winchell, Logan | x |
| 62 | Yamasaki, Ashton | x |
| 63 | Yetter, Jasmine | x |
| 64 | Young, Braeden | x |
| 65 | Zeutenhorst, Bryan | x |
| 66 | | |