SAM'S TOWN (Sunday)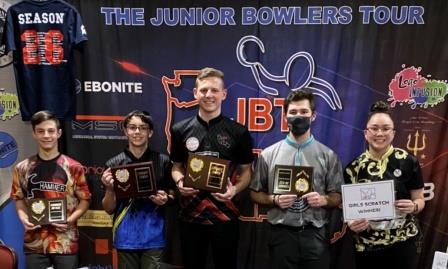 RJ McNutt, Brandon Rother, Hunter Mayes, DJ Kneifel, Kelcey Aczon-Kawamura
Hunter Mayes dominated again, while Brandon Rother escaped from the second consecutive handicap nailbiter, in terrific JBT Mojave Conference action at Las Vegas' Sam's Town Bowling Center.
Zach Greim began a star-studded scratch division stepladder finals with a 237-195 win over Solomon Salama. Mayes then fired 10 strikes in a 268-186 win over Greim to move on to the title match.
Top seed DJ Kneifel was fantastic all day earning the #1 spot, and knew his opponent well, having teamed up with him for doubles the day before, but having teamed up for a Monday night league, and as Virtue staff members. Unfortunately for DJ, that also means he knows how much Hunter can strike when he gets going. A solid-7 stopped Mayes' latest bid at perfection, and he settled for a 278-211 win over Kneifel, matching Cerell Cardines with the 17th victory of his JBT career.
Alexis Lee escaped round one of the handicap division stepladder finals 198-196 over Gavin Fernandez. Rother then halted Lee's run to advance to the title match. RJ McNutt put on an impressive rookie performance to grab the top seed on a challenging short lame pattern. After Brandon finished his tenth frame at 193, it left RJ, working on a strike, needing 9 on two balls to win the title. McNutt was only able to get 8 total, for a 192 final score, heartbreak for RJ, and relief for Rother, who claimed his second career JBT title with the second consecutive wild finish on the weekend.
Lee retuned for the Girls Scratch title match, but top seed Kelcey Aczon Kwamura had been way ahead of he girls field, and stayed that way in the finals for the day's Girls Scratch win. U17 went to Daryus Alo, doubling in the tenth to lock up a win over Rother.
Thanks as always to the great team at Sam's Town for hosting our Tour. Want in on all the fun and excitement for all skill levels and ages? Just check out our schedule and come on down!
Sam's Town (Sun)- final results and scholarship winners
11/21/2021
Scratch Division
rank
bowler
prize
1
Hunter Mayes
$343
2
DJ Kneifel
$195
3
Zach Greim
$100
4
Solomon Salama
$180
5
Elias O'Hollaren
$65
6
Allex Zieg
$60
7
Michael Marmolejo
8
Sebastian Huffman
9
Cerell Cardines
10
Daryus Alo
$40
11
Ricky Pollom
12
Skyler McGowan
13
Kelcey Aczon-Kawamura
$50
14
Gianni Silva
15
Josh Carlson
16
Seth Stovall
17
Brendan Lindsey
18
Julian Stenroos
19
Chris Mayes
20
Tyler Castronova
21
Kyle Rendon
22
Dominic Montoya
23
Marquan Rivers
24
Jerrad Barczyszyn
25
Connor Steelmon-Hill
26
Kayden O'Dell
27
Jamison Kaboli
28
Harper Schmidt
29
Jordan Gil
30
Jason Bardol II
31
Madison Holman
32
Alayna Purdy
33
Mason Snow
34
Isaac Taylor
35
Dart Longa
36
Bryce Swett
Handicap Division
1
Brandon Rother
$278
2
RJ McNutt
$150
3
Alexis Lee
$125
4
Gavin Fernandez
$110
5
Dylan Donahue
$60
6
Bryce Nakunz
$50
7
Ethan Chambers
8
Caden Sham
9
JT Verde
10
Taylor Jeanary
11
Hayden Fernandez
$29
12
Austin Nash
13
Iliana Ontiveros
14
Gage Baker
15
Gyrus Alo
$29
16
Mason Collins
17
Steve Abarca
$20
18
Grayden Ware
19
Brady Damron
20
Nathan Chambers
21
Cuzack Bove
22
Lindsay Greim
23
Tyson Lopes
24
Kendall Bollea
$34
25
Antonio Ontiveros
26
Davi Page
27
Aiden Ruiz-Jimenez
28
Sara Miric
29
Robert Lawrence
$14
Qualifying Leaders
Scratch
Handicap
1
Zieg +162
Rother +46
2
Salama +128
G Fernandez +24
3
Kneifel +113
McNutt +16
Round Leaders
Scratch
Handicap
1
Alo
G Fernandez
2
Cardines
Rother
3
Cardines
McNutt
4
Zieg
Rother
5
Zieg
Rother
6
Kneifel
McNutt
7
Kneifel
McNutt
8
Kneifel
McNutt
Girls Scratch
U17
1
Aczon-Kawamura -53*
Alo +32*
2
A Lee -231
Rother +4
3
Greim -242
O'Hollaren -8
4
Holman -262
Stovall -54
5
Purdy -272
Castronova -98
6
Bollea -280
D Montoya -123
7
Jeanary -356
Nakunz -152
8
Miric -295
G Fernandez -156
9
Ontiveros -483
Donahue -158
10
Barczyszyn -163
Scratch High Game
1
O'Hollaren 278
2
H Mayes 278
3
H Mayes 278
4
H Mayes 268
5
Salama 260
Handicap High Game
1
Donahue 258
2
Rother 256
3
Rother 253
4
McNutt 242
5
McNutt 238
TOTAL AWARDED THIS EVENT: $1,932
Date: Sunday November 21 (This is ONE singles tournament that is one day long. Saturday is a separate one day event. You can bowl only Saturday, only Sunday, or both).
Start Time: Sunday qualifying squad at 10 AM, one squad only.
Re-entries?: There's only one qualifying squad, so there are no re-entries this event..
Reservations: Please email director@bowljbt.com to reserve a spot. You can prepay (not required) at the 'Prepaying' section of this website. Reservations (paid or unpaid) must check in no later than 15 minutes before start time. At that time, all bowlers will be taken on a first come, first serve basis until the field is full.
Format: Qualifying round is 5 games. The top 40% roll 3 additional games, then the top 4 bowl a stepladder finals.
Divisions/ Averages: Scratch or handicap. It is the bowlers' choice of division. Also, everyone age 16 or under as of 8/1/21 is automatically entered in the U-17 side event. Also, every female is automatically entered in the Girls Scratch side event. If this is your first JBT event this season, we will be asking for average info. In most cases, your highest average from any current form of organized competition of at least 15 games is what we need. If you bowl in multiple leagues / clubs, bring everything and we'll sort it out for you. After your first JBT event, your average is re-rated before every JBT event according to JBT rules. Please see JBT Rule 13 for complete details.
Points: This event counts for Mojave Conference and All-Conference points. Points qualify you for the big money season-ending Invitationals and Touring Players Championship, so get all you can. Visit the 'statistics' section of the website to check on your points. After this event, the top 32 in Mojave points, plus anyone who had a top-4 finish in a Mojave JBT event this season, advance to the Invitational.
Entry fee: $50 handicap; $60 scratch. Scholarship brackets are available for $2 each. Raffle tickets for Ebonite bowling balls, and our PowerBowl and '25' jackpots, are available on-site.
Covid details: JBT events follow- at least- all local Covid safety protocols, which you must be prepared for. Please stay posted so you're not surprised about anything required of you.
Scholarships: 1:6 in each division earn scholarships, scratch and handicap. Minimum prizes in scratch are $300, $150, $100, $60. In handicap, $250, $125, $75, $50. Bowlers must finish in the top 4 once this season to qualify for that conference's Invitational, which features $1,000 for first place. Bowlers who finish in the top 20 in a conference's points race, or the top 100 in all-conference points, qualify for the Touring Players Championship, featuring $2,000 for first.
Lane conditions: conditions vary from event to event, and are not posted prior to the event (unless otherwise announced). Some events do not post the pattern until after qualifying. Be ready for anything- it makes you a better bowler! Check out previous patterns and corresponding cut scores at the 'lane conditions' section of this website.
Dress code: Anything goes EXCEPT tank tops, hats, gym shorts, clothing promoting alcohol, drugs, or firearms, or excessively ripped or short clothing, subject solely to the director's discretion. However, bowlers wearing slacks or dress shorts/skirts, and a 'name shirt' or PBA-style 'dye-sub' shirt, or college or high school team shirt, earn an extra 10 points on their season-long points total. If you're not sure about dress code, check with us. If you're new to us, the vast majority of the bowlers do dress in the 'bonus' dress code, and those points become very important, so plan accordingly.
RESERVED BOWLERS:
PLEASE do not forget to contact us if you need to cancel or adjust your reservation. This list may not be updated after the Friday of the event as we travel, etc. However, walk-ins / late entries are still gladly accepted as space permits. There is generally plenty of room for walk-ins / late entries, and we'll post here clearly if an event is nearing sellout or sold out.
| | | |
| --- | --- | --- |
| no. | bowler | 10 AM Sun |
| 1 | Aczon-Kawamura, Kelcey | x |
| 2 | Alo, Daryus | x |
| 3 | Alo, Gyrus | x |
| 4 | Baker, Gage | x |
| 5 | Barczyszyn, Jarred | x |
| 6 | Bardol, Jason | x |
| 7 | Bollea, Kendall | x |
| 8 | Bove, Cuzack | x |
| 9 | Cardines, Cerell | x |
| 10 | Carlson, Josh | x |
| 11 | Castronova, Tyler | x |
| 12 | Chambers, Ethan | x |
| 13 | Chambers, Nathan | x |
| 14 | Damron, Brady | x |
| 15 | Donahue, Dylan | x |
| 16 | Gil, Jordan | x |
| 17 | Greim, Lindsay | x |
| 18 | Greim, Zach | x |
| 19 | Holman, Madison | x |
| 20 | Huffman, Sebastian | x |
| 21 | Jeanary, Taylor | x |
| 22 | Kaboli, Jamison | x |
| 23 | King, Hayden | x |
| 24 | Lee, Alexis | x |
| 25 | Lindsey, Brendan | x |
| 26 | Longa, D'art | x |
| 27 | Lopes, Tyson | x |
| 28 | Marmolejo, Michael | x |
| 29 | Mayes, Chris | x |
| 30 | Mayes, Hunter | x |
| 31 | McGowan, Skyler | x |
| 32 | McLaughlin, Ava | x |
| 33 | McNutt, RJ | x |
| 34 | Miric, Sara | x |
| 35 | Montoya, Dominic | x |
| 36 | O'Dell, Kayden | x |
| 37 | Page, Davi | x |
| 38 | Rendon, Kyle | x |
| 39 | Rother, Brandon | x |
| 40 | Ruiz-Jimenez, Aiden | x |
| 41 | Schmidt, Harper | x |
| 42 | Scotford, Brockton | x |
| 43 | Sham, Caden | x |
| 44 | Silva, Gianni | x |
| 45 | Snow, Mason | x |
| 46 | Stenroos, Julian | x |
| 47 | Stovall, Seth | x |
| 48 | Taylor, Isaac | x |
| 49 | Verde, JT | x |
| 50 | Ware, Grayden | x |
| 51 | Zieg, Allex | x |
| 52 | Lawrence, Robert | x |
| 53 | Kneifel, DJ | x |
| 54 | Nakunz, Bryce | x |
| 55 | Ontiveros, Antonio | x |
| 56 | Ontiveros, Iliana | x |
| 57 | | |