BIG DADDY'S SUNSET BOWL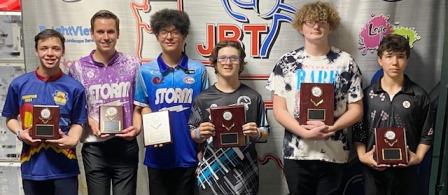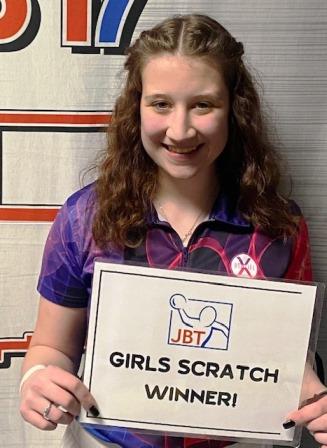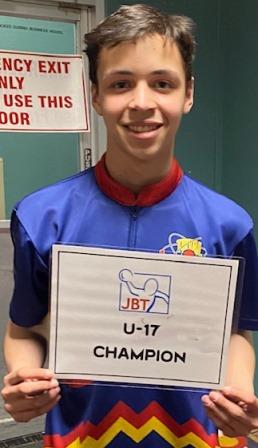 Lucas Finley, Trevor Seeley, Jaxson Garton, Clayton Hobbs, Kayden Johnson, Gauge Eccher, Kara Thompson, Finley
Clayton Hobbs and Kayden Johnson picked up JBT titles in exciting Mountain Conference action at Big Daddy's Sunset Bowl in Pueblo.
Travis Seeley, who earlier fired 298 for the high game of the day, began the scratch division stepladder finals with a 227-218 win over Lucas Finley. In a thrilling semifinal, Jaxson Garton got the tenth frame double he needed for a 242-236 win over Seeley to advance to the title game.
Top seed Clayton Hobbs has had numerous third place finishes on Colorado's Mile Hi Tour, but he finally broke the ice here, rolling a big semifinal set to take the lead and in another thriller, doubling in his tenth frame to beat Garton 231-223 for his first career JBT title.
Isaac John began the handicap division stepladder with a 245-229 win over Zade Wilmot. Kayden Johnson, who had led much of the day, then stopped John 227-215, to move on to the title match. Top seed Gauge Eccher had taken over the lead from Johnson late in the semifinals with some great bowling, but could not find the same look in the final. A late open gave Eccher new life, but when he couldn't get the tenth frame double he needed, Kayden escaped with a 207-197 win and his first career JBT title.
Subdivision wins went to Kara Thompson with a win over Hayleigh Hale-Haggard in Girls Scratch, and Finley, with a win over Garton in U17. Jackson McCool won the day's Ebonite ball of his choice courtesy of our terrific title sponsor. Huge thanks to the whole team at Sunset for a great job hosting our Tour for the first time. Want in on all the fun? Just check out our schedule and come on down!
Big Daddy's Sunset Bowl (Sat)- final results and scholarship winners
4/2/2022
Scratch Division
rank
bowler
prize
1
Clayton Hobbs
$300
2
Jaxson Garton
$254
3
Trevor Seeley
$150
4
Lucas Finley
$125
5
Dmitri Richardson
$60
6
Adam Sakowski
7
Ryan Van Horn
8
Gavin Finley
9
Nathan Nguyen
10
Tyler Close
11
Hayleigh Hale-Haggard
$25
12
Kara Thompson
$78
13
Aileen Linares
14
Jackson McCool
15
Kallista Fritts
16
Michael Maestas
17
Will Davis
18
Justin Weddige
19
Joshua Ruehlen
20
Mya Kay Williams
21
Gabriel Chavez
22
Chad Schafer
23
Lucia Giambri
24
Eric Gauna
Handicap Division
1
Kayden Johnson
$400
2
Gauge Eccher
$239
3
Isaac John
$150
4
Zade Wilmot
$140
5
Shaiden Raymond
$159
6
Nina Civiello
$80
7
Alex Thompson
$70
8
Malcolm DeBates
$70
9
Caitlyn White
$84
10
Talyn Pacheco
$65
11
Kaliana Larson
$50
12
Mason Van Deventer
$50
13
Mia Medina
$10
14
Kinzie Temple
15
Ivan John
16
Robert Lawrence
$58
17
Donald Gallegos
18
Aiden Ruiz-Jimenez
19
Braden Wearly
20
Xaden Todacheenie
21
Donovan Romero
22
Kamryn Kelsey
23
Austin Morin
24
Tyler Romine
$29
25
Zach Sterkel
26
Steven Decker
27
Derick Romero
28
Gabriel DeBates
29
Diego Lujan
30
Seth Martinez
31
Dylan Frey
32
Jake Campbell
33
Kloey Kielich
$30
34
Angela Romero
35
William Beverly
36
Caleb Benge
37
Morse, Katie
38
Masias, Caprice
39
Wilson,. Xander
40
Temple, Karlie
41
Sabo, Harli
42
Sintas, Gabe
43
Clark, Dane
44
Herson, Josie
45
Silva, Ian
46
Hunter Williams
47
Sam Sitler
48
Alberto Medina
49
Caleb Smith
50
Hunter Childs
51
Trevor Freeman
52
Emma Kitchens
53
Katie Perez
54
Nayt Beery
55
Xavier Johnson
U-17
Girls Scratch
1
L Finley +177*
Hale-Haggard +47
2
Garton +130
K Thompson +33*
3
Seeley +125
Linares +12
4
Sakowski +113
Fritts -35
5
G Finley +104
Temple -66
6
Hobbs +86
White -82
7
Close +68
Perez -94
8
Richardson +53
Williams -98
9
R Lawrence +15
Kelsey -103
10
McCool -17
A Romero -128
Qualifying Leaders
Scratch
Handicap
1
L Finley +17
Johnson +218
2
Garton +130
Eccher +146
3
Seeley +125
Isaac John +140
Round Leaders
Scratch
Handicap
1
L Finley
K Johnson
2
Van Horn
K Johnson
3
Seeley
K Johnson
4
Seeley
K Johnson
5
L Finley
K Johnson
6
Seeley
K Johnson
7
L Finley
Eccher
8
Hobbs
Eccher
Scratch High Game
1
Seeley 298
2
Garton 280
3
Nguyen 269
4
Hobbs 268
5
Van Horn 266
Handicap High Game
1
Johnson 290
2
Raymond 289
3
Ruiz-Jimenez 268
4
Ruiz Jimenez 265
5
Ivan John 265
5
Morin 265
TOTAL AWARDED THIS EVENT: $2,704
Date: Saturday April 2, 2022 (This is ONE tournament that is one day long. Sunday is a separate one day event. You can bowl only Saturday, only Sunday, or both).
Start Time: Saturday qualifying squad at 1 PM, one squad only.
Re-entries?: There's only one qualifying squad, so there are no re-entries this event..
Reservations: Please email director@bowljbt.com to reserve a spot. You can prepay (not required) at the 'Prepaying' section of this website. Reservations (paid or unpaid) must check in no later than 15 minutes before start time. At that time, all bowlers will be taken on a first come, first serve basis until the field is full.
Ball regulations: JBT follows all usbc ball regulation rules. So, the 'spectre' may not be used. 2016-17 purple hammers may not be used (serial number will start with 6 or 7). All holes in a ball must be occupied. The 6 Storm/Global/Roto balls banned from national competition on 3/30 CAN be used (this is not a 'national' usbc event). Be sure to check for any updates to this rapidly evolving set of rules
Format: Qualifying round is 5 games. The top 40% bowl a 3 game semifinals. The top 4 then do a stepladder finals.
Divisions/ Averages: Scratch or handicap. It is the bowlers' choice of division. Also, everyone age 16 or under as of 8/1/21 is automatically entered in the U-17 side event. Also, every female is automatically entered in the Girls Scratch side event. If this is your first JBT event this season, we will be asking for average info. In most cases, your highest average from any current form of organized competition of at least 15 games is what we need. If you bowl in multiple leagues / clubs, bring everything and we'll sort it out for you. After your first JBT event, your average is re-rated before every JBT event according to JBT rules. Please see JBT Rule 13 for complete details.
Points: This event counts for Mountain and All-Conference points. Points qualify you for the big money season-ending Invitationals and Touring Players Championship, so get all you can. Visit the 'statistics' section of the website to check on your points. As the end of the season, the top 32 in Mountain points, plus anyone who had a top-4 finish in a Mountain event this season, advance to their respective Invitationals.
Entry fee: $50 handicap; $60 scratch. Scholarship brackets are available for $2 each. Raffle tickets for Ebonite bowling balls, and our PowerBowl and '26' jackpots, are available on-site.
Covid details: JBT events follow- at least- all local Covid safety protocols, which you must be prepared for. Please stay posted so you're not surprised about anything required of you.
Scholarships: 1:6 in each division earn scholarships, scratch and handicap. Minimum prizes in scratch are $300, $150, $100, $60. In handicap, $250, $125, $75, $50. Bowlers must finish in the top 4 once this season to qualify for that conference's Invitational, which features $1,000 for first place. Bowlers who finish in the top 20 in a conference's points race, or the top 100 in all-conference points, qualify for the Touring Players Championship, featuring $2,000 for first.
Lane conditions: conditions vary from event to event, and are not posted prior to the event (unless otherwise announced). Some events do not post the pattern until after qualifying. Be ready for anything- it makes you a better bowler! Check out previous patterns and corresponding cut scores at the 'lane conditions' section of this website.
Dress code: Anything goes EXCEPT tank tops, hats, gym shorts, clothing promoting alcohol, drugs, or firearms, or excessively ripped or short clothing, subject solely to the director's discretion. However, bowlers wearing slacks or dress shorts/skirts, and a 'name shirt' or PBA-style 'dye-sub' shirt, or college or high school team shirt, earn an extra 10 points on their season-long points total. If you're not sure about dress code, check with us. If you're new to us, the vast majority of the bowlers do dress in the 'bonus' dress code, and those points become very important, so plan accordingly.
RESERVED BOWLERS:
PLEASE do not forget to contact us if you need to cancel or adjust your reservation. This list may not be updated after the Friday of the event as we travel, etc. However, walk-ins / late entries are still gladly accepted as space permits. There is generally plenty of room for walk-ins / late entries, and we'll post here clearly if an event is nearing sellout or sold out.
| | | |
| --- | --- | --- |
| no. | bowler | 1 PM Sat |
| 1 | Beery, Naythen | x |
| 2 | Benge, Caleb | x |
| 3 | Beverly, William | x |
| 4 | Bove, Cuzack | x |
| 5 | Campbell, Jake | x |
| 6 | Chavez, Gabriel | x |
| 7 | Childs, Hunter | x |
| 8 | Clark, Dane | x |
| 9 | Close, Tyler | x |
| 10 | DeBates, Gabriel | x |
| 11 | DeBates, Malcolm | x |
| 12 | Eccher, Gauge | x |
| 13 | Finley, Gavin | x |
| 14 | Finley, Lucas | x |
| 15 | Freeman, Trevor | x |
| 16 | Frey, Dylan | x |
| 17 | Gallegos, Donald | x |
| 18 | Garton, Jaxson | x |
| 19 | Giambri, Lucia | x |
| 20 | | |
| 21 | Hale-Haggard, Hayleigh | x |
| 22 | Hobbs, Clayton | x |
| 23 | John, Isaac | x |
| 24 | John, Ivan | x |
| 25 | Johnson, Xavier | x |
| 26 | Kelsey, Kamryn | x |
| 27 | Kielich, Kloey | x |
| 28 | Kitchens, Emma | x |
| 29 | Larson, Kaliana | x |
| 30 | Lawrence, Robert | x |
| 31 | Linares, Aileen | x |
| 32 | Lujan, Diego | x |
| 33 | Maestas, Michael | x |
| 34 | Martinez, Seth | x |
| 35 | Masias, Caprice | x |
| 36 | Matthies, Land | x |
| 37 | McCool, Jackson | x |
| 38 | Medina, Alberto | x |
| 39 | Medina, Mia | x |
| 40 | Montoya, Phoenix | x |
| 41 | Morse, Katie | x |
| 42 | Pacheco, Talyn | x |
| 43 | Perez, Katie | x |
| 44 | Raymond, Shaiden | x |
| 45 | Richardson, Dmitri | x |
| 46 | Romero, Angela | x |
| 47 | Romero, Derick | x |
| 48 | Romero, Donovan | x |
| 49 | Romine, Tyler | x |
| 50 | Ruehlen, Joshua | x |
| 51 | Ruiz-Jimenez, Aiden | x |
| 52 | Sabo, Harli | x |
| 53 | Sakowski, Adam | x |
| 54 | Schafer, Chad | x |
| 55 | Schmidt, Harper | x |
| 56 | Seeley, Trevor | x |
| 57 | Silva, Ian | x |
| 58 | Simelton III, Ken | x |
| 59 | Sintas, Gabriel | x |
| 60 | Sitter, Sam | x |
| 61 | Smith, Caleb | x |
| 62 | Sterkel, Zackary | x |
| 63 | Taylor, Isaac | x |
| 64 | Temple, Karlie | x |
| 65 | Temple, Kinzie | x |
| 66 | Thompson, Alex | x |
| 67 | Thompson, Kara | x |
| 68 | Todacheenie, Xaden | x |
| 69 | VanDeventer, Mason | x |
| 70 | Wearly, Braden | x |
| 71 | Weddige, Justin | x |
| 72 | White, Caitlyn | x |
| 73 | Williams, Hunter | x |
| 74 | Williams, Mya | x |
| 75 | Wilmot, Zade | x |
| 76 | Wilson, Xander | x |
| 77 | Nguyen, Nathan | x |
| 78 | Nina, Just | x |
| 79 | Fritts, Kallista | x |
| 80 | Kerber, Donnovan | x |
| 81 | Johnson, Kayden | x |
| 82 | | |