MIRA MESA LANES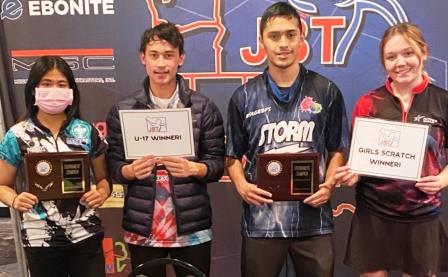 Katelyn Abigania, Elias O'Hollaren, Jacob McGough, Madison Holman
It was all in the family day at Mira Mesa, as Katelyn Abigania and Jacob McGough claimed JBT titles in exciting Southern California Conference action.
Bowlers dealt with the scorpion lane pattern that proved to be one of the toughest of the season, with just above a 170 average good enough to make the scratch division cut to matchplay. Scores remained low throughout, with Elias O'Hollaren reaching his second straight final with a 182-142 win over Prestin Frazee, while Katelyn beat big brother and qualifying leader (at +100, the only bowler plus) Josh 194-158 to advance.
Nothing about those scores gave a hint at what was about to happen. Elias had Josh fire 277 at him to win the title yesterday, so he wanted to put up a big number given another chance against another Abigania. He did just that with a brilliant 268, by far the high game of the tournament... except Katelyn's tenth frame double gave her an astonishing 276, swiping away the title for a thrilling fourth career JBT title!
Jacob McGough watched his brother James win the handicap title yesterday, and decided to keep today's win in the family, beating Brandon Rother in one semifinal while Ian Fiel stopped Katelyn Touchette in the other to set up the final. Ian bowled well, but a confident Jacob maintained a lead he never relinquished, earning his third career JBT title with the victory.
The Abiganias were stopped in the subdivision finals, as Madison Holman earned girls scratch with a win over Katelyn, and Elias finally beat an Abigania by topping Josh in the U17 final. Akayla Orosco won any Ebonite ball of her choice (once she realized she had the winning ticket).
We can't thank Mira Mesa enough for coming through and hosting in a last minute location switch, as well as everyone for attending. You can too! Just check out our upcoming schedule and come on down!
Mira Mesa (Sun)- final results and scholarship winners
1/9/2022
Scratch Division
rank
bowler
prize
1
Katelyn Abigania
$355
2
Elias O'Hollaren
$280
3
Josh Abigania
$100
4
Prestin Frazee
$80
5
Madison Holman
$94
6
Avery Domaguin
$15
7
Hunter Mayes
8
Dious Clay
9
Zach Greim
10
Aidan Miles
11
Brendan Bobersky
$10
12
Harper Schmidt
13
Stephanie Fung
14
Allex Zieg
15
Nathan Tidball
16
Chris Mayes
17
Matthew Carpenter
18
Kyle Ponzo
19
Emily Cheesman
20
Connor Steelmon-Hill
21
Ryland Pimentel
Handicap Division
1
Jacob McGough
$250
2
Ian Fiel
$125
3
Brandon Rother
$115
4
Kaitlyn Touchette
$75
5
Lindsay Greim
$104
6
Stephen Abkin
$50
7
Kaiden Hambrick
8
Lathan Chin
$14
9
James McGough
$30
10
Jon Abigania
11
Nathan Chambers
12
Kendall Bollea
13
Eddie Torres
$14
14
Theo De La Cruz
15
Martin Velasco
16
Hannah McGough
17
Gage Baker
18
Flynn Iott
19
Akalya Orosco
$10
20
Kaitlynn Yukihiro
21
Porfirio Jimeno III
22
Kaili Purugganan
$14
23
Ethan Chambers
24
Taylinn Uzzell
25
Brent Purugganan
$15
26
Jerry Wang
27
Kayden O'Dell
28
Angel Jimeno
29
Aarin Shepard
30
Caden Sham
31
Jason Weed
32
Lucas Ahlen
U-17
Girls Scratch
1
J Abigania +100
Holman -13
2
O'Hollaren -23
K Abigania -33
3
K Abigania -33
Greim -57
4
Greim -57
Domaguin -82
5
Abkin -94
S Fung -146
6
Rother -97
Bollea -179
7
De La Cruz -129
Yukihiro -224
8
Frazee -142
Cheesman -233
9
Schmidt -145
Orosco -263
10
Tidball -166
Purugganan -382
Qualifying Leaders
Scratch
Handicap
1
J Abigania +100
L Greim +13
2
Holman -13
Abkin +1
3
O'Hollaren -23
Hambrick -40
Round Leaders
Scratch
Handicap
1
J Abigania
Greim
2
J Abigania
Greim
3
J Abigania
Greim
4
J Abigania
Greim
5
J Abigania
Greim
Scratch High Game
1
K Abigania 276
2
O'Hollaren 268
3
J Abigania 244
4
J Abigania 231
5
Holman 231
Handicap High Game
1
Greim 257
2
L Chin 248
3
Hambrick 237
4
Rother 236
5
Touchette 228
TOTAL AWARDED THIS EVENT: $1,750
Date: Sunday January 9, 2022 (This is ONE tournament that is one day long. Saturday is a separate one day event. You can bowl only Saturday, only Sunday, or both).
Start Time: Sunday qualifying squad at 10 AM, one squad only.
Re-entries?: There's only one qualifying squad, so there are no re-entries this event..
Reservations: Please email director@bowljbt.com to reserve a spot. You can prepay (not required) at the 'Prepaying' section of this website. Reservations (paid or unpaid) must check in no later than 15 minutes before start time. At that time, all bowlers will be taken on a first come, first serve basis until the field is full.
Format: Qualifying round is 5 games. The top 40% to a maximum of 16 move on to head to head matchplay.
Divisions/ Averages: Scratch or handicap. It is the bowlers' choice of division. Also, everyone age 16 or under as of 8/1/21 is automatically entered in the U-17 side event. Also, every female is automatically entered in the Girls Scratch side event. If this is your first JBT event this season, we will be asking for average info. In most cases, your highest average from any current form of organized competition of at least 15 games is what we need. If you bowl in multiple leagues / clubs, bring everything and we'll sort it out for you. After your first JBT event, your average is re-rated before every JBT event according to JBT rules. Please see JBT Rule 13 for complete details.
Points: This event counts for Southern California Conference and All-Conference points. Points qualify you for the big money season-ending Invitationals and Touring Players Championship, so get all you can. Visit the 'statistics' section of the website to check on your points. At the end of the season, the top 32 in So Cal points, plus anyone who had a top-4 finish in a So Cal JBT event this season, advance to the Invitational.
Entry fee: $50 handicap; $60 scratch. Scholarship brackets are available for $2 each. Raffle tickets for Ebonite bowling balls, and our PowerBowl and '25' jackpots, are available on-site.
Covid details: JBT events follow- at least- all local Covid safety protocols, which you must be prepared for. Please stay posted so you're not surprised about anything required of you.
Scholarships: 1:6 in each division earn scholarships, scratch and handicap. Minimum prizes in scratch are $300, $150, $100, $60. In handicap, $250, $125, $75, $50. Bowlers must finish in the top 4 once this season to qualify for that conference's Invitational, which features $1,000 for first place. Bowlers who finish in the top 20 in a conference's points race, or the top 100 in all-conference points, qualify for the Touring Players Championship, featuring $2,000 for first.
Lane conditions: conditions vary from event to event, and are not posted prior to the event (unless otherwise announced). Some events do not post the pattern until after qualifying. Be ready for anything- it makes you a better bowler! Check out previous patterns and corresponding cut scores at the 'lane conditions' section of this website.
Dress code: Anything goes EXCEPT tank tops, hats, gym shorts, clothing promoting alcohol, drugs, or firearms, or excessively ripped or short clothing, subject solely to the director's discretion. However, bowlers wearing slacks or dress shorts/skirts, and a 'name shirt' or PBA-style 'dye-sub' shirt, or college or high school team shirt, earn an extra 10 points on their season-long points total. If you're not sure about dress code, check with us. If you're new to us, the vast majority of the bowlers do dress in the 'bonus' dress code, and those points become very important, so plan accordingly.
RESERVED BOWLERS:
PLEASE do not forget to contact us if you need to cancel or adjust your reservation. This list may not be updated after the Friday of the event as we travel, etc. However, walk-ins / late entries are still gladly accepted as space permits. There is generally plenty of room for walk-ins / late entries, and we'll post here clearly if an event is nearing sellout or sold out.
Entries received after 1/6 may not be on this list, but you're still all set to go! Plenty of room for more, tell a friend!
| | | |
| --- | --- | --- |
| no. | bowler | 10 AM Sun |
| 1 | Pfaff, Jimmy | x |
| 2 | Mayes, Chris | x |
| 3 | Mayes, Hunter | x |
| 4 | Holman, Madison | x |
| 5 | Greim, Lindsay | x |
| 6 | Greim, Zach | x |
| 7 | Sugarman, Austin | x |
| 8 | Rother, Brent | x |
| 9 | Chambers, Ethan | x |
| 10 | Chambers, Nathan | x |
| 11 | Miskjian, Tiffany | x |
| 12 | Bobersky, Brendan | x |
| 13 | Donahue, Dylan | x |
| 14 | Weitzman, Tyler | x |
| 15 | Abkin, Stephen | x |
| 16 | Sanchez, Andrew | x |
| 17 | Schmidt, Harper | x |
| 18 | Bollea, Kendall | x |
| 19 | Domaguin, Avery | x |
| 20 | Sham, Caden | x |
| 21 | Velasco, Xander | x |
| 22 | Ponzo, Kyle | x |
| 23 | Wang, Jerry | x |
| 24 | Pimentel, Ryland | x |
| 25 | Pimentel, Raeden | x |
| 26 | Yukihiro, Kiatlynn | x |
| 27 | Velasco, Martin | x |
| 28 | Touchette, Kaitlyn | x |
| 29 | Hong, Daniel | x |
| 30 | Hong, Stephanie | x |
| 31 | Carrasco, Preston | x |
| 32 | Weed, Jason | x |
| 33 | McGough, James | x |
| 34 | Clay, Dious | x |
| 35 | McGough, Jacob | x |
| 36 | McGough, Hannah | x |
| 37 | Chin, Lathan | x |
| 38 | Bernal, Alberto | x |
| 39 | Gonzalez, Manuel | x |
| 40 | Tidball, Nathan | x |
| 41 | | |