TENPINS & MORE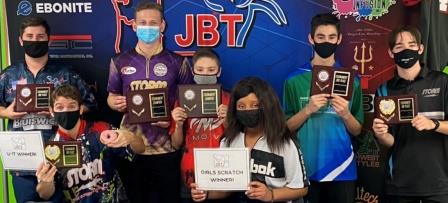 champs and finalists
Hunter Mayes continued his affinity for Tenpins & more, while Logan Trujillo completed a dream weekend, in fantastic JBT Mountain Conference action in Rio Rancho NM.
Justin Weddige, breaking out of a slump, began the scratch division stepladder finals with a 244-224 win over Joshua Burnett. He then struck on his fill ball for a thrilling 200-199 win over John Green, who had looked to be on a collision course to face top seed Hunter Mayes.
Mayes again ran away with the event, as he has a few times at this center, which seems to match up extremely well with his game. However, in the stepladder format you have to win it all over again. A motivated Weddige gave him a great run in the first half, but Hunter was too strong, and claimed the title with the win, the 19th championship of his JBT career.
Shaiden Raymond beat Braden Mackay in a rolloff to get to the handicap finals, then had a thrilling result go the opposite way for him, as Caleb Benge eeked out a 124-123 win in a low scoring but exciting game. Benge picked up the pace considerably with a win over Land Matthies in the semifinal to get to his second consecutive title match to begin his JBT career.
Caleb's opponent was also on a roll, as Logan Trujillo teamed with his dad to win doubles the day before, and fired a 253 scratch game in the last game of round two to jump into the lead here. The title match was a true back and forth nailbiter, with each bowler mixing great shots with ones they'd perhaps like back. In the end, Benge couldn't get the tenth frame mark he needed, and Logan escaped with the win and the amazing sweep of the weekend's events, while Caleb takes his second second back to Colorado.
Green got some vengeance with a win over Gerilynn Delegarito to earn the day's U17 title, while Robin Prioleau, who finished 5th in the open event, beat Aileen Linares for the Girls Scratch win. Huge thanks as always to the team at Tenpins for hosting our Tour. Want in on all this fun for all ages and skill levels? Just check out our schedule and come on down!
Tenpins & More- final results and scholarship winners
12/19/2021
Scratch Division
rank
bowler
prize
1
Hunter Mayes
$348
2
Justin Weddige
$162
3
John Green
$125
4
Joshua Burnett
$75
5
Robin Prioleau
$70
6
Matt Smith
7
Chris Mayes
8
Aileen Linares
$25
9
Kallista Fritts
10
Montana Cdebaca
11
Nathan Nguyen
12
Madison Holman
13
Cole White
14
TJ Thalman
15
Eric Gauna
16
Carlos Estrada
17
Brandon Jensen
Handicap Division
1
Logan Trujillo
$250
2
Caleb Benge
$150
3
Land Matthies
$100
4
Shaiden Raymond
$104
5
Braden Mackay
$50
6
Quintin Meyer
7
Xaden Todacheenie
8
Kloey Kielich
$103
9
Gerilynn Delegarito
$25
10
Josie Herson
11
Robert Lawrence
12
Donald Gallegos
13
Brett Wall
14
Talyn Pacheco
15
Max Meyer
16
Breven Humphries
17
Jared Basey
18
Alex Thompson
19
Seth Martinez
20
Angela Romero
21
Aiden Ruiz-Jimenez
22
Samuel Delgado
23
Coy Dickson
24
Stephen Gallegos
25
Katie Morse
26
Brylee Jesko
27
Michael Jamael
28
Tyler Romine
$20
U-17
Girls Scratch
1
Green +131*
Prioleau +33*
2
Q Meyer -65
Linares -17
3
Delegarito -90
Delegarito -90
4
R Lawrence -153
Fritts -94
5
Kielich -187
M Cdebaca -98
6
Benge -196
Holman -161
7
Trujillo -200
Kielich -187
8
Wall -236
A Romero -231
9
Ruiz-Jimenez -253
Morse -366
10
Raymond -256
Herson -367
Qualifying Leaders
Scratch
Handicap
1
H Mayes +211
Benge +34
2
J Green +131
Todacheenie +19
3
Burnett +48
Delegarito/Trujillo -15
Round Leaders
Scratch
Handicap
1
H Mayes
Benge
2
H Mayes
D Gallegos
3
H Mayes
Trujillo
4
H Mayes
Trujillo
5
H Mayes
Benge
6
Green
Benge
7
H Mayes
Trujillo
8
H Mayes
Trujillo
Scratch High Game
1
Burnett 278
2
Green 266
3
H Mayes 259
4
H Mayes 258
5
Burnett 258
Handicap High Game
1
Trujillo 290
2
Herson 250
3
Matthies 250
4
Benge 249
5
Trujillo 249
TOTAL AWARDED THIS EVENT: $1,607
Date: Sunday December 19 (This is ONE singles tournament that is one day long. Saturday is a separate one day event. You can bowl only Saturday, only Sunday, or both).
Start Time: Sunday qualifying squad at 10 AM, one squad only.
Re-entries?: There's only one qualifying squad, so there are no re-entries this event..
Reservations: Please email director@bowljbt.com to reserve a spot. You can prepay (not required) at the 'Prepaying' section of this website. Reservations (paid or unpaid) must check in no later than 15 minutes before start time. At that time, all bowlers will be taken on a first come, first serve basis until the field is full.
Format: Qualifying round is 5 games. The top 40% roll 3 additional games, then the top 4 bowl a stepladder finals.
Divisions/ Averages: Scratch or handicap. It is the bowlers' choice of division. Also, everyone age 16 or under as of 8/1/21 is automatically entered in the U-17 side event. Also, every female is automatically entered in the Girls Scratch side event. If this is your first JBT event this season, we will be asking for average info. In most cases, your highest average from any current form of organized competition of at least 15 games is what we need. If you bowl in multiple leagues / clubs, bring everything and we'll sort it out for you. After your first JBT event, your average is re-rated before every JBT event according to JBT rules. Please see JBT Rule 13 for complete details.
Points: This event counts for Mountain Conference and All-Conference points. Points qualify you for the big money season-ending Invitationals and Touring Players Championship, so get all you can. Visit the 'statistics' section of the website to check on your points. After this event, the top 32 in Mountain points, plus anyone who had a top-4 finish in a Mountain JBT event this season, advance to the Invitational.
Entry fee: $50 handicap; $60 scratch. Scholarship brackets are available for $2 each. Raffle tickets for Ebonite bowling balls, and our PowerBowl and '25' jackpots, are available on-site.
Covid details: JBT events follow- at least- all local Covid safety protocols, which you must be prepared for. Please stay posted so you're not surprised about anything required of you.
Scholarships: 1:6 in each division earn scholarships, scratch and handicap. Minimum prizes in scratch are $300, $150, $100, $60. In handicap, $250, $125, $75, $50. Bowlers must finish in the top 4 once this season to qualify for that conference's Invitational, which features $1,000 for first place. Bowlers who finish in the top 20 in a conference's points race, or the top 100 in all-conference points, qualify for the Touring Players Championship, featuring $2,000 for first.
Lane conditions: conditions vary from event to event, and are not posted prior to the event (unless otherwise announced). Some events do not post the pattern until after qualifying. Be ready for anything- it makes you a better bowler! Check out previous patterns and corresponding cut scores at the 'lane conditions' section of this website.
Dress code: Anything goes EXCEPT tank tops, hats, gym shorts, clothing promoting alcohol, drugs, or firearms, or excessively ripped or short clothing, subject solely to the director's discretion. However, bowlers wearing slacks or dress shorts/skirts, and a 'name shirt' or PBA-style 'dye-sub' shirt, or college or high school team shirt, earn an extra 10 points on their season-long points total. If you're not sure about dress code, check with us. If you're new to us, the vast majority of the bowlers do dress in the 'bonus' dress code, and those points become very important, so plan accordingly.
RESERVED BOWLERS:
PLEASE do not forget to contact us if you need to cancel or adjust your reservation.
| | | |
| --- | --- | --- |
| no. | bowler | 10 AM Sun |
| 1 | Ruiz-Jimenez, Aiden | x |
| 2 | Raymond, Shaiden | x |
| 3 | Mayes, Chris | x |
| 4 | Mayes, Hunter | x |
| 5 | Holman, Madison | x |
| 6 | Todacheenie, Xaden | x |
| 7 | Martinez, Seth | x |
| 8 | Romine, Tyler | x |
| 9 | Pacheco, Talyn | x |
| 10 | White, Cole | x |
| 11 | Lawrence, Robert | x |
| 12 | Delegarito, Gerilynn | x |
| 13 | Trujillo, Logan | x |
| 14 | Kielich, Kloey | x |
| 15 | Weddige, Justin | x |
| 16 | Morse, Katie | x |
| 17 | Ontiveros, Iliana | x |
| 18 | Ontiveros, Antonio | x |
| 19 | Fritts, Kallista | x |
| 20 | Nguyen, Nathan | x |
| 21 | Smith, Matt | x |
| 22 | Jesko, Brylee | x |
| 23 | Linares, Aileen | x |
| 24 | Meyer, Max | x |
| 25 | Max, Quintin | x |
| 26 | Delgado, Samuel | x |
| 27 | Thompson, Alex | x |
| 28 | Basey, Jared | x |
| 29 | Romero, Angela | x |
| 30 | Thalman, TJ | x |
| 31 | Benge, Caleb | x |
| 32 | Cdebaca, Montana | x |
| 33 | Wall, Brett | x |
| 34 | Estrada, Carlos | x |
| 35 | Dickson, Coy | x |
| | | |