BOWLERO VIA LINDA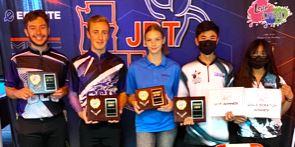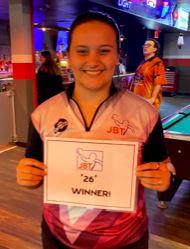 Ben Laffoon, Jake Fenn, Safyia Spiller, Josh Abigania, Katelyn Abigania, Koryn Marquez
Josh Abigania and Jake Fenn took down JBT titles in exciting Arizona Conference action at Bowlero Via Linda in Scottsdale.
Harper Schmidt made his first career scratch stepladder finals a success with a win over Michael Marmolejo to start it off. Abigania then beat Schmidt to move on to the title match. Top seed Ben Laffoon crushed the Route 66 lane pattern, leading both qualifying and matchplay to cruise to the number one spot. But Abigania is looking to have a breakout year, having already won in California. He won a terrific final game 237-226 to earn the second title of his rapidly improving JBT career!
Kamryn Wyman is off to a red hot start in the handicap division this season, and it continued with a big win over Jadeyn Mabry to begin the stepladder here. Newcomer Safiya Spiller then stopped Kamryn to advance to the title match. Fellow GCU student Jake Fenn was just as dominant as Laffoon was in his division, crushing the field en route to the top seed. He was able to continue the momentum here, firing another big game to defeat a fine effort from Spiller and claim his first career JBT title.
Josh's sister Katelyn Abigania earned the day's Priority Girls Scratch subdivision win over Kaitlyn Pennington, while Josh doubled his fun with a win over Schmidt for the U17 crown.
Big thanks to the team at Via Linda for their usual smooth hosting job. Want in on the fun for all skill levels and averages? Just check out our schedule and come on down, that's all there is to it!
Via Linda (Sat)- final results and scholarship winners
10/9/2021
Scratch Division
rank
bowler
prize
1
Josh Abigania
$335
2
Ben Laffoon
$175
3
Harper Schmidt
$125
4
Michael Marmolejo
$100
5
Brock Bivins
$80
6
Josh Williams
$70
7
Jackson Beltoya
$60
8
Skyler McGowan
9
Cesar Padilla
10
Joshua Molloy
11
Matthew Berg
12
Chris Mayes
13
Nathan Ryan
14
Nicholas Barrieault
15
Bradley Baltazar
16
Hayden Hull
17
Payton Workman
18
Mikey McQuisten
19
Alex Hartman
20
Mathew Adragna
21
Katelyn Abigania
$50
22
Shane Smith
23
Josh Brown
24
Allex Zieg
25
Madison Holman
26
Hunter Mayes
27
Noel Hernandez
28
Thomas Lawrence
29
Kaitlyn Hammer
30
Harrison Cole
31
CJ Todeschi
$10
32
Jason Gootzeit
33
Quinten Bell
34
Julian Stenroos
35
Mackenzie Paige
36
Ricky Pollom
37
Brendan Bobersky
38
Dodge Flynn
39
Seth Stovall
40
David Waybright
41
Cristian Roque
Handicap Division
1
Jake Fenn
$350
2
Safiya Spiller
$150
3
Kamryn Wyman
$125
4
Jadeyn Mabry
$100
5
Kieran Roth
$75
6
Xaden Todacheenie
$60
7
Nathan Tidball
$50
8
Bailey Knight
9
Jaden Workman
10
Paityn Gaines
11
Cayden Matherly
12
Danielle Fincham
13
Taylinn Uzzell
14
Kaoryn Marquez
15
Kaitlyn Pennington
$25
16
Jacob Ellis
17
Vikki Walker
18
Emily Rohrbacker
19
Dylan Donahue
20
Gerilynn Delegarito
21
Peyton Lee
22
Alisabeth Rich
23
Susan Meinhardt
24
Conner Pendergrass
25
Devin Fincham
26
Trevor Zieske
27
Lindsay Greim
28
Kendall Bollea
29
Terrell Coates
30
Kyler Harden
31
Gabriel Ortega
32
Jazmyn Meinhardt
33
Jack Saron
34
RJ Pointon
35
Aiden Ruiz-Jimenez
36
Jon Abigania
37
Connor Berll
38
Emily Zerbe
39
Mason Collins
Qualifying Leaders
Scratch
Handicap
1
Laffoon +229
Fenn +287
2
Marmolejo +153
Spiller +157
3
J Abigania +145
J Workman +137
Round Leaders
Scratch
Handicap
1
Marmolejo
L Greim
2
J Williams
J Workman
3
Marmolejo
Fenn
4
Laffoon
Fenn
5
Laffoon
Fenn
6
Laffoon
Fenn
7
Laffoon
Fenn
8
Laffoon
Fenn
U-17
Girls Scratch
1
J Abigania +145*
Pennington -15
2
Schmidt +81
K Abigania -17*
3
Padilla +78
Holman -41
4
K Abigania -17
K Hammer -59
5
Tidball -30
Marquez -76
6
Knight -45
Delegarito -108
7
Cole -60
Mabry -122
8
Donahue -72
Walker -137
9
Gootzeit -84
Paige -140
10
Roth -100
Fincham -143
Scratch High Game
1
J Abigania 299
2
Molloy 280
3
Schmidt 279
4
Bivins 269
5
Laffoon (2) 268
C Mayes 268
Handicap High Game
1
Fenn 283
2
Fenn 274
3
Fenn 272
4
Wyman 264
5
Marquez 257
Gaines 257
Mabry 257
TOTAL AWARDED THIS EVENT: $1,940
Date: Saturday October 9 (This is ONE tournament that is one day long. Sunday is a separate one day event. You can bowl only Saturday, only Sunday, or both).
Start Time: Saturday qualifying squad at Noon, one squad only.
Re-entries?: There's only one qualifying squad, so there are no re-entries this event..
Reservations: Please email director@bowljbt.com to reserve a spot. You can prepay (not required) at the 'Prepaying' section of this website. Reservations (paid or unpaid) must check in no later than 15 minutes before start time. At that time, all bowlers will be taken on a first come, first serve basis until the field is full.
Format: Qualifying round is 5 games. The top 40% bowl a 3 game semifinals.. The top 4 then do a stepladder finals.
Divisions/ Averages: Scratch or handicap. It is the bowlers' choice of division. Also, everyone age 16 or under as of 8/1/21 is automatically entered in the U-17 side event. Also, every female is automatically entered in the Girls Scratch side event. If this is your first JBT event this season, we will be asking for average info. In most cases, your highest average from any current form of organized competition of at least 15 games is what we need. If you bowl in multiple leagues / clubs, bring everything and we'll sort it out for you. After your first JBT event, your average is re-rated before every JBT event according to JBT rules. Please see JBT Rule 13 for complete details.
Points: This event counts for Arizona Conference and All-Conference points. Points qualify you for the big money season-ending Invitationals and Touring Players Championship, so get all you can. Visit the 'statistics' section of the website to check on your points. At the end of the season, the top 32 in Arizona points, plus anyone who had a top-4 finish in an Arizona JBT event this season, advance to the Invitational. Bowlers who finish in the top 20 in Arizona points, or the top 100 in all-conference points, qualify for the Touring Players Championship, featuring $2,000 for first.
Entry fee: $50 handicap; $60 scratch. Scholarship brackets are available for $2 each. Raffle tickets for Ebonite bowling balls, and our PowerBowl and '25' jackpots, are available on-site.
Covid details: JBT events follow- at least- all local Covid safety protocols, which you must be prepared for. Please stay posted so you're not surprised about anything required of you.
Outside food/beverage: One of the ways we negotiate reduced linage for tournaments is the anticipation of food and beverage sales. So, please refrain from bringing outside food and beverage into the center. Bringing in a Starbucks in the early morning before the restaurant opens is one thing, and sometimes no problem. Laying out a full spread from Texas Roadhouse is quite another. Some centers will strictly enforce the food/bev policy- please don't be offended, and please don't ignore their requests, so we can continue to visit our great host centers.
Scholarships: 1:6 in each division earn scholarships, scratch and handicap. Minimum prizes in scratch are $300, $150, $100, $60. In handicap, $250, $125, $75, $50. Bowlers must finish in the top 4 once this season to qualify for that conference's Invitational, which features $1,000 for first place. Bowlers who finish in the top 20 in a conference's points race, or the top 100 in all-conference points, qualify for the Touring Players Championship, featuring $2,000 for first.
Lane conditions: conditions vary from event to event, and are not posted prior to the event (unless otherwise announced). Some events do not post the pattern until after qualifying. Be ready for anything- it makes you a better bowler! Check out previous patterns and corresponding cut scores at the 'lane conditions' section of this website.
Dress code: Anything goes EXCEPT tank tops, hats, gym shorts, clothing promoting alcohol, drugs, or firearms, or excessively ripped or short clothing, subject solely to the director's discretion. However, bowlers wearing slacks or dress shorts/skirts, and a 'name shirt' or PBA-style 'dye-sub' shirt, or college or high school team shirt, earn an extra 10 points on their season-long points total. If you're not sure about dress code, check with us. If you're new to us, the vast majority of the bowlers do dress in the 'bonus' dress code, and those points become very important, so plan accordingly.
RESERVED BOWLERS:
PLEASE do not forget to contact us if you need to cancel or adjust your reservation.
| | | |
| --- | --- | --- |
| no. | bowler | Noon Sat |
| 1 | Abigania, Jon | x |
| 2 | Abigania, Josh | x |
| 3 | Abigania, Katelyn | x |
| 4 | Adragna, Mathew | x |
| 5 | Baltazar, Bradley | x |
| 6 | Bell, Connor | x |
| 7 | Bell, Quinn | x |
| 8 | Berg, Matthew | x |
| 9 | Bivins, Brock | x |
| 10 | Bobersky, Brendan | x |
| 11 | Bollea, Kendall | x |
| 12 | Brown, Josh | x |
| 13 | Cardines, Cerell | x |
| 14 | Coates, Terrell | x |
| 15 | Cole, Harrison | x |
| 16 | Collins, Mason | x |
| 17 | Delegarito, Gerilynn | x |
| 18 | Donahue, Dylan | x |
| 19 | Fenn, Jake | x |
| 20 | Fincham, Danielle | x |
| 21 | Fincham, Devin | x |
| 22 | Flynn, Dodge | x |
| 23 | Gaines, Paityn | x |
| 24 | Gootzeit, Jason | x |
| 25 | Greim, Lindsay | x |
| 26 | Hammer, Kaitlyn | x |
| 27 | Harden, Kyler | x |
| 28 | Hartman, Alexander | x |
| 29 | Hernandez, Noel | x |
| 30 | Holman, Madison | x |
| 31 | Hull, Hayden | x |
| 32 | Knight, Bailey | x |
| 33 | Laffoon, Ben | x |
| 34 | Lawrence, Thomas | x |
| 35 | Lee, Peyton | x |
| 36 | Mabry, Jadeyn | x |
| 37 | Marquez, Koryn | x |
| 38 | Mayes, Chris | x |
| 39 | Mayes, Hunter | x |
| 40 | McGowan, Skyler | x |
| 41 | Meinhardt, Jazmyn | x |
| 42 | Meinhardt, Susan | x |
| 43 | Molloy, Joshua | x |
| 44 | Ortega, Gabriel | x |
| 45 | Padilla, Cesar | x |
| 46 | Paige, Mackenzie | x |
| 47 | Pendergrass, Conner | x |
| 48 | Pennington, Kaitlyn | x |
| 49 | Pollom, Ricky | x |
| 50 | Raymond, Shaiden | x |
| 51 | Rich, Alisabeth | x |
| 52 | Rohrbacker, Emily | x |
| 53 | Roque, Cristian | x |
| 54 | Roth, Kieran | x |
| 55 | Ruiz-Jimenez, Aiden | x |
| 56 | Ryan, Nathan | x |
| 57 | Schmidt, Harper | x |
| 58 | Scotford, Brockton | x |
| 59 | Smith, Shane | x |
| 60 | Stenroos, Julian | x |
| 61 | Stovall, Seth | x |
| 62 | Tidball, Nathan | x |
| 63 | Todacheenie, Xaden | x |
| 64 | Walker, Vikki | x |
| 65 | Waybright, David | x |
| 66 | Williams, Josh | x |
| 67 | Workman, Jaden | x |
| 68 | Workman, Payton | x |
| 69 | Zerbe, Emily | x |
| 70 | Zieske, Trevor | x |
| 71 | Spiller, Safiya | x |
| 72 | | |
| 73 | | |