SO CAL BAKER TEAM CHALLENGE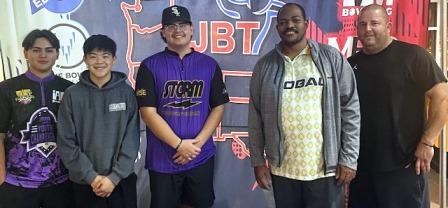 Ronnie Castillo, Joshua Yamauchi, Zachary Jellsey, Andre Eubanks, Zack Jellsey
A talented quintet captured the title at the JBT So Cal Baker Team Challenge, hosted by Montclair's Bowlium Lanes.
The team of "For Henry" (Sarah, Andrew, Mac, Ricky, Oscar) led qualifying, but fell in the semifinals to the eventual champs. The all-youth Las Vegas quintet- who all love their moms- would face them, but a great finish in game two by Andrew and Zack locked up a 2-0 title match sweep, and JBT titles for Ronnie Castillo, Joshua Yamauchi, and Zachary Jellsey.
Brandon Howard won a $50 scholarship bonus for winning the 'halftime show' competition, while Andre won the adult version for a $50 bonus. Huge thanks to Al and the Bowlium teams for giving us Saturday night lanes to host this annual favorite, as well as all the adult bowlers taking the time to bowl with today's JBT kids. Want in on all this fun? Just check out our schedule and come on down!
So Cal Baker Team Challenge- final results and scholarship winners
11/26/2022
no.
bowler
partner
partner
partner
partner
prize*
1
Jellsey, Zack
Hornacek, Bobby
Jellsey, Zachary
Yamauchi, Joshua
Castillo, Ronnie
$500
2
Huffman, Sebastian
Montoya, Dom
Montoya, Devin
Castronova, Tyler
Griffin, JP
$400
3
Lee, Sarah
Guba, Andrew
Kaurin, Mac
Pollom, Ricky
Chan, Oscar
$200
4
Baker, Gage
Sham, Caden
Baker, Mark
Schanen, Anthony
Salama, Solomon
$200
5
Abigania, Jon
Abigania, Josh
Abigania, Katelyn
Rees, Nic
Rees, Lizzy
$100
6
Fernandez, Hayden
Fernandez, Gavin
Harnit, Nathan
Harnit, Nicholas
Barczyszyn, JR
$100
7
Ferrell, Manny
Rees, Clay
Brown, Luke
Miric, Sara
Urittia, Alejandra
8
Purugganan, Kaili
Hong, Daniel
Hong, Stephanie
Chin, Leoj
Chin, Lathan
9
Soto, Ashley
Soto, Rick
Soto, Ethan
Reed, Kyle
Albert, Justin
10
Purugganan, Brent
Welch, Lamaki
Jones, Kevin
Kankariya, Jai
Bigornia, Calista
11
Martak, Stone
Ochoa, James
Bivins, Brock
Cummings, Chris
Smith, Tanner
12
Simmons, Chase
Shepard, Aarin
Rios, Daniel
Brown, Jake
Beilowitz, Jim
13
Bobersky, Brendan
Molloy, Josh
Keene, Britton
Tidball, Nathan
Keller, Grant
14
Velasco, Xander
Aquningoc, Bryce
Velasco, Martin
Velasco, Mike
Fisher, Dominic
15
Rother, Brandon
Nakunz, Bryce
Wang, Jerry
Jimeno, Porfirio
Nakunz, Mike
16
Yukihiro, Kaitlynn
Kimura, Brayden
Yamatsuka, Drew
Morita, Matt
Chun, Samuel
17
Torres, Eddie
Kankariya, Neel
Ward, Andrew
Ahlen, Lucas
Meraz, Zoey
18
Powers, Wyman
Waybright, Chester
Powers, Troyace
Regpala, Gabriel
Taylor, Kameron
19
McElroy, Benaiah
Gutierrez, Jesus
Erickson, Justin
Emery, Miranda
Gruman, Bruce
20
Eubanks, Wiley
Boyce, Jason
Azvedo, Allison
Azvedo, Jaclyn
Howard, Brandon
$50**
21
Purugganan, Garrett
Peavy, Mark
Jimeno, Porfirio
Weed, Jason
Donahue, Dylan
22
Griffin, Kaitlyn
Fiel, Ian
Santos, Ethan
Asberry, Kevin
Asberry, James
23
Ceballos, Ivan
Smyth, Ryleigh
Carrillo, Jason
Beck, Jazmyn
Henkels, Yuron
24
Mota, Ernie
Adkins, Jerod
Smyth, Keir
Henkels, Manuel
Smyth, William
*prizes split equally between youth bowlers on the team
**Brandon won $50 from the 'halftime contest'!
click here for the flyer, which has all the info on this awesome event!
This event is full and on a wait list. Please email director@bowljbt.com to get on the list, or for any changes to the reserved list below!
Date: Saturday November 26, 2022 (This is ONE tournament that is one day long. Teams can have up to 2 adults (adult is anyone 22 and over as of 8/1/22) Teams must have at least one bowler with a 170 or under average- see below and flyer for details). This is a scratch-scoring tournament, but teams with more than one 170&under bowler receive 8 bonus pins per game per extra 170&under bowler.
Start Time: Bowling begins at 7 PM, or as soon as the lanes can be re-oiled at the conclusion of the earlier Doubles event..
Re-entries?: There's only one qualifying squad, so there are no re-entries this event..
Reservations: Please email director@bowljbt.com to reserve a spot. You can prepay (not required) at the 'Prepaying' section of this website. Reservations (paid or unpaid) must check in no later than 15 minutes before start time. At that time, all bowlers will be taken on a first come, first serve basis until the field is full.
Format: Qualifying round is 10 Baker games. The top 8 teams (if 11+ entries) advance to best 2-of-3 matchplay.
Divisions/ Averages: Scratch only. However, each team must have at least one bowler averaging 170 or less as of 11/8/22. Additional 170 and under bowlers receive 8 pins per game for their team.
Points: This event still counts for Southern California Conference, and All-Conference points. Points qualify you for the big money season-ending Invitationals and Touring Players Championship, so get all you can. Visit the 'statistics' section of the website to check on your points. As the end of the season, the top 32 in Southern California Conference points, plus anyone who had a top-4 finish in a Southern California Conference event this season (including this), advance to their respective Invitationals.
Entry fee: $125 per team.
Sponsor Incentive bonuses: 1) IAM Bowling: Bowlers making the final match of an event (scratch or handicap) wearing an IAM patch (good), any IAM shirt (better), or an IAM JBT shirt (best) earn point bonuses towards a $5,000 IAM incentive jackpot. (The IAM patch is requested to be worn by all bowlers). 2) Virtue Bowling: Bowlers making the final match of an event (scratch or handicap, win or lose), using a Virtue Bowling shirt or patch, and a Virtue drilled ball, earn a $25 Virtue gift card.
Covid details: JBT events follow- at least- all local Covid safety protocols, which you must be prepared for. Please stay posted so you're not surprised about anything required of you.
Scholarships: 1:6 teams earn scholarships.. Minimum prizes are $500, $250, $150, $150. Bowlers must finish in the top 4 once this season to qualify for that conference's Invitational, which features $1,000 for first place. Bowlers who finish in the top 20 in a conference's points race, or the top 100 in all-conference points, qualify for the Touring Players Championship, featuring $2,500 for first.
Lane conditions: conditions vary from event to event, and are not posted prior to the event (unless otherwise announced). Some events do not post the pattern until after qualifying. Be ready for anything- it makes you a better bowler! Check out previous patterns and corresponding cut scores at the 'lane conditions' section of this website.
Dress code: Anything goes EXCEPT tank tops, hats, gym shorts, clothing promoting alcohol, drugs, or firearms, or excessively ripped or short clothing, subject solely to the director's discretion. Team 'uniform' is encouraged but definitely not required. There is no 10-point dress code bonus at this event.