CERBAT LANES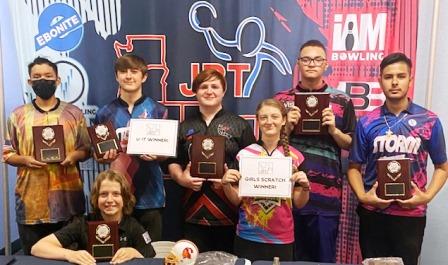 Miguel Espinoza, Cameron Sager, Tyler Castronova, Conner Pendergrass, Danielle Fincham, Amarr Bryant, Cesar Padilla
Two bowlers tasted JBT victory for the first time, in very exciting JBT dual Arizona-Mojave Conference action at Cerbat Lanes in Kingman.
After five games, top bowlers moved on to a matchplay bracket. #2 seed Amarr Bryant reached his first title match with a semifinal win over Tyler Castronova, while top seed Cesar Padilla had to go overtime, tying Ben Laffoon at 224, then escaping 9-8 in the rolloff to set up a 1 vs. 2 final. The title game was low scoring but a thriller between the two high-power bowlers. When Cesar didn't get the first of two strikes he needed in the tenth, the rapidly improving Bryant claimed his first career JBT title.
In the handicap divisional Conner Pendergrass defended his top seed with a semifinal win over Cameron Sager, while Miguel Espinza won a back and forth thriller over Sterling Smith 247-239 to set up the title game. Both bowlers bowled well in the first title match, but in the end it was Pendergrass that came through with the win to earn his first career JBT title.
Castronova got revenge with a U17 win over Daryus Alo, while Danielle Fincham beat Jadeyn Mabry for the Girls Scratch subdivision win. Huge thanks as always to the great team at Cerbat for their usual top notch hosting job. That makes 16 of 16 different finalists on the weekend- wow! Get your piece of the parity by checking out the schedule and coming on down to the next JBT event!
Cerbat Lanes- final results and scholarship winners
9/11/2022
Scratch Division
rank
bowler
prize
1
Amarr Bryant
$300
2
Cesar Padilla
$331
3
Tyler Castronova
$175
4
Ben Laffoon
$140
5
Josh Molloy
$115
6
Josh Burnett
$80
7
Wesley Cunningham
$70
8
Braxton Sexton
$60
9
Brock Bivins
10
CJ Todeschi
11
Daryus Alo
12
Keith Ylvisaker
13
Harper Schmidt
$14
14
Thomas Lawrence
$15
15
Payton Workman
16
Cayden Matherly
17
Jadeyn Mabry
$25
18
Dylan Donahue
19
Jason Gootzeit
20
Daniel Gaudern
21
Andrew Sager
22
Eric Gauna
23
Koryn Marquez
24
Aiden Ruiz-Jimenez
25
Mackenzie Paige
26
Matthew Garrett
27
Brendan Bobersky
28
JR Barczyszyn
29
Kendall Bollea
30
Mike Jones
31
CJ Henry
32
Robert Lawrence
33
Kaitlyn Hammer
34
Reiley King
35
Liam Bakalich
36
Gyrys Alo
37
Andrew Merrell
38
Caden Meliska
39
Bailey Knight
40
Gabriel Ortega
41
Ashton Edge
42
Jacob Ellis
43
Mason Snow
44
Ian Silva
45
Tyson Lopes
Handicap Division
1
Conner Pendergrass
$374
2
Miguel Espinoza
$175
3
Sterling Smith
$170
4
Cameron Sager
$100
5
Nathan Bravo
$75
6
Abigail Hunt
$75
7
Paityn Gaines
8
Steve Abarca
$30
9
Thomas Glass
10
Nathan Harnit
$49
11
Abigail London
12
Danielle Fincham
$50
13
Sam WInemiller
14
Blain Voclain
15
Gage Baker
16
Caden Sham
17
Isaiah Pino
18
Chase Simmons
19
Devin Fincham
20
Lily Winemiller
21
Zackatry Evans
22
RJ Pointon
23
Terrell Coates
24
Araceli Hunt
25
Joanna Molloy
26
Ethan Roxborough
27
Nicholas Harnit
$20
28
Hailee Voclain
29
Peyton Lee
$14
30
Asher Toberer
31
Kieran Roth
32
Kloey Kielich
$30
33
Austin Nash
34
Madeleine Serafini
High Games
Scratch
Handicap
1
Bryant 278
Pendergrass 292
2
Castronova 269
C Sager 275
3
Molloy 268
T Glass 267
4
Bryant 258
Nathan Harnit 265
5
Padilla 255
Gaines, Da. Fincham 260
High Female
1
Da. Fincham -35
2
Mabry -54
3
Marquez -76
4
Paige -77
5
Bollea -91
6
Hammer -110
7
Gaines -166
8
A London -172
9
Ab Hunt -191
10
P Lee -200
Qualifying Leaders
Scratch
Handicap
1
Padilla +186
Pendergrass +194
2
BryanT +142
Bravo +176
3
Castronova +101
Glass +175
U-17
1
Castronova +101
2
D Alo -5
3
Baker -22
4
Sextob -34
5
Schmidt -36
6
C Pendergrass -46
7
Bravo -54
8
J Mabry -54
9
Gootzeit -56
10
Nathan Harnit -66
Round Leaders
Scratch
Handicap
1
Bryant
Da. Fincham
2
Padilla
Da. Fincham
3
Padilla
T Glass
4
Padilla
T Glass
5
Padilla
C Pendergrass
Total Awarded This Event: $2,509
Date: Sunday September 11, 2022 (This is ONE tournament that is one day long, open to anyone age 21 & under as of 8/1/22).
Start Time: Bowling begins at 9:30 AM (Arizona time).
Re-entries?: There's only one qualifying squad, so there are no re-entries this event..
Reservations: Please email director@bowljbt.com to reserve a spot. You can prepay (not required) at the 'Prepaying' section of this website. Reservations (paid or unpaid) must check in no later than 15 minutes before start time. At that time, all bowlers will be taken on a first come, first serve basis until the field is full.
Format: Qualifying round is 5 games. The top 40% advance to head to head matchplay.
Divisions/ Averages: Scratch or handicap. It is the bowlers' choice of division. Also, everyone age 16 or under as of 8/1/22 is automatically entered in the U-17 side event. Also, every female is automatically entered in the Girls Scratch side event. If this is your first JBT event this season, we will be asking for average info. In most cases, your highest average from any current form of organized competition of at least 15 games is what we need. If you bowl in multiple leagues / clubs, bring everything and we'll sort it out for you. If you don't have 15+ games in any organized competition this season, we need your finishing 21-22 average, and any 2022 summer averages. After your first JBT event, your average is re-rated before every JBT event according to JBT rules. Please see JBT Rule 13 for complete details.
Points: This event counts for Arizona, Mojave, and All-Conference points. Points qualify you for the big money season-ending Invitationals and Touring Players Championship, so get all you can. Visit the 'statistics' section of the website to check on your points. As the end of the season, the top 32 in Arizona or Mojave points, plus anyone who had a top-4 finish in an Arizona or Mojave event this season, advance to their respective Invitationals.
Entry fee: $60. Scholarship brackets are available for $2 each. Raffle tickets for Ebonite bowling balls, and our PowerBowl and '27' jackpots, are available on-site.
Sponsor Incentive bonuses: 1) IAM Bowling: Bowlers making the final match of an event (scratch or handicap) wearing an IAM patch (good), any IAM shirt (better), or an IAM JBT shirt (best) earn point bonuses towards a $5,000 IAM incentive jackpot. (The IAM patch is requested to be worn by all bowlers). 2) Virtue Bowling: Bowlers making the final match of an event (scratch or handicap, win or lose), using a Virtue Bowling shirt or patch, and a Virtue drilled ball, earn a $25 Virtue gift card.
Covid details: JBT events follow- at least- all local Covid safety protocols, which you must be prepared for. Please stay posted so you're not surprised about anything required of you.
Scholarships: 1:6 in each division earn scholarships, scratch and handicap. Minimum prizes are $300, $150, $100, $60. Bowlers must finish in the top 4 once this season to qualify for that conference's Invitational, which features $1,000 for first place. Bowlers who finish in the top 20 in a conference's points race, or the top 100 in all-conference points, qualify for the Touring Players Championship, featuring $2,500 for first.
Lane conditions: conditions vary from event to event, and are not posted prior to the event (unless otherwise announced). Some events do not post the pattern until after qualifying. Be ready for anything- it makes you a better bowler! Check out previous patterns and corresponding cut scores at the 'lane conditions' section of this website.
Dress code: Anything goes EXCEPT tank tops, hats, gym shorts, clothing promoting alcohol, drugs, or firearms, or excessively ripped or short clothing, subject solely to the director's discretion. However, bowlers wearing slacks or dress shorts/skirts, and a 'name shirt' or PBA-style 'dye-sub' shirt, or college or high school team shirt, earn an extra 10 points on their season-long points total. If you're not sure about dress code, check with us. If you're new to us, the vast majority of the bowlers do dress in the 'bonus' dress code, and those points become very important, so plan accordingly.
RESERVED BOWLERS:
This reservation is an expectation that you will be bowling. PLEASE do not forget to contact us if you need to cancel or adjust your reservation. Repeated 'no-shows' may result in you not being able to reserve a spot. This list may not be updated after the Friday of the event as we travel, etc. However, walk-ins / late entries are still gladly accepted as space permits. There is generally plenty of room for walk-ins / late entries, and we'll post here clearly if an event is nearing sellout or sold out.
| | | |
| --- | --- | --- |
| no. | bowler | 9:30 Sun |
| 1 | Abarca, Steve | x |
| 2 | Alo, Daryus | x |
| 3 | Alo. Gyrus | x |
| 4 | Baker, Gage | x |
| 5 | Barczyszyn, JR | x |
| 6 | Bell, Connor | x |
| 7 | Bell, Quinten | x |
| 8 | Bivins, Brock | x |
| 9 | Bobersky, Brendan | x |
| 10 | Bollea, Evelynn | x |
| 11 | Bollea, Kendall | x |
| 12 | Bravo, Nathan | x |
| 13 | Bryant, Amarr | x |
| 14 | Bullard, Briella | x |
| 15 | Burnett, Joshua | x |
| 16 | Castronova, Tyler | x |
| 17 | Coates, Terrell | x |
| 18 | Donahue, Dylan | x |
| 19 | Edge, Ashton | x |
| 20 | Ellis, Jacob | x |
| 21 | Espinoza, Miguel | x |
| 22 | Evans, Zackary | x |
| 23 | Gaines, Paityn | x |
| 24 | Garrett, Matthew | x |
| 25 | Gaudern, Daniel | x |
| 26 | Glass, Thomas | x |
| 27 | Gootzeit, Jason | x |
| 28 | Hammer, Kaitlyn | x |
| 29 | Harnit, Nathan | x |
| 30 | Harnit, Nicholas | x |
| 31 | Henry, CJ | x |
| 32 | Hunt, Abigail | x |
| 33 | Hunt, Araceli | x |
| 34 | Kielich, Kloey | x |
| 35 | King, Reiley | x |
| 36 | Knight, Bailey | x |
| 37 | Lawrence, Thomas | x |
| 38 | Lee, Peyton | x |
| 39 | Leong, Dylan | x |
| 40 | Lopes, Tyson | x |
| 41 | Mabry, Jadeyn | x |
| 42 | Marquez, Koryn | x |
| 43 | Matherly, Cayden | x |
| 44 | Meliska, Caden | x |
| 45 | Molloy, Joanna | x |
| 46 | Molloy, Josh | x |
| 47 | Montoya, Devin | x |
| 48 | Montoya, Dominic | x |
| 49 | Nakunz, Bryce | x |
| 50 | Nash, Austin | x |
| 51 | Ortega, Gabriel | x |
| 52 | Ortega, Gabriel | x |
| 53 | Padilla, Cesar | x |
| 54 | Paige, Mackenzie | x |
| 55 | Pendergrass, Conner | x |
| 56 | Pino, Isaiah | x |
| 57 | Pointon, RJ | x |
| 58 | Rich, Alisabeth | x |
| 59 | Roth, Keiran | x |
| 60 | Roxborough, Ethan | x |
| 61 | Ruiz-Jimenez, Aiden | x |
| 62 | Sager, Andrew | x |
| 63 | Sager, Cameron | x |
| 64 | Schmidt, Harper | x |
| 65 | Serafini, Madeleine | x |
| 66 | Sexton, Braxton | x |
| 67 | Sham, Caden | x |
| 68 | Simmons, Chase | x |
| 69 | Snow, Mason | x |
| 70 | Toberer, Asher | x |
| 71 | Todeschi, CJ | x |
| 72 | Voclain, Blain | x |
| 73 | Voclain, Hailee | x |
| 74 | Winemiller, Lily | x |
| 75 | Winemiller, Sam | x |
| 76 | Workman, Payton | x |
| 77 | Ylvisaker, Keith | x |
| 78 | Fincham. Danielle | x |
| 79 | Fincham, Quinten | x |
| 80 | Lawrence, Robert | x |
| 81 | | |