CROWN LANES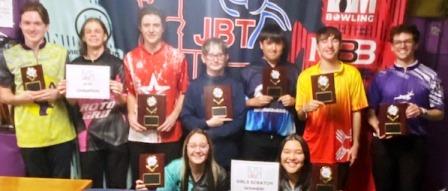 Dmitri Richardson, Tyler Close, Anthony Morella, Kamryn Kelsey, Mason VanDeventer, Payton DeMerritt, Avery Domaguin, Land Matthies, Nicholas Barrieault
Two bowlers earned their first career JBT titles with big victories in exciting Mountain Conference action at Crown Lanes in Denver.
Avery Domaguin, who began the Mountain season with the YNMO win, began a climb to start 2-0 with a 237-237 win over Dmitri Richardson to begin the scratch division stepladder finals. Nicholas Barrieault then stopped Domaguin 183-170 to reach his first career title match.
Top seed Anthony Morella was enjoying his best results of any tournament, but both he and GCU standout Barrieault struggled in the final. In the end, Anthony saved one of his best shots for last, as his tenth frame strike locked up a 175-167 win, good for his first career JBT title.
Land Matthies began the handicap finals with a 213-208 squeaker over Kamryn Kelsey. Payton DeMerritt then avenged his fellow Artesian with a big 290-197 win to advance to his first title game. His opponent, Mason VanDeVenter, was also a title match rookie, but was able to control the nerves and bowl a solid game en route to a 252-197 win and his first career JBT title.
Domaguin also claimed Girls Scratch with a win over Gerilynn Delegarito, and Tyler Close earned the U17 subdivision win with a victory over Diego Lujan. Braden Wearly took home a ball of his choice from the Brands of Brunswick, our fantastic title sponsor. Huge thanks to the team at Crown for another smooth hosting job, and everyone for coming. Want in on all the fun for all skill levels? Just check out our schedule and come on down!
Crown Lanes- final results and scholarship winners
10/29/2022
Scratch Division
rank
bowler
prize
1
Anthony Morella
$300
2
Nicholas Barrieault
$175
3
Avery Domaguin
$200
4
Dmitri Richardson
$178
5
Josh Molloy
$128
6
Michael Maestas
$75
7
Jaxson Garton
$15
8
Gabriel Chavez
9
Tyler Close
$59
10
Lucas Finley
11
Diego Lujan
12
Gerilynn Delegarito
$25
13
Raider Ramsdell
14
Brady Kufeldt
15
Cuzack Bove
$28
16
Brendan Bobersky
17
Kallista Fritts
18
Derick Romero
19
Brenden Williams
20
Joshua Ruehlen
21
Katie Perez
22
Carlos Estrada
23
Kyler Kuretich
24
Jack Triebelhorn
25
Kinzie Temple
26
Gianna Panetta
27
Ian Silva
28
Kai Faulhaber
29
Gavin Finley
30
Adam Sakowski
31
Nico Giambri
32
Tyler Romine
$40
33
Donovan Romero
34
Chad Schafer
35
Thomas Lawrence
Handicap Division
1
Mason Vandeventer
$360
2
Payton DeMerritt
$175
3
Land Matthies
$150
4
Kamryn Kelsey
$139
5
Shaiden Raymond
$115
6
Gabriel DeBates
$75
7
Ivan John
$60
8
Aidan Flores
$60
9
Mya Kay Williams
10
Collin Scriggs
11
Talyn Pacheco
12
Nicholas Haldeman
$30
13
Braden Wearly
14
Matthew Trujillo
15
Nayt Beery
16
Zach Sterkel
17
Peyton Lee
$30
18
Katie Morse
19
Lucia Giambri
20
Casie Kranz
21
Malcolm DeBates
22
Dylan Frey
23
Brent McIntire
$14
24
Kaliana Larson
25
Angela Romero
26
Caleb Benge
27
Jake Campbell
28
Karlie Temple
29
Xaden Todacheenie
30
Josie Herson
31
Layne Brooks
32
Ausin Morin
33
Jordan Wisthoff
34
Finn Schillinger
35
Sam Sitler
36
Brant Williams
37
Kayla Wood
38
Madisyn Larson
39
Dylan Flores
U-17
Girls Scratch
1
Lujan +167
Delegarito +90
2
T Close +117*
Domaguin +90*
3
Richardson +106
Fritts -4
4
Domaguin +90
Kelsey -13
5
Chavez +75
Perez -57
6
Garton +39
Kinzie Temple -63
7
Ramsdell +17
Panetta -67
8
S Raymond +14
Giambri -93
9
Bove +12
P Lee -132
10
Bren. Williams -37
K Morse -137
Qualifying Leaders
Scratch
Handicap
1
Barrieault +235
VanDeventer +219
2
Lujan +167
S Raymond +159
3
Morella +142
G DeBates +152
Round Leaders
Scratch
Handicap
1
Ramsdell
L Giambri
2
Lujan
L Giambri
3
Lujan
VanDeventer
4
Lujan
VanDeventer
5
Barrieault
VanDeventer
6
Barrieault
VanDeventer
7
Barrieault
VanDeventer
8
Morella
VanDeventer
Scratch High Game
1
Lujan 279
2
Morella 279
3
Morella 269
4
Ramsedell 269
5
Delegarito 264
Handicap High Game
1
DeMerritt 312
2
Matthies 295
3
DeMerritt 290
4
VanDeventer 283
5
Matthies 276
TOTAL AWARDED THIS EVENT: $2,306
Event nearing sellout- please reserve your spots asap. If the reserved list (below) sells out, you're welcome to come down and see if any spots open up. Any reserved spots not on line to check in 15 minutes before start time will lose their spot to wait list spots (and be put on the wait list themselves).
Date: Saturday October 29, 2022 (This is ONE tournament that is one day long, open to anyone age 21 & under as of 8/1/22).
Start Time: Bowling begins at 1 PM.
Re-entries?: There's only one qualifying squad, so there are no re-entries this event..
Reservations: Please email director@bowljbt.com to reserve a spot. You can prepay (not required) at the 'Prepaying' section of this website. Reservations (paid or unpaid) must check in no later than 15 minutes before start time. At that time, all bowlers will be taken on a first come, first serve basis until the field is full.
Format: Qualifying round is 5 games. The top 40% bowl a 3 game semifinals. The top 4 then do a stepladder finals.
Divisions/ Averages: Scratch or handicap. It is the bowlers' choice of division. Also, everyone age 16 or under as of 8/1/22 is automatically entered in the U-17 side event. Also, every female is automatically entered in the Girls Scratch side event. If this is your first JBT event this season, we will be asking for average info. In most cases, your highest average from any current form of organized competition of at least 15 games is what we need. If you bowl in multiple leagues / clubs, bring everything and we'll sort it out for you. If you don't have 15+ games in any organized competition this season, we need your finishing 21-22 average, and any 2022 summer averages. After your first JBT event, your average is re-rated before every JBT event according to JBT rules. Please see JBT Rule 13 for complete details.
Points: This event counts for Mountain and All-Conference points. Points qualify you for the big money season-ending Invitationals and Touring Players Championship, so get all you can. Visit the 'statistics' section of the website to check on your points. As the end of the season, the top 32 in Mountain points, plus anyone who had a top-4 finish in a Mountain event this season, advance to their respective Invitationals.
Entry fee: $60. Scholarship brackets are available for $2 each. Raffle tickets for Ebonite bowling balls, and our PowerBowl and '27' jackpots, are available on-site.
Sponsor Incentive bonuses: 1) IAM Bowling: Bowlers making the final match of an event (scratch or handicap) wearing an IAM patch (good), any IAM shirt (better), or an IAM JBT shirt (best) earn point bonuses towards a $5,000 IAM incentive jackpot. (The IAM patch is requested to be worn by all bowlers). 2) Virtue Bowling: Bowlers making the final match of an event (scratch or handicap, win or lose), using a Virtue Bowling shirt or patch, and a Virtue drilled ball, earn a $25 Virtue gift card.
Covid details: JBT events follow- at least- all local Covid safety protocols, which you must be prepared for. Please stay posted so you're not surprised about anything required of you.
Scholarships: 1:6 in each division earn scholarships, scratch and handicap. Minimum prizes are $300, $150, $100, $60. Bowlers must finish in the top 4 once this season to qualify for that conference's Invitational, which features $1,000 for first place. Bowlers who finish in the top 20 in a conference's points race, or the top 100 in all-conference points, qualify for the Touring Players Championship, featuring $2,500 for first.
Lane conditions: conditions vary from event to event, and are not posted prior to the event (unless otherwise announced). Some events do not post the pattern until after qualifying. Be ready for anything- it makes you a better bowler! Check out previous patterns and corresponding cut scores at the 'lane conditions' section of this website.
Dress code: Anything goes EXCEPT tank tops, hats, gym shorts, clothing promoting alcohol, drugs, or firearms, or excessively ripped or short clothing, subject solely to the director's discretion. However, bowlers wearing slacks or dress shorts/skirts, and a 'name shirt' or PBA-style 'dye-sub' shirt, or college or high school team shirt, earn an extra 10 points on their season-long points total. If you're not sure about dress code, check with us. If you're new to us, the vast majority of the bowlers do dress in the 'bonus' dress code, and those points become very important, so plan accordingly.
RESERVED BOWLERS:
This reservation is an expectation that you will be bowling. PLEASE do not forget to contact us if you need to cancel or adjust your reservation. Repeated 'no-shows' may result in you not being able to reserve a spot. This list may not be updated after the Friday of the event as we travel, etc. However, walk-ins / late entries are still gladly accepted as space permits. There is generally plenty of room for walk-ins / late entries, and we'll post here clearly if an event is nearing sellout or sold out.
Event nearing sellout- please reserve your spots asap. If the reserved list (below) sells out, you're welcome to come down and see if any spots open up. Any reserved spots not on line to check in 15 minutes before start time will lose their spot to wait list spots (and be put on the wait list themselves).
| | | |
| --- | --- | --- |
| no. | bowler | 1 PM Sat |
| 1 | Barrieault, Nicholas | x |
| 2 | Beery, Nayt | x |
| 3 | Benge, Wes | x |
| 4 | Bobersky, Brendan | x |
| 5 | Bove, Cuzack | x |
| 6 | Campbell, Jake | x |
| 7 | Chavez, Gabriel | x |
| 8 | Close, Tyler | x |
| 9 | DeBates, Gabriel | x |
| 10 | DeBates, Malcolm | x |
| 11 | Delegarito, Gerilynn | x |
| 12 | DeMerritt, Peyton | x |
| 13 | Dinenberg, Ben | x |
| 14 | Disecker, River | x |
| 15 | Faulhaber, Kai | x |
| 16 | Finley, Gavin | x |
| 17 | Finley, Lucas | x |
| 18 | Flores, Dylan | x |
| 19 | Frey, Dylan | x |
| 20 | Fritts, Kallista | x |
| 21 | Garton, Jaxson | x |
| 22 | Giambri, Lucia | x |
| 23 | Haldeman, Nicholas | x |
| 24 | Herson, Josie | x |
| 25 | Honeycutt, Katie | x |
| 26 | John, Isaac | x |
| 27 | John, Ivan | x |
| 28 | Kelsey, Kamryn | x |
| 29 | Kranz, Casie | x |
| 30 | Kufeldt, Brady | x |
| 31 | Kuretich, Kyler | x |
| 32 | Larson, Kaliana | x |
| 33 | Larson, Madisyn | x |
| 34 | Lawrence, Thomas | x |
| 35 | Lee, Peyton | x |
| 36 | Lujan, Diego | x |
| 37 | Maestas, Michael | x |
| 38 | Matthies, Land | x |
| 39 | McIntire, Brent | x |
| 40 | Molloy, Joshua | x |
| 41 | Morella, Anthony | x |
| 42 | Morin, Austin | x |
| 43 | Morse, Katie | x |
| 44 | Pachecho, Talyn | x |
| 45 | Perez, Katie | x |
| 46 | Raymond, Shaiden | x |
| 47 | Richardson, Dmitri | x |
| 48 | Romero, Angela | x |
| 49 | Romero, Derick | x |
| 50 | Romero, Donovan | x |
| 51 | Romine, Tyler | x |
| 52 | Ruehlen, Joshua | x |
| 53 | Sabo, Harli | x |
| 54 | Schillinger, Finnian | x |
| 55 | Scruggs, Collin | x |
| 56 | Sharp, Sam | x |
| 57 | Silva, Ian | x |
| 58 | Sterkel, Zack | x |
| 59 | Temple, Karlie | x |
| 60 | Temple, Kinzie | x |
| 61 | Todacheenie, Xaden | x |
| 62 | VanDeventer, Mason | x |
| 63 | Wearly, Braden | x |
| 64 | Williams, Brant | x |
| 65 | Williams, Brenden | x |
| 66 | Williams, Mya | x |
| 67 | Wisthoff, Jordan | x |
| 68 | Wood, Kayla | x |
| 69 | | |
| 70 | | |
| 71 | | |
| 72 | | |
| | | |
| | | |
| | WAIT LIST | |
| 1 | | |
| 2 | | |
| 3 | | |
| 4 | | |
| | | |
| | | |