PAC NW DOUBLES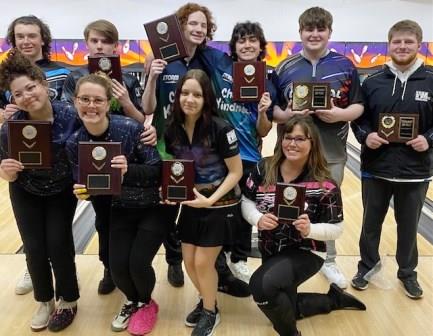 champs and runners-up teams
A jam-packed field enjoyed a fun-filled day at the annual JBT Pac NW Doubles Classic, with two talented teams claiming the top prizes.
Liam Hardman has had an amazing autumn on tour, and he continued it by teaming with Tyler Coates for a 233-212 win over Mac Kaurin and Tyler Cruz. A strike-filled round two saw Liam and Tyler escape from talented Canadians Adam Jodoin and Simon Dyck 268-246. Top seeds Kenji London and Colt Jance used an early 290 game from Colt and two semifinal matchplay wins to vault to the top spot. They showed no fear against their hard-charging opponents, throwing great shots to win 227-211 and claim their second and fifth career JBT titles respectively.
The Mattingly family team of Mason and Cindy began the handicap stepladder finals with a 172-155 win over the brother duo of Keiden and Kobe Cabanting. The penultimate match couldn't have been closer, as Tamia Yeager and Chloe Bartlett eeked out a 165-164 win over the Mattinglys to advance to the final game.
Jade Walters and Spencer Dessart had grabbed the top seed in the final game by just a few pins over Chloe and Tamia, but they got their revenge in the final, cruising to the win and the first career JBT title for the rapidly improving Yeager. Big thanks to the team at Bowlero for hosting, and to all of the adult bowlers taking time to bowl with today's kids in one of our favorite weekends every year. Want in on all this fun? Just check out our schedule and come on down!
Pac NW Doubles- final results and scholarship winners
12/3/2022
Scratch Division
rank
bowler
prize
bowler
prize
total
1
Kenji London
$200
Colt Jance
$200
$400
2
Liam Hardman
$154
Tyler Coates
$125
$259
3
Adam Jodoin
$230
Simon Dyck
$230
4
Mac Kaurin
$150
Tyler Cruz
$150
5
Charlie Simperman
$50
Steven Hall
$50
$100
6
Danny Chalmers
Kevin Hong
7
Bud Sicard
Ashton Yamasaki
8
Jacob Imoo
$15
Chris Gutierrez
$15
9
Jayden Burnside
Kenny Burnside
10
Mary Sicard
Guillermo Castaneda
11
Vance Youngren
Jake Sale
12
Kyle Adams
Tommy Le
13
Henry Hind
DoHoon Kwon
14
Duke Knudsen
Jake Mullen
15
Piper Chalmers
Ryan Fauland
16
Addysen Case
Ron Henderson
17
Ewan Oester
$60
Noah Sicard
$60
18
Mac Reese
$60
Alex Crowley
$60
19
Austin Mayfield
Zachary Holter
20
Logan Winchell
Bryan Zeutenhorst
21
Kailee Wilcox
Madison Flatin
22
Toby Wills
Chad Chalmers
23
Harry Davis
Jack Hoffbuhr
24
Aiden Wong
JT Thayer
25
Jessica Holbrook
Bill Holbrook
26
Tristan Bierman
Mike Wilcox
27
Nick Karr
Nick Jones
28
Samuel Strange
Jessica Portalski
Handicap Division
1
Tamiya Yeager
$500
Chloe Bartlett
$500
2
Jade Walters
$175
Spencer Dessart
$175
$350
3
Mason Mattingly
$250
Cindy Mattingly
$250
4
Kobe Cabanting
$100
Keiden Cabanting
$100
$200
5
Hailey Johnson
$165
Jim Campbell
$165
6
Alena McDugle
$78
Austin Thopmson
$63
$161
7
Alaina Degenstein
$50
Hailey Hopkins
$79
$129
8
Jasmine Emswiler
$80
Ben Leong
$80
9
Georgia Rahla
Erick Romen
10
Anabelle Chui
Nathan Tang
$30
$30
11
Kalym Henry
Thomas Johnston
12
Dayton Nickolson
Sienna Stoner
13
Carter Humphries
Jon London
14
Owen Barrett
JT Taylor
15
Kylia Cannon
Debbie Hetterley
16
Makayla Francis
Josh Fagan
17
Sawyer Jones
Dan Wilson
18
Payton Allard
McKenna Oller
19
ReighAnn Oliphant
Jazel Tiquia
$15
$15
20
Kaitlyn Richards
$44
Garrett Hayes
$44
21
Hannah Bowman-Brinar
Austin Vik-Rae
22
Megan Lelli
$14
Parker Portalski
$14
23
Laelah Tiquia
Jeff Tiquia
24
Jax Bareno
Melissa Perez
25
Maddie Rowe
Matt Rowe
26
Eddie Strange
Jeff Portalksi
27
Micah Mattingly
Lucas Richards
28
Kyle Soper
Jasob Soper
29
Benjamin Lang
Jayshawn Jones
30
Tobie Holcomb
Nick Holcomb
31
Carson Pimley
Matt Jones
32
Thomas McDugle
$20
Michael Sargent
$20
33
Braidyn Bishop
Neveah Cannon
34
Shelby Unger
$28
Sue Unger
$28
35
Karson Schwind
$15
Todd Schwind
$15
36
Savanah Hawkins
Cassandra Chalmers
37
Deklyn Bishop
Michael Bishop
38
Brycen West
Ronald West
39
Brody Ruby
Carson Siems
40
Karlena Greenhouse
Michael Greenhouse
41
Kierra Wilcox
Charity Hill
High Games
Scratch
1
Jance 290
2
Coates 279
3
Hall 268
4
Hall 268
5
Coates 267
Handicap
1
Francis 288
2
Dessart 277
3
Emswiler 273
4
C Humphries 271
5
Dessart 268
Qualifying Leaders
Scratch
1
Jodoin/ Dyck +164
2
London/Jance +151
3
Kaurin/Cruz +122
Handicap
1
Yeager/.Bartlett +136
2
Emswiler/Leong +121
3
Degenstein/Hopkins +107
Round Leaders
Scratch
1
Hardman/Coates
2
Hardman/Coates
3
Hardman/Coates
4
Jodoin/Dyck
5
London/Jance
6
London/Jance
Handicap
1
E Strange/ J Portalski
2
Emswiler / Leong
3
Emswiler / Leong
4
Yeager/Bartlett
5
Yeager/Bartlett
6
J Walters/Dessart
TOTAL AWARDED THIS EVENT: $3,301
This event is near sellout. Please contact us asap to reserve a spot or make any changes!
Bowlero has had issues with their HVAC. It will be cold to very cold in the center. If this alters your plans, we're sorry, but please let us know.
click here for the Doubles events flyer
Date: Saturday December 3, 2022 (This is ONE doubles tournament that is one day long. Teams may be youth-youth OR youth-adult. 'Adult' is anyone 22 or over as of 8/1/22).
Start Time: Bowling begins at Noon.
Re-entries?: There's only one qualifying squad, so there are no re-entries this event..
Reservations: Please email director@bowljbt.com to reserve a spot. You can prepay (not required) at the 'Prepaying' section of this website. Reservations (paid or unpaid) must check in no later than 15 minutes before start time. At that time, all bowlers will be taken on a first come, first serve basis until the field is full.
Format: Partner may be another junior OR an adult ('adult' means anyone 22 or over as of 8/1/22). Qualifying round is 4 team games. The top 40% bowl a two game semifinals. The top 4 then do a Baker-format stepladder finals. Bowlers may practice with any ball they want, but then must declare three balls to use for the rest of the event.
Divisions/ Averages: Scratch or handicap. It is the teams' choice of division, except that teams over 400 must bowl scratch. If this is your first JBT event this season, we will be asking for average info. In most cases, your highest average from any current form of organized competition of at least 15 games is what we need. If you bowl in multiple leagues / clubs, bring everything and we'll sort it out for you. If you don't have 15+ games in any organized competition this season, we need your finishing 21-22 average, and any 2022 summer averages. After your first JBT event, your average is re-rated before every JBT event according to JBT rules. Please see JBT Rule 13 for complete details.
Points: This event counts for Pac NW and All-Conference points. Points qualify you for the big money season-ending Invitationals and Touring Players Championship, so get all you can. Visit the 'statistics' section of the website to check on your points. As the end of the season, the top 32 in Pac NW points, plus anyone who had a top-4 finish in a Pac NW event this season, advance to their respective Invitationals.
Entry fee: $80 per team. Youth scholarship brackets are available for $2 each. Separate adult singles cash brackets are $5 each. Raffle tickets for Ebonite bowling balls, and our PowerBowl and '27' jackpots, are available on-site.
Sponsor Incentive bonuses: 1) IAM Bowling: Bowlers making the final match of an event (scratch or handicap) wearing an IAM patch (good), any IAM shirt (better), or an IAM JBT shirt (best) earn point bonuses towards a $5,000 IAM incentive jackpot. (The IAM patch is requested to be worn by all bowlers). 2) Virtue Bowling: Bowlers making the final match of an event (scratch or handicap, win or lose), using a Virtue Bowling shirt or patch, and a Virtue drilled ball, earn a $25 Virtue gift card.
Covid details: JBT events follow- at least- all local Covid safety protocols, which you must be prepared for. Please stay posted so you're not surprised about anything required of you.
Scholarships: 1:6 in each division earn scholarships, scratch and handicap. Minimum prizes are $400, $200, $150, $100. Bowlers must finish in the top 4 once this season to qualify for that conference's Invitational, which features $1,000 for first place. Bowlers who finish in the top 20 in a conference's points race, or the top 100 in all-conference points, qualify for the Touring Players Championship, featuring $2,500 for first.
Lane conditions: conditions vary from event to event, and are not posted prior to the event (unless otherwise announced). Some events do not post the pattern until after qualifying. Be ready for anything- it makes you a better bowler! Check out previous patterns and corresponding cut scores at the 'lane conditions' section of this website.
Dress code: Anything goes EXCEPT tank tops, hats, gym shorts, clothing promoting alcohol, drugs, or firearms, or excessively ripped or short clothing, subject solely to the director's discretion. However, bowlers wearing slacks or dress shorts/skirts, and a 'name shirt' or PBA-style 'dye-sub' shirt, or college or high school team shirt, earn an extra 10 points on their season-long points total. If you're not sure about dress code, check with us. If you're new to us, the vast majority of the bowlers do dress in the 'bonus' dress code, and those points become very important, so plan accordingly.
RESERVED BOWLERS:
This reservation is an expectation that you will be bowling. PLEASE do not forget to contact us if you need to cancel or adjust your reservation. Repeated 'no-shows' may result in you not being able to reserve a spot. This list may not be updated after the Friday of the event as we travel, etc.
This event is near sellout. Please contact us asap to reserve a spot or make any changes!
Bowlero has had issues with their HVAC. It will be cold to very cold in the center. If this alters your plans, we're sorry, but please let us know.
| | | | |
| --- | --- | --- | --- |
| no. | bowler | partner | Sat Noon |
| 1 | Barrett, Owen | Wools, Hannah | x |
| 2 | Berger, Jade | Meno, Woody | x |
| 3 | Bierman, Tristan | Wilcox, Mike | x |
| 4 | Bishop, Braidyn | Cannon, Nevaeh | x |
| 5 | Bishop, Deklyn | Bishop, Michael | x |
| 6 | Bishop, Ellisyn | Hetterley, Debbie | x |
| 7 | Burnside, Jayden | ? | x |
| 8 | Cabanting, Keiden | Cabanting, Kobe | x |
| 9 | Chalmers, Danny | Hong, Kevin | x |
| 10 | Chalmers, Piper | Haugen, Mandy | x |
| 11 | Chui, Anabelle | Tang, Nathan | x |
| 12 | Coates, Tyler | Hardman, Liam | x |
| 13 | Crowley, Alex | Reese, Mac | x |
| 14 | Curette, Jessica | 'a partner not in jbt' | x |
| 15 | Davis, Harry | Hoffbuhr, Jack | x |
| 16 | Emswiler, Jasmine | ? | x |
| 17 | Francis, Makayla | Fagan, Josh | x |
| 18 | Garske, Gleason | Garske, Griffin | x |
| 19 | Greenhouse, Karlena | Greenhouse, Michael | x |
| 20 | Hawkins, Savannah | Chalmers, Cassandra | x |
| 21 | Holbrook, Tanya | Holbrook, Bill | x |
| 22 | Holcomb, Tobie | his dad | x |
| 23 | Hopkins, Hailey | Degenstein, Alaina | x |
| 24 | Case, Addysen | Combs, Peyton | x |
| 25 | Humphries, Carter | London, Jon | x |
| 26 | Imoo, Jacob | Gutierrez, Chris | x |
| 27 | Jodoin, Adam | Jung, Jordan | x |
| 28 | Johnson, Hailey | Campbell, Jim | x |
| 29 | Karr, Nick | Jones, Nick | x |
| 30 | Kaurin, Mac | Cruz, Tyler | x |
| 31 | Knudsen, Duke | Mullen, Jake | x |
| 32 | Kwon, DoHoon | Hind, Henry | x |
| 33 | Lang, Benjamin | Chao, Elsa | x |
| 34 | Lelli, Megan | ? | x |
| 35 | London, Kenji | Jance, Colt | x |
| 36 | Mattingly, Mason | Mattingly, Cindy | x |
| 37 | Mattingly, Micah | ? | x |
| 38 | Mayfield, Austin | Hilter, Zachary | x |
| 39 | McDugle, Alena | Thompson, Austin | x |
| 40 | McDugle, Thomas | ? | x |
| 41 | Oester, Ewan | Sicard, Noah | x |
| 42 | Oller, McKenna | Allard, Payton | x |
| 43 | Reese, Mac | ? | x |
| 44 | Richards, Kaitlyn | Hayes, Garrett | x |
| 45 | Romen, Erick | Rahla, Georgia | x |
| 46 | Rowe, Maddie | Rowe, Matt | x |
| 47 | Ruby, Brody | Siems, Carson | x |
| 48 | Schneider, Cameron | Schneider, Nick | x |
| 49 | Schwind, Karson | Schwind, Todd | x |
| 50 | Sicard, Bud | Stumpf, Payden | x |
| 51 | Sicard, Mary | Castandea, Guillermo | x |
| 52 | Simperman, Charlie | Hall, Steven | x |
| 53 | Soper, Kyle | Soper, Jason | x |
| 54 | Stoner, Sienna | Nickolson, Dayton | x |
| 55 | Strange, Eddie | Portalski, Jeff | x |
| 56 | Strange, Samuel | Portalski, Jessica | x |
| 57 | Thayer, Jayden | Thayer, Aiden | x |
| 58 | Tiquia, Jazel | Oliphant, Reigh Ann | x |
| 59 | Tiquia, Laelah | Tiquia, Jeff | x |
| 60 | Unger, Shelby | Unger, Sue | x |
| 61 | Walters, Jade | Dessart, Spencer | x |
| 62 | West, Brycen | West, Ronald | x |
| 63 | Wilcox, Kailee | Flatin, Madison | x |
| 64 | WIlcox, Kierra | Hill, Charity | x |
| 65 | Wills, Toby | Chalmers, Chad | x |
| 66 | Winchell, Logan | Zeutenhorst, Bryan | x |
| 67 | Yeager, Tamia | Bartlett, Chloe | x |
| 68 | Youngren, Vance | Sale, Jake | x |
| 69 | | | |
| 70 | | | |
| | | | |
| | WAITING LIST | | |
| 1 | | | |
| 2 | | | |
| 3 | | | |