SUNCOAST BOWLING CENTER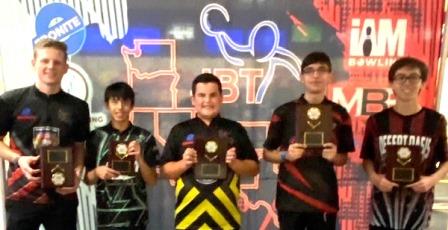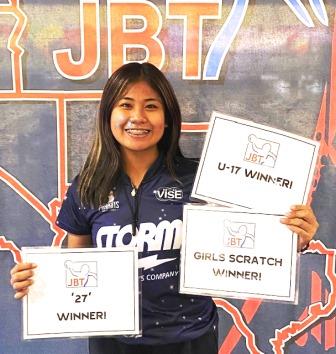 Hunter Mayes, Jake King, Nicholas Harnit, Andrew Guba, Bryan Gregson; Katelyn Abigania
Two bowlers added to their title totals in exciting JBT Mojave Conference action at Suncoast Bowling Center in Las Vegas.
Dominic Montoya made his first career scratch finals, then exploded for an eleven strike performance in a 279-238 win over Sebastian Huffman. Andrew Guba then turned the tables on Montoya with a 244-177 win to advance to the final. Top seed Hunter Mayes awaited, and Hunter has a long history of big-time success at this center, but he ran into a whole lot of momentum in Guba, who ended a 13-year trek for a scratch title with a win in Oregon earlier this month. Both bowlers struggled a little in the final match, and when Hunter, needing a tenth frame double, could not get the first hit, a relieved Andrew claimed his second scratch title in a month, and third overall career JBT title.
Bryan Gregson began the handicap stepladder finals with a 200-183 win over rookie Briggs Robison, setting up a Suncoast rematch against Jake King, who likes Suncoast about as much as Hunter. However, Bryan won this game 217-151 to advance to the finals. Top seed and reigning TPC champ Harnit and Gregson both bowled well in the final, but Harnit was just a touch tougher, winning the match 220-202 for the second title of his JBT career.
Katelyn Abigania got to hold up 3 pieces of laminated cardstock in the winners picture, which we believe was a JBT first, as she beat Huffman for the U17 win, got past Kendall Bollea for the Girls Scratch win, and nailed the '27' jackpot for a quick extra $100 bonus!
Big thanks as always to Becky and the team at Suncoast for hosting us. Want in on all the fun for all skill levels and ages? Just check out our schedule and come on down!
Suncoast- final results and scholarship winners
10/22/2022
Scratch Division
rank
bowler
prize
1
Andrew Guba
$300
2
Hunter Mayes
$150
3
Dominic Montoya
$125
4
Sebastian Huffman
$100
5
Josh Abigania
$75
6
Chris Mayes
$59
7
Katelyn Abigania
$175
8
Skyler McGowan
9
Brock Bivins
10
JP Griffin
11
Daryus Alo
$14
12
Brandon Rother
$14
13
Tyler Castronova
14
Cayden Matherly
15
Seth Stovall
16
Kendall Bollea
17
Rylan Breese
18
Gyrus Alo
19
JR Barczyszyn
20
Dylan Donahue
21
Manny Ferrell
22
Lindsay Greim
23
Jadeyn Mabry
$30
24
Harper Schmidt
25
Gavin Fernandez
26
Quinten Bell
27
Earl Garner
28
Hayden Fernandez
29
JT Verde
Handicap Division
1
Nicholas Harnit
$315
2
Bryan Gregson
$150
3
Jake King
$125
4
Briggs Robison
$100
5
Ethan Jon Samson
$75
6
Steve Abarca
7
Chase Simmons
$30
8
Tasia Massengale
9
Reilly Rucker
$15
10
Kaipo Mead
11
Jon Abigania
12
Ezekiel Trejo
13
Devin Montoya
14
Luka Gregorich
15
Brennen Ludwig
16
Nathan Harnit
$35
17
Connor Bell
18
Tyson Lopes
19
Kieran Roth
$15
20
Evelynn Bollea
21
Ryland Gregorich
22
Jessica Read
23
Dylan Leong
24
Zackary Evans
25
Sara Miric
26
York Young
High Games
Scratch
Handicap
1
Huffman 290
Ni. Harnit 283
2
J Abigania 289
Trejo 280
3
H Mayes 288
Robison 267
4
Dom Montoya 279
Gregson 262
5
McGowan 278
Massengale 261
High Female
1
K Abigania -3*
2
Bollea -55
3
L Greim -96
4
Mabry -102
5
Massengale -252
6
Miric -268
7
Read -356
8
E Bollea -588
9
10
Qualifying Leaders
Scratch
Handicap
1
Huffman +145
King +135
2
McGowan +113
Robison +105
3
H Mayes +82
Ni. Harnit +58
U-17
1
Huffman +145
2
K Abigania -3*
3
Rother -13
4
D Alo -14
5
Stovall -40
6
Bollea -55
7
Breese -56
8
G Alo -62
9
Barczyszyn -88
10
King -90
Round Leaders
Scratch
Handicap
1
Bollea
Massengale
2
Bivins
Ni. Harnit
3
H Mayes
Ni. Harnit
4
Guba
King
5
Huffman
King
6
Huffman
King
7
H Mayes
King
8
H Mayes
Ni. Harnit
Total Awarded This Event: $1,907
Date: Saturday October 22, 2022 (This is ONE tournament that is one day long, open to anyone age 21 & under as of 8/1/22).
Start Time: Bowling begins at 12:30 PM
Re-entries?: There's only one qualifying squad, so there are no re-entries this event..
Reservations: Please email director@bowljbt.com to reserve a spot. You can prepay (not required) at the 'Prepaying' section of this website. Reservations (paid or unpaid) must check in no later than 15 minutes before start time. At that time, all bowlers will be taken on a first come, first serve basis until the field is full.
Format: Qualifying round is 5 games. The top 40% advance to a three game semifinals. The top 4 then bowl a stepladder finals.
Divisions/ Averages: Scratch or handicap. It is the bowlers' choice of division. Also, everyone age 16 or under as of 8/1/22 is automatically entered in the U-17 side event. Also, every female is automatically entered in the Girls Scratch side event. If this is your first JBT event this season, we will be asking for average info. In most cases, your highest average from any current form of organized competition of at least 15 games is what we need. If you bowl in multiple leagues / clubs, bring everything and we'll sort it out for you. If you don't have 15+ games in any organized competition this season, we need your finishing 21-22 average, and any 2022 summer averages. After your first JBT event, your average is re-rated before every JBT event according to JBT rules. Please see JBT Rule 13 for complete details.
Points: This event counts for Mojave and All-Conference points. Points qualify you for the big money season-ending Invitationals and Touring Players Championship, so get all you can. Visit the 'statistics' section of the website to check on your points. As the end of the season, the top 32 in Mojave points, plus anyone who had a top-4 finish in a Mojave event this season, advance to their respective Invitationals.
Entry fee: $60. Scholarship brackets are available for $2 each. Raffle tickets for Ebonite bowling balls, and our PowerBowl and '27' jackpots, are available on-site.
Sponsor Incentive bonuses: 1) IAM Bowling: Bowlers making the final match of an event (scratch or handicap) wearing an IAM patch (good), any IAM shirt (better), or an IAM JBT shirt (best) earn point bonuses towards a $5,000 IAM incentive jackpot. (The IAM patch is requested to be worn by all bowlers). 2) Virtue Bowling: Bowlers making the final match of an event (scratch or handicap, win or lose), using a Virtue Bowling shirt or patch, and a Virtue drilled ball, earn a $25 Virtue gift card.
Covid details: JBT events follow- at least- all local Covid safety protocols, which you must be prepared for. Please stay posted so you're not surprised about anything required of you.
Scholarships: 1:6 in each division earn scholarships, scratch and handicap. Minimum prizes are $300, $150, $100, $60. Bowlers must finish in the top 4 once this season to qualify for that conference's Invitational, which features $1,000 for first place. Bowlers who finish in the top 20 in a conference's points race, or the top 100 in all-conference points, qualify for the Touring Players Championship, featuring $2,500 for first.
Lane conditions: conditions vary from event to event, and are not posted prior to the event (unless otherwise announced). Some events do not post the pattern until after qualifying. Be ready for anything- it makes you a better bowler! Check out previous patterns and corresponding cut scores at the 'lane conditions' section of this website.
Dress code: Anything goes EXCEPT tank tops, hats, gym shorts, clothing promoting alcohol, drugs, or firearms, or excessively ripped or short clothing, subject solely to the director's discretion. However, bowlers wearing slacks or dress shorts/skirts, and a 'name shirt' or PBA-style 'dye-sub' shirt, or college or high school team shirt, earn an extra 10 points on their season-long points total. If you're not sure about dress code, check with us. If you're new to us, the vast majority of the bowlers do dress in the 'bonus' dress code, and those points become very important, so plan accordingly.
RESERVED BOWLERS:
This reservation is an expectation that you will be bowling. PLEASE do not forget to contact us if you need to cancel or adjust your reservation. Repeated 'no-shows' may result in you not being able to reserve a spot. This list may not be updated after the Friday of the event as we travel, etc. However, walk-ins / late entries are still gladly accepted as space permits. There is generally plenty of room for walk-ins / late entries, and we'll post here clearly if an event is nearing sellout or sold out.
| | | |
| --- | --- | --- |
| no. | bowler | 12:30 PM Sat |
| 1 | Scotford, Brockton | x |
| 2 | Donahue, Dylan | x |
| 3 | Castronova, Tyler | x |
| 4 | Barczyszyn, JR | x |
| 5 | Bell, Quinten | x |
| 6 | Bell, Connor | x |
| 7 | Stovall, Seth | x |
| 8 | King, Jake | x |
| 9 | Schmidt, Harper | x |
| 10 | Serafini, Madeleine | x |
| 11 | Roth, Kieran | x |
| 12 | Gregorich, Luka | x |
| 13 | Gregorich, Ryland | x |
| 14 | Rucker, Reilly | x |
| 15 | Miric, Sara | x |
| 16 | Greim, Lindsay | x |
| 17 | Massengale, Tasia | x |
| 18 | Bivins, Brock | x |
| 19 | Rother, Brandon | x |
| 20 | Baker, Gage | x |
| 21 | Trejo, Ezekiel | x |
| 22 | Gregson, Bryan | x |
| 23 | Bollea, Kendall | x |
| 24 | Mabry, Jadeyn | x |
| 25 | Read, Jessica | x |
| 26 | Guba, Andrew | x |
| 27 | Fernandez, Hayden | x |
| 28 | Fernandez, Gavin | x |
| 29 | Mead, Kaipo | x |
| 30 | Verde, JT | x |
| 31 | Leong, Dylan | x |
| 32 | Samson, Ethan Jon | x |
| 33 | Huffman, Sebastian | x |
| 34 | Evans, Zackary | x |
| 35 | Bell, Quinten | x |
| 36 | Bell, Connor | x |
| 37 | Montoya, Dominic | x |
| 38 | Montoya, Devin | x |
| 39 | Harnit, Nicholas | x |
| 40 | Harnit, Nathan | x |
| 41 | McGowan, Skyler | x |
| 42 | Garner, Earl | x |
| 43 | Ludwig, Rennen | x |
| 44 | Ferrell, Manny | x |
| 45 | Abarca, Steve | x |
| 46 | | |