TRIANGLE BOWL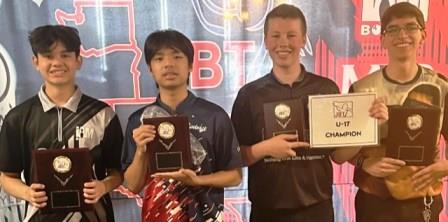 champs and finalists
Andrew Guba and Zachary Rebollido picked up JBT titles in the Pac NW regular season finale at Triangle Bowl in Longview.
Brayden Wills, Toby's brother, qualified for the Invite with the finals appearance, and made it even better with a 219-210 win over Thomas McDugle to begin the handicap stepladder. Keiden Cabanting then squeaked by Wills 213-206 to advance to the finals. Rebollido had dominated the tournament, leading since game four, and the two Kingpins products both bowled well. In the end, Zachary got past Keiden 233-218, to earn the first title of his JBT career.
Guba has been absolutely tearing up the Tour, and the Pac NW has been no exception. The Las Vegan began the scratch stepladder with a 208-179 win over Harry Davis. He then blasted a 277 to beat Ashton Yamasaki's 23, advancing to the title match against first-time top seed Mac Reese. Mac has been rapidly improving, but nobody has been able to stop Guba lately, and his 229-223 squeaker over Reese was good for the landmark 10th title of his JBT career.
Mac's great day continued with a win over Liam Hardman for the day's U17 title, and Piper Chalmers got past Sienna Stoner for the Girls Scratch win before heading off to graduation! Big thanks as always to the team at the beautiful Triangle Bowl for their usual great hosting job. The top season-long bowlers now advance to the JBT Pac NW Invitational,. with $1,000 top scholarships up for grabs!
Triangle Bowl (Sat)- final results and scholarship winners

6/10/2023

Scratch Division

rank

bowler

prize

1

Andrew Guba

$300

2

Mac Reese

$260

3

Ashton Yamasaki

$125

4

Harry Davis

$100

5

Elijah Chin

$75

6

DoHoon Kwon

$60

7

Ryan Taylor

8

Henry Hind

9

Charlie Simperman

10

Liam Hardman

11

Bud Sicard

12

Mac Kaurin

13

Andrew White

14

Aiden Wong

15

Danny Chalmers

16

Joe Brooks

17

Piper Chalmers

$50

18

Spencer Dessart

19

Toby Wills

20

Sienna Stoner

$25

21

Mary Sicard

22

Kalym Henry

23

Kadie Dicken

24

Logan Winchell

$40

25

Sam Strange

26

Tristan Bierman

$40

27

Kailee Wilcox

28

Owen Barrett

29

Bryan Zeutenhorst

30

Mason Langhans

31

Noah Sicard

Handicap Division

1

Zachary Rebollido

$300

2

Keiden Cabanting

$200

3

Thomas McDugle

$125

4

Brayden Wills

$130

5

Blaine Fulton

$75

6

Kaitlyn Richards

$60

7

Austin Thompson

$60

8

Laelah Tiquia

$30

9

Maddie Rowe

10

Megan Lelli

11

Kobe Cabanting

12

Bailee Spriggs

13

Ella Schaffner

14

Eddie Strange

15

Jazel Tiquia

$60

16

Alaina Degenstein

17

Jessica Curette

18

Sawyer Jones

19

Nathan Tang

$30

20

Lucas Lyle

21

Makenzi Clark

22

Tamia Yeager

23

Kaden Walters

24

Jole Murphy

25

Benjamin Lang

26

Jade Walters

27

Alena McDugle

28

Peyton Combs

29

Charles Trevethan

30

Hailey Hopkins

31

Katelyn Hiner

32

Dayton Nickolson

$100

U-17

Girls Scratch

1

Reese +132

P Chalmers -46

2

Hardman +91

Stoner -93

3

Kwon +73

L Tiquia -101

4

Hhind +72

Spriggs -109

5

Simperman +57

M Sicard -115

6

Davis +31

Yeager -116

7

B Sicard +13

K Dicken -121

8

A Wong +4

Lelli -130

9

Rebolllido -2

Degenstein -138

10

White -30

Richards -154

Qualifying Leaders

Scratch

Handicap

1

Reese +172

Rebollido +163

2

Guba +123

L Tiquis +89

3

Taylor +100

T McDugle +87

Round Leaders

Scratch

Handicap

1

Hardman

L Tiquia

2

Hardman

L Tiquia

3

Hardman

T McDugle

4

Reese

Rebollido

5

Reese

Rebollido

6

Yamasaki

Rebollido

7

Reese

Rebollido

8

Reese

Rebollido

Scratch High Game

1

Hind 284

2

Guba 277

3

Yamsaki 277

4

M Sicard 273

5

Simperman 268

Handicap High Game

1

Spriggs 303

2

Ke. Cabanting 283

3

K Richards 274

4

L Tiquia 250

5

Rebollido 247

TOTAL AWARDED THIS EVENT: $2,345
Date: Saturday June 10, 2023 (This is ONE tournament that is one day long, open to anyone age 21 & under as of 8/1/22).
Start Time: Bowling begins at 11 AM.
Re-entries?: There's only one qualifying squad, so there are no re-entries this event..
Reservations: Please email director@bowljbt.com to reserve a spot. You can prepay (not required) at the 'Prepaying' section of this website, or scan this QR code to use Venmo:

. Reservations (paid or unpaid) must check in no later than 15 minutes before start time. At that time, all bowlers will be taken on a first come, first serve basis until the field is full.
Format: Qualifying round is 5 games. The top 40% bowl advance to round two. Round two format details to be released no later than one week before the event. Format details may (very rarely) be adjusted any time up until event start time if space/time necessitates.
Divisions/ Averages: Scratch or handicap. It is the bowlers' choice of division. Also, everyone age 16 or under as of 8/1/22 is automatically entered in the U-17 side event. Also, every female is automatically entered in the Girls Scratch side event. If this is your first JBT event this season, we will be asking for average info. In most cases, your highest average from any current form of organized competition of at least 15 games is what we need. If you bowl in multiple leagues / clubs, bring everything and we'll sort it out for you. If you don't have 15+ games in any organized competition this season, we need your finishing 21-22 average, and any 2022 summer averages. After your first JBT event, your average is re-rated before every JBT event according to JBT rules. Please see JBT Rule 13 for complete details.
Points: This event counts for Pac NW Conference, and All-Conference points. Points qualify you for the big money season-ending Invitationals and Touring Players Championship, so get all you can. Visit the 'statistics' section of the website to check on your points. At the end of THIS event, the top 32 in Pac NW Conference points, plus anyone who had a top-4 finish in a Pac NW Conference event this season, advance to the Pac NW Invitational, the next day.
Entry fee: $60. Scholarship brackets are available for $2 each. Raffle tickets for Ebonite bowling balls, and our PowerBowl and '27' jackpots, are available on-site.
Sponsor Incentive bonuses: 1) IAM Bowling: Bowlers making the final match of an event (scratch or handicap) wearing an IAM patch (good), any IAM shirt (better), or an IAM JBT shirt (best) earn point bonuses towards a $5,000 IAM incentive jackpot. (The IAM patch is requested to be worn by all bowlers). 2) Virtue Bowling: Bowlers making the final match of an event (scratch or handicap, win or lose), using a Virtue Bowling shirt or patch, and a Virtue drilled ball, earn a $25 Virtue gift card.
Covid details: JBT events follow- at least- all local Covid safety protocols, which you must be prepared for. Please stay posted so you're not surprised about anything required of you.
Scholarships: 1:6 in each division earn scholarships, scratch and handicap. Minimum prizes are $300, $150, $100, $60. Bowlers must finish in the top 4 once this season to qualify for that conference's Invitational, which features $1,000 for first place. Bowlers who finish in the top 20 in a conference's points race, or the top 100 in all-conference points, qualify for the Touring Players Championship, featuring $2,500 for first.
Lane conditions: conditions vary from event to event, and are not posted prior to the event (unless otherwise announced). Some events do not post the pattern until after qualifying. Be ready for anything- it makes you a better bowler! Check out previous patterns and corresponding cut scores at the 'lane conditions' section of this website.
Dress code: Anything goes EXCEPT tank tops, gym shorts, clothing promoting alcohol, drugs, or firearms, or excessively ripped or short clothing, subject solely to the director's discretion. However, bowlers wearing slacks or dress shorts/skirts, and a 'name shirt' or PBA-style 'dye-sub' shirt, or college or high school team shirt, earn an extra 10 points on their season-long points total. If you're not sure about dress code, check with us. If you're new to us, the vast majority of the bowlers do dress in the 'bonus' dress code, and those points become very important, so plan accordingly.
RESERVED BOWLERS:
This reservation is an expectation that you will be bowling. PLEASE do not forget to contact us if you need to cancel or adjust your reservation. Repeated 'no-shows' may result in you not being able to reserve a spot. This list may not be updated after the Friday of the event as we travel, etc. However, walk-ins / late entries are still gladly accepted as space permits. There is generally plenty of room for walk-ins / late entries, and we'll post here clearly if an event is nearing sellout or sold out.
| | | |
| --- | --- | --- |
| no. | bowler | 11 AM Sat |
| 1 | Reese, Mac | x |
| 2 | Barrett, Owen | x |
| 3 | Oester, Ewan | x |
| 4 | McDugle, Alena | x |
| 5 | McDugle, Thomas | x |
| 6 | Cabanting, Keiden | x |
| 7 | Cabanting, Kobe | x |
| 8 | Rebollido, Zachary | x |
| 9 | Spriggs, Bailee | x |
| 10 | Guba, Andrew | x |
| 11 | Connor, Landen | x |
| 12 | Lyle, Lucas | x |
| 13 | Bierman, Tristan | x |
| 14 | Clark, Mackenzi | x |
| 15 | Langhans, Mason | x |
| 16 | Hind, Henry | x |
| 17 | Lang, Benjamin | x |
| 18 | Yeager, Tamia | x |
| 19 | Trevethan, Charles | x |
| 20 | Brooks, Joe | x |
| 21 | Tiquia, Laelah | x |
| 22 | Tiquia, Jazel | x |
| 23 | Lelli, Megan | x |
| 24 | Richards, Kaitlyn | x |
| 25 | Hopkins, Hailey | x |
| 26 | Chalmers, Piper | x |
| 27 | Chalmers, Danny | x |
| 28 | Richards, Kaitlyn | x |
| 29 | Dessart, Spencer | x |
| 30 | Kwon, DoHoon | x |
| 31 | Unger, Shelby | x |
| 32 | Fulton, Blaine | x |
| 33 | Murphy, Jole | x |
| 34 | Jodoin, Adam | x |
| 35 | Rowe, Maddie | x |
| 36 | Clark, Mackenzi | x |
| 37 | Degenstein, Alaina | x |
| 38 | Wills, Toby | x |
| 39 | | |