Welcome to the 2023 JBT Las Vegas Main Event!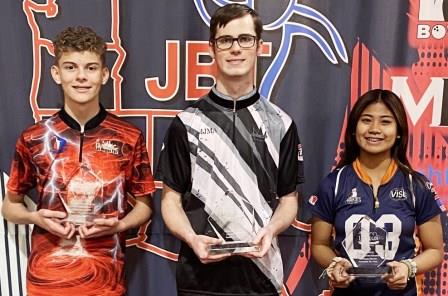 2022 singles champs Tristan Dalton, Costa Gastouniotis, and Katelyn Abigania - $55,888 in scholarships awarded!

The JBT and its staff and sponsors are thrilled to present the 20th annual Las Vegas Main Event, December 26-30, 2023 at the South Point Plaza! Below is all the info you need to enter and prepare for the tournament. PLEASE, YOU are are main form of advertising! Share this info at all your big summer tournaments, local tournaments and leagues, high school and college bowling, EVERYWHERE! Print some flyers, share this website, anything you can do is a big help. Thanks!

click any link below for additional details:

Click here to print the flyer for the 2023 event.

Print it out, mail it in, and and then print out an extra copy or twelve of the entry blank and spread the word everywhere you go!

Click here to pay online- Please still print a flyer and mail it in, or email us your entry, but you can pay by credit card, venmo, or paypal here.

Click here to view received entries

Click here for full details on all the events December 26-30

Click here for answers to frequently asked questions about Main Event

Click here for hotel info and to book rooms at South Point under our block. Or,

give them a call at 866-791-7626 and book under "JBT - Main Event 2023",

or code JBT1223 online. Rates are $65 midweek and $105 weekend. Plus, the dreaded 'resort fee' is reduced to $14/night. Cutoff date for these excellent rates is December 10, or while availability lasts.

Confused on how to figure out the correct average to submit? Click here.

What's great about Main Event?

THE LOCATION! The beautiful South Point Bowling Plaza, a separate 60 lane facility from the traditional bowling center, is an incredible, tournament-only facility designed for events just like this! South Point's hotel and casino, on Las Vegas Blvd just a few miles from the south end of The Strip, is world class at all levels! Plus, our room rates reduce the dreaded 'resort fee'!

FLEXIBLE FORMAT! Don't have the time or budget for a long stay in Vegas? No problem! Our qualifying rounds are December 27-29, so you can start as late as the 29th, and get the whole tournament in for a one night stay! (Of course, we have lots of events to make a multi-day stay exciting and worthwhile!) So, you still have holiday time with your families, and can make the week as quick or as intensive as you wish!

THE PRIZE FUND! All first place prizes are guaranteed regardless of entries, including the big $3,000 first place prize in Open Scratch Singles ($4,500 was the first place award last year!). 2022 saw over $50,000 awarded to bowlers of all ages and averages- we believe that Main Event is one of the best 'bang for your buck' events you can find in youth bowling!

WARM UP SWEEPERS! Optional sweeper squads December 26 are your only chance to bowl on the Main Event singles pattern prior to the start of competition 12/27.

5-PERSON OPTIONAL TEAM EVENT! A great 'fun atmosphere' event to detox after the pressure of singles, it's also a chance for adults to show off their stuff- you can have a maximum of two adult (age 22 and over) bowlers on your team!

PLUS: All the great fun, competition, and professionalism you've come to expect at the Main Event! Click on the links above to find out more, , and start making plans for December!