previous page pics main home page

after a long day, hit the diner!

YMCA, 2007 style!!


Christina didn't win the tournament, but did pick up this snazzy new car!!!




oh dear...





Hey, Brian, I won!!!

Bad spare ball, BAD BAD spare ball!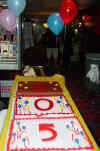 you only turn 500 once...

Ah, the time honored tradition of a boy and his... penguin?

Wait, that's not a house ball, that's Christina!!!

JBT putting smiles on our bowlers' faces since 1975...

Tyler Nall with Mom and K&K's Phil Platko

Beat-up thumbs... but JBT champs!!!

Bethany getting her $2500 club plaque









The...um...spoils? of victory



A little relaxation time for Tami

No, I said we're bowling ON Viper, not WITH a Viper!!!
Jeff is totallly stuck on JBT

the moment of glory: Matt Jones after a 300

Mrs. Camacho!!

...wherever you are!