Welcome to the 20
20
JBT Las Vegas Main Event!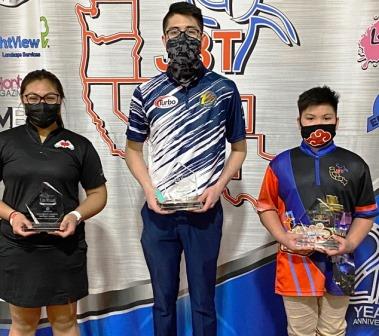 2020 singles champs Jennifer Loredo, Cortez Schenck, and Gavin Fernandez
On behalf of the JBT and its staff, thank you so much for attending the 2020 Main Event! We hope you had a great time no matter what your results in the standings. $27,958 was awarded to bowlers of all ages and skil levels. We believe we ran a safe, fun event for these talented youth bowlers, and hope you feel the same. We look forward to seeing you December 26-30, 2021 for the 2021 Las Vegas Main Event!
Click here for a newspaper-friendly results article (feel free to share!)
Click here for over 2,000 pictures from the Main Event!
(files available until Jan 31!)
Click here for Open Scratch Singles results
Click here for Handicap Singles results
Click here for Girls Scratch Singles results
click here for Doubles results
click here for Junior Gold results
Click here for warmup sweeper results
Click here for 2020 Main Event individual scholarship earnings
Click here to go to YouTube for the videos of the finals (our channel is JBT900, or just search 'JBT 2020 Main Event')
Click here for Main Event (and other JBT) scholarship info
GOOD NEWS: after many meetings with South Point, we are, to quote them, "full speed ahead"! To deal with the questions some may have, the 'tournament' is cancelled, but we are running as a new, approved, South Point 'league' starting Dec 26. That's really all we have to say (and all that needs be said) about that; further questions may be directed to South Point.
The only way we would be cancelled is if ALL bowling is completely shut down in Clark County, which we don't think politically will happen. The NV governor's announcement of 12/13 backs that up. HOWEVER, stay posted daily here and on our website for updates, all your travel plans should be refundable, etc etc etc.
BAD NEWS:
There are additional significant restrictions necessary to make this happen. First, we are reduced, like all other Nevada bowling, to ZERO spectators. Parents, etc. MAY check in with their bowlers, and may stay with them, socially distanced on the concourse, through the end of practice. After that they must leave the Plaza facility (remember, squads will be much faster this year since we are so limited in size and spread out). Additional South Point security, South Point staff, and JBT staff will be there for everyone's safety. This is not ideal, but this is what it takes. If this is not a setup you are comfortable with, we understand, and please contact us for alternative arrangements.
Second, we must ask that ZERO personal pictures and videos from inside the bowling Plaza be posted on social media until 12/31 (AFTER Main Event). Take all you want, but post them later. This is a direct request (requirement) from South Point, and I know it is a difficult one. These are difficult times. This is what it takes to make it happen. Full standings will, as always, be available at our website shortly after each squad, and JBT will be taking official pictures as well.
The above is in addition to all previous regular mask and other safety protocols you should be familiar with. Please let us know if any of this alters your plans, or any other questions you may have. We look forward to seeing you all soon!!!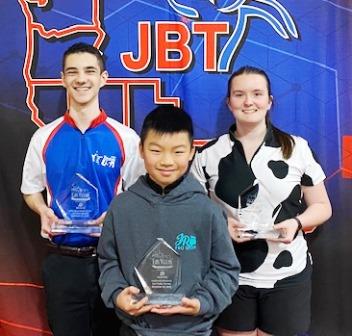 2019 singles champs Solomon Salama, Nathan Tang, and Adel Wahner

The 17th annual JBT Las Vegas Main Event returns to the amazing South Point Bowling Plaza Dec 26-30, 2020! Squad sizes and formats have been adjusted to conduct a safe and responsible event in the era of coronavirus.

Click here to jump to our FAQ, which begins with covid info and protocols.

For returning Main Event bowlers, the big changes you'll note are: more singles squads with fewer bowlers per pair, doubles-only squads including a Dec. 30 squad, a second team squad to handle increasing demand, team changed to no-tap, and the Gold qualifier moved to the 'regular' center to add time for even more events! Most of this was covid-forced, but we also think you'll really like the way it makes the event flow as well!

click here to print the flyer for the 2020 event. When you print it, you can then mail in a check with your entry. Plus, print out an extra copy or two of the entry blank and spread the word everywhere you go!

click here to pay online- You can print out a flyer (which you'll still need to mail in), but pay by credit card or paypal here.

Click here to view received entries

click here for full details and entering average information on all the events December 26-30

click here for answers to frequently asked questions about Main Event

HOTEL INFO:

Click on

this link to book rooms at South Point under our block. Or,

give them a call at 866-791-7626 and book under "JBT - Main Event 2020",

or code JBT1224 online. Rates are $60 12/24; $90 12/25-26; $60 12/27-30; $150 12/31. Plus, the dreaded 'resort fee' is reduced to $14/night. Cutoff date for these excellent rates is December 18.

confused on how to figure out the correct average to submit? Click here.

What's great about Main Event?

THE LOCATION! The beautiful South Point Bowling Plaza, a separate 60 lane facility from the traditional bowling center, is an incredible, tournament-only facility designed for events just like this! South Point's hotel and casino, on Las Vegas Blvd just a few miles from the south end of The Strip, is world class at all levels! Plus, our room rates reduce the dreaded 'resort fee'!

FLEXIBLE FORMAT! Don't have the time or budget for a long stay in Vegas? No problem! Our qualifying rounds are December 27-29, so you can start as late as the 29th, and get the whole tournament in for a one night stay! (Of course, we have lots of events to make a multi-day stay exciting and worthwhile!) So, you still have holiday time with your families, and can make the week as quick or as intensive as you wish!

THE PRIZE FUND! All first place prizes are guaranteed regardless of entries, including the big $3,000 first place prize in Open Scratch Singles. 2019 again saw over $35,000 awarded to bowlers of all ages and averages- we believe that Main Event is the best 'bang for your buck' you can find in youth bowling!

WARM UP SWEEPERS! Optional sweeper tournaments December 26 are your only chance to bowl on the Main Event singles pattern prior to the start of competition 12/27.

5-PERSON OPTIONAL TEAM NO-TAP EVENT! A great 'fun atmosphere' event to relieve the pressure of singles, it's also a chance for adults to show off their stuff- you can have a maximum of two adults (age 22 and over) bowlers on your team!

PLUS: All the great fun, competition, and professionalism you've come to expect at the Main Event! Click on the links above to find out more, , and start making plans for December!

DO NOT USE THE AOL EMAIL BELOW! (We can't figure out how to get rid of it). Use director@bowljbt.com for all JBT and Main Event communication.